Operation Northwoods
"It has been officially revealed via declassified government documents that the US military and government has covertly planned to perpetrate acts of terror upon innocent civilians in order to justify an engagement in conflict that would have, at the time, benefited the government's wider geopolitical agenda…

According to ABC News, In the early 1960s, America's top military leaders reportedly drafted plans to kill innocent people and commit acts of terrorism in U.S. cities to create public support for a war against Cuba.

Long hidden documents, uncovered in 2001 by former ABC News investigative reporter James Bamford, codenamed OPERATION NORTHWOODS, put a haunting perspective behind the events of September 11. The Joint Chiefs of Staff (JCS) documents propose launching a secret and violent war of terrorism against their own country in order to condition the people of the USA into supporting an intended war against Cuba.

These sickening plans called for innocent American civilians to be shot, for Cuban refugees to be blown up, for violent and continued acts of terrorism to be perpetrated in major American cities, for innocents to be framed for bombings, and for planes to be hijacked.

This would then be blamed on Fidel Castro and Cuba, thus inciting hatred for him and Communism, and instigating the public backing that the JCS needed as an excuse to launch the preplanned war."

Paul Joseph Watson, Order Out of Chaos (234)



"The plan, which had the written approval of the Chairman and every member of the Joint Chiefs of Staff, called for innocent people to be shot on American streets; for boats carrying refugees fleeing Cuba to be sunk on the high seas; for a wave of violent terrorism to be launched in Washington DC, Miami, and elsewhere.

People would be framed for bombings they did not commit; planes would be hijacked.

Using phony evidence, all of it would be blamed on Castro, thus giving Lemnitzer and his cabal the excuse, as well as the public and international backing, they need to launch their war."

James Bramford, "Body of Secrets" (1634)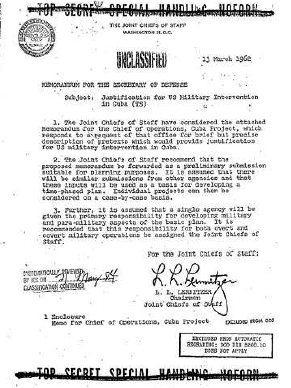 The recently declassified Operation Northwoods documents kept Top Secret for 40 years outline a US government plot to kill hundreds, probably thousands, of American citizens for political gain.
In 1962, President JFK's Joint Chief of Staff General L.L. Lemnitzer masterminded the Northwoods plan in order to start a war with Cuba.
The American people certainly did not want a war and neither did Castro, so a series of false flag operations were designed to cause a "helpful wave of indignation" and get the people behind a war.
The methods to be employed were many and varied from starting rumors using clandestine radio, to sinking and setting fires to US ships, dressing like Cubans to attack US bases, blowing up ammunition/planes, starting fires/riots, and last but not least, hijacking and shooting down a commercial passenger plane.
The document actually says that "Casualty lists in U.S. newspapers would cause a helpful wave of indignation." They even planned to "conduct funerals for mock victims" to gain added public support if there weren't enough real victims.
All this was already approved and signed by every Joint Chief of Staff and the Secretary of Defense when President John F. Kennedy received it.
Thankfully for us all, JFK refused to sign the Northwoods document and the plan was never carried out, but its very existence proves that the government is certainly not always friendly and looking out for our best interests.
"It is no good people claiming their leaders could not have been behind the horrors of 9/11 when the documents exist to show that the Pentagon had planned in detail something very similar 40 years ago.

And wait for this... Operation Northwoods also planned the hijacking of civil aircraft.

The documents say it was possible to create an incident that would convince the people that the Cuban aircraft had shot down a chartered civil airliner on a flight from the United States to Jamaica, Guatemala, Venezuela or Panama."

David Icke, "Alice in Wonderland and The World Trade Center Disaster" (165)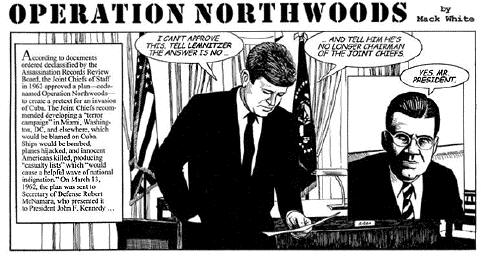 In the Northwoods document it actual refers to the U.S.S. Maine false flag pretext to the Spanish/American war. It reads,
"A Remember the Maine incident could be arranged in several forms: We could blow up a ship in Guantanamo Bay and blame Cuba [or] we could blow up a drone anywhere in the Cuban waters."
So, Northwoods ordered to sink our own ships (like the U.S.S. Maine), ordered to hijack/shoot down our own commercial airliners (like 9/11), and to bomb ourselves (like WTC '93, Oklahoma, Madrid, 7/7 and so many others).
"In this plan, they elaborated on how Washington, D.C. could be bombed and then Cuba could be blamed; or how they could dress U.S. Army soldiers as Cubans, then have them attack Marines at Guantanamo Bay.

In another part of the plan, just as the U.S.S. Maine was sunk as a pretext for entry into the Spanish-American War, it was suggested that the Navy could blow up one of its own ships.

The whole document is an insane testament to the effectiveness of the coldblooded use of problem/reaction/solution. President Kennedy had always been a servant of the elite, but he was so shocked by the Operation Northwoods document that he signed Executive Order 11110 shortly before his death announcing that he would abolish the Federal Reserve System.

He also began to pull American soldiers out of Vietnam, and signed an order to abolish the CIA. For taking these decisive actions on behalf of our Constitutional Republic, Kennedy was assassinated. He had decided to be a leader of the people and to defend their interests.

The New World Order could not allow that to happen."

Alex Jones, "9-11 - Descent Into Tyranny" (18)