by Gianluca Mezzofiore
December 13, 2013
from IBTimes Website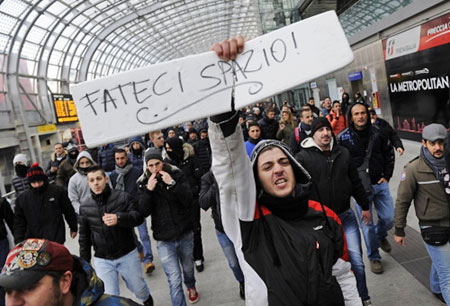 A protester holds a sign that reads
"Make room for us" during a protest at the Turin train station
(Reuters)


Italy's Jewish communities have hit back at the spokesman of the anti-austerity Pitchfork movement, who described Italy as being "enslaved by wealthy Jewish bankers".

The Pitchfork protestors' spokesman, Andrea Zunino, who made the anti-Semitic comments, represents thousands of demonstrators who took to the streets in towns and cities across Italy to voice anger at austerity measures.

Renzo Gattegna, representing the Jewish community, said the words were "delirious".
"[Those words] shamelessly recall a historical period characterized by death, violence and denial of the most elementary rights," he told daily La Repubblica.
Conspiracy theories regarding Jews and banking were popular during the rise of National Socialism and the Nazis.

Earlier, Zunino had claimed:
"We want government resignation. We want sovereignty over Italy which is now the slave of bankers, like the Rothschild: it is odd that five or six among the world's richest people are Jews."
The Pitchfork movement, which started with a loose group of Sicilian farmers concerned about rising taxes and cuts to agricultural state funds, has evolved into a nationwide umbrella grouping of truckers, small businessman, the unemployed, low-paid workers, rightwing extremists and football supporters.

Zunino cites Hungary's controversial premier Viktor Orban, whose government has been accused of being weak in fighting rising anti-Semitism, as his role model.

But Gattegna said the Pitchfork leader's remarks demonstrate a,
"deeper sense of discomfort" fuelled by "the most violent and grimmest anti-Semitic stereotypes".

"Zunino not only offends the memory of millions of individuals who died among the most brutal suffering in the name of the Nazi ideology. It also offends the intelligence, the democratic conscience and the maturity of that Italian population that it proposes to represent - improperly - in the streets of the country."
Thousands of Pitchfork demonstrators, riled by the country's struggling economy, have demanded,
Mass demonstrations threw some Italian cities into chaos on Monday with police officers using teargas on protesters who had been throwing rocks and bottles at the headquarters of Italy's tax collection agency.

Roadblocks, demonstrations and sit-ins continued from Milan to Bari in the south.

Shop-owners were reportedly threatened by demonstrators to either close their stores and join the protest, or face violence.