12 March 2010
From Nazareth (Palestine/Israel)
from VoltaireNet Website
After painstaking efforts, it looks as though Israel might be admitted to the OECD this year, even though the conditions of extreme poverty in which its Arab population is kept fly in the face of the organization's accession criteria. Tel-Aviv intends to exploit its presence in the OECD to legitimize its apartheid economy both at home and in the illegally-annexed territories.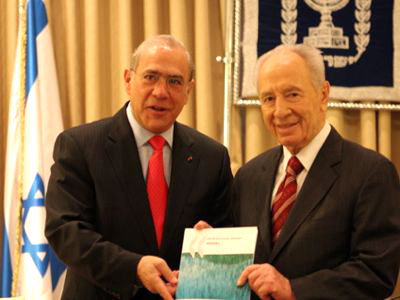 Meeting between OECD Secretary-General Angel Gurria and Israeli President Shimon Peres
(19 January 2010)

An exclusive club of the world's most developed countries is poised to admit Israel as a member even though, a confidential internal document indicates, doing so will amount to endorsing Israel's illegal occupation of Palestinian and Syrian territories.

Israel has been told that its accession to the Organization for Economic Cooperation and Development (OECD) is all but assured when the 30 member states meet in May.

But a draft OECD report concedes that Israel has breached one of the organization's key requirements on providing accurate and transparent data on its economic activity.

The information supplied by Israel, the report notes, includes not only the economic activity of its citizens inside its recognized borders but also Jewish settlers who live in the occupied territories of East Jerusalem, the West Bank and the Golan in violation of international law.

Israel's accession to the OECD on such terms threatens to severely embarrass many of the organization's member states, especially those in the European Union that are publicly committed to avoiding collusion with the occupation.

The OECD report proposes that these legal difficulties may be circumvented by asking Israel to produce new statistics within a year of its accession excluding the settler population - even though, an OECD official has admitted, Israel would have the power to veto such a demand after it becomes a member.
"The OECD seems to be so determined to get Israel through its door that it is prepared to cover up the crimes of the occupation," said Shir Hever, a Jerusalem-based economist.
Israel has been lobbying for nearly 20 years to be admitted to the OECD, founded in 1961 for wealthy industrialized democracies to meet and co-ordinate economic and social policies.
It includes the United States and most of Europe.
"The financial privileges are relatively modest, but there is great prestige to being accepted," Mr Hever said. "Israel has worked so hard to gain admission because it believes accession will confer international legitimacy on its occupation."
Several countries with a lower development level than Israel have already been accepted, including Turkey, Mexico and the Czech Republic.

Israel's past rejections, it is widely assumed, were because many states were uncomfortable about admitting Israel while it was occupying the Palestinian territories of East Jerusalem, Gaza and the West Bank and the Syrian-owned Golan Heights.

However, Israel was formally invited to begin discussions about membership in 2007 after intense lobbying by Stanley Fischer, the governor of the Bank of Israel.
Membership is expected to bring financial stability to Israel's economy, attract investment and reduce the country's risk premium.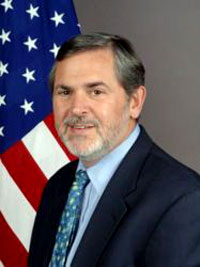 Recently appointed OECD Deputy Secretary-General Richard A. Boucher
is in charge of finalizing Israel's accession to the organization this year.
Ambassador Boucher was the Spokesperson for U.S. Secretaries of State
Madeleine Albright, Colin Powell and Condoleezza Rice.
Département d'Etat

The OECD's secretary general, Angel Gurria, visited in January, after a review of Israel's economy, and suggested that admission this year was a certainty.

However, a leaked draft report by the OECD's committee on statistics, produced last month after the review, shows there are major problems with the data presented by Israel.

According to its rules, the OECD takes account of economic activity outside a candidate state's recognized borders in very limited circumstances, such as with remittances from migrant workers.

But given that this status does not apply to the illegal settlers living in the occupied territories, the OECD committee argues that either the settlers be excluded from the data or everyone living in the territories - including Palestinians - should be factored in.
"Israel has been caught out because it has always refused, even in its own internal data, to differentiate between Israel and the occupied territories," Mr Hever said. Both East Jerusalem and the Golan have been annexed by Israel in violation of international law.

"The OECD is treating Israel as though it has seven million citizens when, in reality, it has 11 million subjects, of whom four million are Palestinians living under occupation," Mr Hever said.

"If they were included in the figures submitted to the OECD, Israel would have to be refused accession because of the enormous disparities in wealth."
Meron Benvenisti, a former deputy mayor of Jerusalem, noted recently that there was a 20:1 ratio in the difference in gross domestic product per capita between an Israeli and a Palestinian living in Gaza.

But rather than conclude that Israel has failed to meet the organization's entry criteria, the committee proposes a workaround: Israel can be accepted to the organization and given a year to submit new data excluding the settlers.

Tim Davis, an OECD official with the statistics committee in Paris, said he could not comment on the report because its contents were confidential but agreed that there was nothing to stop Israel reneging on such a commitment in the future.
"In a case like that, nothing could be done in practice. We work on the basis of co-operation, not pressure."
Israel is reported to have failed other entry conditions, including on corruption and copyright violations.

The OECD has required member states to crack down on corrupt practices since it approved a convention against bribery in 1997. Israel, however, was ranked in 32nd place in a major index on corruption last year, with much of it relating to the country's $6 billion arms industry.

European and US defense firms have threatened to derail Israel's OECD bid if it does not clean up its act.

Israel is also believed to be violating intellectual property rights, again in breach of OECD rules. US and Swiss firms have accused Israel of failing to regulate the international marketing of drugs produced by its largest pharmaceuticals company, Teva.

Israel's bid for OECD membership has been opposed by the leaders of its Arab minority, one-fifth of the population. Last month the Higher Follow-Up Committee, the minority's main political body, petitioned the OECD to reject Israel.

It has pointed out that half of Israel's Arab citizens are living below the poverty line, a rate three times higher than among Israeli Jews, and that on average Arab citizens earn salaries that are one-third less than Jews.
Mohammed Zeidan, head of the committee, blamed the disparities in wealth on what he called Israel's "racist and discriminatory polices".

Another OECD report, published in January, showed that, even on the basis of Israel's figures excluding the Palestinians, Israel would still have the widest social gaps of any member state if it were accepted.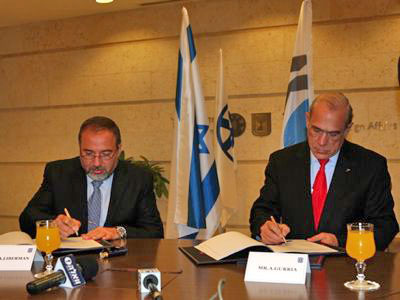 OECD Secretary-General Angel Gurria and Israeli Foreign Minister Avigdor Lieberman
sign a mutual letter of understanding including diplomatic privileges
(19 January 2010).
Attached documents

---




¿Da Europa su Sello de Aprobación a Los Colonos Israelíes?
por Jonathan Cook
21 Marzo 2010
Desde Nazaret (Palestina/Israel)
del Sitio Web VoltaireNet
Gracias a esfuerzos y paciencia, Israel podría ser admitido este año a la OCDE, a pesar de la extrema pobreza que Israel somete y mantiene a la población árabe contraviniendo a los criterios de adhesión de la organización. Tel-Aviv pretende explotar su presencia en el OCDE para legitimar su economía de apartheid en su territorio y en aquellos anexados ilegalmente.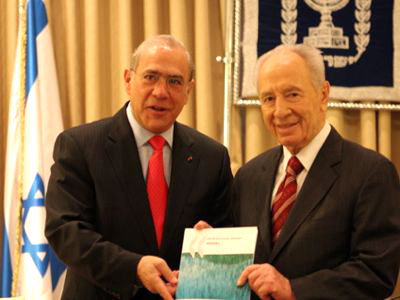 Encuentro entre Angel Gurria, Secretario General de l'OCDE,
y Shimon Peres, presidente de Israel (19 enero 2010).
OCDE

Un club exclusivo de los países más desarrollados del mundo, está listo para admitir a Israel como miembro a pesar de que, como indica un documento interno confidencial, hacerlo equivaldría a apoyar la ocupación ilegal por Israel de territorios palestinos y sirios.

Se ha dicho a Israel que su acceso a la Organización para la Cooperación y el Desarrollo Económico (OCDE) está prácticamente asegurado para cuando los 30 países miembros se reúnan en mayo.

Pero un borrador de informe de la OCDE reconoce que Israel ha roto uno de los requerimientos clave de la organización sobre el suministro de datos exactos y transparentes sobre su actividad económica.

La información suministrada por Israel, señala el informe, incluye no sólo la actividad de sus ciudadanos dentro de sus fronteras reconocidas, sino también la de los colonos judíos que viven en los territorios ocupados de Jerusalén Oriental, Cisjordania y el Golán en violación del derecho internacional.

El acceso de Israel a la OCDE en términos semejantes amenaza con ser embarazoso para muchos de los Estados miembros de la organización, especialmente aquellos en la Unión Europea que están públicamente comprometidos con evitar toda colusión con la ocupación.

El informe de la OCDE propone que esas dificultades legales podrían ser circunvenidas si se pide a Israel que presente nuevas estadísticas dentro de un año de su ingreso, excluyendo a la población de colonos - a pesar de que, según admite un funcionario de la OCDE, Israel tendría el poder de vetar una exigencia semejante después de llegar a ser miembro.
"La OCDE parece estar tan determinada a hacer pasar a Israel por su puerta que está dispuesta a encubrir los crímenes de la ocupación," dijo Shir Hever, un economista basado en Jerusalén.
Israel ha estado cabildeando durante cerca de 20 años para ser admitido en la OCDE, fundada en 1961 para que democracias industrializadas ricas se reúnan y coordinen sus políticas económicas y sociales. Incluye a EE.UU. y a la mayor parte de Europa.
"Los privilegios financieros son relativamente modestos, pero ser aceptado involucra mucho prestigio," dijo el señor Hever. "Israel ha trabajado tan duro para obtener la admisión porque cree que el acceso conferirá legitimidad internacional a su ocupación."
Varios países con menos nivel de desarrollo que Israel ya han sido aceptados, incluyendo a Turquía, México y la República Checa.

Los rechazos de Israel, se supone ampliamente, se debieron a que numerosos Estados se sentían incómodos por su admisión mientras estuviera ocupando los territorios palestinos de Jerusalén Oriental, Gaza y Cisjordania, así como los Altos del Golán de propiedad Siria.

No obstante, Israel fue formalmente invitado a iniciar discusiones sobre la calidad de miembro en 2007 después de intenso cabildeo por Stanley Fischer, gobernador del Banco de Israel.
Se espera que la calidad de miembro provea estabilidad financiera a la economía de Israel, atraiga inversiones y reduzca la prima de riesgo.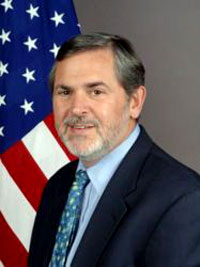 El nuevo Secretario General adjunto de la OCDE, Richard A. Boucher,
encargado de concluir este año la adhesión de Israel en la organización.
El embajador Boucher fue portavoz de las Secretarias de Estado de los EEUU
Madeleine Albright, Colin Powell y Condoleezza Rice
Département d'Etat

El secretario general de la OCDE, Angel Gurria, visitó en enero, después de un estudio de la economía de Israel, y sugirió que la admisión durante este año era segura.

Sin embargo, un borrador de informe filtrado del comité de estadísticas de la OCDE, producido el mes pasado, después del estudio, muestra que hay importantes problemas con los datos presentados por Israel.

Según sus reglas, la OCDE toma en cuenta la actividad económica fuera de las fronteras reconocidas de un Estado candidato en circunstancias muy limitadas, como con las remesas de trabajadores migrantes.

Pero dado que esta condición no se aplica a los colonos ilegales que viven en los territorios ocupados, el comité de la OCDE argumenta que los colonos sean excluidos de los datos o que todos los que viven en los territorios - incluidos los palestinos - deberían tenerse en cuenta.
"Pillaron a Israel porque siempre se ha negado, incluso en sus propios datos internos, a diferenciar entre Israel y los territorios ocupados," dijo el señor Hever. Tanto Jerusalén Oriental como el Golán fueron anexados por Israel violando el derecho internacional.

"La OCDE trata a Israel como si tuviera siete millones de ciudadanos cuando, en realidad tiene 11 millones de súbditos, de los cuales cuatro millones son palestinos que viven bajo la ocupación," dijo el señor Hever.

"Si estuvieran incluidos en las cifras presentadas a la OCDE, tendrían que negar el acceso a Israel por las enormes disparidades en la riqueza."
Meron Benvenisti, ex alcalde adjunto de Jerusalén, señaló recientemente que había una relación de 20 a 1 en la diferencia en el producto interno bruto per cápita entre un israelí y un palestino residente en Gaza.

Pero en lugar de concluir que Israel no cumple con los criterios de ingreso a la organización, el comité propone un rodeo: Israel puede ser aceptado en la organización y se le otorga un año para presentar nuevos datos que excluyan a los colonos.

Tim Davis, un funcionario de la OCDE en el comité de estadística en París, dijo que no podía comentar sobre el informe porque su contenido es confidencial pero estuvo de acuerdo en que no hay nada que impida que Israel reniegue de tal compromiso en el futuro.
"En un caso semejante, no se podría hacer nada en la práctica. Trabajamos sobre la base de cooperación, no de presión."
Se informa de que Israel también falla en otras condiciones para el ingreso, incluyendo la corrupción y violaciones de derechos de autor.

La OCDE ha exigido a los Estados miembros que tomen medidas drásticas contra prácticas corruptas desde que aprobó una convención contra los sobornos en 1997. Israel, sin embargo, se ubica en el puesto 32 en un importante índice sobre la corrupción, y gran parte tiene que ver con los negocios por 6.000 millones de dólares de la industria de armamentos del país.

Las firmas de defensa europeas y estadounidenses han amenazado con desbaratar el intento de Israel en la OCDE si no mejora su comportamiento.

También se cree que Israel viola derechos de propiedad intelectual, de nuevo en violación de las reglas de la OCDE. Firmas de EE.UU. y Suiza han acusado a Israel de no regular la comercialización internacional de medicamentos producidos por su mayor compañía farmacéutica, Teva.

Dirigentes de la minoría árabes, un quinto de la población, se han opuesto al intento de ser miembro de la OCDE de Israel. El mes pasado, el Comité Superior de Seguimiento, el principal organismo político de la minoría árabe, pidió a la OCDE que rechace a Israel.

Señala que la mitad de los ciudadanos árabes de Israel vive bajo la línea de pobreza, una tasa tres veces superior a la de los israelíes judíos, y que en promedio los ciudadanos árabes ganan salarios que son un tercio menores que los de los judíos.
Mohammed Zeidan, jefe del comité, culpó por las disparidades en la riqueza a lo que calificó de "políticas racistas y discriminatorias de Israel."

Otro informe de la OCDE, publicado en enero, mostró que, incluso sobre la base de las cifras de Israel que excluyen a los palestinos, Israel tendría mayores diferencias sociales que cualquier Estado miembro si fuera aceptado.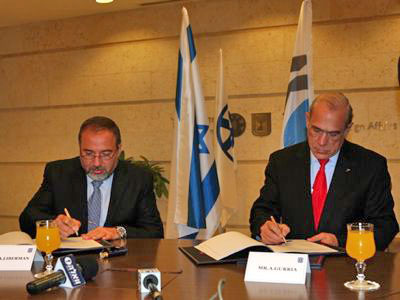 El Secretario General de la OCDE, Angel Gurria y
el ministro israelí de Relaciones Exteriores Avigdor Lieberman
firman un acuerdo de reconocimiento mutuo con privilegios diplomáticos
(19 enero 2010).

Documentos adjuntos