from AndrewGavinMarshall Website
Andrew Gavin Marshall is an independent researcher and writer based in Montreal, Canada, writing on a number of social, political, economic, and historical issues. He is also Project Manager of The People's Book Project. He also hosts a weekly podcast show, "Empire, Power, and People," on BoilingFrogsPost.com.
The Decline of The Roman Democracy and Rise of The 'Super Mario' Technocracy
July 2, 2012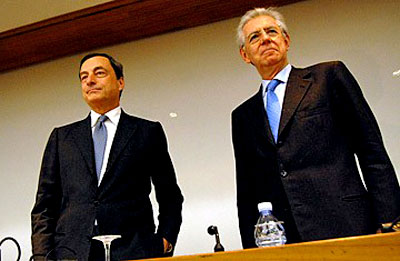 The "Super-Marios": Mario Draghi (left), President of the European Central Bank,
and Mario Monti (right), the Technocratic Prime Minister of Italy.
[photo credit: Silvia Azzari / Milestone Media / ZUMAPRESS.com]

The European debt crisis continues into its third year, with four government bailouts - of Greece, Ireland, Portugal, and Spain - and having imposed harsh austerity measures upon the people of Europe, forcing them to pay - through reduced standards of living and increased poverty - for the excesses of their political and financial rulers.

Italy, as Europe's third largest economy, with one of the largest debt-to-GDP ratios, plays a central role in the unfolding debt crisis across Europe.

Part 1 of this excerpt from a chapter on the economic crisis in my upcoming book covers the "suspension" of democracy in Italy and the imposition of a 'Technocracy' - an unelected government led by academics and bankers - with a mandate to punish the people, facilitate the financial elite, and serve the interests of the supranational, unelected, technocratic European Union.

Power centralized, power globalizes, power plunders and profits on the punishment and impoverishment of people everywhere. This is the story of Italy's debt crisis.

This is an unedited, rough draft excerpt from my upcoming book - the Preface to the People's Book Project - which is due to be finished by the end of the summer, and covers the following subjects:

the origins, evolution, and consequences of the global economic crisis

the expansion and effects of global imperialism and war

the elite-driven social engineering project of establishing an institutional structure of 'global governance'

the rising resistance of people around the world to this system, as well as the attempts of the imperial powers to co-opt, control, or destroy these socio-political movements - the embodiment of the 'Global Political Awakening' - from the Arab Spring, to the anti-austerity movements across Europe, the Indignados in Spain, the Occupy Movement, the Chilean Winter and the Maple Spring in Quebec, among others

Bilderberg, Berlusconi, and Italian Austerity

The Italian Finance Minister, Giulio Tremonti had attended the Bilderberg meeting in early June of 2011, alongside other notable Italian participants, including,
Franco Bernabe, CEO of Telecom Italia (and Vice Chairman of Rothschild Europe)

John Elkann, the Chairman of Fiat

Mario Monti, the president of Bocconi university and a former EU Commissioner

Paolo Scaroni, the CEO of Eni, an oil and gas company and Italy's largest industrial corporation
The Bilderberg meeting for 2011 took place from June 9-12 in Switzerland, and of course was attended by a host of other major European elites, including:
Josef Ackermann, Chairman and CEO of Deutsche Bank

Marcus Agius, Chairman of Barclays Bank

the Swedish Ministers for Foreign Affairs and Trade

Luc Coene, the Governor of the National Bank of Belgium

Frans van Daele, Chief of Staff to the President of the European Council

Werner Faymann, the Federal Chancellor of Austria

Douglas J. Flint, Group Chairman of HSBC Holdings

Neelie Kroes, Vice President of the European Commission

Bernardino Leon Gross, Secretary General of the Spanish Presidency

George Papaconstantinou, the Greek Minister of Finance

Herman Van Rompuy, President of the European Council

Jean-Claude Trichet, President of the European Central Bank, among many others [1]
In July of 2011, Silvio Berlusconi's government announced a package of austerity measures hoping to calm markets, seeking to reduce the deficit by 40 billion Euros.
The package, largely designed by finance minister Giulio Tremonti, only attempted to address Italy's debt, but markets were also concerned about the country's "ultra-low-growth," which has been consistent since Berlusconi returned to office in 2001. Once the austerity measures would be signed into law, several opposition politicians were suggesting the formation of a cross-party "technical government" without Berlusconi in office.[2]
The Finance Minister Tremonti announced a wave of privatizations. Apparently, the privatizations and various liberalizations were urged into the austerity package by the main opposition party, the Democratic Party (PD), not Berlusconi's Freedom People Party. The central bank governor of Italy, Mario Draghi, who was poised to become the next President of the European Central Bank (ECB) following the end of the term of Jean-Claude Trichet, warned the Italian government that "it would have to raise taxes or make further spending cuts" if it wanted to calm markets.[3]
By July 14, the Italian Senate approved an increased austerity package worth 70 billion Euros (or $99 billion), "aimed at convincing investors that the Eurozone's third-largest economy won't be swept into the debt crisis." Italy's bonds (government debt) saw its borrowing rates (interest) hit record highs as investors were not calmed by the proposed austerity measures.[4]

Even as the austerity measures were being passed, market confidence was still lacking, which was largely credited to the fact that a rift emerged between Berlusconi and his Finance Minister Tremonti, who as a Bilderberg attendee, no doubt has the confidence of markets.
Berlusconi reportedly viewed Tremonti as a "rival" and has,
"repeatedly attacked [Tremonti] as a traitor in newspapers owned by the Berlusconi family." [5]
After Tremonti, who was facing his own corruption charges, was caught on camera calling a colleague a "cretin," Berlusconi told an Italian newspaper,
"You know, he thinks he's a genius and that everyone else is stupid… I put up with him because I've known him for a long time and one has to accept the way he is. But he's the only one who is not a team player."
It was opined, then, that markets reacted to this rift between the Prime Minister and the Finance Minister, as articulated by an official at F&C Investments, who stated that markets view Tremonti as the "steady counterweight to the unpredictable and capricious" Berlusconi.[6]

In July of 2011, Nichi Vendola, a popular leftist opposition political figure in Italy, wrote an article for the Guardian, in which he critiqued the austerity measures imposed by the Berlusconi government.
Vendola wrote that,
"Italy will not survive this crisis by listening to the very people who got us into it, especially not when they demand that the middle class and poor foot the bill for their failures."
Vendola also put blame on the European managing of the crisis, as,
"governments now have an obsessive fixation on employing tighter control of budget deficits to satisfy the European stability pact."
Vendola referred to Tremonti's austerity package as a,
"social catastrophe," and that instead, he suggested, what Italy must do "is turn this policy on its head," noting that, "Italy's problem is as much about growth as it is debt."
To do this, Vendola wrote, it,
"will require a new government," and that, "Italy needs elections, because only a completely new governing class can achieve the political consensus to design and implement a plan to tackle the crisis."
He suggested that the European stability pact would need to be re-negotiated, and concluded:
"It does us little good to please the out-of-touch elite of our capitals while the people have to tighten their belts and our youth are robbed of their future." [7]
Mario Monti, President of Bocconi University and a former European Commissioner, also agreed that Italy needed a new government, though for different reasons (and a different type of government).
He wrote an article in a major Italian paper in August of 2011 in which he advocated - as a solution to Italy's problems - the formation of a "supranational technical government" which would make all the major decisions in order to,
"remove the structural constraints to growth," and opined that "an Italy respected and authoritative… would be of great help to Europe." [8]
Vendola wanted a new government to help the people, and Monti wanted a new government to help "Europe" (read: banks and elites).
Guess who became the next leader of Italy!?


Berlusconi Bows Down to the Bankers and Punishes the People

In August, Silvio Berlusconi had to approve a new austerity package, the second in less than a month.
In a letter which was leaked to the Italian press, it was revealed that Jean-Claude Trichet, the President of the European Central Bank, and Mario Draghi, the President of the Italian Central bank (from 2006 to 2011, who was set to secede Trichet at the ECB in October of 2011), put pressure on Berlusconi to "implement significant austerity measures."
The letter, written by the two central bankers, demanded "pressing action… to restore the confidence of investors."
Dated August 5, 2011, it was issued just days before the ECB announced its new program to buy Italian bonds (debt), designed to reduce the country's borrowing costs (interest on future debt). One of the measures mentioned in the letter instructed Berlusconi to take "immediate and bold measures to ensuring the sustainability of public finances," to achieve a balanced budget in 2013. This was adopted in the subsequent austerity package put forward by Berlusconi in August.
The letter also stated that,
"it is possible to intervene further in the pension system, making more stringent the eligibility criteria for seniority pensions and rapidly aligning the retirement age of women in the private sector to that established for public employees."
Further, the,
"borrowing, including commercial debt and expenditures of regional and local governments should be placed under tight control, in line with the principles of the ongoing reform of intergovernmental fiscal relations."[9]
In economic-speak, the letter asked for privatizations of public services:
"Key challenges are to increase competition, particularly in services to improve the quality of public services and to design regulatory and fiscal systems better suited to support firms' competitiveness and efficiency of the labour market."
This would require three key actions, the first of which was that,
"a comprehensive, far-reaching and credible reform strategy, including the full liberalization of local public services and of professional services is needed," and that, "this should apply particularly to the provision of local services through large-scale privatizations."
The second major step was,
"a need to further reform the collective wage bargaining system [meaning: undermine unions] allowing firm-level agreements to tailor wages and working conditions to firms' specific needs and increasing their relevance with respect to other layers of negotiations."
In other words, destroy the unions so that companies can exploit labour to whatever degree they choose.
And thirdly, according to Trichet and Draghi, what was needed was a,
"thorough review of the rules regulating the hiring and dismissal of employees [which] should be adopted in conjunction with the establishment of an unemployment insurance system and a set of active labour market policies capable of easing the reallocation of resources towards the more competitive firms and sectors." [10]
In other words, labour rights and laws and the rights of workers need to be dismantled so that companies can do as they please. It's not simply the unions that need to be destroyed, but the laws for worker security in general.
Of course, no advice from central bankers would be complete if it didn't advocate that the government,
"immediately take measures to ensure a major overhaul of the public administration in order to improve administrative efficiency and business friendliness."
Trichet and Draghi wrote that it was "crucial" that the government take these actions "as soon as possible with decree-laws, followed by parliamentary ratification," or, in other words: skip the democratic process because it takes too long, rule by decree, something Italy has a "proud" history of.
All of this was demanded to be done before the end of September 2011. In an interview with an Italian paper, Trichet admitted that this was not the first time the ECB had sent such letters to governments (such as Greece), saying,
"We have sent messages and we do that on a permanent basis, through various means, addressed to individual governments. We do not make them public." [11]
Indeed, the European Central Bank had demanded austerity measures be implemented by the governments of Greece, Ireland, Portugal, and Italy, and when Berlusconi submitted to the mandate from the central bankers, he complained that it made his administration look like "an occupied government."
A leading liberal MP in Italy, Antonio Di Pietro, said that,
"Italy is under the tutelage of the EU, and a country under tutelage is not a free and democratic one."
An Irish MEP (Member of the European Parliament), Paul Murphy, stated that there had been a "massive shift away from democratic accountability since the start of the crisis," and that:
"There needs to be a check on the enormous power of the ECB, which is unelected, and has basically held a government to ransom."
Europe's largest trade union federation, the European Public Sector Union,
"accused the ECB of directing Italian fiscal and labour policy in secret," which is, of course, true.
The Deputy General Secretary of the federation, Jan Willem Goudriaan, said,
"Europe cannot be governed through secret letters of bankers, officials or an unaccountable body."
EU officials, from Angela Merkel, Nicolas Sarkozy, to Herman Van Rompuy and Jean-Claude Trichet, have been increasing their calls for an "economic government" of Europe, tightening and deepening fiscal integration and proposing the creation of new council's and organizations to impose sanctions on countries and "police the austerity measures of governments," and even the creation of a European finance ministry.
Paul Murphy stated that,
"All these proposals, discussions about economic government, are about undermining democracy in order to impose a European shock doctrine… EU elites need to remove points of pressure that can be mounted on governments. If the mass of people are opposed to austerity, they can mount pressure on governments to hold that in check. So the only way it can then be imposed s undemocratically."
The head of a Belgian pro-transparency group stated that,
"European powers [are] distancing themselves from voters while at the same time [there is] a growing tendency towards building closer relationships with corporate and specifically financial lobbies… These two trends are explosive and can only lead to a loss of legitimacy for the EU institutions." [12]
Shortly after, on August 12, the Berlusconi government was meeting to approve the new austerity package to meet the ultimatum from the ECB, amounting to a package of "fiscal adjustments" (i.e., spending cuts) of 20 billion Euros in 2012 and 25 billion Euros in 2013, with the spending cuts and tax increases to be,
"enacted immediately by decree, but subject to approval by parliament later," just as Draghi and Trichet instructed.
The rapid tax increases did much to damage even long-time supporters of Berlusconi who had promised that he would "never put their hands in the pockets of the Italian people."
Fiscal federalism was the policy of giving the various regions in Italy more control over their finances. With the new austerity package, the governor of Lombardy, Roberto Formigoni, stated,
"It seems clear [fiscal] federalism has vanished." [13]
In mid-September, Berlusconi won final parliamentary approval for the 54 billion euro ($74 billion) austerity package, while police outside the parliament in Rome had to disperse protesters with tear gas.
The German Economy Minister Phillip Roesler told a news briefing in Rome that,
"The approval of the austerity package sends a signal of stability… I have respect for what Italy has done with its budget adjustment as this will benefit the whole euro area."
The legislation simply made legal the measures that Berlusconi's government enacted through un-democratic decree the month before, and were formalized in exchange for the European Central Bank bond purchases which helped to reduce Italy's borrowing costs.
Silvio Peruzzo, an economist at the Royal Bank of Scotland, stated that the plan's passage is a "very welcome step," but that the slowing global economy still cast doubts on whether Italy could,
"meet its fiscal targets and will also render additional corrective measures [austerity packages] very likely."
Even with the endorsement and backing of the ECB, said Peruzzo, Italy's debt remained,
"under pressure, which is indicative of a well-rooted lack of confidence in Italy and in the European policies to tackle the crisis."
One the plan was approved, said Italian Finance Minister Tremonti on September 10,
"If there are things to change in our growth measures we will, and if there are things to add, we will." [14]
The Economist reported on the new austerity package, noting that while Berlusconi had approved the austerity package in Italy, designed to cut roughly 45.5 billion Euros from the deficit by the end of 2013, he almost immediately back-peddled on 7 billion Euros worth of spending cuts and tax increases,
"notably a tax on high earners that would have hurt his natural supporters," meaning, rich people.
Thus, even as the package went to the Senate in early September, Berlusconi was fine-tuning the details.
Thus, noted the Economist,
"the markets [were] again registering alarm," and at the same time, Italy's largest and most militant trade union federation, the CGIL, called for a one-day strike in opposition to the austerity package, "protesting over a clause making it easier to dismiss workers and, more generally, over a budget that the CGIL's leader, Susanna Camusso," referred to as "unjust because it attacks the weakest."
This further worried "the market" and "investors."
The Economist wrote that:
"Mr. Berlusconi had consistently failed to react unless bullied. His first emergency budget in July followed a telephone call from the German chancellor, Angela Merkel," while the second was of course at the prompting of the ECB.[15]
By October of 2011, the austerity measures in Italy had been wreaking havoc, as non-profit organizations lose their funding and had major bureaucratic obstacles put in their way for community projects, such as the Associazione Obiettivo Napoli, which ran two programs working with children in difficulty in Naples since 1998, helping them clean up local communities and provide counseling.
As central government funding to town halls had been cut, organizations like Obiettivo Napoli,
"which sit uneasily somewhere between education, welfare and rehabilitation budgets, have been the first to suffer."
Pietro Varriale, who works with the organization, commented on further obstacles put in their way:
"They're saying we need a second degree in education science to be able to do this work… It's crazy. I have 15 years experience in this field, most of the team likewise, and we all have first degrees. A second degree is going to cost people a fortune, really a lot of money, and there's no help or grant for that kind of thing. We've been given till 2013 to conform."
To add to that, the city of Naples simply stopped paying the bills for the organization, which had to then borrow money from a bank, forcing the employees such as Pietro to have to take on jobs working at bars, waiting tables, picking tomatoes and other piecemeal projects while they continue to work with the association being unpaid:
"You keep going because of the kids, the relationships you build up." [16]
Giancarlo Di Maio, a 23-year old university graduate in Naples working at a secondhand bookshop told the Guardian that,
"University here is like a car park. You stay there as long as you can, because there'll be nothing to do when you come out," referring to the lack of jobs for youth.
As he was employed, he explained:
"Every morning, I wake up with a smile… How fortunate am I? Because otherwise, the only other work around here is black. The black economy is a huge, monumental issue for Italy."
His friends might make 30 Euros for 10 hours working in a bar, or 20 Euros for a night waiting tables in a restaurant.
Di Maio, who works at a bookshop owned by his father, said that,
"I know plenty of people in their 30s, even some in their 40s, still living with their parents… That's not normal. For me, that's one of the biggest problem [sic] in Italy - opportunities, any kind of prospects for young people."
When asked about Italian politics, he replied,
"We have the worst political class in Europe, no question… Twenty years of Berlusconi, and not a single reform, nothing for the unemployed, nothing to address the economic crisis. Instead we talk about his sex life… we have a political class who do nothing. They don't have solutions, and even if they did they wouldn't try to do anything. They just speak air, it's all they can do. Posturing."
Expressing some hope at the Occupy movement, though lamenting how it turned to violence in Italy, he explained that people were,
"finally starting to get angry. They are beginning to see that really, we can't carry on like this. Italy really is sick. We can't pretend to be the doctor any more; we need curing ourselves." [17]

The Technocratic Coup

By early October 2011, it was clear that the "markets" were not satisfied with Berlusconi's efforts at implementing a program of social genocide (fiscal austerity) which was to their liking.
Thus, on October 5, the international ratings agency Moody's cut Italy's credit rating for the first time in two decades, adding to the downgrading from Standard & Poor's two weeks prior. The Italian government responded that the actions of the ratings agencies were "politically motivated." Even Moody's acknowledged that the political situation within Italy played a part in its decision, including Berlusconi's sex scandals, and the growing protests against the austerity measures.[18]

The effect of the downgrades is to make Italian bonds (government debt) less attractive to buy (as it is a riskier investment), and thus, Italy would have to pay higher interest rates.
As a result of that, as we have seen with Greece, this makes the country's overall debt larger (as it amounts to borrowing money to pay back borrowed money), except with the higher yields (interest rates), the future payments will be even more costly, likely to create potential for a bailout (again, just taking more debt to pay interest on older debts).
All the while, the overall debt to GDP ratio increases, and austerity measures become the "conditions" for receiving bailouts, and the country is essentially taken over by the IMF, the ECB, and the EC (named the "Troika"), as occurred in Greece. This creates a permanent spiral of expanded debt, economic crisis, and social genocide. This is what is often called "market discipline."

In mid-October, opposition to Berlusconi's harsh austerity measures from within Italy was increasing, just as "market pressure" and EU-opposition from outside Italy was building against Berlusconi for his austerity measures being perceived as 'too little, too late.'
Nine members of Berlusconi's own coalition said the austerity package,
"unfairly targets the middle class and fails to tackle Italy's massive tax evasion problem."
Susanna Camusso, the head of Italy's largest and most militant labour federation, CGIL, said that a strike is the only way to "change the inequity of this package." [19]
During a global "day of rage" partly inspired by the Occupy Wall Street movement in the United States and the Indignados movement in Spain, October 15 saw various Occupy and other protests erupt around the world, in 950 cities in 80 different countries. In Italy, Rome saw roughly 200,000 protesters come out into the streets, protesting against the austerity measures, the government, the EU, the ECB and the IMF.
The protests erupted into violence as hundreds of those assembled began fighting with riot police, who were using tear gas and water cannons against the protesters, and several hundred erupted in urban rebellion (what is often called "riots") in which banks were destroyed, they set cars and garbage bins on fire, hurled rocks, bottles, and fireworks at the police who continually charged the crowd.
Roughly two dozen demonstrators were injured, with one reported to be put in critical condition, and at least 30 riot police were injured.[20]

As Berlusconi's own government began to fracture in the face of the austerity package, disagreeing on what and how and if to cut, one of Berlusconi's main coalition partners, the center-right Northern League, hinted that new elections were a possibility. Considering the popularity of the anti-austerity leftist leader Nichi Vendola, this was perhaps too much to bear. European leaders Angela Merkel and Nicolas Sarkozy lost their patience, and in late October, demanded that Berlusconi move forward with the austerity package.
In a series of EU summits in late October on handling the economic crisis, discussing specifically the plan to boost the funds of the European Financial Stability Facility (EFSF), there was concern, reported Der Spiegel,
"that the current size of the (recently expanded) fund isn't sufficient should additional countries, particularly Spain and Italy, be infected with debt contagion." [21]
Following these meetings, it was made "abundantly clear" to the Italians that their "leadership is no longer taken seriously."
Italian papers and TV shows were overwhelmed with covering the "condescending smile" of Angela Merkel to Berlusconi, and comments made by Sarkozy. Merkel and Sarkozy and other EU leaders told Berlusconi in the talks that he had to present a plan within three days "for reducing Italian debt more quickly than current plans call for."
European Council President Herman Van Rompuy said that Berlusconi had "promised to do so."
The following evening, Berlusconi stated,
"No one is in a position to be giving lessons to their partners."
European leaders were frustrated that even the austerity package passed earlier in the summer had not been fully implemented, and the government's stability was continually threatened over debating each new measure.
The European Commissioner for Economic and Monetary Affairs, Olli Rhen, said that all the details of the new plan were "unclear." With the EU summits proposing increasing the EFSF bailout fund from 440 billion Euros to 1 trillion, a central feature to the demands of the EU leaders was that countries like Italy impose more stringent austerity measures.
As Der Spiegel reported,
"A clear Italian commitment to austerity is a key component of that plan." There was then a good deal of conjecture over the possible departure of Berlusconi. The Italian paper Corriere della Serra reported that Angela Merkel called the Italian President Giorgio Napolitano the previous week "to discuss concerns about Italy's political leadership." [22]
In fact, Angela Merkel did make such a phone call to Italy's president Napolitano in October, violating "an unwritten rule" for Europe's leaders "not to intervene in one another's domestic politics."
But this is a new, changing EU, one in which democracy - even the withering façade Western governments maintain - simply no longer matters.
Merkel was,
"gently prodding Italy to change its prime minister, if the incumbent - Silvio Berlusconi - couldn't change Italy."
The Wall Street Journal reported on the events that led to this incident, explaining that at the annual meeting of the IMF in September, China, Brazil, and the U.S. "berated" Europe for its small bailout fund, and told Europe to borrow "hundreds of billions of Euros from the ECB," something Merkel had long been against, and which was refused by Jens Weidmann of the German central bank, explaining that the bailout fund,
"was an arm of the governments… and lending to governments was against the ECB's charter."
On October 19, Sarkozy left his wife who was in labor at a clinic in Paris to fly to Frankfurt to confront Jean-Claude Trichet at a party being held for the President of the ECB to honor him as he prepared to leave the ECB at the end of the month (to be replaced by the president of the Central Bank of Italy, Mario Draghi).
Sarkozy argued that the ECB needed to intervene in the bond markets (buying government debt), stating that,
"Everything else is too small."
Trichet said that it wasn't,
"the ECB's job to finance governments." [23]
The ECB had engaged already in certain bond purchases, which,
"had caused a political backlash in Germany," and as Trichet said, "I did a bit, and I was massively criticized in Germany."
Merkel, who was present during the shouting match between Trichet and Sarkozy, was frustrated at Sarkozy's pressure on Trichet, as she had always opposed the ECB printing money to handle the crisis, telling Trichet,
"You're a friend of Germany."
It was the following day, on October 20, that Merkel made her "confidential" phone call to the Italian President in Rome,
"the man with authority to name a new prime minister if the incumbent were to lose parliament's support."
President Napolitano informed Merkel that it was,
"not reassuring" that Berlusconi had only "recently survived a parliamentary vote of confidence by just one vote."
Merkel then thanked Napolitano for doing what was "within your powers" in promoting reform.
Within days, Napolitano began,
"sounding out Italy's political parties to test the support for a new government if Mr. Berlusconi couldn't satisfy Europe and the markets."[24]
It no doubt did not help Berlusconi when he wrote in an Italian paper in late October that the word austerity,
"isn't in my vocabulary." [25]
In early November, at a G20 meeting in Cannes, President Obama and other leaders were,
"effectively ordering Silvio Berlusconi to accept surveillance of Italy's austerity measures by the International Monetary Fund," reported the Guardian.
Berlusconi was advised by Merkel, Sarkozy, Herman Van Rompuy and other EU leaders the previous week to come to the G20 with "a specific austerity package," but due to divisions within his cabinet, Berlusconi "arrived empty-handed."
It was reported that Berlusconi would likely not survive a vote of confidence in the Italian parliament set for the following week. The ECB had been purchasing Italian bonds since August in order to push the yields lower, which dropped to below 5%, but by early November they had been driven up to 6.5%, "levels that make it difficult to pay back debt."
Italian President Napolitano had been holding meetings with party leaders to discuss the possibility of "constructing an interim government if Berlusconi's collapses."
The G20, which was discussing the possibility of adding $300 billion to the IMF's bailout fund of $950 billion, and G20 leaders pressured Italy,
"to sign up to a more specific austerity package or else the US and other countries would not put extra funds into the IMF." [26]
Just prior to heading to the G20 meeting, Berlusconi had attempted to issue a decree which would pass various austerity measures,
"thus bypassing the parliament," but, reported the EUobserver, he "was held back by [President] Giorgio Napolitano," as well as the Finance Minister Giulio Tremonti.
Instead, Berlusconi was pressured to attempt an amendment to a "law for stability" to be approved the following week, at which time he would likely face a vote of confidence.
Enrico Letta, the deputy general secretary of the center-left Democratic Party (PD), the main opposition party, said that,
"We think that next week will be a week in parliament where we try to force the situation if Berlusconi does not resign before." [27]
As Jean-Claude Trichet retired from the ECB at the end of October, and Mario Draghi left the Bank of Italy to take up his new job as President of the ECB, the newly-appointed governor of the Bank of Italy, Ignazio Vasco, said that Italy,
"needed to take urgent action to boost confidence in the economy and initiate structural reforms," insisting that the commitments already given to the EU in a "letter of intent" in late October (following Berlusconi being castigated by Merkel and Sarkozy), "must be honoured quickly and consistently." [28]
At the G20 conference, Berlusconi agreed under pressure to have the IMF oversee Italy's implementation of austerity measures, following late-night talks with G20 leaders.
Jose Manuel Barroso, President of the European Commission (EC), said that,
"Italy had decided on its own initiative to ask the IMF to monitor. I see this as evidence of how important Italy's commitment to reform is."
The EC would also monitor Italy's progress, and was set to visit Italy the following week to undertake a more detailed study. One EU source told the Telegraph that,
"We need to make sure there is credibility with Italy's targets - that it is going to meet them. We decided to have the IMF involved on the monitoring, using their own methodology, and the Italians say they can live with that."
The chief financial officer of Commerzbank, Eric Strutz, said that,
"The whole stability of Europe depends on whether Italy gets its act together." [29]
On November 8, Berlusconi suffered a party revolt in parliament which failed to deliver him a majority, and would likely lead to a vote of non-confidence a few days later.
Upon this defeat, Berlusconi announced that he would resign as Prime Minister "as soon as parliament passed urgent budget reforms demanded by European leaders." President Napolitano announced that he would begin consultations on the formation of a new government, and stated that he would prefer a "technocrat or national unity government."
At the same time, the "markets" had pushed Italy's bond yields (debt interest) to nearly 7%, figures that saw Greece, Ireland, and Portugal getting bailouts.
The leader of the main opposition Democratic Party (PD), Pier Luigi Bersani, said,
"I ask you, Mr. Prime Minister, with all my strength, to finally take account of the situation… and resign."
Berlusconi and some of his close allies, however, warned that appointing a technocratic government, the option which was said to be favoured by "markets," would amount to an "undemocratic coup." [30]
Naturally, that's just what happened.

Writing for the Guardian, John Hooper suggested that one of four scenarios would take place upon the event of Berlusconi's resignation:
one envisions Berlusconi leaving but the right gaining a broader majority, specifically under Umberto Bossi's Northern League, who was in Berlusconi's coalition but had advised him to resign, and was pushing for him to be replaced with the next in command in Berlusconi's party, Angelino Alfano

another scenario envisioned a "grand coalition," or a "government of national emergency or salvation," bringing together all the parties

a third scenario had Italy calling an election, urged by both Berlusconi and Bossi

or the fourth option, "a cabinet of technocrats," which Hooper wrote was "favoured by the markets and the Italian centre left," which would consist of "a government filled with specialists who could pass the unpalatable legislation needed to revive Italy's flagging economy without having to worry about re-election"
This happened before in Italy, when Berlusconi's government fell in 1994, at which time he was replaced by Lamberto Dini, a central banker, who headed a government of "professors, generals and judges."
In this scenario, suggested Hooper, the likely prime minister would be Mario Monti.[31]

Upon Berlusconi's failure to achieve a minority during the budget vote on November 8, many officials from the financial community began making their observations, such as Jan Randolph, the head of sovereign risk analysis at HIS Global Insight, who said that,
"Berlusconi has effectively lost political capital to carry the country through a period of austerity and structural reform," and that, "Berlusconi will have to resign."
He went on to suggest that it was possible,
"that a broad National Unity government headed by a respected technocrat like ex-EU commissioner Mario Monti could be formed." [32]
As Berlusconi officially resigned on the night of November 12, 2011, he left the president's palace through a side door as a crowd of over 1,000 people outside yelled, "buffoon," "Mafioso," and for him to "face trial."
A poll from early November reported that 71% of Italians favoured his resignation, and upon hearing of his official resignation, the crowd erupted in roars of "Halleluja." [33]

On November 16 of 2011, Mario Monti was appointed as Prime Minister of Italy. Monti accepted the mandate to form a new government, and was expected to appoint technical experts as opposed to politicians to his cabinet.
President Napolitano told Italian politicians that,
"it is a responsibility we perceive from the entire international community to protect the stability of the single currency as well as the European frame work."
Berlusconi's political party, the People of Liberty, said it would accept a Monti government for a short while before elections would have to be scheduled, and Berlusconi referred to his resignation as "an act of generosity." [34]

Mario Monti is an economist and academic who served as European Commissioner for the Internal Market, Services, Customs and Taxation from 1995 to 1999, and European Commissioner for Competition from 1999 to 2004. Monti is founder and Honorary President of Bruegel, a European think tank he launched in 2005, based in Belgium, and which represents the interests of key European elites.
Monti has also been a member of the advisory board of the Coca-Cola Company, and was an international advisor to Goldman Sachs, was a former member of the Steering Committee of the Bilderberg Group, having previously attended the meeting in Switzerland in June of 2011, and was European Chairman of the Trilateral Commission until he resigned when he became Prime Minister of Italy.

Monti's think tank, Bruegel, represents key elite European interests.
The Chairman of the Board of Bruegel is Jean-Claude Trichet, the former President of the European Central Bank (ECB) from 2003 to 2011, who is also a member of the board of directors of the Bank for International Settlements (BIS), and has joined the boards of a number of major corporations, including EADS.
Other board members of Bruegel include:
Jose Manuel Campa Fernandez, who was the Spanish Secretary of State for Economic Affairs at the Ministry of Economy and Finance from 2009 to 2011, and has been a consultant for the European Commission, the Bank of Spain, the Bank for International Settlements (BIS), the Federal Reserve Bank of New York, the Inter-American Development Bank, the International Monetary Fund and the World Bank

Anna Ekström, the president of the Swedish Confederation of Professional Associations, Saco, and formerly the Swedish State Secretary for the Ministry of Industry, Employment and Communication

Jan Fisher, Vice President of the European Bank for Reconstruction and Development (EBRD), former Prime Minister of the Czech Republic

Vittorio Grilli, the Deputy Minister of the Ministry of Economy and Finance of Italy (whom Monti appointed to his technocratic government in November of 2011), and a former Managing Director at Credit Suisse First Boston

Wolfgang Kopf, Vice President at Deutsche Telekom AG

Rainer Münz, head of Research and Development at Erste Group and Senior Fellow at the Hamburg Institute of International Economics (HWWI), former consultant to the European Commission, the OECD, and the World Bank

Jim O'Neill, Chairman of Goldman Sachs Asset Management

Lars-Hendrik Röller, the Director General of the Economic and Financial Policy Division of the German Federal Chancellery, and is President of the German Economic Association

Dariusz Rosati, former consultant economist at Citibank, former Minister of Foreign Affairs for Poland, former adviser to the President of the European Commission, and was a member of the European Parliament from 2004 to 2009

Helen Wallace, a British academic expert on European integration
In October of 2009, Mario Monti was asked by the President of the European Commission Manuel Barroso to draw up a report on how the EU should re-launch its single market.
Barroso advised that the report, "should address the growing tide of economic nationalism and outline measures to complete the EU's currently patchy single market." Mario Monti was President of the Bocconi University at the time he was asked to write the report.[35]
In May of 2010, Monti produced the report and officially handed it in to European Commission President Barroso.
The report recommended ways to fight the potential of economic nationalism and to preserve and protect the regional bloc and to advance the process of integration, with Monti arguing that,
"There is now a window of opportunity to bring back the political focus of the single market." [36]
The report eventually became the EU's Single Market Act of 2011.[37]

After becoming the technocratic and unelected Prime Minister of Italy, Monti quickly appointed his new cabinet, of which more than a third of the 17-member cabinet consisted of professors and other technocrats.
The cabinet position of Minister of Economic Development, Infrastructure and Transport was given to Corrado Passera, the chief executive of Italy's largest bank, Intesa Sanpaolo. Passera told the Financial Times upon his appointment as "superminister" that,
"If you want to build the wide consensus that is needed, we have to share sacrifices and benefits among all the segments of society with a balanced set of actions and with the right mix of austerity and development programmes."
British hedge fund manager Davide Serra stated,
"Monti and Passera are the right guys for the job. They are the dream team."[38]
Upon appointing his new technocratic government, Monti declared:
"We feel sure of what we have done and we have received many signals of encouragement from our European partners and the international world. All this will, I trust, translate into a calming of that part of the market difficulty which concerns our country."
On the lack of party representatives in his cabinet, Monti commented,
"The absence of political personalities in the government will help rather than hinder a solid base of support for the government in parliament and in the political parties because it will remove one ground for disagreement."[39]
A former ambassador who worked with Monti when he was an EU Commissioner recalled Mario's style of governance, stating,
"He didn't have a very Italian way of going about things… His nickname in those days was 'The Italian Prussian'."
An article in Reuters described Monti as,
"a convinced free marketeer with close connections to the European and global policy making elite, Monti has always backed a more closely integrated euro zone," and went on to mention his leadership positions within the Bilderberg Group of "business leaders" and "leading citizens" and the Trilateral Commission, which "brings together the power elites of the United States, Europe and Japan."
Monti's government would be given roughly 18 months to push through "reforms" and austerity measures, as another election would not be due until 2013.
However, as one outgoing minister commented in November of 2011,
"The decisions which Monti will take must pass in parliament and I think that with such a heterogeneous majority he will have many problems. I believe this solution will lead to many problems." [40]
Monti of course received abundant praise from Europe's leaders on becoming the new unelected technocratic Prime Minister of Italy.
An article by Tony Barber in the Financial Times explained that Italian party politics was simply too problematic, as:
"Even a centre-left government with a mandate from the voters would find it hard to maintain the unity and resolution required to implement the unpopular austerity measures and structural economic reforms demanded by Germany, France, the European Commission, the European Central Bank and the International Monetary Fund."
And with the prospect of labour resistance from workers and pensioners,
"it is easy to see why Europe's leaders were eager for Mr Monti to inherit the premiership."
Thus, wrote Barber,
"technocracy has an irresistible appeal." [41]
Mario Monti himself had acknowledged that "irresistible appeal" in August of 2011, when he wrote an article in a major Italian paper advocating the formation of a,
"supranational technical government" which would make all the major decisions in order to "remove the structural constraints to growth," and opined that "an Italy respected and authoritative… would be of great help to Europe." [42]
And as it turned out, a great help to Monti.

In early December of 2011, after forming his cabinet and being approved by Italy's lower chamber of Parliament with a rare majority, Mario Monti received the endorsement of Angela Merkel and Nicolas Sarkozy, declaring their "absolute trust" in Monti and in "his structural changes" to his governing of Italy.
Monti, upon assuming power, warned Italians in a speech that,
"It is not going to be easy, sacrifice will be required."
As Monti's "technocratic government" is full of appointments from the ruling class, including bankers and other executives, many in Italy were raising concerns that this suggested an inherent conflict of interest in his government, as those who helped create the crisis are brought in to solve it, a highly political government, despite all the claims of an apolitical 'technocracy' (technocracies are always political entities, but instead of pushing party ideologies, they push ultra-elite ideologies in the management and maintenance of society).
Monti replied that,
"There is no conflict of interests… The fact that many of us have played a role in the institutions before doesn't mean that we will not be totally transparent."
And with that note, Monti appointed Carlo Malinconic as undersecretary for publishing affairs, after having previously served as president of the Italian Federation of Publishing and Newspapers.[43]

Writing in the journal of the Council on Foreign Relations, Foreign Affairs, Jonathan Hopkin, a professor of comparative politics at the London School of Economics, commented that the replacement of Berlusconi with Monti,
"marks a new stage in the European financial crisis," in which "the crisis now seems to be wiping out democratically elected governments."
Largely under pressure from bond markets,
"Italian politicians have opted to hand power to technocrats, expecting that they will somehow enjoy greater legitimacy as they impose painful measures on an angry population."
Hopkin stated:
"This will not work." [44]
In early November, as democratically-elected governments in Greece and Italy were replaced with unelected and unaccountable technocratic governments, essentially run by and for the European Union and global banks, Tony Barber, writing in the Financial Times, suggested that this is but one of several responses to the economic crisis.
Specifically, this response,
"involves the surgical removal of elected leaders in Greece and Italy and their replacement with technocratic experts, trusted within the EU to pass economic reforms deemed appropriate by policymakers in Berlin, the bloc's top paymaster, and at EU headquarters in Brussels."
Barber referred to the "sidelining of elected politicians in the continent that exported democracy to the world" as a "momentous development."
In short,
"Eurozone policymakers have decided to suspend politics as normal in two countries because they judge it to be a mortal threat to Europe's monetary union."
Thus, these policymakers,
"have ruled that European unity, a project more than 50 years in the making, is of such overriding importance that politicians accountable to the people must give way to unelected experts who can keep the show on the road."
In Greece, the government was put under the technocratic leadership of Lucas Papademos, a former vice president of the European Central Bank, and upon accepting his appointment, stated:
"I am confident that the country's participation in the Eurozone is a guarantee of monetary stability."
In Italy, Mario Monti came to power, a technocrat who,
"is revered in Brussels as one of the most effective commissioners for competition and the internal market that the EU has known."
One prominent Italian banker commented:
"We need a strong national unity government for one to one and a half years to do what the politicians haven't had the courage to do." [45]
Running the ECB can be such a 'Draghi'

In late October of 2011, at a gala event to mark the end of Jean-Claude Trichet's eight years as president of the European Central Bank, Mario Draghi, the governor of the Bank of Italy, who was selected to take over for Trichet at the start of November, was "working the room" of high-powered European elites, including Angeal Merkel, and IMF Managing Director Christine Lagarde.
Between 1984 and 1990, Draghi was the Italian Executive Director at the World Bank, and in 1991, he became the director general of the Italian Treasury until 2001.
Between 2002 and 2005, Draghi was the Vice Chairman and Managing Director of Goldman Sachs International, thereafter becoming the governor of the Bank of Italy from 2006 until 2011, also putting him on the Governing Board of the European Central Bank and the Bank for International Settlements (BIS).
Draghi is not simply one of the individuals who has been most responsible for handling and managing the economic crisis, but he also played an important role in causing it.
As Vice Chairman of Goldman Sachs, and in Italy at the Treasury and the central bank,
"Draghi was a proponent of nations and other institutions like pension funds using derivatives to more efficiently manage their liabilities."
This means that Draghi advised that governments should essentially hide their debts in the derivatives market, where they would not be viewed as liabilities, but rather, transactions.
These "transactions" were very popular in Greece and Italy, and had a great deal to do with accumulating and hiding the massive debts of these countries.[46]

When Draghi led the Italian Treasury in the 1990s, he,
"oversaw one of the largest European privatization efforts ever and paved the way for Italy's entry into the euro," earning him the nickname, "Super Mario."
Italy liberalized its financial markets, allowing for massive speculation, derivatives, and other banking excesses, and he privatized roughly 15% of Italy's economy.
While Italian governments came and went during this period, Draghi always remained.
While both Draghi and Goldman Sachs said that "Super Mario" did not have anything to do with the especially controversial Greece-Goldman Sachs transactions, one Goldman Sachs executive in Europe,
"who was not authorized to speak publicly," told the New York Times that, "Mr. Draghi had discussed similar initiatives with other European governments."
When asked about his involvement at Goldman Sachs, Draghi once replied,
"I was not in charge of selling stuff to the governments… In fact, I worked in the private sector even though Goldman Sachs expected me to work in the public sector when I was hired."
However, in a paper which Draghi wrote in 2002 just a couple months after being hired by Goldman Sachs, at which his job description was,
"to win investment banking business from European governments," Draghi argued in favour of governments using derivatives "to stabilize tax revenue and avoid the sudden accumulation of debt," which the New York Times politely described as "faithful to the spirit" of the Goldman-Greece deal.[47]
In an interview with the Financial Times in December of 2011, European Central Bank president Mario Draghi reflected upon the financial crisis and the actions taken to manage it.
He explained that the ECB's long-term refinancing operation (a half-trillion euro bank bailout) was not designed to give banks an incentive to buy government bonds from the "periphery" nations, but rather, that,
"the objective is to ease the funding pressures that banks are experiencing," and that the banks "will then decide what the best use of these funds is."
Draghi stated that, "we don't know exactly" what banks were doing with the money, but that,
"the important thing was to relax the funding pressures."
Draghi reiterated that the banks,
"will decide in total independence what they want to do."[48]
It's interesting to note that when governments get bailouts, they are told what and how to spend the money, and are forced to impose austerity measures that destroy the social fabric and punish the populations of their countries, and then, of course, have to pay back the money at exorbitant interest rates; but when banks get a half-trillion euro bailout, the banks will "decide what the best use" of the money is, and where it goes is not important, it's only important to "relax" the pressure on the banks, who will repay the debt over a long-term period (3 years) with extremely low interest (averaging 1%).
So people get pressure, and banks get pressure "relaxed."

Draghi told the Financial Times that what is needed most is to "restore confidence," and for this, there are four answers.
The first one "lies with national economic policies, because this crisis and this loss of confidence started from budgets that had got completely out of control."

The second answer, explained Draghi, "is that we have to restore fiscal discipline to the euro area," which means to impose austerity, "and this is in a sense what last week's EU summit started [in mid-December 2011], with the redesign of the fiscal compact."

The third answer "is to have a firewall in place which is fully equipped and operational," meaning a massive bailout fund, which "was meant to be provided by the EFSF."

The fourth answer, according to Draghi, is for countries "to undergo significant structural reforms that would revamp growth," implying things like liberalization, privatization, and further deregulaiton.
When Draghi was asked about the critics of the fiscal compact who suggest that it amounts to a "stagnation and austerity union," Draghi replied that,
"they are right and wrong at the same time."
Draghi repeated the mantra of pro-austerity voices, who always suggest with no historical evidence to support, that there is "no trade-off between fiscal austerity, and growth and competitiveness."
However, Draghi contended,
"I would not dispute that fiscal consolidation [austerity] leads to a contraction in the short run."
The correspondent with the Financial Times asked:
"But these austerity programs are very harsh. Don't [you] think that some countries are really in effect in a debtor's prison?" Draghi replied: "Do you see any alternative?" [49]
In an interview with the Wall Street Journal in February, Mario Draghi warned European countries,
"that there is no escape from tough austerity measures and that the continent's traditional social contract is obsolete."
Draghi said that Europe's social model was "already gone," and that the only way to return to "long-term prosperity" was,
"continuing economic shocks [that] would force countries into structural changes in labor markets and other aspects of the economy."
As European people were suffering through the increased austerity measures, Draghi warned that,
"Backtracking on fiscal targets would elicit an immediate reaction by the market."
This of course implies that the market has the 'right' to determine the fate of Europe's people.
For Draghi,
"austerity, coupled with structural change, is the only option for economic renewal."
The European Commission, headed by Jose Manuel Barroso, agreed with Draghi, stating that despite forecasting a deepened recession brought on by austerity measures, governments "should be ready to meet budgetary targets."
Simon Johnson, the former chief economist of the IMF, said that Draghi was "just sugarcoating the message."
Johnson explained:
"A lot of this structural reform talk is illusory at best in the short run… but it's a better story than saying you're going to have a terrible 10 years." [50]
In the interview, Draghi commented on the "positive changes" which had been taking place in the previous few months:
"There is greater stability in financial markets. Many government shave taken decisions on both fiscal consolidation and structural reforms. We have a fiscal compact where the European governments are starting to release national sovereignty for the common intent of being together."
When Draghi was asked what his view was,
"of these austerity policies in the larger strategy right now, forcing austerity at all costs," Draghi replied: "There was no alternative to fiscal consolidation, and we should not deny that this is contractionary in the short term."
Then, he added, it was necessary to promote growth, "and that's why structural reforms are so important." The interviewer asked Draghi what the "most important structural reforms" were for Europe at that time.
Draghi replied:
In Europe first is the product and services market reform. And the second is the labour market reform which takes different shapes in different countries.

In some of them one has to make labour markets more flexible and also fairer than they are today [in other words: more easily exploited]. In these countries there is a dual labour market: highly flexible for the young part of the population where labour contracts are three-month, six-month contracts that may be renewed for years.

The same market is highly inflexible for the protected part of the population where salaries follows seniority rather than productivity. In a sense labour markets at the present time are unfair in such a setting because they put all the weight of flexibility on the young part of the population.[51]
When central bankers and politicians and others talk about "labour flexibility," what they really mean is "worker insecurity."
This was bluntly stated by Alan Greenspan back when he was Governor of the Board of the Federal Reserve System, when in testimony before the US Senate in 1997, he discussed how America's "favorable" economy was constructed. Greenspan discussed how wage increases for workers did not keep pace with inflation, which was, he explained, "mainly the consequence of greater worker insecurity."
He elaborated:
"the willingness of workers in recent years to trade off smaller increases in wages for greater job security seems to be reasonably well documented."
Greenspan credited the creation of "worker insecurity" with technological changes, corporate restructuring and downsizing, as well as "domestic deregulation."[52]
The New York Times reported on this, stating that Greenspan described "job insecurity" as,
"a powerful recent force in the American economy," and that Greenspan, "clearly elevated this insecurity to major status in central bank policy."
How does worker insecurity influence central bank policy?
The article explained:
"Workers have been too worried about keeping their jobs to push for higher wages… and this has been sufficient to hold down inflation without the added restraint of higher interest rates."
However, Greenspan warned that even though job insecurity continues to rise, once,
"workers become accustomed to their new level of uncertainty, their confidence may revive and the upward pressure on wages resume." [53]
In his interview with the Wall Street Journal, Mario Draghi was asked if "Europe will become less of the social model that has defined it," to which Draghi replied:
"The European social model has already gone."
Draghi, repeating the mantra of so many in power, stated that,
"there is no feasible trade-off between" austerity and growth: "Fiscal consolidation is unavoidable in the present set up, and it buys time needed for the structural reforms. Backtracking on fiscal targets would elicit an immediate reaction by the market."
In terms of "progress" - as Draghi defines it - throughout the crisis, he praised the fiscal compact treaty as,
"a major political achievement because it's the first step towards a fiscal union. It's a treaty whereby countries release national sovereignty in order to accept common fiscal rules that are especially binding, and accept monitoring and accept to have these rules in their primary legislation so they are not easy to change. So that's a beginning." [54]
In further testimony in 2000, Alan Greenspan again addressed the issue of "worker insecurity," which he stipulated was the,
"consequence of rapid economic and technological change," which in turn created a "fear of potential job skill obsolescence."
Greenspan stated that,
"more workers currently report they are fearful of losing their jobs than similar surveys found in 1991 at the bottom of the last recession," and that, "greater workers insecurities are creating political pressures to reduce fierce global competition that has emerged in the wake of our 1990s technology boom."
While Greenspan admitted that "protectionist policies" would,
"temporarily reduce some worker anxieties," he felt this was a bad idea, as "over the longer run such actions would slow innovation and impede the rise in living standards."
Greenspan elaborated:
Protectionism might enable a worker in a declining industry to hold onto his job longer.

But would it not be better for that worker to seek a new career in a more viable industry at age 35 than hang on until age 50, when job opportunities would be far scarcer and when the lifetime benefits of additional education and training would be necessarily smaller?

These years of extraordinary innovation are enhancing the standard of living for a large majority of Americans. We should be thankful for that and persevere in policies that enlarge the scope for competition and innovation and thereby foster greater opportunities for everyone.[55]
This is called "labour market flexibility."
Of course, as Greenspan was full of praise for the fact that "job insecurity" is a necessary factor in "enhancing the standard of living for a large majority of Americans," which "fosters greater opportunities for everyone," what he really meant was that it benefits a tiny minority and creates better opportunities for exploitation.
Ironically, this wonderful "boom" in the economy turned out to be a bubble, and it popped within a year of his giving this speech, and then of course, he resorted to building up the housing bubble thereafter… and we know how that went: more worker insecurity, more labour market flexibility, and thus, more benefits to a tiny minority and more opportunities for exploitation and profits.
Isn't the "free market" wonderful?

In April of 2012, Mario Draghi advised the Eurozone to adopt a,
"growth compact" in order to boost economic prospects as he "scaled back his hopes for an early economic rebound," stating that the Eurozone bloc was "probably in the most difficult phases" in which the austerity measures were "starting to reverberate its contractionary effects," he told the European Parliament.
Austerity had, according to Draghi,
"taken a larger than expected toll."
A "growth pact" was promoted by the front-runner in the French presidential elections, Francois Hollande, who would go on to win the May 6 elections against Sarkozy.
Hollande had called for a "new Europe" stressing "solidarity, progress and protection," warning against a North-South split in the EU countries. Angela Merkel also approved of Draghi's call for a "growth pact," agreeing that austerity was not "the whole answer" to the crisis, but insisted that growth would be "in the form of structural reforms," which implies liberalization and privatization.
She added:
"We need growth in the form of sustainable initiatives, not simply economic stimulus programmes that just increase government debt."
While acknowledging the "economic weakness" created by the austerity packages across Europe, Draghi continued to say that,
"Europe's leaders should stay the course on fiscal consolidation." [56]
European leaders were quick to endorse the calls from Draghi for a "growth pact" for Europe, including Angela Merkel in Germany, and France's new Socialist president, Fancois Hollande, as well as EC President José Manuel Barroso.
Following Draghi's suggestion, Barroso stated that,
"Growth is the key, growth is the answer."
Francois Hollande commented in references to Draghi's proposal,
"He doesn't necessarily have the same measures in mind as me to foster growth," as Draghi's position was closer to that of Angela Merkel, who viewed the pact as consisting of "structural reforms," not a stimulus which would "again increase national debt."
An analyst at the Cutch bank ING said:
"For the ECB, a growth compact does not mean more fiscal stimulus," which is, of course, only reserved for banks, not people. Instead, stated the analyst, Carsten Brzeski, it entails "structural reforms with a vision." [57]
In May, this vision was publicly endorsed by Jorg Asmussen, the governor of the Bundesbank (the German central bank), and a member of the Executive Board of the European Central Bank, and was just previously the deputy finance minister of Germany.
In a speech on May 21, Asmussen stated that, "we need both" austerity and growth, but that:
"Talking about more growth does not mean moving away from the fiscal policy strategy pursued so far. It is not a matter of boosting growth over the next one to two quarters with credit-financed spending programs, but of increasing potential growth. No one is against growth. The crucial and rather difficult question to answer is how, in ageing societies, to increase potential growth."
As to the question of 'how', Asmussen suggested three main components: product market reforms, labour market reforms, and financing of reforms.
Product market reforms could include, according to Asmussen,
"the completion of the internal market for services… [as] 70% of the EU's GDP comes from services, but only 20% of services are provided on a cross-border basis."
As for labour market reforms, Asmussen suggested they should be "inspired by the Agenda 2010 programme in Germany," and that, ultimately:
"labour mobility needs to be increased in the euro area (the theory says, we remember, that an optimal currency area requires full mobility of labour). Mobility could be increased through broader recognition of qualifications within Europe, greater portability of pension rights, language courses and a European network of job centres." [58]
The Agenda 2010 programme was, explained Der Spiegel,
"a series of labor market and social welfare reforms introduced by former Chancellor Gerhard Schröder that completely restructured Germany's welfare state," which included, "easing job dismissal protections, lowering bureaucratic hurdles for starting businesses, setting a higher retirement age and lowering non-wage labor costs," all of which are "typical examples of structural reforms." [59]

The Crisis Continues…

And so the European debt crisis continues, and so the austerity measures continue to punish the populations of Europe, and so Italy remains at the forefront of a growing global power grab:
a 'Technocratic Revolution' in which even the trappings of formal democracy are pushed aside in favour of a government subservient to unelected councils of supranational institutions and global financial interests.
In Part 2 of this excerpt on the Italian debt crisis, we examine the austerity programs and structural adjustments undertaken by the technocratic government of Mario Monti.


Notes
[1] Bilderberg Meetings, Participants, 2011:
http://www.bilderbergmeetings.org/participants_2011.html

[2] John Hooper, "Italy's politicians rally round to prevent market's slide," The Guardian, 12 July 2011:
http://www.guardian.co.uk/business/2011/jul/12/italy-rallies-financial-meltdown-austerity

[3] Phillip Inman and John Hooper, "Italy hopes privatisations will calm markets," The Guardian, 13 July 2011:
http://www.guardian.co.uk/business/2011/jul/13/italy-hopes-privatisations-will-end-run-on-shares

[4] AP, "Italian Senate passes key austerity package," The Independent, 14 July 2011:
http://www.independent.co.uk/news/world/europe/italian-senate-passes-key-austerity-package-2313765.html

[5] Rachel Donadio, "Italy to Adopt Austerity Plan to Fend Off a Debt Crisis," The New York Times, 14 July 2011:
http://www.nytimes.com/2011/07/15/world/europe/15italy.html

[6] Emma Rowley, "Silvio Berlusconi v. Giulio Tremonti: a clash that spooked the markets," The Telegraph, 14 July 2011:
http://www.telegraph.co.uk/finance/economics/8637058/Silvio-Berlusconi-v.-Giulio-Tremonti-a-clash-that-spooked-the-markets.html

[7] Nichi Vendola, "Italian debt: Austerity economics? That's dead wrong for us," The Guardian, 14 July 2011:
http://www.guardian.co.uk/commentisfree/2011/jul/14/italian-debt-austerity-berlusconi

[8] Mario Monti, "Il podestà forestiero," Corriere della Sera, 7 August 2011, [original in Italian, translation provided by Google Translate]:
http://www.corriere.it/editoriali/11_agosto_07/monti-podesta_1a5c6670-c0c4-11e0-a989-deff7adce857.shtml

[9] Central Banking Newsdesk, "Leaked letter reveals ECB austerity demands on Italy," Central Banking, 29 September 2011:
http://www.centralbanking.com/central-banking/news/2113272/leaked-letter-reveals-ecb-austerity-demands-italy

[10] Ibid.

[11] Ibid.

[12] Leigh Phillips, "ECB austerity drive raises fears for democratic accountability in Europe," The Guardian, 22 August 2011:
http://www.guardian.co.uk/business/2011/aug/22/debt-crisis-europe

[13] John Hooper, "Italy's government meets to approve new austerity package," The Guardian, 12 August 2011:
http://www.guardian.co.uk/business/2011/aug/12/berlusconi-italy-austerity-cuts-protest

[14] Lorenzo Totaro, "Berlusconi's Austerity Package Wins Final Approval in Italian Parliament," Bloomberg, 14 September 2011:
http://www.bloomberg.com/news/2011-09-14/berlusconi-s-austerity-package-wins-final-approval-in-italian-parliament.html

[15] "Italy's Austerity Budget - Needed: A New Broom," The Economist, 10 September 2011:
http://www.economist.com/node/21528674

[16] Jon Henley, "Austerity in Italy: cuts compound bureaucratic obstacles," The Guardian, 18 October 2011:
http://www.guardian.co.uk/world/blog/2011/oct/18/austerity-italy-cuts-bureaucratic-obstacles

[17] Jon Henley, "Europe on the breadline: hopelessness and Berlusconi," The Guardian, 18 October 2011:
http://www.guardian.co.uk/world/blog/2011/oct/18/jon-henley-breadline-europ-hopelessness-berlusconi

[18] Bruno Mascitelli, "As Moody's trashes Italy, voters can't count on Berlusconi," The Conversation, 5 October 2011:
http://theconversation.edu.au/as-moodys-trashes-italy-voters-cant-count-on-berlusconi-3486

[19] The Canadian Press, "Italy Debt Crisis: Berlusconi Austerity Package Sets Up Showdown With Labour," The Huffington Post, 14 October 2011:
http://www.huffingtonpost.ca/2011/08/14/italy-austerity-showdown_n_926389.html

[20] Reuters, "Violent protests in Italian capital," The Irish Times, 15 October 2011:
http://www.irishtimes.com/newspaper/breaking/2011/1015/breaking23.html;

Antonio Padellaro, "Come previsto," Il Fatto Quotidiano, 16 October 2011, (original in Italian, translation courtesy of Google Translate):
http://www.ilfattoquotidiano.it/2011/10/16/come-previsto/164205/;

"Rome counts cost of violence after global protests," BBC News, 16 October 2011:
http://www.bbc.co.uk/news/world-europe-15326561;

Alessandra Rizzo and Meera Selva, "Rioters hijack Rome protests; police fire tear gas," The Denver Post, 16 October 2011:
http://www.denverpost.com/nationworld/ci_19123516

[21] Spiegel Online, "German Parliament Expected To Hold Full Vote on EFSF," Der Spiegel, 24 October 2011:
http://www.spiegel.de/international/europe/controversial-leveraging-plan-german-parliament-expected-to-hold-full-vote-on-efsf-a-793656.html

[22] Hans-Jürgen Schlamp, "Berlusconi's Government Wobbles in Face of EU Pressure," Der Spiegel, 25 October 2011:
http://www.spiegel.de/international/europe/crumbling-coalition-berlusconi-s-government-wobbles-in-face-of-eu-pressure-a-793884.html

[23] MARCUS WALKER, CHARLES FORELLE, and STACY MEICHTRY, "Deepening Crisis Over Euro Pits Leader Against Leader," The Wall Street Journal, 30 December 2011:
http://online.wsj.com/article/SB10001424052970203391104577124480046463576.html

[24] Ibid.

[25] Armorel Kenna, "Austerity 'Isn't in My Vocabulary,' Berlusconi Tells Il Foglio," Bloomberg, 29 October 2011:
http://www.bloomberg.com/news/2011-10-29/austerity-isn-t-in-my-vocabulary-berlusconi-tells-il-foglio.html

[26] Patrick Wintour and Larry Elliott, "G20 leaders press Italy to accept IMF checks on cuts programme," The Guardian, 4 November 2011:
http://www.guardian.co.uk/world/2011/nov/04/g20-italy-imf-checks-cuts

[27] Philip Ebels, "Berlusconi heads to G20 amid mutiny at home," EUObserver, 3 November 2011:
http://euobserver.com/9/114156

[28] Nick Squires, "Eurozone crisis: Italian coalition fails to reach austerity deal," The Telegraph, 3 November 2011:
http://www.telegraph.co.uk/news/worldnews/europe/italy/8866954/PIC-AND-PUB-PLEASE-Eurozone-crisis-Italian-coalition-fails-to-reach-austerity-deal.html

[29] Emily Gosden, "Italian Prime Minister Silvio Berlusconi agrees to IMF oversight of austerity measures," The Telegraph, 4 November 2011:
http://www.telegraph.co.uk/finance/financialcrisis/8869346/Italian-Prime-Minister-Silvio-Berlusconi-agrees-to-IMF-oversight-of-austerity-measures.html

[30] Barry Moody and James Mackenzie, "Berlusconi to resign after parliamentary setback," Reuters, 8 November 2011:
http://www.reuters.com/article/2011/11/08/us-italy-idUSTRE7A72NG20111108

[31] John Hooper, "What happens if Berlusconi resigns?" The Guardian, 8 November 2011:
http://www.guardian.co.uk/world/2011/nov/08/italy-after-berlusconi-scenarios

[32] Graeme Wearden and Alex Hawkes, "Eurozone debt crisis: Berlusconi to resign after austerity budget passed," The Guardian, 8 November 2011:
http://www.guardian.co.uk/business/blog/2011/nov/08/berlusconi-debt-greece#block-35

[33] "The end of Berlusconi: Hallelujah," The Economist, 13 November 2011:
http://www.economist.com/blogs/newsbook/2011/11/end-berlusconi

[34] Rachel Donadino, "With Clock Ticking, an Economist Accepts a Mandate to Rescue Italy," The New York Times, 13 November 2011:
http://www.nytimes.com/2011/11/14/world/europe/mario-monti-asked-to-form-a-new-government-in-italy.html

[35] Andrew Willis, "Mario Monti to draw up single market report," EUObserver, 21 October 2009:
http://euobserver.com/19/28856

[36] "EU must put single market 'back on stage', says Monti," EurActiv, 11 May 2010:
http://www.euractiv.com/priorities/eu-put-single-market-back-stage-news-494013

[37] "Twelve projects for the 2012 Single Market: together for new growth," The European Commission, 13 April 2011:
http://europa.eu/rapid/pressReleasesAction.do?reference=IP/11/469

[38] Rachel Sanderson, "'Superminister' emerges from Italy's business elite," The Financial Times, 16 November 2011:
http://www.ft.com/intl/cms/s/0/22c46df8-1060-11e1-8010-00144feabdc0.html#axzz1yY37v49b

[39] John Hooper, "Mario Monti appoints technocrats to steer Italy out of economic crisis," The Guardian, 16 November 2011:
http://www.guardian.co.uk/world/2011/nov/16/mario-monti-technocratic-cabinet-italy

[40] James Mackenzie, ""Italian Prussian" Monti enters political storm," Reuters, 13 November 2011:
http://www.reuters.com/article/2011/11/13/italy-monti-idUSL5E7MD0DO20111113

[41] Tony Barber, "Why Europe's leaders welcome Monti," The Financial Times, 23 November 2011:
http://www.ft.com/intl/cms/s/0/ce6f96cc-15bb-11e1-8db8-00144feabdc0.html#axzz1yY37v49b

[42] Mario Monti, "Il podestà forestiero," Corriere della Sera, 7 August 2011, [original in Italian, translation provided by Google Translate]:
http://www.corriere.it/editoriali/11_agosto_07/monti-podesta_1a5c6670-c0c4-11e0-a989-deff7adce857.shtml

[43] Viola Caon, "Mario Monti's Italian technocracy reveals its true political colours," The Guardian, 6 December 2011:
http://www.guardian.co.uk/commentisfree/2011/dec/06/mario-monti-technocracy-europe

[44] Jonathan Hopkin, "How Italy's Democracy Leads to Financial Crisis," Foreign Affairs 21 November 2011:
http://www.foreignaffairs.com/articles/136688/jonathan-hopkin/how-italys-democracy-leads-to-financial-crisis

[45] Tony Barber, "Eurozone turmoil: Enter the technocrats," The Financial Times, 11 November 2011:
http://www.ft.com/intl/cms/s/0/93c5cb36-0c92-11e1-a45b-00144feabdc0.html#axzz1z1dPgKJf

[46] Landon Thomas Jr. and Jack Ewing, "Can Super Mario Save the Day for Europe?" The New York Times, 29 October 2011:
http://www.nytimes.com/2011/10/30/business/mario-draghi-into-the-eye-of-europes-financial-storm.html?pagewanted=all

[47] Ibid.

[48] Lionel Barber and Ralph Atkins, "FT interview transcript: Mario Draghi," The Financial Times, 18 December 2011:
http://www.ft.com/intl/cms/s/0/25d553ec-2972-11e1-a066-00144feabdc0.html#axzz1yY37v49b

[49] Ibid.

[50] Brian Blackstone, Matthew Karnitsching and Robert Thomson, "Europe's Banker Talks Tough," The Wall Street Journal, 24 February 2012:
http://online.wsj.com/article/SB10001424052970203960804577241221244896782.html

[51] Brian Blackstone, Matthew Karnitschnig and Robert Thomson, "Q&A: ECB President Mario Draghi," The Wall Street Journal, 23 February 2012:
http://blogs.wsj.com/eurocrisis/2012/02/23/qa-ecb-president-mario-draghi/

[52] Alan Greenspan, "Testimony of Chairman Alan Greenspan: The Federal Reserve's semiannual monetary policy report," Before the Committee on Banking, Housing, and Urban Affairs, U.S. Senate, February 26, 1997:
http://www.federalreserve.gov/boarddocs/hh/1997/february/testimony.htm

[53] Louis Uchitelle, "Job Insecurity of Workers Is a Big Factor in Fed Policy," The New York Times, 27 February 1997:
http://www.nytimes.com/1997/02/27/business/job-insecurity-of-workers-is-a-big-factor-in-fed-policy.html?pagewanted=all&src=pm

[54] Brian Blackstone, Matthew Karnitschnig and Robert Thomson, "Q&A: ECB President Mario Draghi," The Wall Street Journal, 23 February 2012:
http://blogs.wsj.com/eurocrisis/2012/02/23/qa-ecb-president-mario-draghi/

[55] Alan Greenspan, "Remarks by Chairman Alan Greenspan: The revolution in information technology," Before the Boston College Conference on the New Economy, Boston, Massachusetts, March 6, 2000:
http://www.federalreserve.gov/boarddocs/speeches/2000/20000306.htm

[56] Ralph Atkins, Hugh Carnegy, and Quentin Peel, "Draghi calls for Europe 'growth compact'," The Financial Times, 25 April 2012:
http://www.ft.com/intl/cms/s/0/fc894164-8ead-11e1-ac13-00144feab49a.html#axzz1yY37v49b

[57] Stefan Kaiser, "Austerity Backlash Unites European Leaders," Spiegel Online, 17 April 2012:
http://www.spiegel.de/international/europe/european-austerity-backlash-leaders-back-draghi-s-growth-pact-a-830185.html

[58] Jörg Asmussen, "WELT-Währungskonferenz," Berlin, 21 May 2012:
http://www.ecb.int/press/key/date/2012/html/sp120521.en.html


[59] Stefan Kaiser, "Austerity Backlash Unites European Leaders," Spiegel Online, 17 April 2012:
http://www.spiegel.de/international/europe/european-austerity-backlash-leaders-back-draghi-s-growth-pact-a-830185.html
Super Mario Monti and the Dictatorship of Austerity in Italy
July 9, 2012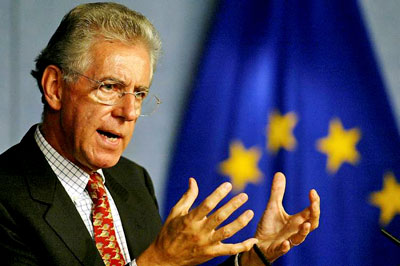 The following is Part 2 of a two-part excerpt on 'Italy in Crisis.' These excerpts are rough-draft, unedited samples of a chapter on the European debt crisis to be featured in my upcoming book (as yet 'Untitled'), to be done by the end of the summer.

The book covers the following: the origins, evolution, and effects of the global economic crisis; the acceleration of international imperialism; the elite global social engineering project of constructing a system of 'global governance'; emerging resistance and revolutionary movements (and elite attempts to co-opt, control, or crush them), including the Arab Spring, European anti-austerity protests, the Spanish Indignados, the Chilean student movement, the Occupy movement, the Quebec 'Maple Spring', and the Mexican student movement, among others.

This sample allows you to see the research that is going into this book, and if you would like to see the book come to completion, please consider making a generous donation to The People's Book Project. With a fundraising goal of $2,500 the Project has raised $810, and just $1,690 to go!

In above Part 1 of this series (The Decline of the Roman Democracy and Rise of the 'Super Mario' Technocracy), I examined the Technocratic coup in Italy, which removed the democratically-elected Berlusconi and replaced him with an unelected technocrat, Mario Monti, an economist, Bilderberg member, former European Chairman of the Trilateral Commission, former European Commissioner for Competition, and a former adviser to Goldman Sachs International, was also on the board of the Coca-Cola Company, and founded the European think tank, Bruegel.

Mario Monti was installed by the European elites with one purpose: punish the population of Italy through 'fiscal austerity' and 'structural adjustment.'


The Technocracy of Austerity

Monti wasted no time in punishing the people of Italy for the crimes and excesses of Europe and the world's elite.
On December 2, 2011, Monti announced a 30 billion euro ($40.3 billion) package of austerity measures, which included "raising taxes and increasing the pension age." Monti described the measures as "painful, but necessary."
He told a press conference that,
"We have had to share the sacrifices, but we have made great efforts to share them fairly."
Monti, who is both Prime Minister and Economy Minister, said he had renounced his own salaries from those positions. Considering that he was - until taking those positions - an adviser to Coca-Cola and Goldman Sachs, among other prominent jobs, those salaries likely would not make much of a difference to Monti's bank account, anyway.
The Deputy Economy Minister Vittorio Grilli (who is still on the board of the Monti-founded think tank Bruegel), said that, "the package should ensure that Italy meet its target of a balanced budget by 2013."
The Welfare Minister Elsa Fornero broke down into tears as she announced an end to inflation indexing on many pension bands, which would essentially amount to "an effective income cut for many retired people." Unions spoke out against the cuts, stating that they would "hit poorer workers and pensioners disproportionately hard."
Deputy Economy Minister Grilli said that 12-13 billion Euros of the package would come from spending cuts, and the rest of the 30 billion euro package would come from tax increases. The minimum age for pensioners (that is, the retirement age) was set to be raised for both men and women to 66 by 2018, as well as providing "incentives" to keep people in the workforce until the age of 70.[1]

The austerity package was passed by an undemocratic decree which Monti named the "Save Italy" decree, and while the union leaders denounced the package, the main business lobby in Italy, Confindustria, praised the package as vital "for the salvation of Italy and the euro."
As Elsa Fornero, the Minister for Welfare, began crying as she announced the austerity measures, she explained,
"We know we are asking for sacrifices, but we hope they will be understood in the name of growth and to avoid collective impoverishment." [2]
Of course, austerity is just that: "collective impoverishment."

In response to the austerity package, Italy's three largest labour unions began a week of strikes on December 12, with port, highway, and haulage workers stopping work for three hours on the 12th, while metalworkers, including employees of Fiat, put down their tools for eight hours. Printing press operators stopped working for a full shift, and most newspapers were expected to not publish the following day.
Public transport strikes took place on December 15-16, and bank employees were set to stop work in the afternoon of December 16, while the public administration closed down for the entire day of December 19.
Susanna Camusso, the head of the largest and most militant labour federation, CGIL, said,
"We're not giving up on the idea that the austerity package must be changed… It hurts workers, pensions and the country as a whole."
Mario Monti held a last-minute meeting with the union leaders to unsuccessfully attempt to stop the strikes that were set to begin the following day.[3]

CGIL leader Camusso said that as a result of the austerity measures,
"We see every risk of a social explosion." CGIL, which represents six million members, half of whom are pensioners, stated that, "We are flexible in the face of the emergency but we are not willing to accept everything… You can't ride roughshod over people."
With only 57% of Italians working, raising the retirement age, as dictated by the austerity package, would amount to,
"closing the door on the young unemployed," warned Camusso, adding that Monti had done nothing for "young people and women who can't find work, and when they do it is badly paid." [4]
In late December, the Italian Senate passed a vote of confidence on Mario Monti's government when they approved the new austerity package.
Monti commented:
"Today this chamber concludes a rapid, responsible, complex job… on a decree that was passed in extreme emergency and that enables Italy to hold its head high as it faces the very serious European crisis." [5]
Prior to the European Summit held at the end of January 2012, Mario Monti was holding meetings with Angela Merkel, Nicolas Sarkozy, British Prime Minister David Cameron, and European Council President Herman Van Rompuy.
Italy, wrote the Economist,
"it seems fair to say, is back at the top table after being quietly shoved off under the leadership of Silvio Berlusconi."
Monti emphasized to Merkel, Sarkozy, and other leaders that the EU needs to not simply "enforce fiscal discipline," but to stimulate growth.
This would mean, according to Monti, "not only finding ways to lower interest rates, but encouraging liberalisation wherever possible." Monti even suggested that Germany should "liberalize" (meaning: privatize) some of its services.
Monti, in an interview with the Economist, stated that,
"It is rather unusual for Italy to be at the forefront of pro-market initiatives," but that he planned to undertake a major liberalization of Italy, saying, "I am convinced that it is also in Italy's national interest."
Acknowledging that his government is "unelected," Monti told the Economist that,
"there was in Italy a hidden demand for a boring government which would try to tell the truth in non-political jargon."
Monti warned, however, that,
"Austerity is not enough, even for budgetary discipline, if economic activity does not pick up a decent rate of growth… A lowering in interest rates does not depend only on Italy's efforts but also, and essentially, on Europe's ability to confront the crisis in a more decisive way."
Monti stated that Italy's domestic political situation is getting problematic for the EU, with a growing appeal to 'Euroscepticism,' warning:
"What I see now, week after week, in parliament is a widening of the spread of this attitude… The degree of impatience-cum-hostility to the EU, to Germany and to the ECB is mounting." [6]
Monti warned Merkel and other EU leaders that Italian sacrifices alone would not get Italy out of crisis, that Italy needed some form of outside support, without which, he warned:
"a protest against Europe will develop in Italy, also against Germany, which is viewed as the ringleader of E.U. intolerance, and against the European Central Bank… I cannot have success with my policies if the E.U.'s policies don't change."
In particular, he was referring to the need to bring down Italy's interest rates, something that could likely only be achieved through the ECB purchasing large amounts of Italian bonds, which would increase "market confidence" in Italy and bring down interest rates.
Otherwise, Monti lamented, the popular discontent of the people with the economic situation could push Italy to "flee into the arms of populists." [7]
Spoken like a true unelected technocrat. Imagine that, a government which dares to serve the interests of the people over whom it rules! Not in the 'New Europe.'

In late January, Philip Stephens, writing for the Financial Times, stated that,
"Italy is back," and that while Merkel "sits at the top of Europe's power list," and Sarkozy "can lay claim to be the continent's most energetic leader," it is Mario Monti who "is its most interesting."
Stephens declared that,
"Mr. Monti's fate may turn out to be Europe's."
Barack Obama's White House announced that in a future meeting between Obama and Monti, the two leaders would discuss,
"the comprehensive steps the Italian government is taking to restore market confidence and reinvigorate growth through structural reform, as well as the prospect of an expansion of Europe's financial firewall."
Stephens translated this as:
"Mr. Obama is behind Mr. Monti all the way - including when he puts pressure on Ms. Merkel."
Lamenting the Italy of Berlusconi, who was "shunned by his European Union peers," though always embraced as a friend by Russia's Putin, Stephens wrote that Monti,
"a serious-minded academic with a serious plan, is different in every dimension."
He also noted that there was "a second Italian at the top table," meaning Mario Draghi, the new President of the European Central Bank, "the other Mario," who in terms of economic orthodoxy, "styles himself an honorary German."
Stephens wrote that Monti is so important because
"it is in Italy that the euro's long-term prospects will be decided," as Italy is the euro-area's third largest economy (after Germany and France), and if Italy, "cannot chart a credible economic course, the euro does not have a future as a pan-European project."
While praising Monti's austerity package, Stephens said that,
"the real test will come in liberalizing the economy," which "will not be easy," but "the choices are unavoidable."[8]
Mario Monti, upon unveiling his "liberalization" plans in late January, stated:
"Italy's economy has been slowed down for decades by three constraints: insufficient competition; an inadequate infrastructure; and complicated administrative procedures."
Thus, Monti passed a decree opening the occupation of taxi drivers up to "competition," prompting taxi drivers to block central streets in Rome. As liberalization brings in higher petrol prices (which were previously under more control), truck drivers and agricultural workers set up barricades in Sicily.
One Italian paper (owned by the Berlusconi family) headlined:
"Half of Italy is ready to wage war on the government."
Once decrees are issued, they go into effect immediately, but require parliamentary approval within two months.
Monti's liberalization decrees of January (following the austerity decrees of December) also targeted the gas and electricity markets, as well as the insurance sector and public services. Next in Monti's target: the labour market.
One analyst at Roubini Global Economics told the Financial Times:
"Although structural reforms are necessary to boost long-term growth, they will take several years to bear fruit and, in a period of economic contraction and government retrenchment, will have an adverse effect on short-term output, deepening the recession which will last through 2013." [9]
In his first interview since resigning as Prime Minister, Berlusconi told the Financial Times in early February that he was "stepping aside" from frontline Italian politics and had no intention of running for prime minister again.
Berlusconi gave his,
"strongest endorsement to date of the technocratic government led by Mario Monti," specifically in "its intention to implement labour market reforms opposed by trade unions."
Berlusconi declared:
"I have now stepped aside, even in my party."
He explained that he resigned the previous November because he had been attacked,
"by an obsessive campaign by the national and foreign media that blamed me personally and the government for the high spread of Italian state bonds and the crisis on the stock market."
Thus, he contended:
"After having evaluated the causes of the crisis, which did not rest in Italy but in Europe and the euro, I believed that if I had stayed in government I would have damaged Italy as we would have had more terrible media campaigns… With a sense of responsibility, though having a majority in both houses of parliament… I stepped aside and with elegance."
One can always rely upon a politician to sing their own praises, especially if they are undeserving.
He did suggest, however, that he would consider running for parliament, quipping:
"I still have strong popular backing, almost twice as much as my colleagues Merkel and Sarkozy… In opinion polls, I personally have 36 per cent support. If I walk out in the street I stop the traffic. I am a public danger and I cannot go out to do the shopping."
Berlusconi concluded:
The hope is that this government, which is supported for the first time by the whole of parliament, will have the chance to propose great structural reforms, starting from the state's institutional architecture, without which we cannot think of having a modern and truly free and democratic country.[10]
Martin Wolf, perhaps the most influential financial columnist in the world, writing for the Financial Times in January of 2012, asked if the two Marios - nicknamed by the media as the "Super-Marios" - will be able to "save the Eurozone?"
Wolf wrote that they,
"bring sophisticated pragmatism to the table," and hoped that they would "shift policy in a more productive direction."
Wolf referred to the ECB's new long-term refinancing operation announced in December of 2011, which is essentially a bank bailout with a three-year yield at the ECB's average interest rate (which stands at 1% currently).
When the ECB began this new program, roughly 523 banks took 489 billion Euros, described by Wolf as,
"a bold and cunning move by Mr. Draghi and probably the most he could get away with right now."
Wolf also referred to Monti's willingness to argue that the creditor countries "do more to lower his country's borrowing costs," or interest rates, warning in the Financial Times against a "powerful backlash" among voters in the EU periphery states.
Wolf wrote that,
"Mr. Monti is in a strong position to make this argument," as Monti "is a well-respected official with staunchly pro-European views and a strong sympathy for German attitudes to competition and fiscal and monetary stability."
Wolf explained that,
"Draghi and Monti are addressing two interlinked fragilities: the vulnerability of the banking system and the unsustainable terms on which weaker countries can now borrow."
While praising the "Super-Marios," Martin Wolf said that they alone could not save the Eurozone, whose problems run very deep, and where even the 'solutions' to the crises felt by various EU states can make larger, structural reforms even more challenging.
As Wolf correctly noted:
"In Italy's case, for example, the combination of high interest rates and vulnerable banks with fiscal austerity is likely to lead to a lengthy and deep recession and so to a rise in cyclical fiscal deficits [debt incurred during and because of the economic crisis at the time] as the structural deficit falls [the debt acquired by spending more than what is brought in through revenue]."
Naturally, though, this simply means that the overall debt will increase. Wolf wrote, ultimately, that if "break-up [of the euro] is ruled out, one must choose reforms, however painful."
This is because, according to Wolf,
"the costs of failure are so large that the possibility of domestic and Eurozone reform must be kept alive."
On this, the "Super-Marios" can be leaders.[11]

When the credit ratings agency Standard & Poor's downgraded Italy's debt in January by two notches to BBB,
"with a warning of more to come," Mario Monti stated that he "agrees with almost everything in S&P's analysis," and "jokes that he could almost have written it himself."
He told the Financial Times that,
"If I ever dictated anything, it must have been what S&P had to say about domestic Italian economic policy," and then laughed.
As a result of the downgrade, Italy had the lowest credit rating of any Eurozone country which did not receive a bailout, apart from Cyprus.
Why was Monti so pleased with the downgrade? He quoted the report to the interviewer from the Financial Times, going through the risk factors associated with Italy, but adding:
"Nevertheless, we have not changed our political risk score for Italy. We believe that the weakening policy environment at European level is to a certain degree offset by a strong domestic Italian capacity."
In other words:
"Mr. Monti's 60 days in office have been enough to convince the agency that his government is on a path of reform that could return the country to growth and shrink its debt levels, but that European Union mismanagement of the Eurozone debt crisis is dragging down struggling countries, including Italy."
Mr. Monti stated,
"I think I'm the only one in Europe not to have criticized the rating agencies." [12]
In discussing how his government came into existence, as in, not through democratic means, Monti told the Financial Times that he agreed that he could be helping to bring a "revolution," referring to the number and extent of measures he intended to pass before democratic elections take place.
He explained that if Italy's borrowing costs (interest rates) fall,
"the political parties will not dare stop the experiment [in technocracy] before it has to stop… And in my view the political parties will not dare go back to the acrimonious, superficial and tough confrontation that animated parliament. The image and style of public debate has changed."
He added:
"If and when success comes, you will find us not really taking credit… My ambition is that Italy becomes a boring country, in relative terms. It is really in the hands of Europe." [13]
In February of 2012, Mario Monti gave an interview with PBS Newshour in which he continued to heap praise upon austerity measures, saying that because Greece's debt had been so high,
"it would have been hard - let's face realities - to have a soft landing from those excesses of deficit without a recession."
He added,
"I think there is a valid point if we say that Europe needed to be put under a safe place as regards the public finances of each member state."
Monti thanked "German and other pressures" for pushing countries in that direction of austerity.
And now, he claimed,
"the time has come to focus more energies on how collectively we can achieve more growth in Europe." [14]
Growth, of course, simply means growth of profits for big banks and multinational corporations.


Super Mario's 'Structural Adjustment'
The Meaning of "Growth"

When Europe's political and financial elite discuss "growth" in the current context as an added "solution" on top of austerity, what they really mean is to implement major structural changes: to liberalize the economy, privatize all assets, state subsidies, services, industries, and resources.
This will allow corporations and banks to come in and purchase all of these assets and industries, and since this process takes place in the midst of a deep crisis, they are able to take control of all the assets for very cheap prices.
This is called "foreign direct investment."

The major corporations of Europe, of North America, and elsewhere, will be able to control directly a much larger share of the economy. Their purchases provide short-term funds for the state, thus increasing short-term revenue. However, since state industries are privatized and sold for pennies on the dollar, they are actually losing long-term revenue, but that isn't mentioned.
Markets respond to the short-term, not the long-term, and of course, we want to have our world and its social, political, and economic stability determined by forces that theoretically do not look more than a couple months ahead. The process of liberalization and privatization is also sold on the prospect of "creating jobs," because the theory goes that corporations will enter the market with the ability to invest and thus, create jobs for workers.
The reality is that the corporations buy up the industries, and generally shut them down to relocate elsewhere for cheaper labour. This means mass firings. This also means that unions and labour rights in general have to be dismantled and people have to be kept in line, under control.

Austerity measures are aimed at redistributing wealth from the mass of society to the very top percentiles, which is achieved through increased taxation, mass firing of public sector workers, cuts to social spending, health care, welfare, education and other areas.
This, quite predictably, creates a massive social crisis.
Many austerity packages - such as Monti's in Italy - also include efforts to undermine labour and unions. This prepares the work force for the period and programs of "growth," in which workers will be forced to submit to exploitative working conditions with no collective bargaining rights, or else the industries will simply fire them all, close up shop, and go elsewhere.
This is why we hear all the Eurocrats and politicians in Europe and elsewhere explain that austerity and growth are not mutually exclusive, that they can and should co-exist together. Indeed, from the view of the 'effects' of these policies, a joint program of "austerity" and "growth" makes perfect sense: commit social genocide (through fiscal austerity), and exploit, plunder, and profit from the spoils of economic war (growth through structural adjustments).

In the 'Third World' over the past three decades, these policies were imposed by the IMF, World Bank, Western imperial powers, and Western banks and corporations.
With the primary engine being the International Monetary Fund (IMF), countries in Latin America, Africa, and Asia, which were in the midst of a major debt crisis in the 1980s, were forced to sign what were called 'Structural Adjustment Programs' (SAPs) with the IMF and World Bank if they wanted to get any loans or aid from Western banks or institutions.
The SAPs would be a set of conditions that the countries would have to adhere to if they were to get a loan, and the conditions included a mix of 'fiscal austerity' and 'structural adjustment':
devalue the currency to make it cheaper to invest in the country (but which creates inflation and increases the costs of food, fuel, and other commodities, hurting the poor and middle classes)

cut social spending to reduce the deficit (but which saw the destruction of education, health care, welfare and social programs, as well as mass firings from the public sector)

trade liberalization, to allow for foreign countries and corporations to more easily invest in the country, and thus, bring in revenue (which meant dismantling all tariffs, trade barriers, price controls, state subsidies, and resulted in the easy exploitation and cheap purchase of the country's wealth by foreign corporations and banks)

privatization, meant to encourage investment and allow for the market to make state-owned industries and asset more "efficient" (but which resulted in mass firings, closing of entire industries, mass corruption, and total control of the economy being handed to foreign banks and corporations)
The result of SAPs - the combination of "austerity" and "growth" - over three decades has been devastating:
poverty has rapidly accelerated and expanded

wealth becomes heavily polarized, with a tiny minority owning the economy, and everyone else with next to nothing

the small elite become increasingly dependent upon and integrated with a global elite (based primarily in the West), and disassociated from their fellow citizens

mortality rates go up as health care and social services are dismantled or made incredibly expensive at a time of deepening poverty in which more people need the services more than ever before

social unrest and repression become rampant, as the people rise up against 'Structural Adjustment,' the state resorts to increasingly authoritarian and brutal measures to control or crush resistance to the programs and to protect the dominance of the tiny minority, locally and internationally
This, essentially, is the fate of Europe and the rest of the industrialized world.
Europe, simply being the most integrated region of the world (a trend which is accelerating everywhere in the world), is experiencing the brunt of this crisis before the rest of the industrialized nations of the world. So when politicians and financial elites say that Europe needs "growth" in conjunction with austerity, and this will lead to "recovery", remember what "growth" means: exploitation, plundering, and profits.
When you remember this, suddenly everything the politicians and pundits have been saying for years, suddenly makes sense.

When asked if he felt that there was a danger of "a backlash" in Italy against what people,
"may see as E.U. imposed changes to their way of life that are very, very painful," Monti replied that, "there was such a risk of backlash," but he explained:

"I try to avoid that backlash by always presenting the necessary sacrifices that Italians have to go through not as an imposition from Brussels or Germany or the European Central Bank, but rather as a necessary step that Italians have to undertaking - to undertake also at the suggestion of Europe, but basically for their own interests, for the interests of ourselves and of future generations of Italians. This is precisely meant to avoid backlashes."
Interesting statement: saying that austerity is for the interests of Italians and "future generations" is done not to speak truth, but "to avoid backlashes" against the E.U.
Monti emphasized that,
"it is very, very important" to ensure that the single currency, "which was meant to be the culminating point of the European construction," does not become, "through psychological negative effects, a factor of disintegration of Europe." [15]
In an interview with the Wall Street Journal in early February, Mario Monti publicly outlined his strategy for "growth" in Europe, which he proposed privately to other European governments the previous month, pushing Europe beyond austerity and suggesting,
"tougher European rules aimed at prying open member states' national industries," of course to "encourage economic growth and competition in the euro zone."
Monti explained that if this is not done,
"Europe will not be a nice place to live in five years from now if we haven't solved the problem of how to grow… We have to say what growth will look like in a fiscally compacted union."
His proposal,
"would speed up the process by which European authorities sanction nations that violate the tenets of the EU's single market."
For Monti and other technocrats like himself, this "growth" does not include government spending.
Since Italy is supposed to knock off 30 billion Euros ($39.8 billion) - 2% of its GDP - from its public debt "every year for decades," this means, explained Monti, that "any thought of budget-stimulated growth ideas will have to go away."
Instead, Monti suggested that the European Union,
"should back single markets more forcefully to support economic growth," which instead of having Berlin sign off on the EU spending its way to prosperity, would mean "to push Germany to liberalize its own economy," which, claimed Monti, "would have a trickle-down effect." [16]
Monti was undertaking various programs of "liberalization" in Italy, such as liberalizing major professions and sectors, such as pharmacies, taxis, and notaries.
To handle Italy's "unemployment" issue, which is significant to say the least, Monti was seeking to "introduce new measures aimed at making it easier for companies to hire and fire workers," which, he said, "will increase the overall flexibility of the labor market," [17] meaning that it will allow for cheaper and more easily-exploited labour by corporations.
Monti even stated that the changes he was making in the labour market were aimed at,
"reducing the segmentation of Italy's labor market between those who are protected, sometimes hyper-protected, and those, particularly the young, who can't really get into the labor market." [18]
So, instead of having various work forces that are "protected" (or "hyper-protected" in Monti's words), it would be better to simply bring everyone down to the same level to allow for "flexibility," or in other words, easy exploitative capacity.
For "Super Mario," no protection is better than any protection when it comes to workers. Imagine if there were politicians who thought the same thing about bankers.

While Europe agreed to a 'Fiscal Compact' to ensure austerity, Monti felt that the EU should add to this a growth pact, and felt that the supranational and undemocratic European Union should have "an efficient mechanism to swiftly sanction countries that don't open up their economies to competition," meaning exploitation and plundering.
Thus, the previous month, Monti submitted a proposal "aimed at giving the European Commission - the EU's governing body - greater power over sanctioning member states."
This proposal, which had not been reported prior to this interview,
"could speed up the process by years, by making it easier for the commission to impose rulings rather than having to take member states to court, as it often does now."
When asked what this has to do with growth, Monti replied:
"A lot, because if you give more teeth to the commission to remove national obstacles to the functioning of the single market, we'll create a large level playing field, which the business community always insists is a key component of growth." [19]
Well that answers that: it will lead to "growth" because the business community says so. Thank you, Prime Minister.

Monti acknowledged that this creates obvious concerns, especially with countries like the U.K. and France which would likely oppose the proposal for fear of its encroachment on their sovereignty, and the existence of a "democratic deficit" which will continue "as member states gradually hand over more of their fiscal and economic policies to the central oversight of European institutions."
But for this, Monti has a solution:
"Much of the reconciliation between more centralized governance and the scope for democracy will be resolved through an even stronger role of the European Parliament," [20] which is, in effect, utterly useless.

The Most Important Man in Europe?

In late February, Time Magazine published an article reporting on an interview they conducted with Monti in which they referred to him as "the most important man in Europe."
The article described Monti as,
"the tough taskmaster Italy so desperately needs," though he "has the aura of a gentlemanly grandfather."
Time reported that Monti was "fixing a deadlocked democracy," no doubt by ruling as an unelected technocrat, "and charging forward with greater European integration," in a "wholesale overhaul of Italian society."
Monti told Time,
"I believe that reforms will not really take hold if they do not gradually come into the culture of the people."
Time declared that for the problem of Italy's partisan politics, "the solution was Monti."
Monti said that the request to rule came,
"at such a severe time of crisis for Italy that I could not refuse."
Thus, declared Time Magazine:
"Today he reigns over Rome like a new Caesar."
In effect,
"the democratic process has been suspended to allow an unelected technocrat to implement policies that elected politicians could not."
Monti himself refers to this as a "temporary mutual disarmament" of the left and right,[21] a technocratic euphemism for "dictatorship of austerity."

The publication praised Monti's austerity package in December, his liberalization program in January, and his new plan to overhaul the labour market; then lamented that Monti is taking on "entrenched interest groups," such as taxi drivers (no joke, the article referred to taxi drivers as "entrenched interest groups"), who staged strikes in Rome and other Italian cities, and pharmacists who were threatening to do the same thing, or truckers that blocked roadways in protest of a fuel-tax hike.
The president of a national taxi union stated,
"In Italy, the economy was more based on rules that used to be applied to create wealth for the general public… I don't understand why suddenly the only solution is to get rid of the rules." He added: "Monti has always lived in the salons… He really doesn't know the problems of ordinary people."
To this, Monti replied,
"Maybe they're right," but he felt this was an advantage: "Italy has piled up huge public debt because the successive governments were too close to the life of ordinary citizens, too willing to please the requests of everybody, thereby acting against the interests of future generations."
Monti earned a reputation - and the nickname "Super Mario" - back when he was an EU Commissioner, where he came into conflict with some major global corporations, such as blocking a merger between GE and Honeywell, which prompted the then-CEO of GE, Jack Welch, to refer to Monti as "cold-blooded."
Monti acknowledged that as he is more successful in pushing "reforms," the effects of those reforms would put pressure on the political parties to abandon him, and make it more difficult for him to continue his programs before he leaves office in 2013.
"The point," explained Monti, "is how to keep this pressure even once the most visible elements of emergency hopefully are over."
This would largely be left to accelerating the process of European integration:
"I think there is a genuine wish on the part of the E.U. and Germany and France to again play an active game with Italy for a relaunch of European integration… I think we will be seeing an acceleration of the good news." [22]
Apparently, accelerating the integration and institutionalization of an undemocratic, technocratic, supranational structure is "good news."

When Mario Monti went to visit Wall Street on the seventh floor of the New York Stock Exchange (to visit his actual 'constituents'), he received a long, standing ovation when he entered the room with an audience of 200 people.
Charlie Himmelberg, a managing director at Goldman Sachs, commented that,
"It's been impressive how quickly the sentiment has changed on Italy."
Blaise Antin, the head of sovereign research at TCW said,
"It is a good thing Monti visits investors… But plenty will ultimately depend on the Italian parliament" in the tough choices ahead.[23]
Monti told the crowd of Wall Street financiers that,
"What's important is that this improved governance of the euro zone is almost there and the euro zone crisis is almost overcome, I believe."
Monti later reflected at a new conference in New York that he was "warmly greeted by the financial community" on Wall Street.[24]
No doubt.


Super Mario Wages War on Workers

After making the rounds in interviews, state visits, meeting Obama, and visiting his constituents at Wall Street, Mario Monti went back to Italy in late February to push forward on his "labour reforms" to undermine and destroy unions and workers' rights.
By March, the effects were being felt among Italians. Monti went to great pains to denounce what he described as Italy's "two-tier labour market," dividing generations and leaving the young out to dry. The New York Times wasted no time in supporting Monti's calls to dismantle this system.
Framing the discourse around the generational divide, in which,
"older workers came of age with guaranteed jobs and ironclad contracts granting generous pensions and full benefits," the younger Italians, "the best-educated in the country's history… are lucky to find temporary work, which offers few benefits or stability." Thus, one of Monti's "solutions" was to "make it easier for companies to hire and fire." [25]
Very typical of the neoliberal economic discourse, is to draw conclusions based upon these facts alone: older workers have benefits, younger workers have few opportunities; thus, older workers are destroying future generations with their "entitlements."
Solution: dismantle entitlements and benefits so all can work on an "equal playing field."
The discourse divides workers and people against each other, meanwhile, there is no mention of the fact that the reason why the youth have so few job opportunities has more to do with the lack of state and business investment, the deregulation and privatization of industries over the 1990s (while Mario Draghi was head of the Treasury), the effects of the euro (creating an economic hierarchy between the Northern nations of the EU and the Southern states), or the very obvious fact that Italy is in a severe crisis because its corrupt government colluded with global banks and suffered under the institutions and rules of the E.U., which promote elite interests and undermine democracy and self-determination.
No, mentioning the massive - and elite-driven - causes for the crisis Italy faces, and the unemployment issues which are symptomatic of that crisis, is too inconvenient for the New York Times. Instead, it is simply easier and more acceptable in the popular discourse to pit workers against each other, in an effort to undermine them all, collectively.

An economist at Bocconi University, of which Mario Monti was president until he became Prime Minister of Italy, supported this discourse for Italy, arguing:
"Reforming contracts, unemployment benefits and salary levels would permit labor productivity to rise, which would in turn permit the country to grow… It's a central theme for improving a country like Italy." [26]
Undertaking all of these labour "reforms," in actuality, would allow for youth to enter the job market to a certain degree, as it would mean that other "hyper-protected" workers no longer have protection, and all of Italy's workforce is left vulnerable to exploitation.
Thus, youth could be hired as extremely cheap labour, since for them, some work - even horrible work with little pay - is better than nothing at all. If workers who had protections attempt to organize and salvage various labour rights, companies can simply fire them and hire cheap, young workers with no benefits as replacements. This is called "youth opportunity."
This is how sweatshops became so popular in the 'developing' world over the past several decades, which were also brought about through fiscal austerity and structural adjustment: undermine labour/worker rights for easy exploitation, and if they attempt to organize, strike, or obtain rights, foreign corporations can fire them all and hire cheaper labour, close their factories and outsource elsewhere, or ship in cheaper immigrant labour forces.
This has the effect of bringing the standards and conditions of the entire work force, and indeed, the global labour market, down to a more easily exploitative position: equality of exploitation (what economists and bankers call "labour flexibility").

Monti declared:
"We have to get away from a dual labor market where some are overly protected, while others totally lack protection and benefits when unemployed."
Thus, he said, "equity and growth" would be the "watchwords" of his government.
Since "growth" means profits, plunder, and exploitation, "equity" is a logical addition to this: equity in exploitation.
The New York Times, reporting on a 33-year old graduate without job opportunities, said she would "welcome" such changes, as she,
"like so many in her generation, feels thwarted, overly reliant on her parents and uncertain of her future."
Amazingly, in the same article, it was acknowledged that the two-tier labour system was not created by "entitlements," but rather as a result of policies the government undertook nearly a decade previous (in facilitating Italy's entry into the euro-zone), in which the state made it easier for Italian corporations "to hire younger workers on a range of temporary contracts and internships," while many of the early-retirement benefits for older workers were put in place during the mass privatizations (undertaken by Mario Draghi), in order to facilitate the reduction of staff "and cutting costs in the period before Italy joined the euro zone."
The article then went on to blame the unions, claiming that,
"younger Italians have come to see them as part of the problem." [27]
One must actually pause in appreciation of the intellectual gymnastics displayed by the New York Times in publishing an article which quietly acknowledges that the causes of Italy's two-tiered labour and employment issues were the result of demands and policies put in place in order to join the single-currency, yet still concluded that the main problem was "overly-protected workers," and thus, that the solutions lie in undermining labour and workers' rights.
The article even acknowledged that the government's policies of making it easy for Italian corporations to exploit youth labour were designed "to make the market more flexible," yet does not question the logic in Monti's program of solving the crisis brought on by this "flexibility" by implementing measures to make it "more flexible."
The Monti-logic, which the New York Times readily endorses, is to look at policies that didn't work (in terms of what people were 'told' they were meant to achieve), and then to advance and accelerate those same policies in the hopes that it will have the opposite effect as to that which it has always had before. Einstein once said that the definition of insanity is doing the same thing over again, expecting different results.
If we actually apply that definition, almost the entire discipline of economics - and most especially neoliberal economics - is absolutely insane.
Either that, or they simply use coded rhetoric which sounds like one thing, means another, and is done so to promote a global social, political, and economic agenda which would otherwise be impossible to publicly justify: preserving and accumulating for a tiny minority, and exploiting and punishing the vast majority.

Right on cue, the effects of the economic crisis over the previous year, exacerbated by Monti's labour reforms and austerity package, was being felt across Italy.
In Naples, one of Europe's poorest cities, by late March it was reported that child labour has returned, as,
"thousands of children are leaving school to help their families make ends meet," an increasing trend in the country, in which children work in the black market or "are recruited for sinister purposes by the mafia."
The most common job for child workers is as a "shop assistant," earning less than a euro an hour.
This trend had been developing in Italy over a number of years, as one local government report in the Campania region revealed that between 2005 and 2009, more than 54,000 children left school to join the work force, with 38% of them under the age of 13.
The deputy mayor of Naples, located in the Campania region, commented:
"Of course, we were the poorest region in Italy. But we haven't seen a situation like this since the end of the Second World War… At age 10, these kids are already working 12 hours a day, which is a clear breach of their right to development."
The succession of financial reforms put in place by the Italian government since 2008 introduced drastic cuts, and in June of 2010, the Campania region had to end its minimum welfare program, "plunging more than 130,000 families into poverty."
Children from poor families face three options: struggle to stay in school, drop out to work in the black economy, or "join the ranks of the Camorra, the Neapolitan mafia." Since the beginning of the crisis, support for youth and their families has been cut by 87%, and roughly 20,000 educators in the Campania region had not been paid for two years.[28]
Perhaps this is what Mario Monti means by "labour flexibility."

In late March, reported the Economist, as Mario Monti was engaged in talks with employers and unions, trying to get them to accept labour-market reforms,
"when it became clear that unanimity was impossible, Mr. Monti declared the talks over and said his government would press ahead regardless."
It is quite appropriate, one must acknowledge, that for a government which was created through undemocratic means, it should only continue to act and rule undemocratically as well.
Such is the path Mario Monti has taken with Italy. On March 16, the Italian parliament's three largest parties endorsed Monti's reforms, on the warning from President Napolitano that,
"failure to agree would have serious consequences."
The main problem for Monti came from the largest union federation, the CGIL, an historic ally of the Democratic Party (PD), which had endorsed Monti and his austerity packages, leading one senior leader in the PD to suggest that the party leader, Pier Luigi Bersani,
"could face a backbench revolt or a party split." [29]
The Wall Street Journal naturally congratulated Monti, in an article entitled, "Monti pulls a Thatcher," for showing "political courage" in walking away from negotiations with Italy's labour unions, announcing that he was,
"going to move ahead with reforming the country's notorious employment laws - with or without union consent."
Italy had stringent rules regarding the ability of employers to fire workers, what the Wall Street Journal referred to as a "job-for-life scheme," which Monti's reforms will replace with a "generous system of guaranteed severance when employees are dismissed" for what are called, "economic reasons."
The Journal heaped praise upon Monti, as "standing up to Italy's labor unions takes courage, and not only of the political sort," noting how there was an economist ten years prior who was shot and killed "for his role in designing a previous attempt at labor reform." Monti had been ruling by decree since December, but announced in late March that the labour reform proposals would be voted through the National Assembly.
The WSJ wrote that as a former economics professor, Mario Monti "has a rare opportunity to educate Italians on the consequences of opposing reform," to which the Journal suggested, they need only to look at Greece:
"If that doesn't scare them sober, then nothing will help." [30]
Within a week, Monti allowed for a very slight change to his labour reform bill, which would give judges,
"greater leeway in determining whether companies were justified in laying off a worker."
The Wall Street Journal then referred to this, in an article entitled, "Surrender, Italian Style," as a,
"cave-in to the left side of his political coalition," and noted that, "Monti was brought in as Prime Minister to retrieve his country from the edge of a Greek abyss," and that this "labor bill is a surrender to those who are bringing" that abyss to Italy.[31]
For the WSJ, any capitulation - no matter how minor (and this particular one was very minor) - to unions and labour, is deemed an absolute "surrender" or "cave-in."
Monti defended himself in a letter to the Wall Street Journal in which he explained that this "surrender" was still a move in the right direction of reform, as it,
"introduces a more predictable [i.e., controllable] and speedier [i.e., systematic] procedure to handle dismissals for economic or other objective reasons."
He elaborated:
"First, a fast, compulsory, out-of-court settlement procedure at local level; then, if conciliation fails, the worker can take the case to a judge as happens in other countries."
In "extreme cases" where the "economic or other reason" for firing the worker is deemed "manifestly inexistent," the judge then has the ability to decide "for reinstatement instead of compensation."
When the "economic dismissal" is "not justified" in other cases (i.e., not an "extreme case"), compensation will be given with a cap at 24 months of wages. Monti said that it was a "complex reform" and deserves "serious analysis rather than snap judgments."
He then wrote:
"I would suggest that perhaps the fact that it has been attacked by both the main employers association and the metalworkers union, part of the leading trade union confederation [CGIL], indicates that we have got the balance right."
This reform, claimed Monti,
"will make the Italian labor market more flexible" which "lays the foundation for increase productivity, economic growth and employment." [32]
In mid-April, Italy's major unions took to the streets of Rome in protest against Mario Monti's pension-system reforms put in place in January,
"saying it traps hundreds of thousands of workers in a legal limbo without retirement pay."
The reform that raised the retirement age affects those who are already retired.
Bloomberg gave the example of Maria Dinelli, who had an early-retirement deal in 2008, in which her former employer provided benefits until her pension was to begin in 2015.
Under Monti's reforms, her pension won't begin until 2017, upon which she commented,
"I'll be without a salary or pension for two full years before the retirement age, and will have to put money aside… You were told you had guarantees, then you lose it all because a new government takes power and changes the rules."
Tens of thousands of Italians took to the streets of Rome on April 13 as the Italian Labor Ministry said the night before that,
"there are 65,000 Italians who may be left without support between when they leave work and when their pension kick in as the higher retirement age delays their payout," while unions say the amount of people affected is five times that size, at roughly 300,000, prompting one union leader to state, "If these figures were correct," referring to the Labor Ministry numbers, "then we'd have to say that the thousands of workers who've turned to the union for help are not real and just ghosts."
A labor law professor in Rome estimated the number may actually be as high as 450,000.[33]

Monti referred to this plan as "cutting edge." Well, it certainly 'cuts.' Meanwhile, Italians are facing increased taxes and record-high gasoline prices, thus producing a "slump in consumer demand" which pushed Italy into a deeper recession.
Nicola Marinelli of Glendevon King Asset Management in London stated:
"An overhaul of the pension system was unavoidable because the old scheme was too generous compared to the country's possibilities and the European standards… That said, the protest of these workers may be a harbinger of future social tensions. I don't think the younger workers have really realized they will have starvation-level pensions."
Just another "cutting edge" facet of Monti's reforms. Interestingly, though perhaps not surprisingly, Monti's reforms had not yet included "a heavy hand with the richest taxpayers," prompting a labor law professor to opine,
"I think it's about time for those who have more to contribute to the needs of the country." [34]
But such is not the nature of austerity.

In fact, in April it was reported that the political class in Italy, the,
"army of politicians and senior officials" who support Monti and his reforms in Parliament, "are clinging to fat salaries that far outstrip those of their peers abroad."
Monti had issued a decree which aimed to "prevent public servants earning more than U.S. President Barack Obama," many of whom "earn considerably more."
Italy's wealthy, however, not simply the top politicians and bureaucrats alone,
"are hardly carrying their share of the burden."
One economist noted:
"There has not been an equal distribution of sacrifices… In proportion to their salaries, higher incomes are paying less."
Italy has roughly 1,000 lawmakers across the nation, who earn more than their counterparts in the United States, with a base salary of 11,283 Euros per month, while the lowest-earning households in Italy,
"hurt most by rising fuel, property and sales taxes," live "on less than 8,000 Euros per year, or 667 Euros per month, after taxes."
Between 2006 and 2010, Italy's poorest families already lost almost 12 percent of their real income, according to data from the Bank of Italy.
Unlike the political class, most Italian families are "traditionally thrifty," however, under austerity in 2011,
"households saved only 12 percent of their gross income, the lowest level since 1995."
That is the nature of austerity: when you need to save more than ever before, the ability to do so becomes harder than ever before. In March, a Moroccan worker in Italy set himself on fire in protest, and an Italian businessman did the same.
Polls in Italy have shown that the people are,
"increasingly dissatisfied with the parties and politicians that led the country for the past two decades," as more than 40% of respondents said that they wouldn't vote for any of them if there were an election today.[35]

Italy Under Austerity

The Wall Street Journal reported in early April that figures from the Italian Treasury revealed that Monti's austerity measures were,
"stunting activity in the euro-zone's third-largest economy," and while "recent tax increases are helping Italy cut its fiscal shortfall," they are also "pushing economic activity to contract even faster."
Industry Minister Corrado Passera stated:
"With austerity one doesn't grow."
The majority of tax increases are on the income of workers, though they also include taxes on consumption (such as Value Added Taxes - VAT) and on property assets.
As Italy's GDP contracted by 1% in the first quarter of 2012, yields on Italian government bonds rose, making it more expensive for Italy to borrow.
Former prime minister Berlusconi commented:
"The cure that the European Union has prescribed for our country is the one that has already caused a disaster in Greece and is beginning to do so again in Spain," though he continued to throw his support behind the technocratic government.
One businessman in Italy warned that,
"Consumers have insurmountable obstacles ahead of them, with higher income-tax rates from March, higher property taxes as of June and a value-added tax increase in September." [36]
By late April, unemployment in Italy had reached nearly 10%, according to "official" statistics (meaning, it's actually much higher), and in Sardinia, one in two young people were out of work.
The construction industry in Italy has been hard hit, leading to one industry businessman killing himself, adding to a wave of "austerity suicides" across Italy, reaching 25 by April for the year of 2012.[37]

In May of 2012, the Italian anarchist group which had claimed responsibility for shooting a nuclear engineering firm chief threatened to target Mario Monti.
The group, referring to itself as the Olga Nucleus of the Informal Anarchist Federation - International Revolutionary Front, sent a statement to a newspaper in southern Italy, warning that,
"Monti was among seven remaining targets after Roberto Adinolfi, chief executive of Ansaldo Nucleare, was shot in the leg last week."
The statement read:
"We say to Monti that he is one of the seven remaining and that the people have no interest in staying in Europe, saving the banks and helping to balance the accounts of a state that squandered money for its own interests."
The statement explained that any suicide connected to tax difficulties brought about by the austerity measures would be punished as a "state murder."
This referred to a series of suicides in Italy by businessmen and others, "despairing at the collapse of their livelihoods because of the crisis." It was the same anarchist group that in the previous year, claimed responsibility for sending letter bombs to several banks, including to Josef Ackermann, the CEO of Deutsche Bank, while the director-general of Equitalia in Italy lost a finger opening one of the letter bombs in December.
One of the members of the group, facing prosecution in court,
"called for armed revolution… when asked about the Adinolfi shooting." [38]
Mario Monti had been pushing himself into European politics as a "mediator" between Germany and the weaker euro-zone economies, to seemingly "broaden" decision-making in Europe beyond the Franco-German axis.
In the first few weeks of May, Monti's technocratic administration had been "courting Berlin on two fronts," trying to draw the parliaments of both countries closer together, and in term of ideology, they had been,
"trying to convince German officials - in both private meetings and public speeches - that the compromise solution to stoking growth in Europe's weaker economies is investment in big public projects, such as transportation, Internet networks or electricity grids, while maintaining fiscal discipline."
Some spending, claimed Monti, should be "exempted" from fiscal austerity, something which Germany had long opposed.
But with the French elections in early May getting rid of Nicolas Sarkozy and bringing in the Socialist President Francois Hollande, who favored a strategy of spending on growth, Monti was seeking to find a common ground between Germany and France, but in a way that ultimately was supportive of the European Union, specifically.
Nicholas Spiro, who heads a London-based sovereign debt consultancy, stated,
"If there's one European leader whose policies can appeal to both Chancellor Merkel and President-elect Hollande, it's Monti."
The refined "growth" program promoted by Monti would be based on,
"creating bonds to fund European Union infrastructure projects and boosting the firepower of the European Investment Bank to fund public investments."
Thus, it would be based upon European spending, not individual nations spending, and so the debt would be pan-European, and controlled by the EU.[39]

In late April, Mario Monti announced that he would be making more cuts to spending by the end of the year,
"and appointed an expert from the private sector as a special commissioner to oversee the spending review."
The cuts, amounting to some 4.2 billion Euros (or $5.6 billion),
"would allow him to avoid proceeding with a plan to raise the national sales tax to 23 percent in October from 21 percent, a move that could hurt consumer spending and slow a return to growth," reported the New York Times. Monti stated, "Today we are faced with the necessity of making up for the time lost… And not in years, but in months." [40]
The new special commissioner from the private sector to review the process was Enrico Bondi, known as "Mr. Fix-it" for having successfully restructured the bankrupt Parmalat group.
The change in austerity measures followed intense pressure from the business community in Italy to push the burden from increased taxation to more government spending cuts.[41]

In mid-May, yields on Italian debt jumped up to nearly 6%, as evidence emerged that Italy was sliding into an even deeper recession, brought on by Monti's austerity measures and 'structural adjustments.'
The government in Italy was openly discussing using troops to protect various targets after a wave of violent actions, claimed by various anarchist groups, such as the shooting of the nuclear industry executive, as well as petrol bombs being thrown at tax offices in early May.
An Italian banker warned that unless the European Central Bank was converted into a lender of last resort, Italy faces,
"massive devaluation, three to five years of hyperinflation, and unbearable unemployment."
Moody's ratings agency downgraded 26 Italian banks in May, evoking the anger of the Italian Banking Association, which called the downgrade,
"irresponsible, incomprehensible, and unjustifiable," and said it was "an attack on Italy, its companies, its families and its citizens." [42]
Italy held a series of local elections in early May, in which the Italian comedian, Beppe Grillo, who is also leading a political party, the Five Star Movement, which "rode a wave of protest against austerity politics" and suggested, "We will see you in parliament."
Grillo had been increasingly critical of Monti's tax hikes, and in one local election forced a run-off with the Democratic Party (PD), and managed to "trounce" Silvio Berlusconi's Freedom People party in all the local elections, while the right-wing Northern League party, which has also criticized Monti's reforms, "was humiliated at the polls."
The major Italian newspaper, Corriere della Sera, said, following the elections,
"As of yesterday, it seems Monti is now more alone." [43]
In mid-June, police in Italy, Switzerland and Germany arrested 10 people suspected of involvement in "leftwing terrorist activity" in Italy and elsewhere over the previous three years, connected to one of two organizations, the Informal Anarchist Federation (FAI) and the International Revolutionary Front (FRI).
A general in Italy's semi-militarized Carabinieri police force said that,
"the two groups were in contact with the Greek anarchist movement."
The individuals who were arrested, however, were not suspected of being involved in the major act associated with the groups, the shooting of Roberto Adinolfi in Italy, though the General claimed, "The origin is the same."
The arrests did, however, include suspected involvement in the failed letter bomb sent to former Deutsche Bank CEO Josef Ackermann.[44]

In mid-June, as the G20 meeting unfolded in Mexico, Italian Prime Minister Mario Monti said that the euro area needs a "road map with concrete interventions to make the euro more stably credible," as well as a "pro-growth plan," stating, "the two things are strictly complementary." [45]
Even though Monti had imposed his brutal austerity measures upon the people of Italy, the bond rates for the country remained high, prompting Monti to comment,
"There must be something wrong if a country that complies still has such high interest rates."
Monti noted that through the European Financial Stability Facility (EFSF), the European bail out fund, Italy had supplied loans to Greece, Ireland and Portugal amounting to 31.5 billion Euros, commenting,
"Italy has not until now asked for loans… She has made a lot of them and every day that passes, is in fact subsidizing others with the high interest rates she pays in the market." [46]
In late June, following the G20 summit, Mario Monti announced a "growth decree" for Italy, which included,
"discount loans for corporate R&D [Research & Development], tax credits for businesses that hire employees with advanced degrees, and reduced headcount at select government ministries." [47]
Also in late June, Italy, Germany, France and Spain agreed to a "growth pact" for Europe with the total value of 130 billion Euros ($163 billion), noting that, "austerity alone will not be enough to pull the euro zone out of its deep crisis."
The total sum represents 1% of the European Union's GDP. Also envisioned are "project bonds" which would be financed through the EU's budget, and issued "for private-sector infrastructure projects," or in other words, corporate subsidies.[48]

At the end of June, it was reported that Italy's economic crisis was deepening, due in large part to the austerity measures, but also as a result of the increasingly high yields (interest rates) on Italian bonds, as Italy had to pay the highest interest rates since December in a 5.24 billion euro auction of 5 and 10 year government bonds (meaning that the country pays high interest rates to the financial institutions which purchased these bonds until they expire in a 5-or-10 year term).
The ten-year bonds sold at an average rate of 6.19 percent, while the five-year bonds were at an average rate of 5.84 percent.
This, the Financial Times warned, "is the latest sign of a deepening double-dip recession in Italy and will add urgency to prime minister Mario Monti's demands for short-term measures" to reduce interest rates (such as the ECB purchasing bonds on the market).
An Italian business lobby, however, went on to praise the,
"huge steps, unthinkable only a year ago," which were implemented by Monti's technocratic government, though adding, "the process is far from being completed." [49]
In late June, a bickering Italian parliament passed Monti's labour reform package, just ahead of the EU summit.
Angela Merkel said that Italy had,
"taken the road towards solid public finances, growth, jobs and competitiveness."
The reform of the labour market has been a major demand of the European Commission and the European Central Bank, and thus, Brussels praised the passing of the reforms, and even the IMF chimed in to cheer on Monti.
The reform package was passed in parliament as protests led by the labour unions, took place outside, with police helicopters overhead and demonstrators clashing with security forces blocking the way to the parliament building.[50]

At the EU summit at the end of June, Italy and Spain forced leaders to remain at the summit overnight, forcing an agreement to restructure Spain's 100 billion euro bank recapitalization plan (the Spanish bailout), allowing funds to be injected directly into banks in Spain,
"meaning Madrid can sweep the burden of the bailouts off its sovereign books."
Though this, in turn, requires the "creation of a single banking supervisor to be run by the European Central Bank," likely as a precursor to a European banking union.
Italy also received concessions, though less than Spain received, yet was the main driving force behind the revised rules for the Eurozone bailout fund - the EFSF (and later the ESM) - which would have it purchasing sovereign bonds in order to lower the borrowing costs, as it would increase confidence in Italian bonds and thus, lower the interest rates, Monti's key demand in the previous months.
The countries that have their bonds purchased by the bailout fund,
"will no longer be subject to Greek-style monitoring programs," but instead, "they would simply have to maintain their EU debt and deficit commitments."
Monti declared,
"It is a double satisfaction for Italy."
For Angela Merkel, who had for months refused to support any short-term rescue measures, "the deal was a significant concession." Though, of course, every concession comes with a condition:
"a German-led group of northern creditor countries will gain more control over all of the Eurozone banks through the new single supervisor," the mechanism through which to establish the banking union.[51]
Upon this news, Spanish and Italian government bond yields fell sharply, with a Deutsche Bank economist commenting,
"There was so little expectation and since there was a breakthrough at least on bank recapitalizations, the markets salute that." [52]
The German media reported that,
"Italy and Spain broke the will of the iron chancellor by out-negotiating her in the early hours of Friday morning," on June 29. Der Spiegel reported that, "Monti emerged from the late-night negotiations as a clear victor."
Merkel had to concede to Monti, and Spanish Prime Minister Mariano Rajoy, specifically on the issue of "demands" for the bailouts, as Merkel has been the reigning Queen of austerity.
Faced up to Monti, however, the permanent European bailout fund - the European Stability Mechanism (ESM) - can loan to countries,
"which fulfill the budgetary rules laid down by the European Commission… without agreeing to tough additional austerity measures."
Thus, strict oversight by the troika - the European Commission, the European Central Bank, and the IMF - would no longer apply.[53]

Monti's uprising at the summit began at 7:00 p.m. on Thursday evening, when European Council President Herman Van Rompuy wanted to conclude the first working session and announce the growth pact to the press.
Monti, furious, asked Van Rompuy where he was going, and then refused to agree to the growth pact until resolving the issue of establishing,
"concrete measures to fight the high interest rates on Italian government bonds."
Spanish Prime Minister Rajoy supported Monti, adding that he could not support the growth pact either until such an issue had been resolved.
Danish Prime Minister Helle Thorning-Schmidt asked if the attendees "were now all hostages," and Van Rompuy remained seated. After midnight, representatives from the ten non-euro EU countries left for their hotel rooms, while the 17 Eurozone countries "remained in their seats and began a decisive round of negotiations."
After a few hours, Monti and Rajoy convinced Merkel,
"that countries would in the future be able to receive funds from the ESM without having to submit to troika oversight."
Thus,
"only the European Commission's annual targets will have to be met."
The session ended at 4:20 a.m. on Friday morning, with European Commission President Barroso and Council President Van Rompuy announcing it at a press conference.[54]

This is not to say that austerity and structural adjustment would not be pursued, but simply that the 'Troika' (the EC, ECB, and IMF) monitoring and imposition of austerity would cede in favor of general targets set by the European Commission. Those targets, however, would still demand fiscal austerity and structural adjustment, but would not be subject to the same oversight or schedule with which the demands must be met.
Ultimately, it was a deal that was not aimed at reducing the imposition and effects of austerity, but rather, was designed to institutionalize more effectively the domination of the European Commission itself (an unelected technocratic institution), as opposed to a more ad-hoc Troika system of oversight.

In the Italy of Mario Monti - and in the European Union at large - austerity is poverty, growth is plundering, labour reform is exploitation, and democracy… is Technocracy.
Welcome to Italy, welcome to the new Europe in the age of austerity.




Notes
[1] Giuseppe Fonte, "Italy PM unveils sweeping austerity package," Reuters, 4 December 2011:
http://www.reuters.com/article/2011/12/04/us-italy-idUSTRE7B20I220111204

[2] Guy Dinmore and Giulia Segreti and Joshua Chaffin, "Monti cabinet agrees Italy austerity plans," The Financial Times, 5 December 2011:
http://www.ft.com/intl/cms/s/0/ef821ec4-1dc8-11e1-9fd4-00144feabdc0.html#axzz1yY37v49b

[3] Steve Scherer, "Italy starts strikes against Monti's austerity," Reuters, 12 December 2011:
http://www.reuters.com/article/2011/12/12/us-italy-austerity-strikes-idUSTRE7BB0O120111212

[4] Gavin Jones, "Italy risks "social explosion" over austerity: union chief," Reuters, 14 December 2011:
http://www.reuters.com/article/2011/12/14/us-italy-camusso-interview-idUSTRE7BD1EC20111214

[5] Reuters, "Italian Senate backs Monti austerity package," The Telegraph, 22 December 2011:
http://www.telegraph.co.uk/finance/financialcrisis/8973397/Italian-Senate-backs-Monti-austerity-package.html

[6] "An interview with Mario Monti: Italy's great liberaliser?" The Economist, 17 January 2012:
http://www.economist.com/blogs/newsbook/2012/01/interview-mario-monti

[7] Nicholas Kulish, "Monti, in Berlin, Calls for Growth Policies in Europe," The New York Times, 11 January 2012:
http://www.nytimes.com/2012/01/12/world/europe/italys-mario-monti-in-germany-calls-for-growth-policies-in-europe.html?pagewanted=all

[8] Philip Stephens, "Europe rests on Monti's shoulders," The Financial Times, 26 January 2012:
http://www.ft.com/intl/cms/s/0/a209e0b2-4769-11e1-b847-00144feabdc0.html#axzz1yY37v49b

[9] Guy Dinmore and Giulia Segreti, "Monti unveils liberalisation plans," The Financial Times, 20 January 2012:
http://www.ft.com/intl/cms/s/0/b13df170-4392-11e1-adda-00144feab49a.html#axzz1z1dPgKJf

[10] Guy Dinmore and Giulia Segreti, "Berlusconi to abandon frontline politics," The Financial Times, 3 February 2012:
http://www.ft.com/intl/cms/s/0/65784254-4e6e-11e1-8670-00144feabdc0.html#axzz1yY37v49b

[11] Martin Wolf, "Why the super-Marios need help," The Financial Times, 19 January 2012:
http://www.ft.com/intl/cms/s/0/c608d3fa-4035-11e1-82f6-00144feab49a.html#axzz1yY37v49b

[12] Peter Spiegel and Guy Dinmore, "The wishes and worries of a parenthetic revolutionary," The Financial Times, 18 January 2012:
http://www.ft.com/intl/cms/s/0/faaef4aa-4101-11e1-b521-00144feab49a.html#axzz1z1dPgKJf

[13] Ibid.

[14] PBS, "Italy's Premier Mario Monti: Time to Focus on Growth in Europe," PBS Newshour, 7 February 2012:
http://www.pbs.org/newshour/bb/business/jan-june12/monti2intervie_02-07.html

[15] Ibid.

[16] Alessandra Gallioni, Christopher Emsden and Stacy Meichtry, "Italy Pushes for Europe Growth Policy," The Wall Street Journal, 8 February 2012:
http://online.wsj.com/article/SB10001424052970204136404577209243247008110.html

[17] Ibid.

[18] Alessandra Galloni, Christopher Emsden and Stacy Meichtry, "Q&A With Mario Monti," The Wall Street Journal, 7 February 2012:
http://online.wsj.com/article/SB10001424052970203315804577209341047730830.html

[19] Alessandra Gallioni, Christopher Emsden and Stacy Meichtry, "Italy Pushes for Europe Growth Policy," The Wall Street Journal, 8 February 2012:
http://online.wsj.com/article/SB10001424052970204136404577209243247008110.html

[20] Ibid.

[21] Michael Schuman, "The Most Important Man in Europe," Time Magazine, 20 February 2012:
http://www.time.com/time/magazine/article/0,9171,2106489-1,00.html

[22] Ibid.

[23] Tiziana Barghini, "Wall Street likes Monti, but still wary of Italy," Reuters, 13 February 2012:
http://www.reuters.com/article/2012/02/13/us-italy-economy-investment-idUSTRE81C1OP20120213

[24] Tiziana Barghini and Walter Brandimarte, "Italy doesn't need firewalls, Europe does: Monti," Reuters, 10 February 2012:
http://www.reuters.com/article/2012/02/11/us-Eurozone-monti-firewall-idUSTRE81A01820120211

[25] Rachel Donaldio, "Stuck in Recession, Italy Takes on Labor Laws That Divide the Generations," The New York Times, 19 March 2012:
http://www.nytimes.com/2012/03/19/world/europe/italy-tackles-labor-laws-that-divide-young-and-old.html?pagewanted=all

[26] Ibid.

[27] Ibid.

[28] Cécile Allegra, "Child labour re-emerges in Naples," Le Monde, 30 March 2012:
http://www.presseurop.eu/en/content/article/1722081-child-labour-re-emerges-naples

[29] "Italy's reforms: Monti's labour-law tangle," The Economist, 24 March 2012:
http://www.economist.com/node/21551046

[30] WSJ, "Monti Pulls a Thatcher," The Wall Street Journal, 26 March 2012:
http://online.wsj.com/article/SB10001424052702303816504577305240774653740.html

[31] WSJ, "Surrender, Italian Style," The Wall Street Journal, 5 April 2012:
http://online.wsj.com/article/SB10001424052702303299604577325902816241654.html

[32] Mario Monti, "Italy's Labor Reforms Are Serious and Will Be Effective," The Wall Street Journal, 6 April 2012:
http://online.wsj.com/article/SB10001424052702303299604577327822449450802.html

[33] Flavia Rotondi and Lorenzo Totaro, "Italians Rally in Rome Against Monti's Pension-Revamp Gap," Bloomberg, 13 April 2012:
http://www.bloomberg.com/news/2012-04-12/italians-rally-against-monti-s-pension-overhaul-limbo.html

[34] Ibid.

[35] Steve Scherer, "Analysis: Fat cat Italian politicians dodge Monti's austerity," Reuters, 11 April 2012:
http://www.reuters.com/article/2012/04/11/us-italy-politicians-idUSBRE83A0TD20120411

[36] Christopher Emsden, "Italy Austerity Poses Threat to Economy," The Wall Street Journal, 3 April 2012:
http://online.wsj.com/article/SB10001424052702304023504577321200213474194.html

[37] Nick Squires, Italian businessman becomes country's 25th 'austerity suicide' of the year," The Telegraph, 30 April 2012:
http://www.telegraph.co.uk/news/worldnews/europe/italy/9236231/Italian-businessman-becomes-countrys-25th-austerity-suicide-of-the-year.html

[38] Reuters, "Anarchists threaten Mario Monti," The Financial Times, 16 May 2012:
http://www.ft.com/intl/cms/s/0/ffa158f4-9f7f-11e1-a255-00144feabdc0.html#axzz1yY37v49b

[39] Stacy Meichtry and Marcus Walker, "Monti Seeks Mediator Role in Europe," The Wall Street Journal, 10 May 2012:
http://online.wsj.com/article/SB10001424052702304543904577396363981261898.html

[40] Gaia Pianigiani, "Monti Selects Areas to Cut to Reduce Italy's Budget," The New York Times, 1 May 2012:
http://www.nytimes.com/2012/05/02/business/global/monti-selects-areas-to-cut-to-reduce-italys-budget.html

[41] Guy Dinmore and Giulia Segreti, "Italy to cut spending and avoid VAT rise," Financial Times, 30 April 2012:
http://www.ft.com/intl/cms/s/0/3d85faf4-92eb-11e1-aa60-00144feab49a.html#axzz1z1dPgKJf

[42] Ambrose Evans-Pritchard, "Italy's banks shaken as economic slump deepens," The Telegraph, 15 May 2012:
http://www.telegraph.co.uk/finance/financialcrisis/9268330/Italys-banks-shaken-as-economic-slump-deepens.html

[43] Tom Klington, "Anti-austerity parties ride protest vote in Italian local elections," The Guardian, 8 May 2012:
http://www.guardian.co.uk/world/2012/may/08/anti-austerity-italian-local-elections

[44] John Hooper, "Italian police arrest leftwing terror suspects," The Guardian, 13 June 2012:
http://www.guardian.co.uk/world/2012/jun/13/italian-police-arrest-terror-suspects

[45] Christopher Emsden, "Monti Wants EU to Solve Own Problems," The Wall Street Journal, 18 June 2012:
http://blogs.wsj.com/eurocrisis/2012/06/18/monti-wants-eu-to-solve-own-problems/

[46] John Hooper, "Eurozone crisis: Mario Monti defends Italy's record," The Guardian, 22 June 2012:
http://www.guardian.co.uk/business/2012/jun/22/Eurozone-crisis-mario-monti-italy?newsfeed=true

[47] WSJ, "Employment, Italian Style," The Wall Street Journal, 25 June 2012:
http://online.wsj.com/article/SB10001424052702304898704577478111174204768.html

[48] Spiegel Online, "Merkel, Monti and Co. Agree to European Growth Pact," Der Spiegel, 22 June 2012:
http://www.spiegel.de/international/europe/germany-france-italy-and-spain-agree-to-growth-pact-a-840495.html

[49] Giulia Segreti, "Italy's economic crisis deepens," The Financial Times, 28 June 2012:
http://www.ft.com/intl/cms/s/0/668f816a-c106-11e1-8179-00144feabdc0.html#axzz1z1dPgKJf

[50] Guy Dinmore, "Monti gets approval for labour reforms," The Financial Times, 27 June 2012:
http://www.ft.com/intl/cms/s/0/8d2cf956-c070-11e1-9372-00144feabdc0.html#axzz1z1dPgKJf

[51] Peter Spiegel and Joshua Chaffin, "Europe agrees crisis-fighting measures," The Financial Times, 29 June 2012:
http://www.ft.com/intl/cms/s/0/5513d3d4-c19f-11e1-8eca-00144feabdc0.html#axzz1z1dPgKJf

[52] Ana Nicolaci da Costa and Marius Zaharia, "EU summit moves push Italian, Spanish yields lower," Reuters, 29 June 2012:
http://news.yahoo.com/eu-summit-moves-push-italian-spanish-yields-lower-164226104–finance.html


[53] Carsten Volkery, "Monti's Uprising: How Italy and Spain Defeated Merkel at EU Summit," Der Spiegel, 29 June 2012:
http://www.spiegel.de/international/europe/merkel-makes-concessions-at-eu-summit-a-841663.html

[54] Ibid.