by Matt Clinch
October 15, 2012
from CNBC Website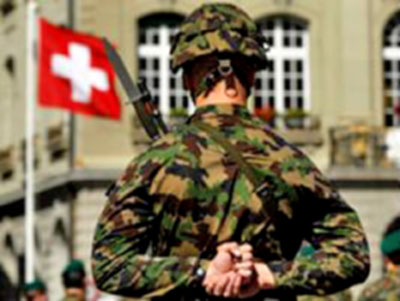 With anti-austerity protests across Europe resulting in civil unrest on the streets of Athens and Madrid, the European country famed for its neutrality is taking unusual precautions.
Switzerland launched the military exercise "Stabilo Due" in September to respond to the current instability in Europe and to test the speed at which its army can be dispatched. The country is not a member of the union or among the 17 countries that share the euro.
Swiss newspaper Der Sonntag reported recently that the exercise centered around a risk map created in 2010, where army staff detailed the threat of internal unrest between warring factions as well as the possibility of refugees from,
Greece

Spain

Italy

France

Portugal
The Swiss defense ministry told CNBC that it does not rule out having to deploy troops in the coming years.
"It's not excluded that the consequences of the financial crisis in Switzerland can lead to protests and violence," a spokesperson told CNBC. "The army must be ready when the police in such cases requests for subsidiary help."
Some 2,000 troops were part of the drill exercise in eight different towns across the country. Infantry soldiers were used as well as the Air Force and special forces personnel in an assignment that took years to organize.
Quoted in a Schweizer Soldat magazine, Defense Minister Ueli Maurer warned of an escalation of violence in Europe.
"I can't exclude that in the coming years we may need the army," he said.
According to the minister, under pressure to save, some European countries didn't renew their armies as they could no longer afford the upkeep of modern systems.

He said that the situation could amplify dramatically, with countries that couldn't defend themselves facing the possibility of "blackmail." In the paper, he also asked how long the crisis could be calmed with money alone.

Der Sonntag newspaper also reported that army chief André Blattmann is set to submit a proposal in December to utilize four battalions of military police. This will consist of 1,600 soldiers guarding strategic points in the country including the airport, industrial plants, and the international organizations in Geneva.

Protests have taken place in numerous European cities since the financial crisis hit the continent in 2008. In September, 70,000 people marched to the Greek Parliament in Athens and the protests ended with demonstrators clashing with police.

Last week, at least 7,000 plainclothes police and hundreds more undercover agents were mobilized to lock down Athens.
Snipers, commandos, frogmen, and helicopters were also present as German Chancellor Angela Merkel visited the country and thousands of protesters streamed into Syntagma square.
A Reason to Exist?
The military is a hot topic in Switzerland, which has mandatory military service.
Under Swiss law, all able-bodied men at age 19 have to undergo five months of training, followed by refresher courses of several weeks over the next decade.

A referendum is likely to take place next year to decide the fate of this conscription policy. The current number of recruits stands at 200,000 - the biggest army in Europe relative to population size.
Josef Lang, the vice president of the Swiss Green Party and leader of the country's pacifist movement, told CNBC that the defense ministry was using the euro zone crisis for political purposes ahead of this key vote.
"They're using social unrest and instability in Europe to give more credibility to the army," he said.

"Switzerland for many years has never fought anyone else. This is what we call in Switzerland interior actions - actions by the Swiss army against their own citizens. There is a long history of this in Switzerland."
Lang added that he didn't believe the streets of Switzerland would see the unrest that has been seen in Spain or Greece.
GSOA, a group working to reduce the military activities of Switzerland, had similar thoughts.
"The Swiss army is looking desperately for a reason to exist, this is why they always try to find new tasks," a spokesperson said.

"There are some very small groups which like smashing up windows, but this happens only two or three times per year and the police can handle it more or less well."
One former soldier in the Swiss army told CNBC that his superiors would often ask him to use ammunition liberally in training scenarios.
"That meant:

'Use up everything, have fun, if we don't use it all up they're going to think we need less and cut the budget'," he told CNBC.com.

"Sometimes they make up a kind of alternate Europe with made-up countries and stuff, just to give a frame for tactic games and exercises."