by Laurence Fletcher
edited by Simon Robinson and Sara Ledwith
August 15, 2011
from Reuters Website


Reuters
FASD, based in the small village of Hadlow Down in southern England, is one company that has shown interest in bonds that were bought by failed hedge fund DD Growth Premium, although its chairman denies this.

On its website, FASD says its mission,
"is to find and manage financially rewarding alternative investment options for those accredited and experienced clients who want to grow their financial wealth as well as participate in global humanitarian projects."
Wim Van Hooydonk, FASD's chairman and director, told Reuters in a telephone interview he didn't,
"want anything to do with these bonds. Somebody from Italy, a certain professor, has mixed us up in these transactions, and we don't want to be involved in these transactions at all."
But correspondence seen by Reuters between Van Hooydonk and Grant Thornton, liquidators of the DDCM Master fund, indicates he had at one stage been very keen.
"We remain totally committed to complete the transaction and confirm that the first payment is going to be completely (sic) quite shortly, very likely before the end of the week," said an October 2010 mail about a planned purchase of the bonds.
FASD has very close links to a charitable foundation headed by Bruno Gillier called Gillier Humanity (yellow box - below image), which is, according to its website,
"dedicated to making a positive impact on the quality of life" in places such as Tahiti, Fiji and Thailand.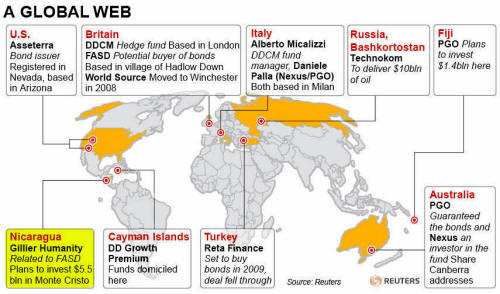 Gillier Humanity plans to spend at least $385 billion to create hundreds of thousands of jobs around the world.
The charity says it wants to buy two or three airlines, a top 10 hotel or resort operator, and banks. Gillier also plans to spend $5.5 billion to transform the 400-acre Nicaraguan province of Montecristo into a "modern day Monaco."
"Monte Cristeau (sic) is the same physical size as Monaco and will have a similar economy, government and infrastructure," read Gillier's plans.

"Gillier Humanity will develop the following: set up the desired form of government (constitutional monarchy), with heads of state and ambassadors, create a constitution, flag, banking system with gold-backed currency, have international embassies and consulate offices worldwide, and offer diplomatic missions and diplomatic immunity."