December 19, 2013
from Blooberg Website


Credit Suisse Group AG (CSGN) defrauded investors of more than $1 billion by misrepresenting the risks of its residential mortgage-backed securities, acting New Jersey Attorney General John J. Hoffman said in an interview.

Hoffman's office sued Credit Suisse over claims it misled investors about the risk involved in more than $10 billion in securities issued in 2006 and 2007, before the housing market collapsed.
The lawsuit follows one by New York Attorney General Eric Schneiderman, who claimed last year that the bank misled investors about its review of mortgages underlying securities.
"Credit Suisse was greedy and irresponsible," Hoffman said yesterday. "The losses are in excess of $1 billion and likely in the billions."
Credit Suisse, the second-biggest Swiss bank, faces other state and federal investigations that could lead to a consolidation of claims filed by governments, Hoffman said.
The Zurich-based bank has asked a judge to dismiss the New York case, and criticized the New Jersey complaint announced yesterday.
"This complaint is without merit," Drew Benson, a Credit Suisse spokesman, said in an e-mail. "It recycles baseless claims and uses inaccurate and exaggerated figures. We look forward to presenting our defense in court."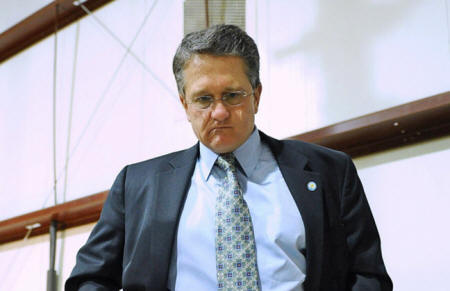 John J. Hoffman, acting attorney general of New Jersey,
whose office sued Standard & Poor's earlier this year
over how it rated mortgage securities,
said almost a dozen people in his office are working on such cases.
He declined to say what other banks, if any,
might be under investigation.
Photographer: Michael Loccisano/Getty Images


'High Risk'

The state claims Credit Suisse Securities (USA) LLC and two affiliates didn't disclose that loans didn't meet underwriting standards and originators had "poor track records characterized by alarming levels of defaults and delinquencies."

Such red flags showed the securities,
"posed a high risk of delinquency and default, which could - and ultimately did - inflict enormous losses on the investors," according to the complaint, filed in state court in Trenton.
The securities were based on pools of mortgages not backed by Fannie Mae (FNMA) or Freddie Mac, the two government-sponsored enterprises that provide liquidity to the housing market by packaging loans into securities.
Credit Suisse bought those loans from originators that failed to conduct proper due diligence, according to the complaint.
Investors received prospectuses that failed to disclose,
"rampant abandonment of underwriting guidelines," according to the complaint.

Defective Loans

Credit Suisse maintained a "Watch List Committee" to weed out risky originators, yet still bought their loans, according to Hoffman's complaint.
The bank made,
"tens of millions of dollars in reimbursements" tied to defective loans, he said in a statement.
Hoffman, whose office sued Standard & Poor's earlier this year over how it rated mortgage securities, said almost a dozen people in his office are working on such cases.
He declined to say what other banks, if any, might be under investigation.
"We're taking an aggressive, affirmative look and perspective towards institutions responsible for defrauding investors," he said. "To the degree that involves additional lawsuits, that's the direction we're heading in."
Hoffman is part of the Residential Mortgage-Backed Securities Working Group, which has pulled together the U.S. Justice Department and state attorneys general to bring cases.
In October, JPMorgan Chase & Co. (JPM) agreed to pay $13 billion over mortgage-related malfeasance.

Additional Suits

The group approach is shaping litigation, and could affect how New Jersey pursues the Credit Suisse case, Hoffman said.
"Given that there are other state and federal entities investigating, and New York has already brought suit, there's likely to be coordination in identifying the reach of the complaint," he said. "If additional suits are filed, I'm sure there will be some coordination in how to make restitution."
Hoffman said he has worked well with Schneiderman in discussing substantive and procedural matters over Credit Suisse.
"We have similar claims and interests and end goals," Hoffman said.

"We have slightly different complaints because two different groups looking at this independently will have a different perspective. But our purposes are aligned."
Such alignment extends to the other investigators, he said.
"In many respects our conversations with General Schneiderman are also with the working group," he said.
Hoffman declined to say what other companies might be in his cross hairs.

The Credit Suisse case, he said, isn't just about money.
"In the context of resolving this case, we'll try to institute remedial measures so that there will be greater accountability and transparency," he said. "It's not just about money. It's about this not happening again."
Hoffman was appointed by Governor Chris Christie, a Republican, in June. He previously served as executive assistant attorney general under his predecessor, Jeffrey Chiesa, who stepped down to serve as a U.S. senator.

Hoffman also worked for six years as a federal prosecutor in New Jersey and for eight years as a trial attorney in the Justice Department's civil division.
The case is Hoffman v. Credit Suisse, Superior Court of New Jersey, Mercer County (Trenton.)

To contact the reporter on this story: David Voreacos in federal court in Newark, New Jersey, at dvoreacos@bloomberg.net

To contact the editor responsible for this story: Michael Hytha at mhytha@bloomberg.net