Over the past two years, Coinbase has made it easy to use bitcoin.
Over 1.6 million consumers, 36,000 merchants and 6,000 developers have signed up to use our product. While people all over the world have made use of the Coinbase wallet, the U.S. has been our fastest area of growth, largely due to our integration with the U.S. banking system which makes it easy for people to buy and sell bitcoin.
Other markets have not grown as quickly because people have been unable to buy and sell in their local country.
Today, we're looking to change this. Coinbase is now available in 14 countries.
We're adding 13 additional countries across Europe including,
Italy

Spain

France

Belgium

the Netherlands

Austria

Cyprus

Finland

Greece

Latvia

Malta

Portugal

Slovakia
We've also create a new Global page showing the countries where Coinbase is now available: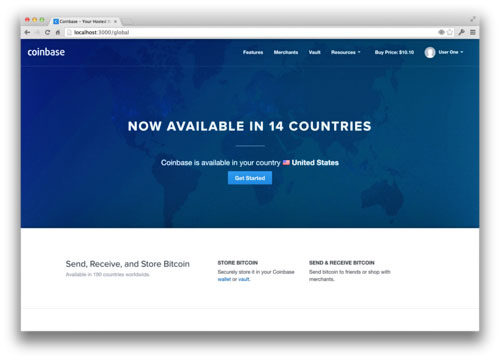 What does this mean?
Consumers and businesses in these countries can now buy bitcoin from Coinbase or sell bitcoin to Coinbase using a euro bank account.
It's important to note that this is a beta launch in Europe. During our beta, we will have a fairly low daily limit: €500 per day on buys and sells. We hope to continue raising this limit in the near future as we move out of beta.
This €500 per day limit is available to 100% of customers in those countries today, however, and it is not a closed beta.
We think launching in these additional countries is a major step for the entire Bitcoin community, and will help continue bitcoin's growth as a global payment network.
Specifically, we feel having an easy buy/sell method in these countries will help two important areas of bitcoin to grow:
We believe this launch will accelerate merchant adoption in Europe, now that many more consumers have easy access to bitcoin

We feel this will also accelerate the use case of cross border payments for bitcoin