from RT Website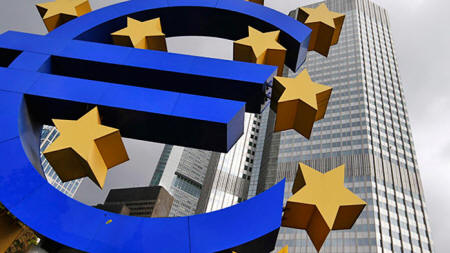 Nearly one in five leading European banks have failed the stress test conducted by the European Central Bank, which revealed a $31.2 billion (€24.6 billion) capital gap in 25 banks showing they're not ready to withstand a three-year recession.

The results (Results of 2014 EU-Wide-Stress Test) of the EU-wide stress test were reported on Sunday by the European Banking Authority (EAB) and the European Central Bank (ECB).

With nine banks failing the test, Italy represented more than €10 billion of the capital shortfall.
Other balance sheets that weren't up to snuff were,
three banks in Greece

three in Cyprus

two in Slovenia

two in Belgium

one each in Austria, Germany, France, Spain, Portugal and Ireland
Of the total 25 banks that failed the test, 12 have since come up with the necessary additional capital to pass.
The other 13 have two weeks to submit a blueprint of how they plan to boost their capital, to be presented to the ECB for approval in early November. Approved banks will then have nine months to fix their capital holes.

The main goal of the stress test was to identify which banks need to boost core equity capital out of the 123 top lenders.
The assessment weight a lender's key risks, including liquidity, leverage and funding, as well as asset quality and the ability of banks' balance sheet to resist stress scenarios.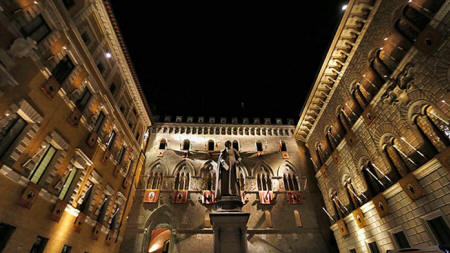 The Monte dei Paschi bank headquarters
is pictured in Siena August 16, 2013.
(Reuters/Stefano Rellandini)

"The Comprehensive Assessment allowed us to compare banks across borders and business models," ECB Supervisory Board Chair Daniele Nouy said in a statement.

"The findings will enable us to draw insights and conclusions for supervision going forward."
Ten banks have taken measures to brush up their finances from their balance sheets at the end of 2013.
The worst affected was the Italian Banca Monte dei Paschi, which had a capital shortfall of €2.1billion.
"This unprecedented in-depth review of the largest banks' positions will boost public confidence in the banking sector," said ECB Vice-President Vitor Constancio, adding that "this should facilitate more lending in Europe, which will help economic growth."
The asset quality review was conducted is the European Central Bank prepares to become the official supervisor of Europe's top 130 lenders in a banking union, due to begin in on November 4.

Eight banks failed a similar stress test examination in 2011 with a combined deficit of €2.5 billion ($3.2 billion).