by Julien Toyer and Annika Breidthardt
November 9, 2011
from Reuters Website
German and French officials have discussed plans for a radical overhaul of the European Union that would involve setting up a more integrated and potentially smaller euro zone, EU sources say.
"France and Germany have had intense consultations on this issue over the last months, at all levels," a senior EU official in Brussels told Reuters, speaking on condition of anonymity because of the sensitivity of the discussions.

"We need to move very cautiously, but the truth is that we need to establish exactly the list of those who don't want to be part of the club and those who simply cannot be part," the official said.
French President Nicolas Sarkozy gave some flavor of his thinking during an address to students in the eastern French city of Strasbourg on Tuesday, when he said a two-speed Europe - the euro zone moving ahead more rapidly than all 27 countries in the EU - was the only model for the future.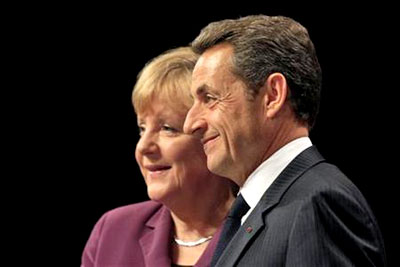 France's President Nicolas Sarkozy (R) and Germany's Chancellor Angela Merkel
attend a joint press conference after crisis talks with Greece's Prime Minister
on the eve of a G20 summit of major world economies in Cannes, November 2, 2011.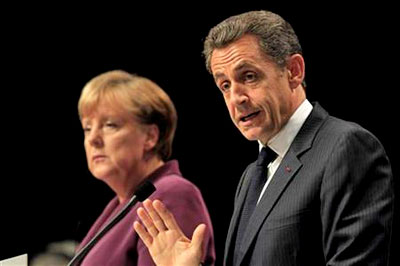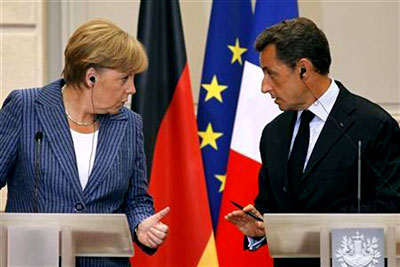 France's President Nicolas Sarkozy (R) and German Chancellor Angela Merkel
talk during a news conference at the Elysee Palace in Paris, August 16, 2011.
REUTERS/Charles Platiau
The discussions among senior policymakers in Paris, Berlin and Brussels raised the possibility of one or more countries leaving the euro zone while the remaining core pushes on toward deeper economic integration, including on tax and fiscal policy.

The change has been discussed on an "intellectual" level but had not moved to operational or technical discussions, the EU official said.
A French finance ministry spokesman denied there was any project in the works to reduce the currency bloc's membership.
"There have been no conversations between French and German authorities at any level on decreasing the size of the euro zone," the spokesman said.
A radical overhaul of the European Union would be opposed by many members.
"This will unravel everything our forebears have painstakingly built up and repudiate all that they stood for in the past sixty years," one EU diplomat told Reuters.

"This will redraw the map geopolitically and give rise to new tensions. It could truly be the end of Europe as we know it."
In Berlin, European Commission President Jose Manuel Barroso warned about the economic costs of any splits in the euro zone. Germany's gross domestic product could contract and its economy would shed one million jobs, he said in a speech.

Barroso said any push toward deeper economic policy integration should not come at the price of creating new divisions among EU members.
"There cannot be peace and prosperity in the North or in the West of Europe, if there is no peace and prosperity in the South or in the East," he said.
To an extent the taboo on a country leaving the 17-member currency bloc was already broken at the G20 summit in Cannes last week, when German Chancellor Angela Merkel and Sarkozy both effectively said that Greece might have to drop out if the euro zone's long-term stability was to be maintained.

But the latest discussions among European officials point to a more fundamental re-evaluation of the 12-year-old currency project - including which countries and what policies are needed to keep it strong and stable - before Europe's debt crisis manages to break it apart.

In large part the aim is to reshape the currency bloc along the lines it was originally intended; strong, economically integrated countries sharing a currency, before nations such as Greece managed to get in.
"In doing this exercise, we will be very serious on the criteria that will be used as a benchmark to integrate and share our economic policies," the senior EU official said.
One senior German government official said it was a case of pruning the euro zone to make it stronger.
"You'll still call it the euro, but it will be fewer countries," he said, without identifying those that would have to drop out.

"We won't be able to speak with one voice and make the tough decisions in the euro zone as it is today. You can't have one country, one vote," he said, referring to rules that have made decision-making complex and slow, exacerbating the crisis.
Speaking in Berlin, Merkel reiterated a call for changes to be made to the EU treaty - the laws which govern the European Union - saying the situation was now so unpleasant that a rapid breakthrough was needed.

From Germany's point of view, altering the EU treaty would be an opportunity to reinforce euro zone integration and could potentially open a window to make the mooted changes to its make-up.

EU officials have told Reuters treaty change will be formally discussed at a summit in Brussels on December 9, with an 'intergovernmental conference', the process required to make alterations, potentially being convened in the new year, although multiple obstacles remain before such a step is taken.


ACCELERATION

While the two-speed Europe referred to by Sarkozy is already reality in many respects - and a frustration for the likes of Poland, which hopes to join the euro zone - the officials interviewed by Reuters spoke of a more formal process to create a two-tier structure and allow the smaller group to push on.
"This is something that has been in the air for some time, at least in high-level talks," said one EU diplomat. "The difference now is that some countries are moving forward very quickly... The risk of a split, of a two-speed Europe, has never been so real."
In Sarkozy's vision, the euro zone would rapidly deepen its integration, including in sensitive areas such as corporate and personal taxation, while the remainder of the EU would be left as a "confederation", possibly expanding from 27 to 35 in the coming decade, with enlargement to the Balkans and beyond.

Within the euro zone, the critical need would be for core countries to coordinate their economic policies quickly so that defenses could be erected against the sovereign debt crisis.
"Intellectually speaking, I can see it happening in two movements: some technical arrangements in the next weeks to strengthen the euro zone governance, and some more fundamental changes in the coming months," the senior EU official said.
But he cautioned:
"Practically speaking, we all know that the crisis may deepen and that the picture can change radically from one day to another."
France and Germany see themselves as the backbone of the euro zone and frequently promote initiatives that other euro zone countries reject.
The idea of a core, pared-down euro zone is likely to be strongly opposed by the Netherlands and possibly Austria, although both would be potential members.
"This sort of thinking is not the direction we want to go in. We want to keep the euro zone as it is," said a non Franco-German euro zone diplomat.
Britain, which is adamantly outside the euro zone, is also opposed to any moves that would create a two-speed Europe, or institutionalize a process even if it is already under way.
"We must move together. The greatest danger we face is division," Britain's deputy prime minister, Nick Clegg, said during a visit to Brussels on Wednesday.