by Maria Savel
December 22, 2016
from WorldPoliticsReview Website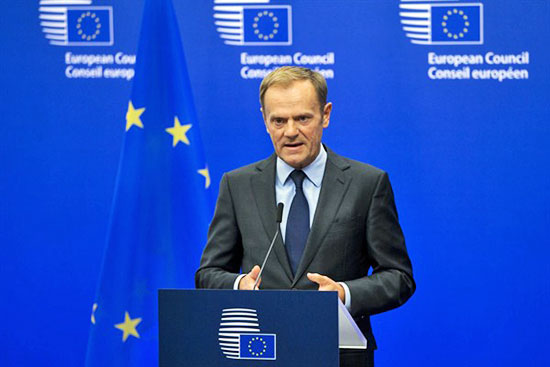 European Council President Donald Tusk
during a media conference,
Brussels, Nov. 9, 2016
(AP photo by Virginia Mayo).

The European Union voted Monday to renew economic sanctions against Russia over its annexation of Crimea for an additional six months.
Sanctions were first put in place in July 2014 and have been extended ever since. Despite token opposition among some member states, the renewal of sanctions has been relatively routine up to this point.
But there are signs that Europe's united front against Russia is beginning to crack.
Germany

the U.K.

Sweden

Finland

Estonia

Latvia

Lithuania,
...have been the strongest advocates of a hard line on Russia, while,
Italy

Greece

Hungary

the Czech Republic,
...have been vocal in their desire to rollback or ease sanctions against Russia.
"The situation is seemingly paradoxical in the sense that the countries that are most affected [by the economic impact of lost trade] are at the same time the strongest supporters of the sanctions," explains Kadri Liik, a senior policy fellow at the European Council on Foreign Relations.
The Baltic states have political and security reasons for maintaining a hard line on Russia.
Meanwhile, opponents of sanctions include member states with long-standing political and business ties with Russia. Further complicating the debate is Russia's ongoing military intervention in Syria.
The EU has spoken out against Moscow's role in the civil war, in particular condemning Russia for the carnage in Aleppo. In October, the U.K. suggested expanding sanctions to cover Russians involved in the conflict, an idea that received support from France and Spain.
But additional sanctions are unlikely, given the growing divisions between EU member states over existing sanctions and the fact that most member states don't see sanctions as a viable means of changing Russia's behavior in either Syria or Ukraine.

So far, sanctions have held up despite the EU's internal divisions. Rolling them back could take one of two forms.
Were Russia to fulfill its obligations under the earlier Minsk Agreement, most notably withdrawing Russian troops from eastern Ukraine, the EU would lift the majority of sanctions in place, with the exception of those related to the annexation of Crimea.
This is the preferred scenario for the EU, as it would allow Brussels to claim a major diplomatic victory.

The second option, according to Kadri Liik,
"is that the sanctions will simply collapse once Europe fails to find unanimity to continue."
This is looking to be the more likely scenario, especially since President-elect Donald Trump's transition team has signaled Trump is considering lifting sanctions on Russia when he takes office next month. If that happened, the EU's sanctions would become much less effective.

The fate of sanctions also depends on several key elections next year, especially the general elections in France and Germany.
In France, where business and energy ties, as well as a vocal Russophile faction among political elites, have fueled calls for a more cooperative relationship with Moscow, center-right Republican presidential candidate Francois Fillon is in favor of scrapping the EU's Russia sanctions.
Perhaps unsurprisingly, Russian President Vladimir Putin has called Fillon "upstanding."

Russia's meddling
in European politics
needs to be handled deftly.
German Chancellor Angela Merkel, who has been one of the strongest supporters of EU sanctions against Russia despite Germany's deep trade ties with Russia, is facing a growing election threat from right-wing populists that could adjust her calculus on Russia and sanctions.
Germany has suffered the largest absolute economic loss from the EU's sanctions, according to a report by the Graduate Institute of International and Development Studies Geneva.
Several of Germany's largest businesses, including,
Siemens

Volkswagen

Deutsche Bank,
...have expressed their opposition to sanctions, as have members of Merkel's own party.
If Merkel wins re-election, she might be able to shore up the EU's policy toward Russia. But if she were to lose, the EU could take a more conciliatory approach.

As campaign season gets underway, both France and Germany are,
"trying to guard their elections from undue Russian influence," says Liik.
The Russian hacking of the Republican and Democratic parties in the U.S. to swing the recent presidential election in Trump's favor - which is now the consensus of the U.S. intelligence community - has many worried that Russia might try to meddle similarly in Europe's upcoming elections.
This is a particular concern in Germany, which Moscow sees as its biggest Western critic and the driving force behind maintaining sanctions, and where Merkel's popularity is not what it once was.

Beyond any potential hacking threats, Russia's support of Europe's anti-establishment and far-right political parties has been steadily growing, also raising concerns about Russia's outsize influence in European politics.
Earlier this week, Austria's far-right Freedom Party, whose candidate narrowly lost a second-round vote for the presidency in early December, signed a cooperation deal with Moscow.
France's far-right National Front, whose leader Marine Le Pen is expected to be a front-runner in next year's presidential election, borrowed $11 million from a now-defunct Russian bank in 2014, and in February this year asked Russia for a $30 million loan to help fund the party's presidential and parliamentary campaigns.
The National Front is still struggling to find the funds for next year's presidential campaign. Putin has also provided financial and moral support to far-left and far-right parties in Germany.

Russia's meddling in European politics needs to be handled deftly, according to Liik.
"If the Russian threat is not highlighted, Europe would be vulnerable to manipulation," she says. "If Russia is blamed excessively and hypocritically, then Europe could lose credibility," both among Russians and Europeans.
Even if sanctions crumble, it's hard to see the EU and Russia turning the page on broader relations anytime soon, especially not if the EU expects Russia to adopt its norms and values.
Improving ties on Russia's terms is an option, explains Liik,
"but Europe would need to sacrifice many of its principles if it wants to go along with that."