by Claire Bernish
January 12, 2017
from TheFreeThoughtProject Website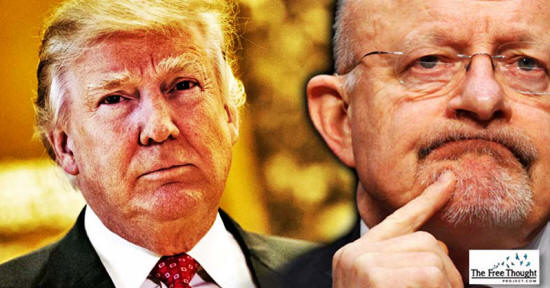 Trump - Clapper
BuzzFeed faced ridicule and biting criticism after publishing a flimsy and unsubstantiated dossier linking President-elect Donald Trump with the Russian government and cataloguing putatively lewd behavior - without any solid evidence or investigation of the startling accusations.
Now, it appears the decision may be even more foolhardy than it first seemed, as Trump wrote in his first tweet of the day:
"James Clapper called me yesterday to denounce the false and fictitious report that was illegally circulated. Made up, phony facts. Too bad!"
Director of National Intelligence James Clapper did, indeed, discuss the contentious report with the president-elect on Wednesday evening, and released a press statement, in essence, condemning mainstream media's careless handling of unsubstantiated and sensitive information:
"This evening, I had the opportunity to speak with President-elect Donald Trump to discuss recent media reports about our briefing last Friday.

I expressed my profound dismay at the leaks that have been appearing in the press, and we both agreed that they are extremely corrosive and damaging to our national security.

"We also discussed the private security company document, which was widely circulated in recent months among the media, members of Congress and Congressional staff even before the IC became aware of it.

I emphasized that this document is not a U.S. Intelligence Community product and that I do not believe the leaks came from within the IC.

The IC has not made any judgment that the information in this document is reliable, and we did not rely upon it in any way for our conclusions.

However, part of our obligation is to ensure that policymakers are provided with the fullest possible picture of any matters that might affect national security."
Although Clapper's statement doesn't exactly denounce the dossier as "phony facts," his criticism and the fact intelligence officials have not deemed it "reliable" erode even further BuzzFeed's feckless and inexplicable choice to run the report.
CNN first alluded to the allegations contained in the dossier, but did not provide the actual pages - but BuzzFeed somehow took that as a cue to print the dossier in full, despite editor-in-chief Ben Smith publicly doubting whether the ruinous information was factual:
Mainstream media outlets rushed to ride the viral wave of controversy sparked by BuzzFeed's report, though none of the rest provided the actual document.
According to the corporate media, this dossier - an unofficial, 35-page compilation of alleged tawdry acts and suggestions Trump maintained communication with Russian government throughout the election - had been produced by a former British intelligence officer and thus must be at least somewhat legitimate.
However, the audacious and abrupt rush to publish the document without a thorough investigation to vet the contents quickly unraveled as the corporate press - who had essentially done as much damage as BuzzFeed by reporting the story without providing the document for the public to evaluate - began lobbing Fake News accusations at each other.
As this study in irony and pitfalls of irresponsible journalism unfolded, Trump held a press conference, his first of the year, to attempt damage control, calling mainstream media's reporting of "false" and "fake" information "a disgrace."
That press conference furthered the unseemliness of the day's events, and was most aptly described by Zero Hedge as,
"an epic (mutual) trolling between president-elect Trump on one hand and BuzzFeed and CNN, on the other."
Understandably riled by the brash departure by the press from journalism to articles befitting a tabloid, Trump taunted,
"Buzzfeed, which is a failing pile of garbage… will suffer the consequences, and they already are."
CNN reporter Jim Acosta, however, bore the brunt of the president-elect's rage over the salacious allegations, after he repeatedly failed to get Trump's attention and finally blurted out,
"Since you are attacking us, can you give us a question?"

"Not you," Trump replied. "Your organization is terrible!"
Unsatisfied, Acosta pressed further,
"You are attacking our news organization, can you give us a chance to ask a question, sir?"

"Don't be rude," Trump retorted. "I'm not going to give you a question."
Acosta continued loudly pressing to be granted a question, but Trump sharply rebuked,
"Don't be rude. No, I'm not going to give you a question. You are fake news!"
Without the backing of the U.S. Intelligence Community or the findings of its own investigations of the allegations concerning the incoming president, CNN and BuzzFeed - and the New York Times, Washington Post and others who followed suit - did, indeed, publish the exact Fake News all those same outlets have been condemning for months.
Now, the head of U.S. Intelligence has essentially said the same.
However you characterize the ill-considered choice to print baseless accusations, it's now clear the corporate media can no longer be considered a reliable source.