by Peter Van Buren
November 18, 2015
from InformationClearingHouse Website
Peter Van Buren, a 24-year veteran of the State Department, spent a year in Iraq. Following his book, We Meant Well: How I Helped Lose the Battle for the Hearts and Minds of the Iraqi People, the Department of State began proceedings against him.
Through the efforts of the Government Accountability Project and the ACLU, Van Buren instead retired from the State Department on his own terms. http://wemeantwell.com/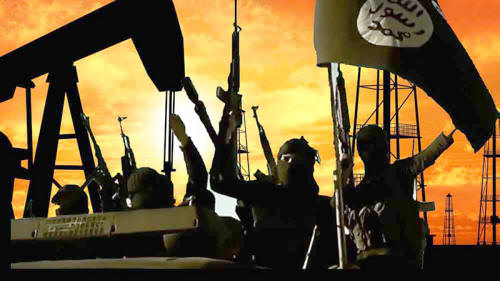 Wars are expensive. The recruitment and sustainment of fighters in the field, the ongoing purchases of weapons and munitions, as well as the myriad other costs of struggle, add up.
So why isn't the United States going after Islamic State's funding sources as a way of lessening or eliminating their strength at making war? Follow the money back, cut it off, and you strike a blow much more devastating than an airstrike.
But that has not happened. Why?


Donations
Many have long held that Sunni terror groups, ISIS now and al Qaeda before them, are funded via Gulf States, such as Saudi Arabia, who are also long-time American allies.
Direct links are difficult to prove, particularly if the United States chooses not to prove them.
The issue is exacerbated by suggestions that the money comes from "donors," not directly from national treasuries, and may be routed through legitimate charitable organizations or front companies.
In fact, one person concerned about Saudi funding was then Secretary of State Hillary Clinton, who warned in a 2009 message on Wikileaks that donors in Saudi Arabia were the,
"most significant source of funding to Sunni terrorist groups worldwide."
At the G20, Russian President Vladimir Putin said out loud what has otherwise not been publicly discussed much in public.
He announced that he has shared intelligence with the other G20 member states which reveals 40 countries from which ISIS finances the majority of its terrorist activities.
The list reportedly included a number of G20 countries. Putin's list of funders has not been made public.
The G20, however, include,
Argentina

Australia

Brazil

Canada

China

France

Germany

India

Indonesia

Italy

Japan

Mexico

Russia

Saudi Africa

South Arabia

South Korea

Turkey

the United Kingdom

the United States of America

the European Union
One source of income for ISIS is and has robustly been oil sales.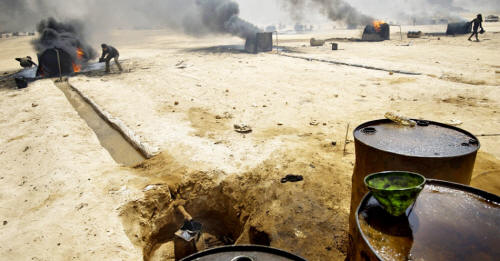 A man refines oil to produce gas and diesel.
A micro-industry for fuel refinement has grown up around the desert town
of Al Mansura east of Al Raqqah, the capital of ISIS.
Small stills burn oil that is trucked in by the barrel load from the oil fields of Al Hasakah.
Each still can process about a thousand liters of crude a day
into gas and diesel.
(Photo: David Rose/Panos-REA/Redux)

In the early days of the air campaign, American officials made a point to say that the Islamic State's oil drilling assets were high on the target list. Yet few sites have actually been targeted.
A Pentagon spokesperson explained that the coalition has actually been trying to spare some of ISIS's largest oil producing facilities,
"recognizing that they remain the property of the Syrian people," and to limit collateral damage to civilians nearby.
The U.S. only this week began a slightly more aggressive approach toward the oil, albeit bombing tanker trucks, not the infrastructure behind them. The trucks were destroyed at the Abu Kamal oil collection point, near the Iraqi border.
Conservative estimates are that Islamic State takes in one to two million dollars a day from oil sales; some see the number as high as four million a day.
As recently as February, however, the Pentagon claimed oil was no longer ISIS' main way to raise money, having been bypassed by those "donations" from unspecified sources, and smuggling.

One of the issues with selling oil, by anyone, including ISIS, is bringing the stuff to market.
Oil must be taken from the ground using heavy equipment, possibly refined, stored, loaded into trucks or pipelines, moved somewhere and then sold into the worldwide market. Large amounts of money must be exchanged, and one to four million dollars a day is a lot of cash to deal with on a daily basis.
It may be that some sort of electronic transactions that have somehow to date eluded the United States are involved.
Interestingly, The Guardian reported a U.S.-led raid on the compound housing the Islamic State's chief financial officer produced evidence that Turkish officials directly dealt with ranking ISIS members, including the ISIS officer responsible for directing the terror army's oil and gas operations in Syria.
Turkey's "open door policy," in which it allowed its southern border to serve as an unofficial transit point in and out of Syria, has been said to be one of ISIS' main routes for getting their oil to market.
A Turkish apologist claimed the oil is moved only via small-diameter plastic irrigation pipes, and is thus hard to monitor.
A smuggled barrel of oil is sold for about $50 on the black market. This means "several million dollars" a day worth of oil would require a very large number of very small pipes.
Others believe Turkish and Iraqi oil buyers travel into Syria with their own trucks, and purchase the ISIS oil right at the refineries, transporting themselves out of Syria. Convoys of trucks are easy to spot from the air, and easy to destroy from the air, though up until now the U.S. does not seem to have done so.

So as is said, ISIS' sources of funding grow curious and curiouser the more one knows.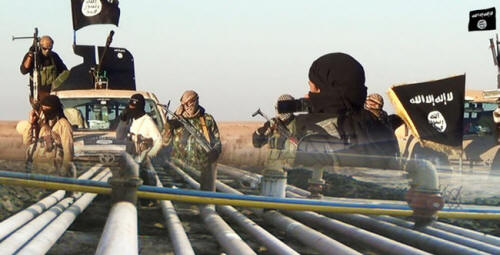 Those seeking to destroy ISIS might well wish to look into where the money comes from, and ask why, after a year and three months of war, no one has bothered to follow the money.
And cut it off...