from OldAmericanCentury Website

Their Goal - The neoconservative agenda

Established in the spring of 1997 and funded largely by the energy and arms industries, the Project for the New American Century was founded as the neoconservative think tank whose stated goal was to usher in a "new American century".

Having won the cold war and no military threat to speak of, this group of ideologues created a blueprint for the future whose agenda was to capitalize upon our surplus of military forces and funds and forcing American hegemony and corporate privatization throughout the world.
In their statement of principles they outline a fourfold agenda:
Increase an already enormous military budget at the expense of domestic social programs

Toppling of regimes resistant to our corporate interests

Forcing democracy at the barrel of a gun in regions that have no history of the democratic process

Replacing the UN's role of preserving and extending international order
(This all can be read in their own words at www.newamericancentury.org)


Their Method

According to their own document, Rebuilding America's Defenses their stated goals would never be realized "absent some catastrophic catalyzing event – like a new Pearl Harbor". (page 63).

George W Bush, whose political career has been nearly fully funded by the energy and defense industries was appointed by the Supreme Court after the disputed election of 2000. Immediately he appointed signatories of PNAC documents to the top levels of the Whitehouse and Pentagon.

It has now been proven that once Bush had all of his top levels filled by the PNAC, that our guard against terrorist attacks was let down.

Richard Clarke, whose position as terrorism czar was promoted to a cabinet level position under Clinton, was subsequently demoted from the cabinet and reassigned by Bush to other projects. Dick Cheney himself, has said that Clarke was kept "out of the loop".

Paul O'Neil, former Secretary of Treasury, has stated that the Bush administration did not treat Al-Qaeda as an imminent threat.

The Bush administration ignored and denied the existence of a presidential briefing entitled "Bin Laden determined to attack inside the United Sates" until it was revealed to the public.
Testifying before the 9-11 commission, Rice referred to this as an "historical document". We were led to believe that this was the only warning. It has since come out to the public, that she was lying. Lying 52 times over. It has now been learned that Condi didn't disclose that they had, in fact, received 52 warnings in the months leading up to September 11th.

The Bush administration needed a "new Pearl Harbor" to implement the PNAC agenda and they let down their guard until it occurred.

The Aftermath

Knowing what we know today, the invasion of Iraq was based on falsehoods and was an unnecessary and dangerous diversion from the effort to reduce terrorist attacks on the United States. Muslim anger at the United States is at an all time high. Iraq posed no threat to us and the process of containment was working. Most importantly, Iraq is in chaos, on the brink of civil war, and now a breeding ground for a hundred new Bin Ladens.

The PNAC members of our government told us that it would be "a cake walk". That we would be greeted as "liberators". That we'd see parades in the streets. Terribly undermanned, our military is in the middle of a quagmire where only the best case scenario was planned for.

The museums, the hospitals, the munitions depots, the nuclear facilities were left unprotected at the onset of the invasion. The ministry of oil was securely guarded.

Who has benefited from all of this at the expense of over a thousand US soldiers lives and tens of thousands of Iraqi civilian lives?
The very arms and energy industries that funded the PNAC:
Halliburton, once headed by Vice President Dick Cheney

Bechtel, once headed by Secretary of Defense Donald Rumsfeld

Trireme, a defense company started by Deputy Secretary of Defense, Richard Perle shortly before the invasion
And finally, one last question:
Where did the first oil tanker to leave Iraq after the invasion go?
Answer: Texas




Dick Cheney
February 01, 2004

Cheney went to Washington in 1969 to serve as special assistant to (fellow PNAC member) Donald Rumsfeld in the Office of Economic Opportunity in the Nixon administration.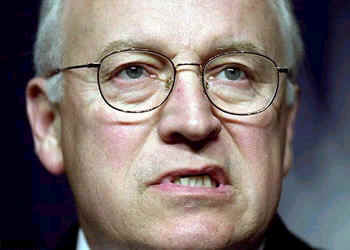 Since he and Bush arrived at the White House, Cheney has managed to accomplish quite a bit. He's met with the heads of oil, gas, and nuclear power companies, assembled their "wish lists," and turned them into a new national Energy Plan.
Cheney's close relations with folks like Ken Lay of Enron have made this one of the most corporation-friendly administrations in history.
"Mr. Cheney led Halliburton into the top ranks of corporate welfare hogs, benefiting from almost $2 billion in taxpayer-insured loans from the U.S. Export-Import Bank and the Overseas Private Investment Corp. In the five years before Mr. Cheney joined the company, it got a measly $100 million in government loans." (1)
Cheney in numbers:
Cheney's 2000 income from Halliburton: $36,086,635

Increase in government contracts while Cheney led Halliburton: 91%

Minimum size of "accounting irregularity" that occurred while Cheney was CEO: $100,000,000 (One hundred MILLION dollars)

Number of the seven official US "State Sponsors of Terror" that Halliburton contracted with: 2 out of 7

Pages of Energy Plan documents Cheney refused to give congressional investigators: 13,500

Amount energy companies gave the Bush/Cheney presidential campaign: $1,800,000
In a debate with Vice Presidential candidate Joe Lieberman in 2000, Lieberman noted that Cheney had done well for himself as CEO of Halliburton.
Cheney responded flatly,
"I can tell you, Joe, the government had absolutely nothing to do with it."
But even a glance at Cheney's tenure at Halliburton suggests otherwise.

During his five years as CEO, Cheney nearly doubled the size of Halliburton's government contracts, totaling a whopping $2.3 billion. He convinced the Export-Import Bank of the U.S. to lend Halliburton and oil companies another $1.5 billion, backed by U.S. taxpayers.
As exposed in the article below, some of these loans went to a Russian company with ties to drug dealing and organized crime. (2)

Cheney's rule at Halliburton was characterized by a ruthless geopolitical strategy that put aside political beliefs whenever they were inconvenient. In a number of cases, Halliburton and its subsidiaries supported or even ordered human rights violations and broke international laws.
Consider the following examples:
Libyan dictator and suspected anti-U.S. terrorist Moammar Gadhafi engaged a foreign subsidiary of Halliburton company Brown & Root to perform millions of dollars worth of work. According to the Baltimore Sun, Brown & Root was fined $3.8 million for violating Libyan sanctions. (Although Cheney wasn't leading Halliburton when these sales started, subsidiaries' sales to Libya continued throughout his tenure.)

Cheney claimed that he supported the U.S. sanctions on Iraq, but the Financial Times of London reported that through foreign subsidiaries and affiliates, Halliburton became the biggest oil contractor for Iraq, selling more than $73 million in goods and services to Saddam Hussein's regime. (3)

In Burma, Halliburton joined oil companies in working on two notorious gas pipelines, the Yadana and Yetagun. According to an Earth Rights report,

"From 1992 until the present, thousands of villagers in Burma were forced to work in support of these pipelines and related infrastructure, lost their homes due to forced relocation, and were raped, tortured and killed by soldiers hired by the companies as security guards for the pipelines. One of Halliburton's projects was undertaken during Dick Cheney's tenure as CEO."
Halliburton is now being investigated by the Securities and Exchange Commission for Enron-style accounting practices that took place while Cheney was CEO.
In late August 2001, a Los Angeles Times article exposed the connections between Cheney's Task Force and Bush's campaign contributors.
The article described how the final report adopted verbatim a global warming policy suggested by the U.S. Energy Association (an energy industry group), how language was altered to favor Halliburton, and how a company called Peabody Coal and its affiliates gave more than $900,000 to the Bush campaign and "gained extraordinary access" to the Task Force. (4)

While the mainstream media mostly continue to cast Bush as the captain of his ship, hints that Cheney is the dominant figure shaping Washington's diplomatic policy have become too numerous to ignore.
A recent Washington Post article revealed a most stunning example of this lopsided state of affairs. According to the Post, Bush had ordered Cabinet officials not to give any preferential treatment to Ahmed Chalabi's Iraqi National Congress (INC) when U.S. forces moved into Iraq last spring.
But soon after, in flagrant violation of his directive, the Pentagon flew Chalabi and 600 of his armed followers into southern Iraq in early April, "with the approval of the vice president."
That was the crowd you saw cheering in the statue toppling photo-op. (click below image)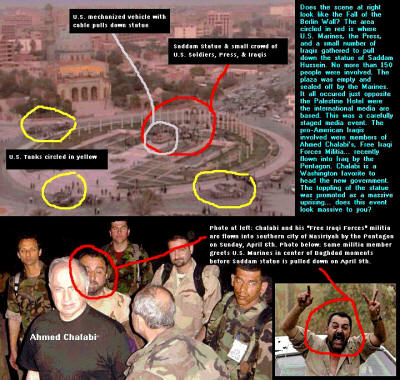 from http://www.informationclearinghouse.info/article2842.htm
It was Cheney's choices that prevailed in the appointment of both cabinet and sub-cabinet national-security officials, beginning with that of (PNAC member) Donald Rumsfeld as Defense Secretary.
Not only did Cheney personally intervene to ensure that Powell's best friend, (PNAC member) Richard Armitage, was denied the deputy defense secretary position, but he also secured the post for his own protégé, (PNACmember) Paul Wolfowitz. Moreover, it was Cheney who insisted that the ultra-unilateralist (PNAC co-founder) John Bolton be placed in a top State Department arms job – a position from which Bolton has consistently pursued policies that run counter to Powell's own views.

Cheney's chief of staff and national security adviser, (PNAC member) I. Lewis "Scooter" Libby, a Washington lawyer and Wolfowitz protégé, is considered a far more skilled and experienced bureaucratic and political operator than Rice. With several of his political allies on Rice's own staff – , including deputy national security adviser Stephen Hadley and Middle East director (PNAC member) Elliott Abrams – Libby "is able to run circles around Condi," noted a former NSC official.

According to retired intelligence officers, Cheney and Libby played the decisive role in distorting the intelligence used to make Bush's case for war. Libby made frequent trips to the Central Intelligence Agency (CIA) in the run-up to the Iraq war, pressuring analysts in include questionable evidence supplied by the INC and Rumsfeld-led hawks.

More recently, it was Cheney who led the effort to deny Powell the authority to negotiate a new UN Security Council resolution that would have reduced the Pentagon's control over the political transition in Iraq, even though the president initially approved such a deal.

For an extensive briefing on Halliburton and Cheney's foreign policy impact, check out this well-written and thorough report (5)

Cheney made $36 million at Halliburton in 2000 alone. Thesmokinggun.com has his tax returns to prove it (6)
References
(1) http://www.commondreams.org/views02/0610-03.htm
(2) http //www.public-i.org/story_01_080200.htm
(3) http //gwbush.com/spots/postpage.html
(4) http://www.commondreams.org/headlines01/0826-02.htm
(5) http //www.earthrights.org/halliburton/report.pdf
(6) http://www.thesmokinggun.com/archive/dicktax1.shtml

More
http://www.nytimes.com/2002/05/30/business/30HALL.html
http://www.infoplease.com/ipa/A0882164.html
http //www.alternet.org/story.html?StoryID=17051
http //www.corpwatch.org/issues/PID.jsp?articleid=2469
http://www.moveon.org/moveonbulletin/bulletin1.html
http://www.nytimes.com/2002/05/30/business/30HALL.html
Related reading




Donald H. Rumsfeld
January 17, 2004

Donald H. Rumsfeld was sworn in as the 21st Secretary of Defense on January 20, 2001. Before assuming his present post, the former Navy pilot had also served as the 13th Secretary of Defense, White House Chief of Staff, U.S. Ambassador to NATO, U.S. Congressman and chief executive officer of two Fortune 500 companies.
But most importantly, he was a wrestling champion at Princeton famous for using the fireman's carry as his finishing move. (1) (4) Legend has it that Henry Kissinger describes Rumsfeld as "the most ruthless man he ever met."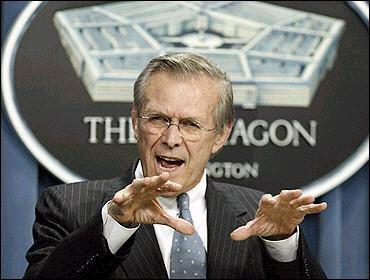 He came to Washington, DC in 1957, during the Eisenhower Administration.
Ironically, it was Eisenhower who warned us about the military industrial complex taking over our government. One has to wonder if it wasn't young Rumsfeld and his pals that Ike was warning us about.
As a director for Gulfstream Aerospace, his stock in the company reportedly was valued at $11 million when the company was acquired by defense contractor General Dynamics in 1999. But Rumsfeld has scrupulously avoided any direct dealings with defense companies, either serving on boards or purchasing stock, apparently to avoid the appearance of impropriety in case he was asked to fill a defense department post again. (3)

Five years before Saddam Hussein's now infamous 1988 gassing of the Kurds, a key meeting took place in Baghdad that would play a significant role in forging close ties between Saddam Hussein and Washington. It happened at a time when Saddam was first alleged to have used chemical weapons. The meeting in late December 1983 paved the way for an official restoration of relations between Iraq and the US, which had been severed since the 1967 Arab-Israeli war.

With the Iran-Iraq war escalating, President Ronald Reagan dispatched his Middle East envoy, a former secretary of defense, to Baghdad with a hand-written letter to Iraqi President Saddam Hussein and a message that Washington was willing at any moment to resume diplomatic relations.

That envoy was Donald Rumsfeld.

Throughout the period that Rumsfeld was Reagan's Middle East envoy, Iraq was frantically purchasing hardware from American firms, empowered by the White House to sell. The buying frenzy began immediately after Iraq was removed from the list of alleged sponsors of terrorism at the Whitehouse's behest in 1982.
According to a February 13, 1991 Los Angeles Times article:
"First on Hussein's shopping list was helicopters - he bought 60 Hughes helicopters and trainers with little notice. However, a second order of 10 twin-engine Bell "Huey" helicopters, like those used to carry combat troops in Vietnam, prompted congressional opposition in August, 1983... Nonetheless, the sale was approved."
In 1984, according to The LA Times, the State Department - in the name of "increased American penetration of the extremely competitive civilian aircraft market" - pushed through the sale of 45 Bell 214ST helicopters to Iraq. The helicopters, worth some $200 million, were originally designed for military purposes.
The New York Times later reported that Saddam "transferred many, if not all [of these helicopters] to his military."

In 1988, Saddam's forces attacked Kurdish civilians with poisonous gas from Iraqi helicopters and planes. U.S. intelligence sources told The LA Times in 1991, they "believe that the American-built helicopters were among those dropping the deadly bombs."

In response to the gassing, sweeping sanctions were unanimously passed by the US Senate that would have denied Iraq access to most US technology. The measure was killed by the republican White House. (2)

As a result of the openings created by Rumsfeld's diplomatic triumphs, U.S. companies were recruited and encouraged, both covertly and overtly, to ship poisonous chemicals and biological agents to Iraq, by the administrations of both Reagan and George Bush Sr.
Care packages to Saddam included sample strains of anthrax and bubonic plague, and components which would be used to develop nerve poisons like sarin gas and ricin.
That's where Rummy's connections to major pharmaceutical and technology companies came into play. (4)
13 Aug 1996

Tom Brokaw, taped from a satellite transmission that he did not know was being broadcast announces to the world "Rummy [Donald Rumsfeld] used to get even with guys in the White House by leaking stuff to [Dan] Rather that didn't have any basis in fact."
The Bechtel connection
Bechtel has long been intertwined with Republican foreign policymakers, globally and in Iraq. It turns out that many of today's war hawks spent a couple years in the 1980s trying to get Saddam to sign an oil pipeline contract. Even though Saddam was gassing Iranians at the same time, people like Donald Rumsfeld had some quality face-time with the "evil dictator" pitching a plan that would benefit, beyond all other interests, Bechtel - and, potentially, Hussein.

Rumsfeld flew to Baghdad, twice, as Reagan's special envoy. According to newly-available documents, a lot of his business was nothing more than advancing Bechtel's business. Following a script crafted by then-Secretary of State George Shultz - who went directly from the CEO seat at Bechtel into the Reagan team - he pitched the idea of building an oil pipeline from Iraq to Jordan in December 1983.

But it was all for naught.

Two years after Rumsfeld broached the plan with Saddam, the dictator finally rejected Bechtel's proposal. He found better pipeline deals involving Turkey and Saudi Arabia, and thought the U.S. company doubled the actual construction cost.

While this signaled the end of U.S.-Iraqi oil diplomacy, the Reagan and first Bush administrations settled into a constructive engagement routine with Saddam. Bechtel signed contracts with Saddam in 1988, after "Chemical Ali" gassed thousands of Kurds, to build a huge dual-use chemical plant on the outskirts of Baghdad.

Saddam named Bechtel as one of the corporate suppliers of technology for chemical weapons in its U.N. declaration last year. Construction stopped only after Saddam's troops invaded Kuwait, and his police held Bechtel employees in confinement.

The last Bechtel employee left Iraq in December 1990. (5)
You know the rest.
References
1.) http //www.defenselink.mil/bios/rumsfeld.html
2.) http://www.commondreams.org/views02/0802-01.htm
3.) http://www.opensecrets.org/bush/cabinet/cabinet.rumsfeld.asp
4.) http://www.rotten.com/library/bio/usa/donald-rumsfeld/
5.) http //www.tompaine.com/feature.cfm/ID/7577




Richard Perle
January 24, 2004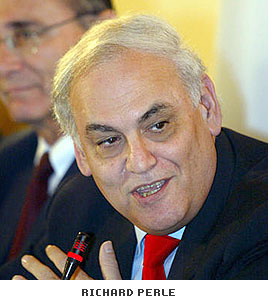 Richard Perle (U.S.)

Research Fellow American Enterprise Institute

Board of Advisors, Foundation For Defense Of Democracy

Resigned as chair of the Pentagon's Defense Policy Board on 3/27/03 due to conflict of interest scandal, see New Yorker, 3/27/03.

Member Defense Policy Board to present [01.21.0.4]

Richard Perle (ISRAEL)

Assistant Sec. of Defense under Reagan "He was investigated in 1980s for possible ties to the Israeli espionage case involving Jonathan Jay Pollard."

Co-founder, Project for the New American Century

Former Director of Jerusalem Post

An FBI summary of a 1970 wiretap recorded Perle discussing classified information with someone at the Israeli embassy. He came under fire in 1983 when newspapers reported he received substantial payments to represent the interests of an Israeli weapons company.

1996 Co-authored "A New Strategy For Defending the Realm" Sponsored by the Institute for Advanced Studies written for Likud Prime Minister of Israel Benjamin Netanyahu

Board of Advisers of The Jewish Institute For National Security Affairs to present [01.21.04]
After graduating college and a short stint in working for the fiercely anti-Communist Sen. Henry "Scoop" Jackson he went to work for a private military-consulting firm.
The following year he was appointed Assistant Secretary of Defense in the presidential administration of Ronald Reagan. During the presidential campaign of George W. Bush, Perle served as a foreign policy advisor.

A veteran Washington insider, Perle has on occasion been accused of being an Israeli agent of influence.
It has been reported that, while he was working for Jackson,
"An FBI summary of a 1970 wiretap recorded Perle discussing classified information with someone at the Israeli embassy," writes Paul Findley (They Dare To Speak Out, Chicago, Ill, Lawrence Hill Books 1989).

"He came under fire in 1983 when newspapers reported he received substantial payments to represent the interests of an Israeli weapons company. Perle denied conflict of interest, insisting that, although he received payment for these services after he had assumed his position in the Defense Department, he was between government jobs when he worked for the Israeli firm." (1)
Like many of Bush's top Whitehouse and pentagon officials, he's a war profiteer who consulted for the very companies that profited from the illegal invasion of Iraq and was one of the most ardent supporters of the invasion.
Rummy consulted for Bechtel, Cheney, of course, had Halliburton.
The Carlyle Group had Bush Sr. on their board and Perle worked for Trireme, a venture capital firm and defense contractor similar to The Carlyle Group. As pentagon adviser, Richard N. Perle coauthored an opinion piece this summer praising a Pentagon plan to lease tanker aircraft - which had the potential to steer billions of dollars to Boeing Co. - 16 months after Boeing committed to invest $20 million with Trireme.

Perle also serves on the board of directors of Hollinger International Inc., the media company whose chief executive, Conrad Black, resigned last month after disclosures that he and other executives collected millions of dollars payments the company's audit committee determined were unauthorized. Hollinger disclosed last month that it has invested $2.5 million in Trireme Associates.
A special committee of Hollinger's board is examining that investment and others involving company insiders, a source close to Hollinger said. (2)

Trireme also created International Advisors Inc., a lobbying firm whose main client is Turkey. Henry Kissinger is a Trireme adviser, and Perle is a managing partner. (3) Kissinger, who was forced to resign as head of the independent commission to investigate the 9/11 attacks, has been using his influence to try to keep the Saudis calm during the buildup to war. New Yorker investigative journalist, Sy Hersh, criticized Perle's relationship with Trireme.
The award winning journalist wrote in the March 17th issue of the New Yorker:
"There is no question that Perle believes that removing Saddam from power is the right thing to do. At the same time, he has set up a company that may gain from a war." (4)
In response, Perle equated columnist Sy Hersh with Osama bin Laden and Khalid Shaikh Mohammed.
"Sy Hersh is the closest thing American journalism has to a terrorist," Perle told Wolf Blitzer. (5)
Like many of Bush's top Whitehouse and pentagon officials Perle is involved with the Iran-Contra felons who lied to congress, and betrayed the country with impunity.
John Poindexter

Elliott Abrams

Otto Reich

Richard Armitage

John Negroponte

Mitch Daniels...
...are all Iran-Contra alumni who have been appointed to high level government jobs by Bush Jr.
Where does Perle fit in? Meet Adnan Khashoggi.
During the Reagan Administration, Khashoggi was one of the middlemen between Oliver North, in the White House, and the mullahs in Iran in what became known as the Iran-Contra scandal.
Khashoggi is still brokering. In January of this year, he arranged a private lunch, in France, to bring together Harb Saleh al-Zuhair, a Saudi industrialist whose family fortune includes extensive holdings in construction, electronics, and engineering companies throughout the Middle East, and Richard N. Perle, the chairman of the Defense Policy Board.

As stated before, Perle is a managing partner in the venture-capital company called Trireme Partners L.P. Trireme's main business, according to a two-page letter that one of its representatives sent to Khashoggi last November, is to invest in companies dealing in technology, goods, and services that are of value to homeland security and defense. (6)

Four members of the Defense Policy Board told me that the board, which met most recently on February 27 and 28, had not been informed of Perle's involvement in Trireme.
One board member, upon being told of Trireme and Perle's meeting with Khashoggi, exclaimed,
"Oh, get out of here. He's the chairman! If you had a story about me setting up a company for homeland security, and I've put people on the board with whom I'm doing that business, I'd be had" (7)
The wide-ranging Perle even finds himself involved in Total Information Awareness technology. He was listed as a speaker at a March 13 Washington press briefing on 'data mining,' the use of computer technology to sift out patterns from electronic communications. A fellow Pentagon official, Admiral John M. Poindexter an Iran-Contra felon, spurred a political firestorm with his TIA plans.
Congress forbade such technology to be used against Americans.

Perle's tentacles reached into the press, too, which he manipulated through careful leaks of sensitive information. He was said to frequently use Evans and Novak's column to push his agenda and to punish his foes.
Later, Perle would add George Will and the Wall Street Journal's Robert Bartley to his list of friends in the media.
Could Perle have been the "high ranking official" who leaked the identity of CIA agent Valerie Palme to Novak in retaliation for her husband's public disproval of Bush's lies leading us to invade Iraq? (8)
"Basically, Perle is serving as the ventriloquist's dummy and is making the administration's case publicly but in a deniable fashion," says John Pike, a defense policy expert and an old Perle foe. "Donald Rumsfeld adamantly refuses to talk about blowing up Iraq. Richard Perle talks about very little else."
References
(1) http://www.fpp.co.uk/online/02/10/Richard_Perle_lowdown.html
(2) http://www.washingtonpost.com/ac2/wp-dyn/A37059-2003Dec4
(3) http://www.newyorker.com/fact/content/?030317fa_fact
(4) http://www.cnn.com/TRANSCRIPTS/0303/09/le.00.html
(5) http://www.rense.com/general35/eax.htm
(6) http //www.oldamericancentury.org/bushcontra.htm
(7) http://www.newyorker.com/fact/content/?030317fa_fact
(8) http://www.globalsecurity.org/org/news/2002/020823-darkness.htm
Related reading