by James Smith
30 October 2012
from PrepperPodcast Website
George Soros discusses the new social initiative of his foundation to create a new atmosphere of solidarity in Greece and help to alleviate the rising tensions in the country.
This talk was held at the 'Europa nach der Krise' conference organized by the Nicolas Berggruen Institute on Governance in Berlin on 30th October 2012.
From their website:
The Berggruen Institute on Governance sees itself as an independent think tank which develops practicable solutions for the political systems of the 21st century.

The functioning of the Institute: It brings outstanding public figures and people, the Government's work first hand and know my own practical experience with the most successful entrepreneurs and the most important intellectual thought leaders in the world together.

You make councils, "Councils", which meet regularly and engage in the long term. Their common goal is to develop a baseline for the challenges of today's Government work, to discuss, to submit concrete proposals for action, and to accompany the process.
Soros, a Hungarian-American business magnate, is the chairman of Soros Fund Management. and supports progressive-liberal causes.
He is known as "The Man Who Broke the Bank of England".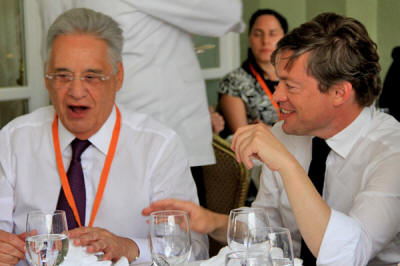 The Berggruen Institute on Governance is under the direction of Nicolas Berggruen, a jet setting billionaire who is working tirelessly to bring about the Progressive Movement into mainstream, to destroy the very fabric of independence and liberty.
The Master has found his Acolyte...
But the members of this organization don't just include the rich, but the influential.
While Hercules only had to deal with a seven headed Hydra, Freedom Loving folks have a million headed Hydra to slay. And the best sword is the truth.
And Greece is in the middle of the battle that Perseus would be needed to battle this fight, right along side Hercules.