June 14, 2016
from WorldPoliticsReview Website
David Dudenhoefer
is a freelance journalist based in Lima, Peru,
from where he covers much of South America.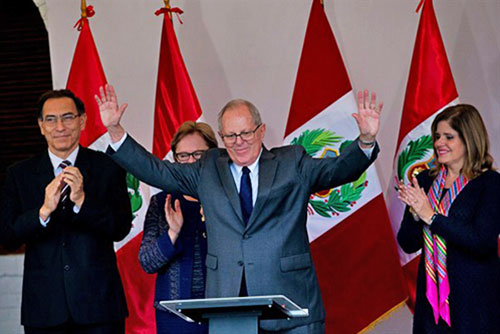 Peruvian President-elect Pedro Pablo Kuczynski
at the end of a news conference, Lima, June 9, 2016
(AP photo by Silvia Izquierdo).
After trailing Keiko Fujimori in the polls for weeks, former World Bank economist and investment banker Pedro Pablo Kuczynski enjoyed a surge of support just before Peru's run-off election on June 5 (2016) to win one of the most contested presidential races in the country's history.

Kuczynski is widely regarded as capable and honest, but he faces major challenges as he attempts to strengthen the economy and improve life for Peruvians.
The country's cities and northern regions suffer high crime rates

Its vast jungle regions are dominated by drug traffickers

Corruption is rampant in the national police and courts

Economic growth is slowing

The national education and health care systems have critical deficiencies
But the greatest obstacle Kuczynski faces may be the fact that Fujimori's party holds a majority of seats in Peru's Congress.

The presidential vote was so close that it took election officials four days to confirm that Kuczynski had won, and Fujimori didn't concede defeat until last Friday.
Kuczynski won 50.12 percent of the more than 17 million ballots cast, while Fujimori won 49.88 percent, with a difference of just 42,597 votes.

Analysts attribute Kuczynski's last-minute rally to fear among voters that a Fujimori victory would bring a return to the authoritarianism and corruption that they associate with her father, Alberto Fujimori, who governed Peru from 1990 to 2000.
He is now in jail in Lima for crimes that include authorizing kidnappings and death squads.

Though the 41-year-old Fujimori has disavowed the abuses of her father's government and refashioned the political movement he started, she failed to convince a majority of Peruvians to trust her.
Despite running a lackluster campaign, the 77-year-old Kuczynski benefited from the disqualification of two other candidates, ample support from the media and political leaders, and a virulent anti-Fujimori campaign.

According to Martin Tanaka, a political scientist at the Pontifical Catholic University of Peru, Kuczynski was a "very bad candidate" who was "incredibly lucky" to win the election, but he should be a competent leader.
"I definitely have more confidence in him as a president than as a candidate."
While Kuczynski is technically capable and may have good policies, the effectiveness of his administration will hinge on its ability to negotiate with Fujimori's party.
Kuczynski may seem like an odd leader for a country where more than 80 percent of the citizens are indigenous or mestizo (mixed race).
The son of European Jews who moved to Peru during the rise of Nazi Germany, he lived much of his adult life in the United States and held U.S. citizenship until last year, when he renounced it in response to criticism in Peru that he was a "gringo."
His mother was a literature professor, and his father was a doctor who specialized in tropical diseases and worked all over the world, before running a leper colony in the Peruvian Amazon and taking a job at the Ministry of Health in Lima.
Kuczynski spent much of his youth in Lima, but also lived for several years in his mother's native Switzerland and at a boarding school in England. He attended both Oxford and Princeton on scholarships, earning a master's in public administration from Princeton.

Kuczynski is a technocrat who promoted his experience in finance and business in the campaign, but he is also an accomplished musician who opened his rallies by playing Peruvian folk songs on the flute.
He worked at the World Bank in several capacities, held management positions in investment banks and a mining company, and co-founded a private equity firm that has made major investments in Latin America.
He has also served in several Peruvian governments, first in the management of the country's Central Bank, then as minister of energy and mines and, more recently, as minister of economy and finance and chief of staff in former President Alejandro Toledo's administration in the 2000s.
He made an earlier, unsuccessful run for president in 2011.

His years in banking and industry and considerable wealth have led critics to claim that Kuczynski will govern for the rich. But Richard Webb, director of the Instituto del Peru, who has known the president-elect since the 1960s, says he has long been concerned about the poor.
Kuczynski founded a nonprofit organization called Agua Limpia that helps poor communities build potable water and sanitation systems.
Webb, who worked with Kuczynski at Peru's Central Bank and the World Bank, describes him as "even-tempered and very, very bright."
"I think he'll be very good at managing the team of people who will be running the ministries and top government offices," he adds.
But Kuczynski will nevertheless be handicapped by the fact that his party won only 18 of the 130 seats in Peru's Congress during the first round of voting, while Fujimori's party, Fuerza Popular (Popular Force), holds more than 70 seats.

Kuczynski says he plans to present a legislative package to Congress immediately upon assuming office on July 28 that will include measures for,
improving public security

boosting investment

reducing the tax burden of small and medium-sized enterprises
But as Tanaka, notes,
"Anything this government wants to do will have to be approved by the Fujimori bloc."
He explains that while Kuczynski is technically capable and may have good policies, the effectiveness of his administration will hinge on its ability to negotiate.
"They have to govern by consensus, and that will require lots of politics," he says.
This includes the administration's relations with regional governments, which have halted mines and other large projects in recent years.

When Fujimori conceded defeat, she said her party would serve as a responsible opposition. But she criticized the campaign against her that she said had provoked "hatred and fanaticism."
Kuczynski has apologized for insulting Fujimori during the campaign and says he wants to meet with her before his July inauguration.

While Fujimori's party has considerable power in Congress, it won't want to appear to be obstructionist, according to Tanaka. He says that Fujimori may well run for president again in 2021, which will influence her relationship with Kuczynski's government.
Tanaka predicts that her party will cooperate with the incoming administration in its first years, when the majority of voters are likely to support it.
But when the electorate grows impatient and public support for Kuczynski withers, as it has for the last few presidents, Fujimori's party is likely to assume a more critical opposition.
Even though Kuczynski won the election, in office he may still be hindered by Fujimori's political ambitions.