September 06, 2016
from WorldPoliticsReview Website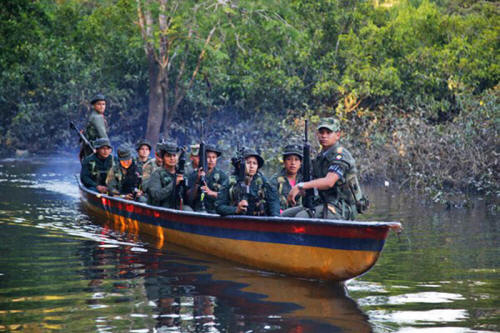 This is it.
As of Aug. 24, after 52 years of fighting and four years of negotiating, the Colombian government and the Revolutionary Armed Forces of Colombia, or FARC, have a peace accord.
The FARC will cease to be one of the hemisphere's largest generators of violence and will transition into a peaceful political movement.

Already, the past 13 months have been the least violent period in Colombia since the conflict with the FARC began in 1964. And at midnight on Aug. 29, the government and the leftist guerrillas made it permanent, calling a definitive halt to all hostilities.

The negotiations took place with only a few ruptures or violations of the ground rules, but they weren't easy.
The accord - 297 legalistic pages of plans, promises and compromises - is the product of more than 50 rounds of 15-day talks in Havana, including a marathon of closed-door sessions near the end.
The process was skillfully supported by Norway, Cuba and other countries, as well as the assiduous efforts of experts and subcommittees. Yet the talks may be remembered as the easy part compared to what lies ahead.

The very next step is for the FARC to hold its final conference in the Yari plains of south-central Colombia next week, where hundreds of the group's leaders throughout the country must ratify the accord.
This should happen smoothly, but it could also be the point at which we learn whether disagreements exist among the group's midlevel leadership. There may be no objections to the accord at all; the FARC is a very hierarchical organization, and many leaders spent time as negotiators in Havana.
But in July, the FARC leadership had to expel one unit - the 200-member 1st Front in Guaviare, just north of the Yari plains - after it voiced its opposition.

The next step is a formal ceremony, scheduled for Sept. 26 in Cartagena, where Colombian President Juan Manuel Santos and FARC leader Timoleon Jimenez will sign the deal. Plans are for the signing ceremony to be festive, with the highest possible profile.

The signing date is what the accords call "D-Day."
It sets in motion a disarmament procedure, with unarmed U.N. verification and monitoring that is to last for six months. Within five days of D-Day, the FARC's 7,000 fighters, plus an unknown but probably similar number of militias and support personnel, are to begin relocating to 31 points around the country.
They will spend the following six months in these 23 village-sized "Temporary Normalization Zones" and eight remote encampments, each with U.N. observers, surrounded by a buffer zone and, beyond that, Colombian soldiers.
Within these zones, following a gradual timetable laid out in the accord, FARC members will turn in their weapons to the U.N. mission.
Guerrillas will demobilize, and those not believed to have committed war crimes will be cleared of sedition charges.

Will all of the FARC's members disarm, or will rogue elements refuse?
On Oct. 2, less than a week after D-Day, Colombians will vote in a plebiscite to approve or reject the accord, a step that Santos has been promising to take since 2013.
Amid the euphoria immediately following the signing ceremony, punctuated by images of FARC fighters en route to their concentration zones, Colombians are likely to go to the polls and vote "yes."

But the vote outcome is not a sure thing.
Some polls show 60 percent or more Colombians inclined to vote for the accord, but a few polls show just as many "no" votes within the margin of error, or even ahead of the "yes" campaign.
Some Colombians, especially urban dwellers for whom this rural war has become little more than an outrage viewed on television, believe the government should have kept fighting to get more concessions from the FARC.
Their standard-bearer is Colombia's previous president, Alvaro Uribe, whose eight years of escalating military operations weakened the guerrillas on the battlefield, leaving them more disposed to negotiate.

Other Colombians lean toward a "no" vote because they oppose the concessions the government made at the table.
These aren't many, but they're still hard to swallow.
First, as long as they fully confess and make amends to victims, those who committed war crimes - guerrillas and soldiers alike - will not go to an actual prison. Instead, they will have five to eight years of "restricted freedom." But we still don't know what that term means, since the agreement, despite all its length and details, is leaving that up to the judges in each case.


Second, in a last-minute concession, the government agreed to grant FARC members 10 automatic congressional seats - five each in the House of Representatives and Senate - between 2018 and 2026. The idea of war criminals leaving their reclusion sites in the morning to go serve as senators isn't going down well.
Meanwhile, Colombian social media buzzes with complaints about the $210 monthly stipends that ex-guerrillas will be entitled to for two years after demobilizing, even though former members of brutal pro-government paramilitary groups got a similar payout when they demobilized a decade ago.

If the plebiscite should somehow fail - and the Brexit analogy comes up often - the peace process will end.
"If the public says 'no,' the process stops and there will be no result," chief government negotiator Humberto de la Calle told Colombia's El Tiempo newspaper.

"The consequence of 'no' winning is war," said former President Cesar Gaviria, who is heading the campaign for the "yes" vote.
If "yes" wins, though, the disarmament, demobilization and reintegration effort will get underway.
And then the hard part truly begins, as a long list of tough questions still needs answers.
Will all of the FARC's members disarm, or will rogue elements refuse?
The vast majority of guerrillas will leave violence behind, but it is sadly likely that some midlevel leaders might go through the motions of demobilization, then fall back later into criminality.
To prevent that, Colombia will need a generous reintegration process that keeps an especially close eye on midlevel leaders.
Will the guerrillas truly turn over all of their weapons, or will there be secret stockpiles hidden away? Nearly all peace processes have seen some cheating here.


Will Colombia's government really be able to fulfill its promises? Its track record on delivering good governance in rural areas is abysmal.
This is a huge question, since a failure to seize this opportunity to govern justly in the countryside will only empower organized crime and the National Liberation Army, or ELN, a far smaller but similarly longstanding leftist guerrilla group.
There is reason to worry, as the money to do it might not be there:
Colombia's commodity-dependent economy has slowed, and the peso has weakened, shrinking government revenues. International donors won't fill the gap.
The $450 million that the U.S. government pledged for next year is roughly equal to the rest of the world's contributions combined.

But let's not be too pessimistic. This accord is an achievement to celebrate. Colombia may have only gotten through the easy part, but even this step was often unimaginable for 52 long, bloody years.
There are many obstacles ahead, but even starting to address them would be impossible without this historic breakthrough.