by Frida Ghitis
March 23, 2017
from WorldPoliticsReview Website through GoogleCache
Frida Ghitis is an independent commentator on world affairs and a World Politics Review contributing editor. Her weekly WPR column, World Citizen, appears every Thursday.
Follow her on Twitter at @fridaghitis.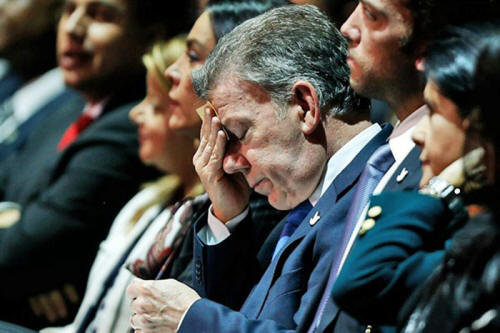 Colombia's president, Juan Manuel Santos,
listens to Vice President German Vargas Lleras
present an annual report in Bogota,
March 14, 2017
(AP photo by Fernando Vergara).



That high-level corruption is a serious problem in much of the world is no surprise.
But when the Odebrecht case - a massive corruption scandal, possibly even the largest ever uncovered anywhere - burst onto the front pages of newspapers in nearly a dozen Latin American countries, it raised an important question:
Is the uncovering and prosecution of major cases of graft a good sign or a bad one?

Is it evidence that corruption is even more widespread than anyone knew and becoming worse?

Or is it proof that the age of endemic corruption is coming to an end?
The wrongdoing at Odebrecht, a Brazil-based engineering conglomerate that builds large-scale infrastructure projects, first came to the attention of Brazilian prosecutors back in 2014, as part of the investigation into corruption at Petrobras in the now infamous "Lava Jato," or car wash, case.
Details emerged gradually, but the scandal soon took on gargantuan proportions, until the company itself approached the U.S. Department of Justice seeking to work out a global plea deal.

U.S. officials had jurisdiction because of the company's bank accounts in the U.S., and prosecutors were able used the Foreign Corrupt Practices Act to negotiate the historic settlement.
But by the time Washington became involved, Brazilian authorities had already dug up enough incriminating evidence to send the company's chief executive, Marcelo Odebrecht, to prison for 19 years.
Meanwhile, the scandal was rapidly spreading, which is why the company was eager to reach a settlement.
Last December, less than a month before a new administration took over in Washington, the Justice Department announced it had reached the largest settlement in its history.
Odebrechet and its affiliate Braskem agreed to pay $3.6 billion, most of it to Brazil. With that, the lid was blown off the web of malfeasance woven by the firm.

The Justice Department announcement, filled with revelations of bribery in a dozen countries, sent prosecutors across Latin America scurrying. It detailed how the company maintained a business unit, "a 'Department of Bribery,' so to speak, that systematically paid hundreds of millions of dollars to corrupt government officials in countries in three continents."

The majority of the bribes exchanged between 2001 and 2016 went to Brazilian officials, but tens of millions of dollars went to,
Venezuela

Colombia

Peru

Ecuador

the Dominican Republic,
...and others.

In Brazil, Odebrecht had a stable of politicians on what amounted to a bribery retainer, easing the passage of legislation approving infrastructure projects and favorable tax rules, and facilitating success in winning construction bids.
The corrupt structure that had been developed in Brazil expanded, and over the course of 15 years similar practices ensured the approval of projects and bids across Latin America, securing billions in profits.

The news from Washington electrified prosecutors across the region and set on edge the nerves of politicians and business figures implicated in the schemes.

Brazil's anti-corruption crusade has been on high gear for a couple of years now, with dozens of prominent figures already facing prosecution and imprisonment.
But while Petrobras may have been Brazil's problem, Odebrecht morphed into a regional phenomenon.

In Peru, where Odebrecht reportedly spent $29 million in bribes and won more than $10 billion in contracts, a court ordered the arrest of former President Alejandro Toledo, accused of receiving $20 million to approve a highway project.
In a moment of high drama, news reports claimed Toledo was on his way to Israel to seek asylum.
Israeli authorities announced he would not be allowed into the country until he settled his affairs in Peru. The ex-president went on social media to say he was not fleeing and declared his innocence, while refusing to surrender.

Peru's current president, Pedro Pablo Kuczynski, is also under a cloud, with his approval rating having dropped in half, to just 29 percent, since the scandal broke.
Kuczynski, who was Toledo's finance minister, maintains he is completely innocent.
In a recent phone call with U.S. President Donald Trump, Kuczynski reportedly asked Trump to extradite Toledo from the United States.
The after-effect of this wave of prosecutions
is very likely to be
a sharp decrease in corruption.
In Colombia, where President Juan Manuel Santos is fresh from winning the Nobel Peace Prize for negotiating a peace deal with the guerrilla group FARC, the entire political system is under pressure because of the new revelations.
Odebrecht, it turns out, reportedly contributed millions of dollars to FARC chiefs, and also helped finance Santos' re-election campaign as well as that of his main opposition rival.

The Colombian government has canceled two major infrastructure contracts with the firm, and prosecutors have released an eye-popping list of individuals suspected of illegal agreements with Odebrecht.
The list is a 'who's who' of political and business figures, including Santos' campaign manager, but not the president, who maintains he had no knowledge of the graft.

Colombia's former deputy transportation minister was the first person arrested in the case.
Oscar Ivan Zuluaga, a former finance minister and presidential candidate for former President Alvaro Uribe's party who ran against Santos in 2014, has been accused of receiving $1.6 million in questionable campaign support.

In the Dominican Republic, where President Danilo Medina had enjoyed stratospheric approval ratings, news that Odebrecht spent $92 million in bribes to secure the passage of a law approving construction of a huge power plant has shaken confidence in his government.
Odebrecht's $2.04 billion bid exceeded the maximum allowed and was higher than three others. And yet it won the contract.

Medina, whose approval ratings are falling, is trying to position himself as an enemy of corruption, which he recently called,
"an endemic evil in our society" and a "regional and international epidemic."
To some, the Odebrecht scandal may look like proof of a worsening epidemic.
But the evidence could suggest a more positive trend. By this reading, the scandal is not a sign that there is more corruption. On the contrary, it indicates that tolerance for malfeasance is coming to an end.

In fact, the after-effect of this wave of prosecutions is very likely to be a sharp decrease in corruption.

Exhibit A for that theory is the once-mighty Marcelo Odebrecht, who is currently serving a lengthy prison sentence in Brazil, something that would have been inconceivable just a few years ago.
Executives will think twice before risking such a fate. His firm, meanwhile, is in a nosedive, losing contracts by the day after two years of disastrous press.
Odebrecht says it will take at least 23 years to pay the fine. And it's not just Brazil where the rules are changing.
In Peru, lawmakers have moved forward with constitutional reforms that end the statute of limitations on corruption. That means that taking a position in government as a path to riches is becoming a much riskier proposition.

And at a time when it is unclear whether the new administration in Washington will be inclined to join the global fight against corrupt practices, it is very encouraging to see that it was Brazilian authorities who took the lid off the scheme.
And while the U.S. Justice Department did play a key role in providing information to local prosecutors, the effort to punish the guilty and find ways to uproot corruption is being pushed forward by individuals and institutions in each affected country.

As dispiriting as it is to see evidence that politicians made decisions based on personal gain rather than on what was best for their countries, this is an important, positive step, and a likely turning point in attitudes toward corruption in the region and perhaps beyond.