from WorldPoliticsReview Website
Maxwell Radwin is a writer and journalist based in Buenos Aires, Argentina.
Follow his reporting on
Instagram @max.radwin.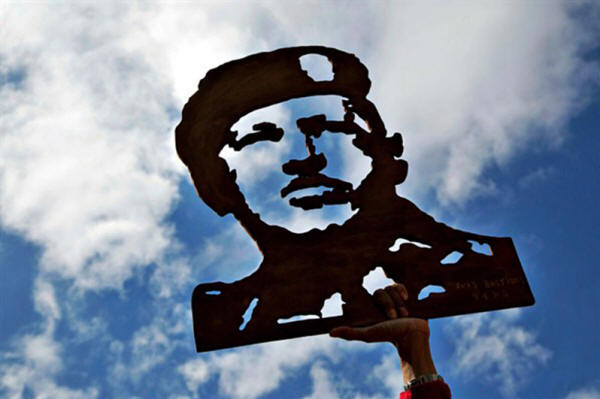 An image of late Venezuelan President Hugo Chavez,
raised by supporters of current President Nicolas Maduro
during a march to the National Assembly for the swearing-in
of the new Constituent Assembly,
Caracas, Aug. 4, 2017
(AP photo by Wil Riera).



Two countries in South America are currently working on writing new constitutions, and while one is showcasing its democratic credentials, the other continues its slide deeper into an economic and political crisis.

Chile has spent years consulting its citizens and probing lawmakers across the country in preparation for replacing a charter that was written in secret under the dictatorship of Augusto Pinochet nearly 40 years ago.
Venezuela, meanwhile, will replace one controversial constitution - which was adopted in 1999 under the late President Hugo Chavez, a revolutionary to his supporters, and an illiberal authoritarian to his critics - with another that could be drafted in a matter of months and further consolidate power for Chavez's increasingly autocratic successor, President Nicolas Maduro.

The lessons Venezuela could take from Chile in drafting a constitution - transparency, popular sovereignty, checks and balances - are so obvious, they may seem beside the point in understanding the state of either country's democracy.
But if they show anything, it is that a vast political disparity still exists in South America, and it isn't going away anytime soon.

On July 30, Maduro went forward with fraudulent elections for a new Constituent Assembly, despite outcries from most of Latin America, the United States and the European Union.
Five hundred and forty-five delegates were virtually handpicked by Maduro's regime to rewrite Venezuela's constitution. Critics warn that the new charter will be drafted to give Maduro power over all three branches of government.
In the meantime, the assembly declared itself superior to the opposition-controlled parliament and seems set to legislate in its place.

Maduro announced his plans for the assembly in May amid increasing international concern over widespread food shortages, state violence and a co-opted Supreme Court that was granting more and more power to the president.
The elections were supposed to quell international criticisms, but only made them louder, as a reported 15 people died protesting outside mostly empty voting centers.

True to form, Maduro and his regime openly scoffed at disapproval coming from outside Venezuela. Days before the elections, Maduro mocked U.S. President Donald Trump at a rally for threatening "strong and swift" sanctions.
In June, Venezuela's minister of foreign affairs, Delcy Rodriguez, told Peruvian President Pedro Pablo Kuczynski to keep his "funeral hands" off of the country, after Kuczynski suggested that leaders in the region discuss human rights violations in Venezuela.
One of the most bizarre reprisals, though, occurred just days before the Constituent Assembly elections, when Maduro published a video of himself driving around the capital, Caracas, pointing out how normal it looked despite a national strike organized by the political opposition.
For some reason, he used part of that video to attack Chilean President Michelle Bachelet for a comparatively bland comment she made urging Venezuela to resolve its,
"polarization, violence and an absence of basic consensus."
In response, Maduro claimed Bachelet is a lying puppet of the United States and that Chile is always unjustifiably involving itself in the affairs of his country.

Chile is a peculiar target for Maduro, considering that it poses little to no threat from the opposite side of the continent and has remained relatively quiet during international dialogues about the Venezuelan crisis.
Even more, he has nothing to gain by inviting comparisons to a country that has been South America's shining star for the past decade.
Bachelet's moderate leftist policies
could have served as a model for Maduro
to follow in achieving a more realistic
and equitable version of
Chavez's socialist program.
Chile boasts the second-highest GDP in South America thanks to a diverse, competitive economy that has generally been unmarred by corruption or political scandal.
Venezuela, meanwhile, leads the world with a staggering 740 percent inflation rate, due in part to the country's heavy dependence on oil exports that have tanked.
Profits from the state-run oil industry overlap with international drug-trafficking operations organized by members of the regime, reportedly as high up as Vice President Tareck El Aissami.

If anything, Bachelet's moderate leftist policies could have served as a model for Maduro to follow in achieving a more realistic and equitable version of Chavez's socialist program, which he called the Bolivarian Revolution.
Instead, Maduro's remarks seem to reveal how out of touch he is with South American politics today.
"Chile has Pinochet's constitution still oppressing the Chilean people," he declared in another speech a few days later, "and from Venezuela, we would never say,

'President Bachelet: Convene a Constituent Assembly, that is what you have to do.'

We would never."
Maduro is right about Chile's current constitution, which was drafted by Pinochet in 1980.
But the Bachelet administration is currently working to write a new one. The steps it has taken so far show the democratic standards by which many South American governments currently operate - and that Maduro doesn't even seem to recognize.

Bachelet proposed that Chile rewrite its constitution in October 2015 in a process that couldn't be more different from Maduro's in Venezuela.
Beginning with small town halls where citizens could discuss what they value in a constitution, and followed by similar meetings on the district and regional levels, it would end with a large, comprehensive document of suggestions for lawmakers.

Unlike Maduro's power grab, several goals of Chile's constitutional review involve limiting the power of the state and freeing up the democratic process so it moves more efficiently.
Many lawmakers, for example, want to remove the president's ability to control what gets debated in Congress, and for how long.
They also want to untangle political gridlock caused by a requirement that all bills pass with 60 percent support from both houses of Congress - the Chamber of Deputies and the Senate - a percentage that many other countries reserve for major constitutional reform.

Chile has made considerable changes to its constitution before, with over 200 amendments since the end of the Pinochet era.
But many Chilean officials believe it's time to distance the country altogether from the legacy of Pinochet, whose dictatorship was responsible for thousands of disappearances and deaths.
In 1980, Pinochet picked a group of loyalist lawmakers to draft the constitution behind closed doors - not unlike what Maduro is attempting today.

Maduro appears to recognize the flaws of operating under a constitution passed by a leader who violated basic human freedoms, given his criticisms of Chile's Pinochet-era charter.
And yet he continues to violate those same freedoms himself every day.
By mocking Bachelet and Chile's 'truly' democratic process of drafting a new constitution, Maduro showed how far Venezuela has drifted under his watch and how out of touch his rule is with democratic trends in the region...