August 25, 2017
from WakingTimes Website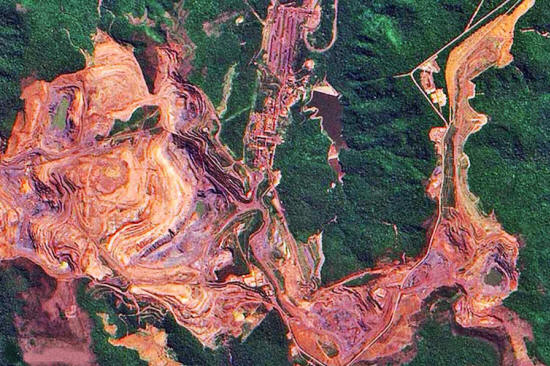 In what is being called the biggest attack on the Amazon in fifty years, Brazil has just opened a massive area of the rainforest up to mining.
A formerly protected national reserve twice the size of New Jersey, which is home to several indigenous tribes, has been officially abolished and will be turned over to mining interests.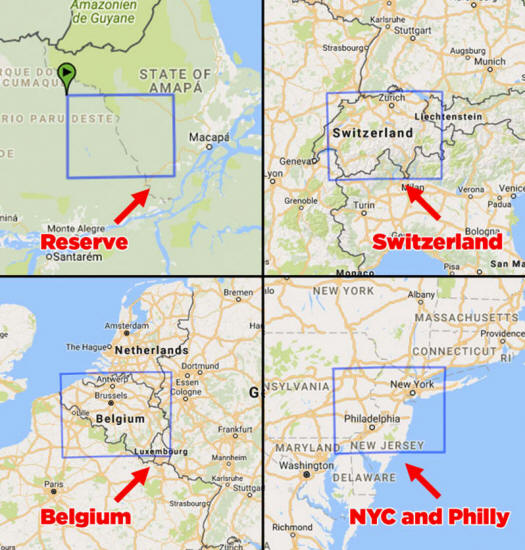 Sadly, the decision wasn't even made by a democratic body or informed vote, but by a presidential decree which changes rules, effectively abolishing a protected area known as the National Reserve of Copper and Associates (Renca).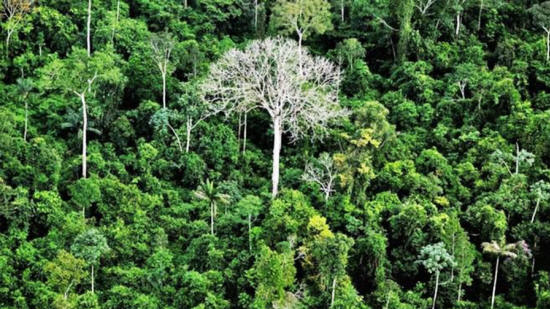 Getty Images
The reserve was created in 1984
by the then-military government
Brazilian President Michel Temer's time in office has been marked by scandal and corruption, most notably for offering concessions to big business interests in exchange for money and votes.
What does it cost to hang onto the office of President?

In Brazil, President Michel Temer paid for that privilege with R$13.2 billion (US $4.2 billion) worth of measures - decrees and amendments aimed at securing sufficient votes in the Lower House of Congress to avoid a criminal investigation by the Supreme Court into the president's alleged corruption.

The August 2nd House of Deputies vote allowed Temer to keep his position, for now."
This decree is seen by many to be politically motivated, both a reprimand of Temer's political enemies, as well as a kickback to wealthy industrial interests in the region.
Sadly, deforestation resulting from mining gold, copper, iron and other valuable metals and minerals is incredible destructive and harmful to wildlife.
Yet as time goes on more mining projects, both illicit and government sanctioned threaten even greater destruction of the earth's most precious resource.
Peru has recently stated that mining continues in spite of efforts to crack down on illegal mines, and the problem is getting worse throughout the continent.
"A team of scientists from the Carnegie Institution for Science found that, between 1999 and 2016, gold mining expansion cost the region 4,437 hectares (10,964 acres) of forest loss per year.

Miners were working an area in 2016 that was 40 percent larger than it was in 2012."
With the new move by the Temer administration, the possibility for major conflicts between native populations and colonists working on mining projects is significant.
Many in Brazil are also concerned with bringing the gold rush to this region of the Amazon, something which is well-known to destroy local cultures.
The fact that this order was made by decree and not by any kind of vote, when so many varied interests are involved, is a troubling reminder that government can not be trusted to care for the environment.
"If the government insisted on opening up these areas for mining without discussing environmental safeguards it will have to deal with an international outcry."
The following video taken in Peru in 2013 gives a bird's eye view of what mining is doing to the Amazon:

A Vast Reserve of Pristine Brazilian Amazon Rainforest has Just Been...
Saved from Mining Operations
by Peter Dockrill
August 31, 2017
from ScienceAlert Website

Gustavo Frazao/Shutterstock

But this fight
isn't over yet...

Environmentalists are celebrating after a Brazilian court blocked an attempt by the country's president to allow mining in a massive protected reserve in the Amazon rainforest.
Brazilian president Michel Temer sparked outrage last week when he issued a decree abolishing a protected area called the National Reserve of Copper and Associates (aka Renca) to open the land up to commercial mining.
The move sparked condemnation around the world, with critics warning mining would hasten deforestation in species-rich rainforest and threaten the existence of native peoples who live in the jungle.
A senator opposing the abolition called it,
"the biggest attack on the Amazon of the last 50 years",
...and that might not be hyperbole - given the decree sought to dismantle legal protections set up around a forest area larger than whole European countries such as Denmark and Switzerland.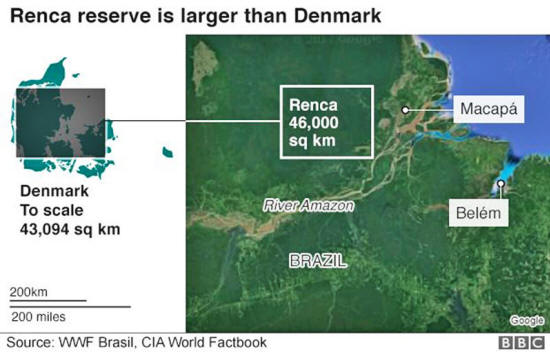 The large natural reserve
straddles the northern states of Amapá and Pará
and is home to resources such as manganese, iron, and gold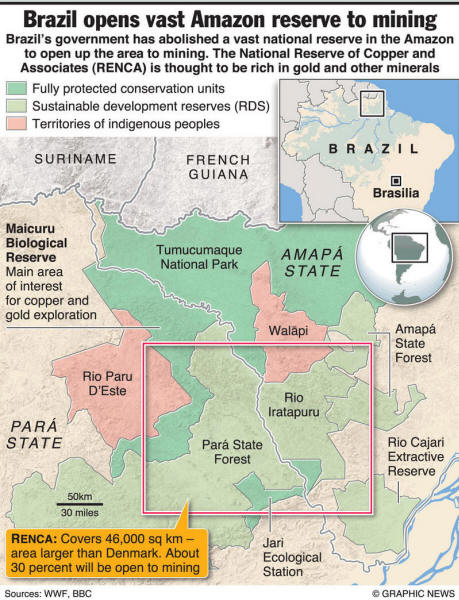 Graphic shows conservation and indigenous
land areas within RENCA.
Renca covers some 46,000 square kilometers (approximately 17,800 square miles) in total, encompassing nine conservation and indigenous land areas, but that's not all that lies inside its boundaries.
The reserve is thought to be rich in copper, gold, iron ore, and other minerals - valuable resources that more than 20 mining companies are vying for, which is why the government was hoping to dismantle Renca's protected status established back in 1984.
"The objective of the measure is to attract new investments, generating wealth for the country and employment and income for society, always based on the precepts of sustainability," the government said in a statement explaining the initial decree.
But now it looks like the action has been suspended, after federal judge Rolando Valcir Spanholo ruled on Tuesday that Temer had gone beyond his presidential authority in causing the dissolution of Renca.
Approving an injunction to halt the abolition, the judge ruled that only Brazil's congress had the power to rescind Renca's protected status, meaning the presidential decree - at least for now - is ineffective and the protections are still in place.
The ruling came after a lawsuit filed by lawyer and university professor Antonio Carlos Fernandes, who decided to get involved after the controversy broke last week.
"I'm a regular citizen," he told reporters from The New York Times. "And now I have certainty that a regular citizen can have a lot of strength."
But despite the legal victory, Renca's stay of execution might only have been postponed temporarily, not cancelled.
Brazil's attorney-general has already appealed the decision, meaning the injunction could be overturned in subsequent rulings.
"The suspension of president Temer's unilateral decree with its severe threats to vast Amazonian forest offers a welcome and temporary reprieve," said program director Christian Poirier from non-profit Amazon Watch.

"Today's ruling upholds constitutional guarantees and puts the brakes on this drastic regression, but is ultimately vulnerable to being overruled by higher courts."
Prior to the decision in the case, Temer pivoted on Monday, issuing a second decree in response to the backlash the first provoked.
The new decree states that mining would be prohibited in indigenous areas and nature preserves within Renca, and sought to establish a committee to oversee mining permits.
Some commentators have criticized the clarifications for being a thinly veiled attempt at damage control, with environment minister Sarney Filho claiming,
"there was a lot of confusion in the way society as a whole perceived this decree".
It's not entirely clear how this will play out, and there may be more twists in the story before we know the ultimate fate of Renca - which some claim is already being encroached upon by illegal, clandestine prospecting.
For now, at least there's an injunction to protect this massive reserve from unprecedented, all-out exploitation.
After that, the picture is uncertain, but the world is definitely watching.