August 08, 2017
from WorldPoliticsReview Website
David Dudenhoefer
is a freelance journalist and communications consultant based in Lima, Peru,
from where he covers several
South American countries.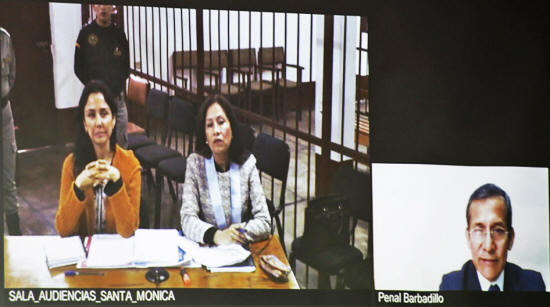 Former Peruvian President Ollanta Humala and his wife, Nadine Heredia,
who are under preventative detention, attend a court hearing via video link,
Lima, Peru, July 31, 2017
(AP photo by Martin Mejia).


LIMA, Peru
Peru's political establishment has been shaken by investigations and allegations of corruption, with one former president and his wife jailed while prosecutors investigate charges of money laundering against them, and another former president facing possible extradition from the U.S. in a similar case.

What began as several national investigations into suspicious bank transfers and real estate purchases gained urgency following revelations from Brazil about an international bribery network managed by the construction conglomerate Odebrecht.
The company's executives have admitted to paying approximately $800 million in bribes to public officials in a dozen countries in order to obtain billions of dollars' worth of government contracts.

Last week, an appeals court upheld a lower court's July 13 decision to imprison President Ollanta Humala - who governed from 2011 to 2016 - and his wife, Nadine Heredia, for 18 months while prosecutors complete an investigation of bank deposits and property purchases by the couple, their relatives and friends, which authorities suspect involved funds from unreported campaign contributions.
In February, the former director of Odebrecht in Peru, Jorge Barata, told investigators that Odebrecht donated $3 million to Humala's 2011 election campaign, which Humala and Heredia deny.

The judge's order for "preventative" imprisonment, which Peruvian courts sometimes use in such cases, was based on the prosecutor's argument that Humala and his wife might flee the country, bribe witnesses or otherwise try to influence the investigation.
During an appeal hearing last week, the couple denied having done anything to hinder the investigation and claimed the decision to jail them was politically motivated.

In April, another judge issued an order for preventative imprisonment of former President Alejandro Toledo - who governed from 2001 to 2006 - and his wife, Elaine Karp, who are both in the U.S., but could face extradition.
Peruvian prosecutors are investigating the purchase of approximately $4.6 million worth of real estate in Lima by Toledo's mother-in-law.
The purchases were made with funds from a company in Costa Rica called Ecoteva, which was founded by Toledo's friend Josef Maiman, a Peruvian-Israeli businessman.
Toledo, who denies any wrongdoing, claims that his mother-in-law bought the properties as an intermediary for Maiman, for whom Peru has issued an international arrest warrant, though INTERPOL has been unable to locate him.

After plodding along since 2013, the Ecoteva investigation gained new impetus after Barata told investigators that Odebrecht had paid $20 million in bribes and kickbacks to the Toledo administration for contracts to build sections of the Interoceanic Highway.
Construction of that roadway, which connects southern Peru with Brazil, ended up costing $4.5 billion, several times the original bid.
Toledo has denied taking bribes and threatened to sue Barata for defamation.
The current scandal evokes

the downfall of Alberto Fujimori,

who governed Peru from 1990 to 2000

and is now serving sentences for corruption and crimes against humanity

in the same jail where Humala is imprisoned.
Meanwhile, former President Alan Garcia, whose 2006-2011 administration awarded Odebrecht contracts for major public works, spent several hours this week answering prosecutors' questions about the construction of a commuter train line known as Metro 1.
Several officials from Garcia's administration have been jailed as part of an investigation sparked by Odebrecht's admission that it paid $8 million in bribes for that project.
Following his meeting with prosecutors, Garcia told reporters that he has never requested nor accepted a bribe.

As part of a plea bargain with authorities in the U.S. last December, Odebrecht officials admitted to paying $29 million in bribes to Peruvian government officials, and considerably more to officials in the Dominican Republic, Panama and Venezuela.
However, Odebrecht's use of offshore companies and cash payments has created challenges for prosecutors.

According to Walter Alban, executive director of the anti-corruption nonprofit Proetica, recent progress on investigations in Peru has largely been a result of discoveries by police and prosecutors in Brazil, as well as the public pressure that has followed press coverage of the Brazilian investigation.
A binational agreement has allowed Peruvian prosecutors to interview Odebrecht directors within the framework of their cooperation with the Brazilian court.

While Peru has had corrupt public officials since it was a Spanish colony, Alban notes that investigations into corruption in Peru have traditionally advanced slowly, and cases are often archived before convictions are made.
He believes that this reflects the degree to which corruption has penetrated the country's police and court system, a problem that he says has been exacerbated in recent decades by the growing influence of money from illicit activities such as cocaine production and illegal gold mining.

Gustavo Gorriti, director of the investigative journalism nonprofit IDL Reporteros, has been covering Odebrecht for years, and he is highly critical of the way Peruvian prosecutors have handled the investigations thus far.
IDL Reporteros published a transcript of Peruvian prosecutors' interrogation of Marcelo Odebrecht, the company's chief executive, which took place on May 15 in Curritiba, Brazil.
In it, Odebrecht claimed that in addition to donating $3 million to Humala's campaign, the company also donated money to the 2011 presidential campaign of Keiko Fujimori, whose party now holds a majority in Peru's Congress.
He added that it also probably aided the 2011 presidential campaign of current Vice President Mercedes Araoz, but that Barata, the company's director in Peru, would know for sure.
Araoz, who Alan Garcia selected to be his party's candidate but who resigned after two months of campaigning, says that she had nothing to do with her campaign's finances.
Fujimori has denied receiving any funds from Odebrecht.

While Barata could clarify those allegations, it is possible that Peruvian authorities won't be able to interview him again, because they violated an immunity agreement with Odebrecht in early June by seizing Barata's property.
Brazilian authorities subsequently agreed to Barata's request to give no further declarations to Peruvian prosecutors.

The current scandal evokes the downfall of Keiko Fujimori's father, Alberto Fujimori, who governed Peru from 1990 to 2000 and is now serving sentences for corruption and crimes against humanity in the same jail where Humala is imprisoned.
Alberto Fujimori resigned in 2000 after local media broadcasted videos of his intelligence chief, Vladimiro Montesinos, bribing opposition politicians and managers of Peruvian media.
Montesinos and other Fujimori collaborators were arrested on corruption charges following his resignation, but the Peruvian government is still trying to recover tens of millions of dollars from bank accounts in Luxembourg and Switzerland linked to Montesinos and the elder Fujimori.

The end of Alberto Fujimori's rule was marked by massive protests, and Alban predicts that sustained public pressure will be needed to ensure that the current investigations result in convictions.
Recent surveys indicate that Peruvians now consider corruption to be the country's biggest problem, after years in which crime was their top concern.
Whether or not that public sentiment can ensure that justice is served remains to be seen...