14 January 2016
from TeleSurTV Website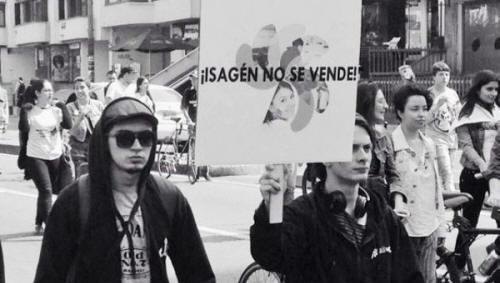 Protesters hold a sign saying "Isagen is not for sale"
in protests in Bogota, Colombia Jan 13, 2016.
Photo: Twitter: ColombiaCalling

Analysts say President Juan Manuel Santos sold Colombia's public energy company to a Canadian firm, which has been accused of bribery, based on Blair's influence.

Former British Prime Minister Tony Blair was the main player in setting up a deal between Canadian company Brookfield and the Colombian government to sell off the country's public electricity company, Isagen.


The move angered Colombians who took to the streets in the capital Bogota Wednesday to protest the privatization of one of the country's largest energy companies.

According to media reports Thursday, Blair had a major role to play in the privatization after he introduced Colombian President Santos to senior members on the board of Brookfield:
Guass O'Donnell

Frank Mackenna
The two men reportedly developed a close relationship after Blair worked with the Fundacion Buen Gobierno, translated as the Good Government Foundation - a Santos initiative to promote "democracy and good governance" in the country - according to BluRadio.

Analysts have also condemned the move, saying the Canadian company has a history of business misconduct, including bribery, and said the business deal only went through because of Blair's close relationship to the president.
"The buyers are some gentlemen from Brookfield, a transnational financial (firm) made up of speculators and located in a tax haven with a bad reputation, that analysts in the United States do not recommend investing in, accused of bribery in Brazil, and linked to… Tony Blair, the ex-prime minister of England, and a very good friend of doctor Santos," congressperson with the Alternative Democratic Pole party, Jorge Enrique Robledo, told teleSUR.
Brookfield owns and manages assets of more than US$200 billion in,
the United States

Canada

Europe

Colombia

Brazil
In the latter country, Brookfield is facing accusations of paying bribes to negotiate the real estate sector in 2012.

Public Prosecutor of Justice and Social Heritage of Sao Paulo, Brazil Silvio Antonio Marques told the Wall Street Journal that the company owned malls in the region and paid bribes to the mayor in order to get building permits.

Despite these pending accusations, Santos went ahead with the deal, selling off the government's 60 percent share of Isagen, but Brookfield is also expected to buy the rest of the shares from minority shareholders.