by Rhys Jones and Victoria Bryan and Andrea Shalal-Esa
September 13, 2012
from Reuters Website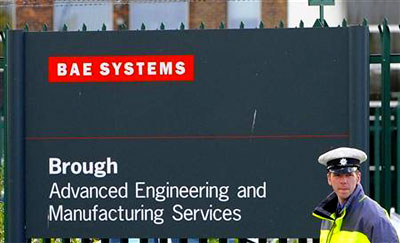 A security guard stands at the entrance to the BAE Systems site
in Brough, northern England October 1 2009.
REUTERS-Nigel Roddis


Logo of EADS is seen at the European aerospace and defence group
EADS headquarters in Les Mureaux near Paris January 12, 2011.
REUTERS-Charles Platiau



LONDON/WASHINGTON
(Reuters)
In the biggest shakeup in Europe's aerospace and defence sector in more than a decade, Britain's BAE Systems and Airbus-owner EADS said they are in advanced talks to create an industry giant that would overtake rival Boeing in sales and contend with shrinking defence spending in Europe and the U.S.

The proposed deal, the biggest since a 2000 pan-European merger created EADS under joint French and German control, could kick-start a wave of consolidation in the sector, as companies vie for shrinking defence budgets.

Boeing CEO Jim McNerney said the Chicago-based aerospace leader isn't threatened by such a merger, which he predicted would mark the start of global consolidation in the defence industry.
"I don't see this as something that is going to threaten us fundamentally," McNerney told Reuters after a speech to the Council on Foreign Relations in Washington.
Executives at Lockheed Martin Corp declined comment.

An EADS-BAE merger would create an entity with more balanced commercial and military operations, a model that Boeing has followed for some time, McNerney added.

While the complex deal faces obstacles, U.S. government officials were not likely to block it, according to multiple sources close to the matter who were not authorized to speak publicly.

These sources said the companies have already held direct discussions with U.S. officials, though no formal proposal has been put forth yet.

Antitrust concerns in the U.S. would be minimal, given the modest amount of U.S. military revenue generated by EADS and BAE's trusted role on some of the most sensitive U.S. military and intelligence programs.
"I can't see anything that's going to be problematic," said Darren Bush, a veteran of the Justice Department who teaches law at the University of Houston Law Center.

"All the U.S. based companies will grouse but from an antitrust perspective I'm not sure what they can do about it."
The deal would give BAE shareholders 40 percent and EADS investors 60 percent of a combined group with a dual stock listing.
It likely would lower costs, and the group's products would range from Airbus commercial jets and military transport planes to the BAE-made Tornado fighter jets and its Astute-class nuclear-powered submarines.
"In a difficult spending environment it makes sense," said Neal Dihora, an analyst at independent researcher Morning Star in Chicago. "EADS has been saying they would like to have a better balance between commercial and defence."
It also would simplify a complicated and politically fraught ownership structure for EADS, while reducing its reliance on the cyclical civil aircraft business.
BAE, largely a defence company, would obtain breadth in civil aircraft. Geographically, BAE's strength in the U.S., Britain and Saudi Arabia would complement EADS' operations in Europe.

Sources familiar with the discussions said talks began in earnest in June, and one source close to EADS said they were the brainchild of Marwan Lahoud, who is in charge of strategy and marketing at EADS.

Despite its advantages, the deal faced numerous regulatory, security and cultural hurdles and was far from certain.

French Finance Minister Pierre Moscovici issued a terse statement saying the French state would decide as a shareholder when the time comes and according to EADS governance rules.
"No one is counting their chickens just yet as it is a very complex transaction with lots of possible pitfalls, especially government related ones," said a British defence source close to the talks.
The two companies have a long history of collaboration and are partners in a number of projects, including the Eurofighter and the European MBDA missile joint venture.

A deal would also bring BAE back into having a direct interest in Airbus and the France-based planemaker's British plants, having sold its 20 percent stake in 2006.

The merger would mark a turning point for BAE 13 years after it was accused of turning its back on Europe in choosing to concentrate on building its U.S. defence business with the takeover of GEC Marconi in preference to merging with Germany's main aerospace and defence group, Daimler Aerospace (DASA).

Spurned by BAE, DASA decided in the same year, 1999, to instead go ahead and create EADS through a merger with French group Aerospatiale and Spain's Construcciones Aeronautica (CASA).

The companies propose issuing special shares in BAE and EADS to each of the French, German and British governments to replace the existing shares held by the British government in BAE and the stakeholder deal in EADS.

If the deal goes through, EADS will also pay 200 million pounds to its shareholders prior to completion to reflect the fact that the two groups have traditionally had different dividend policies.

BAE shares jumped 10.6 percent to 353 pence, giving it a market value of nearly $19 billion (11 billion pounds), while EADS fell 5.6 percent in Paris to give it a market value of $29.8 billion, reflecting the 60-40 split.

One large British institutional shareholder said it was unclear "how appropriate the 60-40 split is."
But he added,
"The businesses being put together probably makes sense from a cost-cutting point of view, particularly in a time when constrained government budgets will preclude top line growth in defence spending."
POLITICAL TIES

A tie-up could also allow EADS to break free from its shareholder agreement, which dictates a Franco-German balance of power at the group.

Tensions between the two sides have been simmering this year, notably over plans to refocus more of the group's activities near the Airbus headquarters in Toulouse.

And a move by the German carmaker Daimler to sell its stake in EADS has exacerbated the issue. Plans by the German government to buy the stake, for a lack of other investors, have reportedly drawn ire from the French side and from EADS management, which wanted less state involvement.

If the tie-up goes ahead, the shareholder pact as it stands would likely become obsolete.

For political and national security reasons both BAE and EADS, which respectively contribute to British and French nuclear deterrent capabilities, will be preserved as separate structures and a new umbrella group would be created, likely to be run by representatives of EADS.

Combined, BAE and EADS would have sales of about 72 billion Euros (57 billion pounds), based on 2011 numbers, and would have 220,000 employees worldwide. In comparison, Boeing had sales last year of $68.7 billion, while Lockeed Martin had sales of $46.5 billion, according to Thomson Reuters data.

EADS and BAE said that due to the sensitive nature of the companies' defence business in countries stretching from the United States to Saudi Arabia and Australia, they were talking to governments around the world about the proposed deal.

They said certain defence activities would be ring-fenced with governance arrangements appropriate to their strategic and national security importance, particularly in the United States, given the importance of that market to the enlarged group.

A merger of the two European companies is not expected to raise antitrust concerns in the United States given the modest amount of U.S. military revenues generated by EADS, according to two sources close to the deal.

U.S.-based defence consultant Loren Thompson said a merger of the two would create a larger enterprise that was equally strong in commercial and military products, similar to the strategy already pursued for many years by Boeing.

The Pentagon said it would review the proposed merger if asked. The French government declined to comment while the British government said it was working with the two companies to ensure any deal would serve the public interest.

A top Pentagon official told Reuters last week that further big budget cuts could make the U.S. Defence Department rethink its current wariness about additional mergers among top-tier companies in the weapons industry.

Lazard, Evercore and Perella are advising EADS while Morgan Stanley and Goldman Sachs are with BAE. Among BAE's biggest shareholders is UK-based Invesco Asset Management, which owns 13.02 percent and increased its stake last month.
Its head of UK equities, Neil Woodford, is widely regarded as one of the UK's most powerful and best-performing fund managers.