June 20, 2017
from WorldPoliticsReview Website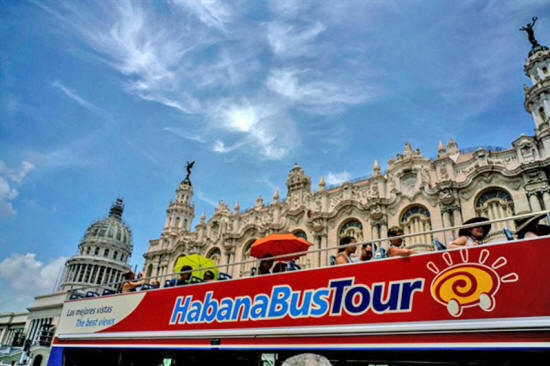 A tour bus in front of the Capitolio,
Cuba's National Capitol Building, Havana,
June 17, 2017
(AP photo by Ramon Espinosa).
"Effective immediately, I am canceling the last administration's completely one-sided deal with Cuba," President Donald Trump told a cheering crowd of Cuban exiles in Miami on June 16.
That declaration was not quite true, since there was no single deal to cancel.
President Barack Obama's opening to Cuba included a series of bilateral agreements on issues of mutual interest and five packages of regulatory changes to the U.S. embargo that Obama made unilaterally in order to boost travel and trade.

Trump's new policy, embodied in a Presidential Memorandum, partially closes two holes that Obama punched in the embargo. First, Trump's new regulations will limit the "people-to-people" category of educational travel by restoring the requirement that visitors travel in groups with a licensed travel provider.
No more self-guided tours - but visitors can still bring back rum and cigars.

Second, U.S. companies, and even individual travelers, will be prohibited from doing business with enterprises managed by the Cuban military, with the exception of enterprises that run the ports, airports and telecommunications.
Those exceptions are important because they let U.S. cruise lines, airlines and tech companies off the hook.
Of approximately 40 nonagricultural deals signed between U.S. and Cuban companies before Trump took office, almost all would be exempt.
Only two hotel management deals, by Starwood Hotels and Wyndham Worldwide, would not be legal under the new regulations. But they are safe, too, because the presidential memorandum exempts existing contracts so as not to "disrupt" ongoing business, not to mention for fear of litigation.

Other than these two changes, Trump's policy leaves key elements of Obama's policy intact. It does not roll back the other regulatory reforms expanding travel and business opportunities. It does not impose any restrictions on Cuban-American family travel and remittances.
Trump did not break diplomatic relations or put Cuba back on the State Department's terrorism list. He did not restore the "wet foot, dry foot" policy that gave Cuban immigrants who made it to U.S. shores preferential treatment.

What Trump really meant by "canceling" Obama's "deal" was that he is repudiating his predecessor's decision to abandon the goal of regime change.
Trump's Miami speech embraced regime change wholeheartedly, as symbolized by the venue:
Manuel Artime Theater, named after the leader of the Cuban exile brigade that invaded the Bay of Pigs in 1961.
Trump denounced the Cuban government as brutal, criminal, depraved, oppressive and murderous.
He declared his support for Cuba's dissidents, and promised that the current regime's,
"long reign of suffering" would not last long, saying, "I do believe that end is in the very near future."
Obama's policy of normalizing relations is out the window, and the well-worn policy of hostility is back in fashion.
What Trump really meant
by "canceling" Obama's "deal"
was that he is repudiating his predecessor's decision
to abandon the goal of regime change.
The fundamental dilemma now facing Trump is the same dilemma that faced previous U.S. presidents. The policy instruments he has deployed are inadequate to the ambitious goal he has set.
The new travel restrictions will, at best, marginally reduce the total number of foreign visitors to Cuba:
Excluding Cuban-Americans, U.S. travelers constituted just 7 percent of the 4.1 million people who went to Cuba in 2016.
Banning U.S. companies from doing business with Cuban enterprises managed by the military simply opens the door to their competitors in Europe, Russia and China.
In short, Trump's new sanctions may put a dent in the Cuban economy, but they will hardly deal it a death blow.

Trump told the Miami crowd that Washington can bend Havana to its will because "now we hold the cards." He's bluffing, and the Cubans know it.
In a defiant statement following Trump's address, the Cuban government declared that,
"any strategy aimed at changing the political, economic and social system in Cuba, whether it seeks to achieve it through pressures and impositions, or using more subtle methods, will be doomed to failure."
There is, however, one group of Cubans who will suffer disproportionately under the new sanctions - Cuba's nascent private sector, which has been built around tourism.
"If independent American travel is cut off, you won't only hurt the bed and breakfasts," Andrea Gallina, proprietor of a small private hotel and restaurant, told The Washington Post.

"It's also the construction crews, the private tour guides, the taxi drivers, the restaurants and the artists selling handicrafts."
Packaged tours, by contrast, operate through the state-run tourist agencies, lodging visitors in state-owned hotels.

U.S. airlines and cruise lines could also be hurt if the number of American travelers declines significantly, either because of the new regulations themselves, or because Trump's war of words scares people away.
One study estimated that U.S. visitors to Cuba generate $1.65 billion in revenue annually for American businesses and account for more than 12,000 jobs.

Trump's Presidential Memorandum, like his Miami speech, says little about state-to-state relations.
It includes a single paragraph authorizing continued engagement with Cuba on topics that serve U.S. interests, such as migration, law enforcement, public health, agricultural cooperation, environmental protection, civil aviation safety and scientific exchange.
This endorsement of dialogue suggests that the Trump administration will not abrogate the 23 bilateral agreements on many of these same topics signed during the Obama administration.

It remains to be seen whether further agreements are possible. When Obama left the White House, talks were underway on some two dozen wide-ranging issues.
The Trump administration suspended them all pending its policy review, except for the semi-annual consultation mandated by the 1995 migration accord.
With a new policy in place, talks on issues of mutual interest could resume unless the administration imposes onerous preconditions.

The Cubans, for their part, are taking a pragmatic but firm stance.
"The Government of Cuba reiterates its willingness to continue respectful dialogue and cooperation on issues of mutual interest, as well as the negotiation of pending bilateral issues with the United States Government," its statement declared.

"But it should not be expected that Cuba will make concessions inherent to its sovereignty and independence, nor will it accept any kind of conditionality."
Over the next few months, Trump's new policy will come into clearer focus as the Treasury Department promulgates the new regulations governing travel and business.
The devil is always in the details, and diplomats will feel out one another about whether continued progress is possible on issues of mutual interest.
Was Trump's rhetorical blast in Miami a one-time reward to his conservative Cuban-American audience, or the opening salvo in an escalating war of words?

One thing is certain:
Donald Trump has no interest in normalizing relations with Cuba.
Although his policy of hostility and regime change has no chance of success, U.S.-Cuban relations are likely to remain frozen for the next four years in a posture of acrimony that serves neither country's interests.