by Irina Radosevic
July 25, 2017
from BalanceMeBeautiful Website

Irina graduated from the University of Belgrade, School of Medicine as a Doctor of Medicine (MD) and spent over 3 years working in the Clinical Hospital Center Zvezdara, in the Department of Emergency Medicine.
She also undertook a postgraduate in Cardiology from the same University and had previously worked for over a year as a Physician and Nutritionist Dietitian for
the Fitness club Green Zone.
She eventually left her chaotic but fulfilling job in the ER to pursue her passion of writing, travelling and mountain climbing which has included writing a first aid course for the alpine club of Belgrade. Irina currently works as a VA for PintMedia focusing on medical and travel writing.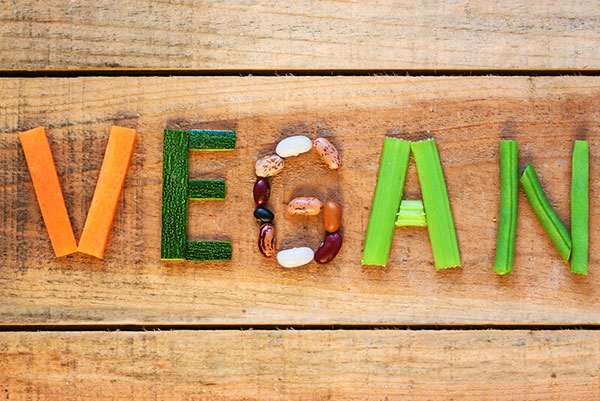 The question is:
is there any healthy benefits to a vegan lifestyle?
You can miss essential proteins that you could otherwise get from eating meat.
You have to take supplements to make up for important elements that vegetables do not contain. There must be all types of nutrients in meat that would be absent in a vegan diet.
But let's look into the question and see if there are health benefits of a vegan lifestyle.

World-renowned figures as diverse as philosophers Plato and Nietzsche, political leaders Benjamin Franklin and Gandhi, and pop icons Paul McCartney and Bob Marley have all advocated a vegetarian diet.
A very historically diverse group from thousands of years ago to the present that advocate a vegetarian diet. The claim is that many studies have suggested that there are many health benefits to a vegan lifestyle.
"Vegetarian" is defined as:
avoiding all animal flesh, including fish and poultry.

Vegetarians who avoid flesh, but do eat animal products such as cheese, milk, and eggs, are ovo-lacto-vegetarians (ovo = egg; lacto = milk, cheese, etc.).

People who abstain from all animal products are called pure vegans.
Cancer Fighter


Vegetarian (a person who does not eat meat, and sometimes other animal products, especially for moral, religious, or health reasons. Relating to the exclusion of meat or other animal products from the diet) diets are naturally low naturally low in saturated fat, high in fiber, and contain cancer-protective phytochemicals that help to fight cancer.
Are these types diets really healthy? Can they really help in the fight against cancer?
According to large studies conducted in England and Germany suggest that vegetarians are 40 % less likely to develop cancer than meat eaters. (If we aren't supposed to eat meat than why were animals put on the planet?)
In the United States, studies of Seventh-Day Adventists have shown significant reductions in cancer risk among those who avoided meat. Again, the correlation between meat eating and a higher risk of cancer is not known.

It is reported that breast cancer rates are lower in, nations such as China, where women traditionally eat plant-based diets instead of animal-based diets. In Japan it is recorded that women who eat meat-based diets are 8 times more likely to develop breast cancer than those women who eat a more traditionally plant-based diet.
There is no clinical support for stating that meat-based diets are more likely to stimulate cancer in people who consume that type of diet than than those who eat plant-based foods only.

Harvard studies that included tens of thousands of women and men suggest that regular meat consumption increases colon cancer risk by 300 %. It is said that high-fat diets encourage the production of estrogen particularly estradiol (a major estrogen produced in the ovaries) in the body.
Increased levels of this sex hormone have increased the risk of breast cancer; again there is no clinical studies to support this assertion.
Meat and dairy products contribute to several of types cancer, including cancer of the colon, breast, ovaries, and prostate. No studies have concluded this as being true.

One study linked the consumption of dairy products to an increased risk of ovarian cancer. A study conducted at Cambridge University found that diets high in saturated fat were linked to breast cancer.
Vegetarians avoid the animal fat linked to cancer and get abundant fiber, vitamins, and phytochemicals that help to prevent cancer. It is claimed that they receive these benefits by health experts.
In addition, blood analysis of vegetarians reveals a higher level of "natural killer cells," specialized white blood cells that attack cancer cells. "natural killer cells" this has never been heard of before and the killer cells are not defined or elaborated on in detail.
This assertion sounds very ambiguous...

Anti-Heart Disease Agent

Now it is claimed that vegetarian diets can help to fight heart disease.
Animal products are the main source of saturated fat and the only source of cholesterol in the diet. This seems highly unlikely that animal products are the main source for saturated fat and the only source for cholesterol.
There are foods everywhere that contain cholesterol and saturated fat that are a part of many people's diets. Vegetarians avoid these risky products.
Do they really? It seems unlikely that even vegetarians can completely avoid saturated fat and cholesterol. The body needs some type of fat intake to remain strong and healthy.

Fiber is said to reduce cholesterol and fiber is a main constituent in a vegetarian diet.
Animal products contain no fiber. Which implies that animal products will increase the risk of higher cholesterol levels and we all know the harmful effects that can have on our bodies.
Studies have demonstrated that a low-fat, high-fiber, vegetarian or vegan diet combined with stress reduction techniques, smoking cessation, and plenty of exercise, or combined with prudent drug intervention, could actually reverse atherosclerosis - hardening of the arteries.
It says it could lower atherosclerosis but it is not guaranteed.

Eating a vegetarian diet alone will not stop the arteries from hardening. Heart diets that include lean meats, dairy products, and chicken are not as effective in stopping the hardening of the arteries.
These diets only slow it down. The above mentioned factors included many other elements beside a vegan diet to stop the hardening of the arteries.
Even with all these treatments there is no guarantee that the arteries will not be hardened.
If someone is genetically predisposed to have the arteries hardened then all these extra health precautions will not stop the arteries from hardening.

Enemy of High Blood Pressure

In the early 1900's, nutritionists supposedly noticed that people who ate no meat products had lower blood pressure levels.
They also discovered that a person who switched to a plant-based diet could lower their blood pressure dramatically within two weeks. This is hard to believe that an all vegetable diet could reduce blood pressure that much in such a short time.
These results were achieved no matter what the sodium levels were in the vegetarian diets. This is suspect due to the fact that excessive sodium intake will increased blood pressure levels no matter how many vegetable you eat.

Again, it is said that people who embrace the vegetarian lifestyle generally have lower blood pressure levels. If they are in-taking high levels of sodium this just is not true.
There is no definite reason why the vegetarian diet works so well in lowering blood pressure levels.
But the theory is (this is pure speculation),
"but probably cutting out meat, dairy products, and added fats reduces the blood's viscosity (or "thickness") which, in turn, brings down blood pressure."
There are no research-based studies to support this hypothesis. Plant products are lower in sodium and contain no cholesterol at all.
They have loads of potassium which helps to lower blood pressure.

Diabetes Reversal


Non-insulin-dependent (adult-onset) diabetes can be controlled maybe in even eliminated by a low-fat, vegetarian diet along with regular exercise.
This diet is low in fat and high in fiber and complex carbohydrates, which is said to allow insulin to work more effectively.
If this were true, would there not be more public awareness that these types diet in conjunction with exercise may eliminate this type of diabetes?
The person with diabetes can control glucose levels. But there is a drawback to the vegetarian diet because it cannot eliminate the need for insulin in people with type 1 (insulin-dependent) diabetes, it can often reduce the amounts of insulin used.
But in these types of cases it will not eliminate diabetes.

Gallstones, Kidney Stones, and Osteoporosis Beware

So, vegetarian diets may reduce a person's risk of developing kidney stones and gallstones.
Diets that are high in protein, high in protein, especially animal protein may cause the body to produce more,
calcium

oxalate

uric acid
These three substances are the main components of urinary tract stones.
People have historically consumed these types of diets and never developed urinary tract stones. British researchers recommend that people who form kidney stones should switch to a vegetarian diet.
There is no guarantee this dietary change will inhibit the formation of kidney stones.
It is quoted by a website that,
"The American Academy of Family Physicians notes that high animal protein intake is largely responsible for the high prevalence of kidney stones in the United States and other developed countries and recommends protein restriction for the prevention of recurrent kidney stones."
Proteins are too valuable for life functions to be restricted.
The human body needs its daily allowance of protein. Neglecting protein may cause many harmful health effects to the human body. Supposedly, high-cholesterol, high-fat diets - the typical meat-based diet - are implicated in the formation of gallstones.
They are implicated but it does not mean they will help to form gallstones.
The consumption of meaty diets as opposed to vegetarian diets nearly doubles the risk of gallstones in women. No clinical support for these increased risk of gallstones in women who eat meaty diets.

Now it is claimed that for many of the same reasons mentioned that vegetarians are at a lower risk for osteoporosis. Meat products are said to force calcium out of the body thereby promoting bone loss.
It has been stated,
"In nations with mainly vegetable diets (and without dairy product consumption), osteoporosis is less common than in the U.S., even when calcium intake is also less than in the U.S."
This statement is open to debate because, how can any culture consume less calcium than the American culture and not develop osteoporosis?

Asthma Reliever

A 1985 Swedish study suggested that people with asthma practicing a vegetarian diet for a year have a,
"marked decrease in the need for medications and in the frequency and severity of asthma attacks".
22 of the 24 participants in the study said they had marked improvements in their asthma symptoms.
The correlation between the vegetarian diet and the reduction in asthma attacks was not given. There needs to be new and updated studies conducted to prove these results.
One study does not guarantee that this is a proven health benefit of a vegetarian diet.

Favorite Vegetarian Recipes

Thai Curry Vegetable and Tofu Soup



Ingredients:

1 tablespoon Thai red curry paste
1 teaspoon grated fresh ginger
2 cups low-sodium vegetable broth
1 14-ounce can coconut milk
kosher salt
1/2 pound shiitake mushrooms, stems removed and caps thinly sliced
4 ounces green beans, halved
2 carrots, halved lengthwise and sliced crosswise
14 ounces extra-firm tofu, drained and cut into cubes
4 ounces snow peas
2 tablespoons fresh lime juice
1/4 cup torn fresh basil leaves
Asian chili garlic sauce, for serving


Method:

Place the curry paste and ginger in a medium pot. Whisk in the broth, coconut milk, and 1 teaspoon salt and bring to a boil.


Add the mushrooms, green beans, and carrots and simmer until just tender, 3 to 5 minutes.


Add the tofu and snow peas and simmer until the snow peas are bright green, about 1 minute more.


Stir in the lime juice. Sprinkle with the basil and serve with the chili garlic sauce.


Portobello Mushroom Burgers With Oven Fries



Ingredients:

4 portobello mushrooms (about 1 1/4 pounds total), stems discarded
1/4 cup olive oil
kosher salt and black pepper
4 slices Cheddar (about 4 ounces)
3 medium russet potatoes (about 1 1/2 pounds), cut into wedges
2 tablespoons chopped fresh flat-leaf parsley leaves
1/3 cup mayonnaise
2 tablespoons Dijon mustard
lettuce and sliced red onion, for serving
4 English muffins, split and toasted


Method:

Heat oven to 425° F (220º C). Rub the mushrooms with 2 tablespoons of the oil, and ¼ teaspoon each salt and pepper on a rimmed baking sheet.


Place the mushrooms stem-side down and roast until tender, 18 to 20 minutes. Top each mushroom with a slice of Cheddar and continue to cook until melted, 3 to 5 minutes more.


Meanwhile, on a separate rimmed baking sheet, toss the potatoes with the remaining 2 tablespoons of oil and ¼ teaspoon each salt and pepper. Roast, tossing once, until tender, 18 to 20 minutes; toss with the parsley.


Mix together the mayonnaise and mustard in a small bowl.


Stack the lettuce, mushrooms, onion, and mayonnaise mixture between the English muffins. Serve with the oven fries.



Cheese Tortellini with Spinach, Peas, and Brown Butter



Ingredients:

1 pound fresh or frozen cheese tortellini
1 cup frozen peas
4 tablespoons (1/2 stick) unsalted butter
1 small bunch flat-leaf spinach, thick stems removed (about 6 cups)
1 medium beefsteak tomato, coarsely chopped
1 teaspoon finely grated lemon zest, plus 1 tablespoon lemon juice
kosher salt and black pepper


Method:

Cook the tortellini according to the package directions, adding the peas during the last minute of cooking.


Meanwhile, melt the butter in a large skillet over medium heat and cook, stirring frequently, until golden, 2 to 3 minutes.


Add the spinach and tomato and cook, tossing occasionally, until the spinach is wilted and the tomato begins to soften, 4 to 5 minutes more.


Add the tortellini, peas, lemon zest and juice, ½ teaspoon salt, and ¼ teaspoon pepper to the skillet and toss to combine.


Vegetarian Tacos With Goat Cheese

Ingredients:

1 tablespoon olive oil
1 14-ounce package extra-firm tofu, drained, patted dry, and crumbled
1½ teaspoons chili powder
kosher salt and black pepper
1 10-ounce package frozen corn (2 cups), thawed
1 5-ounce package baby spinach (about 6 loosely packed cups)
8 small flour tortillas, warmed
¾ cup crumbled fresh goat cheese (3 ounces)
¾ cup store-bought refrigerated salsa


Method:

Heat the oil in a large nonstick skillet over medium-high heat.


Add the tofu, chili powder, ½ teaspoon salt, and ¼ teaspoon pepper. Cook, tossing occasionally, until golden brown, 4 to 5 minutes.


Add the corn. Cook, tossing, until heated through, about 2 minutes.


Add the spinach and ¼ teaspoon each salt and pepper. Toss until wilted.


Fill the tortillas with the tofu mixture, goat cheese, and salsa.



Tofu and Vegetable Curry With Rice



Ingredients:

1 cup long-grain white rice
2 tablespoons canola oil
1 14-ounce package extra-firm tofu, drained and cut into 3/4-inch cubes
4 carrots, cut into 3/4-inch pieces
1 onion, thinly sliced
1 tablespoon grated fresh ginger
2 tablespoons Thai red curry paste
2 cups low-sodium vegetable broth
1 cup coconut milk
2 cups frozen okra
1/2 cup torn fresh basil leaves
Powered by Chicory

Method:

Cook the rice according to the package directions.


Meanwhile, heat 1 tablespoon of the oil in a large nonstick skillet over medium-high heat. Add the tofu and cook, tossing occasionally, until golden, 4 to 5 minutes; transfer to a plate.


Heat the remaining tablespoon of oil in the skillet. Add the carrots, onion, and ginger and cook, stirring occasionally, until the vegetables begin to soften, 3 to 5 minutes. Mix in the curry paste.


Add the broth and coconut milk to the skillet and bring to a simmer. Add the tofu and okra and cook, stirring occasionally, until the vegetables are tender, 6 to 8 minutes. Sprinkle with the basil and serve with the rice.


Conclusion


Above is a list of health benefits for the vegetarian lifestyle.
Some of the benefits listed were not supported by clinical studies, others were. One benefit in particular was supported by a 1985 study and it needs more updated studies to be conducted to prove it is a valid health benefit.
Look over the recipes as well...