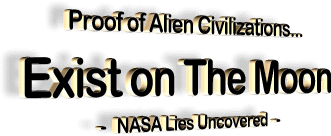 by SECRETSPACETHEATRE
June 24, 2010
from YouTube Website
All Images Presented In This Film Are From The Apollo Space Missions And Can Be Found In The NASA Archives.
The original Apollo Mission Moon Images Shot By The Astronauts Appear Black & White And Show No Detail.
This Is How NASA Have Presented These Images To The General Public For The Past 40 Years.
I have managed to circle 99% of anomalies that I have found within these Images.
However, looking at the video over and over again I have since spotted many more anomalies that I have missed, so I hope you manage to spot them. All I can say is, these anomalies found in these images are either Alien Civilizations or our own people.
If they are our own, then how the hell did they build all these massive structures since the 1940's??