from VoltaireNet Website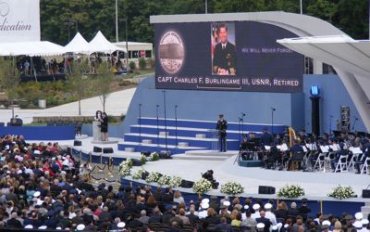 According to the Kean-Hamilton Commission report, on September 11, 2001 flight AA77 was allegedly high-jacked and deliberately crashed into the Pentagon.

The report states that the hijacking took place between 08:51 (time of last radio contact) and 08:45 (time of deviation from normal flight path); the flight disappeared from radar screens at 08:56 when the transponders were disabled. It wasn't until 09:32 that the Civil Aviation Authority detected a plane approaching Washington, which it inferred to be flight AA77.

The report also states that two passengers, flight attendant Renée May and television commentator Barbara Olson, made phone calls to close relatives indicating that the flight was being hijacked by six individuals (rather than five) wielding box-cutters.
According to United States Solicitor General Ted Olson, his wife told him that the passengers and the crew had been herded together to the back of the plane, and asked him,
"what do I tell the pilot to do?"
However, these assertions have already been invalidated by an FBI investigation presented at the 2006 Massaoui trial.
The FBI established that in 2001 it was materially impossible to make a cell phone connection at that flying altitude and, what is more, that the telephone companies had no record of any telephone activity for either of these clients.

Declassified data obtained by Pilots for 9/11 Truth from the National Transportation Safety Board (NTSB), and more recently also processed and endorsed by independent sources in Australia, reveals the existence of a "CI" data parameter labeled "Flight Deck Door". According to the "CI" recording, the cockpit door remained locked throughout the flight, rendering any movements in our out of the cockpit impossible.

In those circumstances, only flight commander Charles F. Burlingame and his co-pilot David Charlebois could have been inside the cockpit when the flight deviated from course.

Former U.S. Navy F-4 Phantom jet pilot, Charles F. Burlingame also served as Pentagon spokesman during Operation Desert Storm. He was in charge of an attack simulation exercise, helping to craft response plans in the event of a commercial airliner hitting the Pentagon. By virtue of an ad hoc law, his presumed remains were buried at the prestigious Arlington National Military Cemetery, notwithstanding his civilian status at the time of death.

His sister Debra Burlingame co-chairs with Liz Cheney (former Vice-President Cheney's daughter) the Keep America Safe association.
---



El Vuelo AA77 No Pudo Haber Sido Secuestrado
11 Septiembre 2001
3 Diciembre 2009
Desde Washington DC (EE.UU.)
del Sitio Web VoltaireNet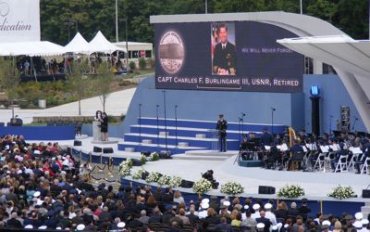 Según el informe de la Comisión presidencial Kean-Hamilton, el vuelo AA77 fue secuestrado el 11 de septiembre de 2001 por un grupo de personas que lo estrellaron contra el Pentágono.

El informe precisa que el secuestro del vuelo AA77 se produjo entre las 8h51 (hora de su último contacto por radio) y las 8h54 (hora en que el avión cambió de rumbo) y que, al apagarse el transpondedor del avión, se perdió todo rastro del vuelo a las 8h56. No fue hasta las 9h32 que la aviación civil observó un avión cerca de Washington y lo identificó, por deducción, como el vuelo AA77.

Según ese mismo informe, dos pasajeras de ese vuelo, Renée May y la periodista Barbara Olson, se comunicaron por teléfono con sus familiares y les dijeron que había 6 secuestradores a bordo del avión (no 5) y que estaban armados con cuchillas.
Según el testimonio de Ted Olson, que a la sazón era fiscal general de los Estados Unidos, su esposa - Barbara Olson - le precisó por teléfono que los secuestradores habían obligado a los pasajeros y a los miembros de la tripulación del avión a agruparse al fondo del aparato y le preguntó qué instrucciones debía ella transmitir al capitán del avión, que se encontraba a su lado.

La investigación del FBI invalidó posteriormente los testimonios de los pasajeros ya que, durante el juicio contra Moussaoui, quedó demostrado que en aquel entonces era materialmente imposible comunicarse por teléfono con un avión en vuelo a la altitud a la que se encontraba el vuelo AA77, además de que no existía el menor rastro de aquellas llamadas en los registros de las compañías telefónicas.

Un nuevo elemento acaba de aparecer ahora.
Documentos del National Transportation Safety Board (NTSB) que acaban de ser desclasificados a pedido de la asociación «Pilots for 9/11 Truth» señalan que en el vuelo AA77 se registró el parámetro «CI», correspondiente al «Flight Deck Door». Ese parámetro demuestra que la puerta de la cabina de pilotaje del vuelo AA77 permaneció cerrada, haciendo por lo tanto imposible que alguien penetrara en la cabina de pilotaje y sacara de ella al piloto.

O sea, el comandante Charles F. Burlingame y el copiloto David Charlebois eran las únicas personas que se encontraban en la cabina de pilotaje del vuelo AA77 cuando el avión cambió de rumbo.

El comandante Charles F. Burlingame había sido piloto de combate en la Marina de Guerra de los Estados Unidos y fue vocero del Pentágono durante la operación Tormenta del Desierto.
También había dirigido un ejercicio que consistía en la realización de un simulacro de catástrofe provocada por… el choque de un avión de pasajeros contra el Pentágono. En virtud de una ley ad hoc, los supuestos restos mortales del comandante Burlingame fueron inhumados en el prestigioso cementerio militar de Arlignton, aunque se considera que murió como civil.

Su hermana, Debra Burlingame, es co-presidenta de la asociación Keep America Safe, junto Liz Cheney (hija del ex vicepresidente de los Estados Unidos Dick Cheney).