by Suzan Fraser and Amer Cohadzic
June 22, 2013
from HuffingtonPost Website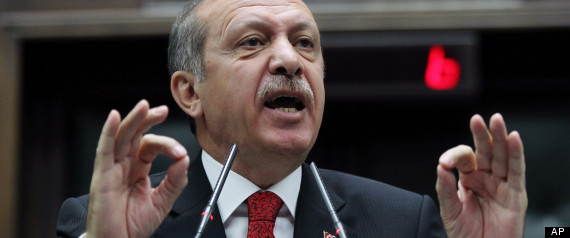 Turkey's Prime Minister Recep Tayyip Erdogan
addresses his lawmakers at the parliament
in Ankara, Turkey, Tuesday, June 18, 2013.
(AP Photo)

ISTANBUL
Turkish police used water cannon to disperse thousands gathered in Istanbul's Taksim Square on Saturday to observe a memorial for four people killed during recent anti-government protests.
The officers later fired tear gas and rubber bullets, and in some cases beat people with batons, to scatter demonstrators who regrouped in side streets.

The police move came as Turkish Prime Minister Recep Tayyip Erdogan declared that foreign-led conspirators he alleges are behind the anti-government movement in his country also are fomenting the recent unrest in Brazil.

The protests in Turkey erupted three weeks ago after riot police brutally cracked down on peaceful environmental activists who opposed plans to develop Gezi Park, which lies next to Taksim. The demonstrations soon turned into expressions of discontent with what critics say is Erdogan's increasingly authoritarian and meddlesome ways.

Erdogan, who took power a decade ago, denies he is authoritarian and, as evidence of his popularity, points to elections in 2011 that returned his party to power with 50 percent of the vote and gave him a third term in office.

On Saturday, demonstrators converged in Taksim, where they laid down carnations in remembrance of at least three protesters and a police officer killed in the rallies. For about two hours, protesters shouted anti-government slogans and demanded that Erdogan resign before police warned them to leave the square.

Some demonstrators tried to give carnations to the security forces watching over the square, shouting:
"Police, don't betray your people."
But after their warnings to disperse were ignored, police pushed back protesters with water cannon, even chasing stragglers down side streets and apparently blocking entrances to the square.

An Associated Press journalist said police drove back protesters into side streets off Taksim - including the main pedestrian shopping street Istiklal - and later fired several rounds of tear gas and rubber bullets to scatter the crowds who refused to disperse. There were no immediate reports of any injuries.

Dogan news agency footage showed two police officers hitting protesters with batons and kicking them as they forced their way through Istiklal street. A few demonstrators threw rocks at a police water cannon, while other protesters tried to calm them down and prevent them from attacking police.

Police in the capital, Ankara, also sprayed tear gas and pressurized water to break up hundreds of protesters who gathered in two neighborhoods, wanting to march to the city's main square, Dogan reported.

Last week, police had used water cannon as well as tear gas and rubber bullets to clear Taksim and end an occupation of Gezi Park by activists.
But the demonstrations had largely subsided in Istanbul in recent days, with many protesters using a new, more passive approach of airing their grievances: standing motionless.

Erdogan has faced fierce international criticism for his government's crackdown on the protests, but he has defended his administration's actions as well as the tough police tactics. He also has blamed the protests on unspecified foreign forces, bankers and foreign Turkish media outlets he says want to harm Turkish interests.

Brazil, meanwhile, has been hit by mass rallies set off this month by a 10-cent hike in bus and subway fares in Sao Paulo, Rio de Janeiro and elsewhere.
The protests soon moved beyond that issue to tap into widespread frustration in the South American nation over a range of issues, including high taxes and woeful public services.

During an address to tens of thousands of his backers in the Black Sea coastal city of Samsun, the latest stop in a series of rallies he has called to shore up his political support, Erdogan declared that Brazil was the target of the same conspirators he claims are trying to destabilize Turkey.
"The same game is now being played over Brazil," Erdogan said. "The symbols are the same, the posters are the same, Twitter, Facebook are the same, the international media is the same. They (the protests) are being led from the same center.

"They are doing their best to achieve in Brazil what they could not achieve in Turkey. It's the same game, the same trap, the same aim."