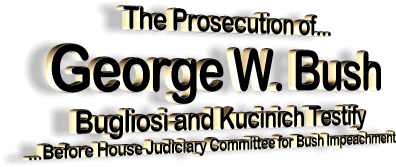 by CommentSense
July 25, 2008
from YourTube Website
Inquiry Hearing on Articles of Impeachment

Former L.A. County Prosecutor, Vincent Bugliosi and author of "The Prosecution of George W. Bush For Murder", which details prosecutable evidence of murder by George Bush and Dick Cheney and others.

George W Bush knew and purposely lied to America and mislead The Congress about "Saddam Hussein NOT being an IMMINENT threat to the United States by deleting that critical sentence in a declassified report (The White Papers) by his own Intelligence Advisors in order to start the War with Iraq.

And the SAME PATTERN IS BEING PLAYED NOW regarding IRAN.
This "President" NEEDS TO BE HELD ACCOUNTABLE!

In his book, Bugliosi says he has irrefutable proof to convict both George W Bush and Dick Cheney for 1st Degree Murder, a crime for which there is NO Statute of Limitations. Bugliosi is best known for his successful 1970 prosecution of Charles Manson.

Main Stream Media is not covering this Historic Event, brought by the moving papers of Articles of Impeachment, authored by Congressman Dennis Kucinich, (D) Ohio and former presidential candidate.

CSPAN 1 is the only network covering this Hearing gavel to gavel.

See the entire hearings at CSPAN: http://cspan.org/
"Bush Guilty of 1st Degree Murder"
Vincent Bugliosi is heard by
Congressman John Conyers, Chairman House Judiciary Committee
Kucinich Testifies Before HJC for Bush Impeachment