by Jason Easley
December 09, 2014
from PoliticusUSA Website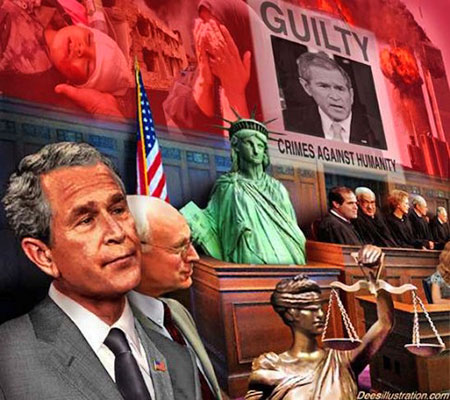 A top international official is calling for the criminal prosecution of top members of the Bush administration for torture and other war crimes.

United Nations Special Rapporteur on counter terrorism and human rights, Ben Emmerson called for prosecutions of former Bush administration officials at the highest levels,

It is now time to take action. The individuals responsible for the criminal conspiracy revealed in today's report must be brought to justice, and must face criminal penalties commensurate with the gravity of their crimes.

The fact that the policies revealed in this report were authorized at a high level within the US Government provides no excuse whatsoever. Indeed, it reinforces the need for criminal accountability.

International law prohibits the granting of immunities to public officials who have engaged in acts of torture. This applies not only to the actual perpetrators but also to those senior officials within the US Government who devised, planned and authorized these crimes.

As a matter of international law, the US is legally obliged to bring those responsible to justice.
The UN Convention Against Torture and the UN Convention on Enforced Disappearances require States to prosecute acts of torture and enforced disappearance where there is sufficient evidence to provide a reasonable prospect of conviction. States are not free to maintain or permit impunity for these grave crimes.

It is no defence for a public official to claim that they were acting on superior orders. CIA officers who physically committed acts of torture therefore bear individual criminal responsibility for their conduct, and cannot hide behind the authorization they were given by their superiors.

However, the heaviest penalties should be reserved for those most seriously implicated in the planning and purported authorization of these crimes. Former Bush Administration officials who have admitted their involvement in the program should also face criminal prosecution for their acts.

The prosecutions would involve the highest levels of the Bush administration.
Former CIA directors, Dick Cheney, and maybe even former President Bush. The CIA may have misled the Bush administration about the severity of the tactics, but it was the Bush administration that set up a torture program that was a clear violation of international law.

The odds of the Bush administration officials being turned over for prosecution are zero, but those who have referred to the Bush administration as war criminals have new justifications for their claims.

They also have the agreement of the international community that what George W. Bush and Dick Cheney engaged in was criminal, and officials in their administration deserve to be prosecuted.