by DS Wright
September 23, 2013
from FireDogLake Website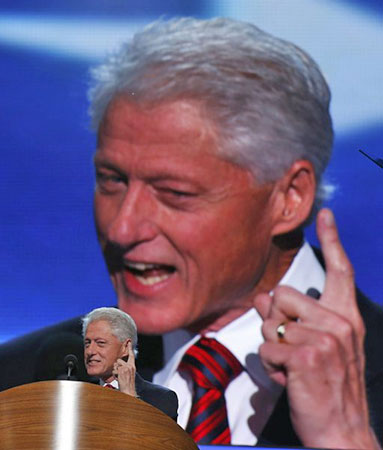 An in-depth piece on longtime President Clinton aide Doug Band has exposed the Clinton Global Initiative as a den of favor trading between Clinton family members and corporate executives.
The article published by the New Republic titled Scandal at Clinton Inc. - How Doug Band drove a wedge through a political dynasty, details at length how Teneo Founder Doug Band worked his way into President Clinton's orbit then built a lucrative network of clients for his company based off of leveraging Clinton's name.
But within the lengthy piece is another interesting story - how the Clinton Global Initiative functions as a place to make deals, trade favors, and have politicians help Big Business assist with PR problems.
Why not create an annual event that harnessed the desire of wealthy celebrities to get close to Clinton to advance the aims of his foundation? Thus, in 2005, the Clinton Global Initiative (CGI) was born.

CGI is not a traditional charity - unlike Clinton's foundation, it does not dispense money of its own. Instead, it is a series of collaborations with corporations or individuals to solve global problems, anchored by an annual conference that costs $20,000 to attend.

In the past eight years, CGI has secured pledges worth $74 billion. (By comparison, the Gates Foundation has given away $28 billion since its inception in 1994.)

As conceived by Band, CGI was the perfect vehicle for Clinton. It allowed him to train his intellect on wonky dilemmas - improving China's power grid, bolstering Mali's market for locally produced rice.

And it placed him at the center of a matrix of the ultra-wealthy and the ultra-powerful, the kinds of people Clinton has always taken a special pleasure in surrounding himself with.
Everyone knows a good deal of philanthropy is a vanity exercise. So big deal, a bunch of rich and powerful people get together to glad-hand under the guise of charity.
What's nefarious about that?
For corporations, attaching Clinton's brand to their social investments offered a major p.r. boost. As further incentive, they could hope for a kind word from Clinton the next time they landed in a sticky spot.

"Coca-Cola or Dow or whoever would come to the president," explains a former White House colleague of Band's, "and say, 'We need your help on this.' "

Negotiating these relationships, and the trade-offs they required, could involve some gray areas. But for that, Clinton had Band. As for Band, he was right where he'd always wanted to be. He solicited pledges from wealthy donors and doled out access to Clinton.

He determined who got to be on stage with him and for how long, who got into the photo line, who rode on the plane.

"If you look at CGI, it was an idea, and now it's a huge business," says the Clinton friend. "[Band] started realizing he had all this talent on the business side."

More than that, Band came to see entrepreneurial opportunities embedded within CGI itself.

"When they were raising money for the foundation, Doug was the one who kept the tabs and the lists and cut the deals," says the former White House colleague.

"And Doug is very transactional."
OK, it got creepy.
This is is supposed to be for charity - I imagine some tax write offs were taken - and it's really a PR covenant?
A company gives money to this Band fellow and if they get in a "sticky spot" suddenly fmr. President Clinton is there to offer credibility to the company's given PR strategy. Gross.
Bill Clinton has already gotten in some trouble for favor trading with presidential pardons now it seems he is back to his old tricks of selling access for money.
A problem that's potential for embarrassment will only worsen if his wife Hillary Clinton gets into the White House.