by Marco Torres
March 16, 2012
from PreventDisease Website
Empowerment refers to increasing the spiritual, political, social, educational, gender or economic strength of individuals and communities.

What has ultimately enabled you to think for yourself in life?
Above parenting, many say that both age and experience have allowed them to evolve and move past the restrictive classic conditioning that educational systems impose upon students.
This not only derails children from reaching their full potential, but it scars critical thought processing tied to social and emotional intelligence.
Only through deprogramming future generations from the classical educational model, will children be empowered by building behavioral, social and emotional skills at levels which will contribute to their success in all areas of life.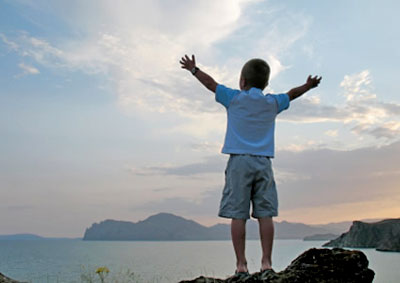 IQ only accounts for about 20% of a persons success.
By far the majority of a person's success is attributable to social, emotional intelligence and the ability to foster hope. Trumping general intelligence, previous academic achievement and personality, hope "uniquely predicts objective academic achievement," showed a three-year longitudinal study out of the University of Manchester.

Education is not just the means of making you a degree holder; it is the gateway to the art of living. Education enables you to think, to discover the principles of life, and to correctly evaluate your experiences. Education gives you the ability to know the difference between the achievable and the unachievable. If you are an educated person in this sense, you will certainly discover the value of the habit of forgetting and that the past is irrelevant.

A recent study of 20 elementary schools in Hawaii has found that a focused program to build social, emotional and character skills resulted in significantly improved overall quality of education, as evaluated by teachers, parents and students.

Education is something that has a formative effect on the mind allowing you to grow and develop. We must learn to not dwell on the negative experiences many of us acquire from our conventional educational system and surpass these events to make room for true unconditional growth. This is education.

Last fall, a brilliant comment from an elementary school student hit home just as facilitators were gathering opinions and impressions about education.
Commenting on what she thought about education and how it could be modified to teach children better, 11 year-old Julia Williams from a Grade 6 class said:
"I don't like school because they take everything I'm good at and tell me I can't do it anymore. I just want to once be able to do the things I'm good at like drawing and writing stories. I want to do it all day because I can think better than when I do stuff like math.

Shouldn't I be able to really like or even love what I do when I come here. They should help kids do what they know how to do best and I think the rest...I mean all the other subjects will just work out, and if they don't, well... then they're just not that important."


Deprogramming and Deschooling Children

For future generations to learn what society has become, why we have the problems we do in the world, and why adults never progress beyond many of their mistakes, it will be necessary to move out of the current educational paradigm and into a new one.
This will involve a systematic deprogramming and deschooling of all children in developed nations.

In a sense children are psychologically conditioned to fail and lose hope. Fear of failure breeds inaction and hopelessness. It's a vicious cycle. When children lack hope, they will fear failure. When they fear failure, they will never act.
They then take this formula with them and apply it in all instances of their lives. The result is that they never develop a positive mindset to hope for the best and that determines their reality.
Only the strongest children who are empowered by their parents can break free from this slave mindset so prevalent in educational institutions.
Deschooling takes children out of schools, but, unlike a lot of home-school approaches, it doesn't import the classroom into the home. It does away altogether with educational clutter such as curricula and grades.


Deschoolers maintain that a child's learning should be curiosity-driven rather than dictated by teachers and textbooks, and that forcing kids to adhere to curricula quashes their natural inclination to explore and ask questions.


Deschooled children can organize their knowledge in free and better ways.
They never need to feel they are through learning, or past the point that they can begin something new.
Each thing they discover can be useful eventually. If we help provide them with ever-changing opportunities to see, hear, smell, taste, feel, move and discuss, what they know will exceed in breadth and depth what any school's curriculum would have covered.
It won't be the same set of materials - it will be clearer and larger but different.


A Liberation Movement For The Love of Learning

The foundational tome of the unschooler is How Children Fail, the first book by an American teacher named John Holt published in 1964.
The writer suggested that smart children struggle,
"because they are afraid, bored, and confused. They are afraid, above all else, of failing, of disappointing or displeasing the many anxious adults around them, whose limitless hopes and expectations for them hang over their heads like a cloud."
Mr. Holt supports his thesis with observations from a sort of classroom diary he kept throughout the 1950s and 60s.
He concludes that,
"a child who is learning naturally, following his curiosity where it leads him, adding to his mental model of reality whatever he needs and can find a place for, and rejecting without fear or guilt what he does not need, is growing in knowledge, in the love of learning, and in the ability to learn."
The idea puts a lot of faith in children, their innate interest in learning and in their intelligence. It also restores faith in parents, returning some control over their children's growth that they handed to educators and politicians more than a century ago.

It is time to shift educational policy and put the power back into the hands that need it most, our children.