from RT Website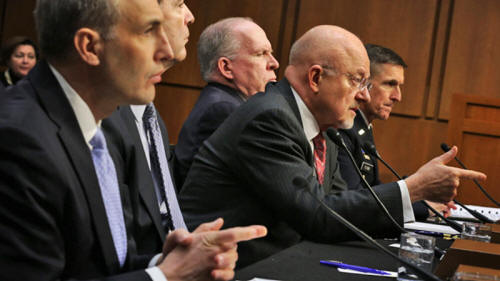 (L-R) National Counterterrorism Center Director Matthew Olsen,
FBI Director James Comey,
Director of National Intelligence James Clapper,
CIA Director John Brennan,
Defense Intelligence Agency Director Lt. Gen. Michael Flynn
testify during a hearing before Senate (Select) Intelligence Committee
January 29, 2014
(Alex Wong / Getty Images / AFP)
Revelations made possible through documents leaked by former contractor Edward Snowden could cause the deaths of United States diplomats, citizens and soldiers, government officials said Wednesday, and remaining files should be surrendered immediately.
US Director of National Intelligence James Clapper implored Mr. Snowden during a Senate Intelligence Committee hearing in Washington, DC early Wednesday to hand over what remains of a trove of top-secret documents allegedly still in his possession after fleeing the country last year with a cache of classified material.
Officials have claimed the total number of stolen documents could exceed 1.7 million.
Speaking before the committee, DNI Clapper and his colleagues testified that the documents that have already been released to the media by Snowden during the last seven months have caused a significant blow to national security because they exposed an array of sensitive intelligence gathering tactics that have been jeopardized as a result.
Snowden, 30, admitted in June to taking an undisclosed number of documents that in the last half-year have been regularly relied on by the international media for a number of high-profile reports about the US National Security Agency and its British counterpart, the GCHQ.
NSA files pilfered from the computer system Snowden had access to as a government contractor and released during the last several months have unveiled a number of previously unreported NSA operations, including those involving dragnet surveillance programs that put the digital lives of millions, if not billions, of individuals across the world into the possession of the US government.
US President Barack Obama has already announced plans to 'reform' some of those programs as a result of the debate that has dominated headlines since mid-2012 when the NSA stories based off of Snowden's leaks started.
"For me, in terms of personal satisfaction, the mission's already accomplished," Snowden told the Washington Post from Moscow last month. "I already won.

As soon as the journalists were able to work, everything that I had been trying to do was validated. Because, remember, I didn't want to change society. I wanted to give society a chance to determine if it should change itself."
At Wednesday's hearing, however, Clapper and other members of the US intelligence community reiterated earlier claims that the disclosing of those documents has had an immense effect on critical counterterrorism operations.
"As a consequence" of Snowden's actions, Clapper said, "the nation is less safe and its people less secure" because of what he called "the most massive and damaging threat of intelligence information in our history."