by Alan MacLeod
December 11, 2019
from MintPressNews Website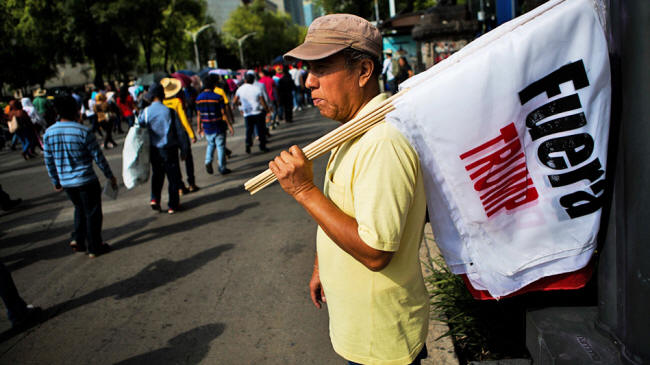 This is not the first time that a US-based outfit
has concluded that the US government
is a menace to other countries.
A 2014 survey of world public opinion
found that the United States was overwhelmingly
considered the greatest threat to world peace...
A poll published last week by the Pew Research Center shows that 56 percent of Mexicans view the United States as,
the greatest threat to their country...
Russia and China came an extremely distant second and third, with six and five percent respectively.
Thus, of the 195 states recognized by the United Nations,
most Mexicans identified just one as a real danger.

Other countries surveyed, including Turkey, Argentina and Brazil, also overwhelmingly identified the United States as their country's greatest threat.
The study also showed that there has been a serious reduction in those who identify the U.S. as a 'dependable ally.'
In 2007, 63 percent of Kenyans saw the United States as a dependable ally, today that number has dropped to 35 percent.
There have also been sizeable reductions in,
On the other hand, Israelis, Filipinos and South Koreans continue to view the U.S. favorably.
This is not the first time that an American-based outfit has concluded that the U.S. government is a menace to other countries.
A 2014 WIN/Gallup survey of world public opinion found that the United States was overwhelmingly considered the greatest threat to world peace, something the study makers appeared to have difficulty comprehending.
24 percent of respondents identified the U.S. as the top threat. Pakistan came in a distant second, with eight percent, a result likely buoyed by the extremely large Indian vote count.
Even in closely allied countries such as Germany and Ireland, fear of the U.S. was highest.
Last week MintPress News reported that the Trump administration was seeking to designate Mexican cartels as terrorists, with President Trump revealing that he had asked the Mexican government to allow him to send American troops into their country.
Mexico's left-of-center president Andres Manuel Lopez Obrador, who is commonly referred to as AMLO, declined, noting that they had not been invaded in a century and he was not going to allow an American military occupation on his watch.
AMLO has also provided resistance against Trump's increased aggression in Latin America, condemning the U.S.-backed coup in Bolivia and offering refuge to ousted president Evo Morales.
The Trump administration has made no secret of its plans to overthrow every leftist Latin American government, labeling,
Nicaragua

Venezuela

Cuba,
...as belonging to a "troika of tyranny" and putting them next on the list.
The Washington Post, the newspaper of the D.C. establishment, began tacitly calling for regime change, presenting AMLO as an authoritarian and claiming he is "consolidating power" and "threatening some of Mexico's hard-won democratic gains."
Yet the president is overwhelmingly admired inside his country, meaning any attempt to unseat him would be highly unpopular.
AMLO himself is well aware of his potential assassination or overthrow, openly discussing it on Twitter.
President Trump has made distrust and resentment of Mexicans a central part of his platform.
He was elected on a promise to build a wall to keep Mexican rapists out of the country - and promised to make Mexico pay for it. Work on that wall began in 2017 at U.S. taxpayers' expense, in a national wildlife refuge.
On America's southern neighbor Trump said,
"They are not our friend, believe me… they're bringing drugs. They're bringing crime. They're rapists. And some, I assume, are good people."
The president has also ramped up Immigration and Customs Enforcement's (ICE) crackdown on immigrants, many of them from Mexico, leading to a situation where many Mexican-Americans are afraid to leave their homes or speak out. His government's treatment of Latino immigrants, especially children, sparked worldwide outrage.
Between 2017 and 2018, the number of children in U.S. government detention centers rose from 2,400 to 12,800, despite the fact that border crossings had been declining for years.
It is in this context that the Pew poll's findings should be understood.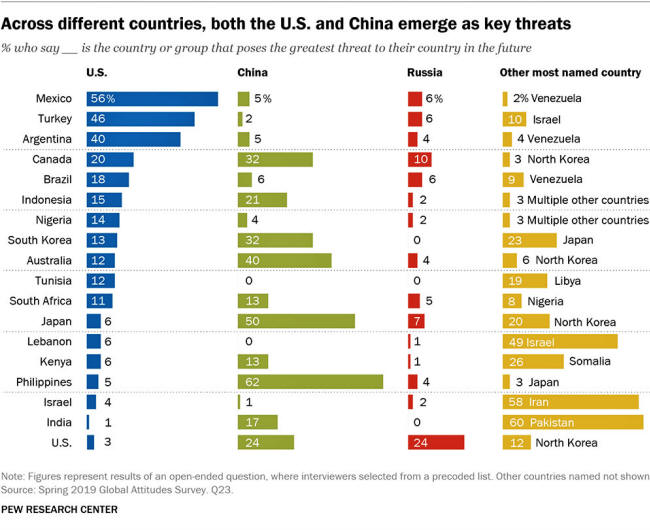 Source | PEW
Despite occasional anti-war statements from the president, the Trump administration has also ramped up aggressive behavior across the world,
The effect of these policies has not been to make the people of the United States safer, but to increase resentment and hostility towards it from the population of the world.
According to a 2018 study from the same Pew Research Center, Trump's international approval rating is just 27 percent, the lowest of any major leader studied, including Russia's Vladimir Putin and China's Xi Jinping.
While he may be able to brush off internal polls as fake news, it may be more difficult to convince the rest of the world that he is "the greatest president 'God' ever created," as he calls himself.
There's no hiding the U.S. war machine in other countries.