by Frida Ghitis
March 07, 2019
from WorldPoliticsReview Website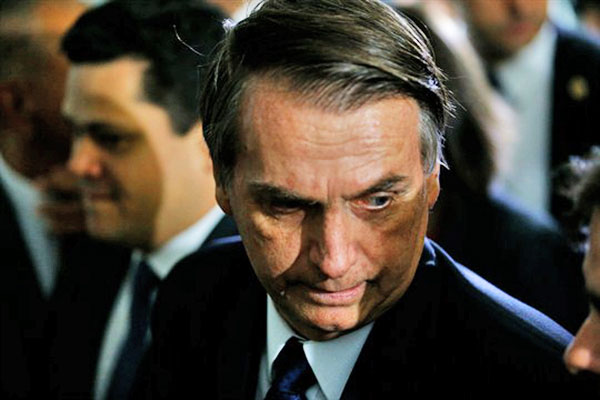 Brazilian President Jair Bolsonaro
arrives at the National Congress in Brasilia,
Brazil, Feb. 20, 2019
(Photo by Dida Sampaio
for Agencia Estado via AP Images).



When Rio de Janeiro's legendary Carnival kicked off last Friday, there was a mood of unease among the flamboyant revelers.
It was plainly visible behind the laughter and the music, in many of the costumes and chants targeting President Jair Bolsonaro and his administration, which is less than three months old.
But while the crowds were expressing concerns about the new far-right government, their message was also a sign of how much Bolsonaro has stumbled out of the gate.

Amid rumors, denied by the Brazilian government, that the military was planning to censor anti-Bolsonaro demonstrations and crack down on a gay parade, Carnival participants chanted rebukes to anti-gay statements made by Bolsonaro's human rights minister.
They dressed in costumes with political symbols aimed at highlighting the early appearance of alleged corruption in Bolsonaro's inner circle.
Brazil's hard-line president, who won last year's election by vowing to uproot corruption, revive the economy and dispense with politically correct policies, is already facing charges of nepotism, and his administration is caught up in graft scandals.
Relations with Brazil's Congress are brittle, and there are troubling signs of renewed unrest in protected indigenous areas of the country.

Bolsonaro has not reached the 100-day mark, a traditional place to pause and take stock, but his administration has run into difficulties that suggest the path ahead will remain rocky.
One reason why is that a major source of this trouble is Bolsonaro's own family.

Not unlike U.S. President Donald Trump, Bolsonaro places great trust in his children, to the consternation of officials who complain that the "Bolsokids" are de facto members of his Cabinet.
But the problem goes beyond their participation in major policy decision-making, hiring and firing of top personnel, and stoking Bolsonaro's base on social media.

Even before Bolsonaro took office on Jan. 1, the first corruption scandal linked to his family emerged. Brazil's anti-money laundering agency uncovered a series of suspicious transactions in the name of the driver and former adviser of Flavio Bolsonaro, the president's eldest child, who was elected to the Senate when his father won the presidency.
In early December, it was revealed that a government financial activities investigation had its sights on the newly elected senator.
The younger Bolsonaro was suspected of using his aide, Fabricio Queiroz, as a conduit for illicit transactions. One of the payments was made to First Lady Michelle Bolsonaro.

Both Flavio Bolsonaro and Queiroz deny any wrongdoing.
At the request of the senator's lawyer, the Supreme Court initially ordered prosecutors to suspend their investigation, citing the legal protections enjoyed by legislators.
The investigation was temporarily suspended but later resumed after officials concluded the court was not entitled to stop the process.

The investigation, which is ongoing today, put a deep stain on the new president, who owes his victory in large part to Brazilians' exasperation with widespread corruption.
Making matters worse, the stench of corruption reached Bolsonaro's party within weeks of his inauguration, in a different scandal made much worse by Carlos Bolsonaro, another one of the president's sons.
It ended in the first Cabinet dismissal of his presidency.

Minority groups in Brazil fear what the new government will do. But the evidence so far suggests Bolsonaro's supporters have reasons for concern too.

Last month, Bolsonaro fired Gustavo Bebianno from his post as minister of the general secretariat of the presidency, akin to chief of staff.
Bebianno had helped run Bolsonaro's presidential campaign and had served as head of his Social Liberal Party, or PSL. The Brazilian daily, Folha de Sao Paulo, reported that Bebianno had run a scheme setting up dummy candidates in order to divert funding to companies supporting the PSL.
In the aftermath of the report, Bebianno said he had discussed the matter over the phone with the president, who was hospitalized when the scandal broke.
Bolsonaro was having a procedure after an assassination attempt during a campaign rally. Carlos Bolsonaro went on Twitter to attack Bebianno, accusing him of lying about talking to the president.
Because of this public spat, the scandal exploded into something much bigger.
A week later, and still less than 50 days into his administration, the president fired Bebianno, replacing him with yet another general in a Cabinet dominated by military men.

News reports from Brazil are filled with complaints from officials about the role of Bolsonaro's sons in the administration. But there's little prospect that their father will push them aside.

In the meantime, the government's move to open up the Amazon and other protected areas to mining and large-scale agriculture has triggered unrest.
On the campaign trail, Bolsonaro likened indigenous peoples to animals living in zoos, vowing to end restrictions on commercial activity on their protected lands. Just after his inauguration, land invasions by armed men surged; they are up 150 percent since the election, according to the Indigenous Missionary Council.
Commercial developers have already sent armed men to take over territory, firebombing a school and a health post, clashing with indigenous tribes, and prompting some tribal groups to arm themselves in preparation for more expected violence.

Relations with Congress, whose support Bolsonaro needs if he is to succeed in enacting an ambitious reform agenda, are also in trouble.
The president's party holds a minority in the legislature and has not managed to build a majority coalition in a Congress divided among 30 parties.
In a spectacular rebuke of the president, the Chamber of Deputies, the lower house of Congress, voted by an overwhelming margin to block an executive order from Bolsonaro that would have greatly expanded the government's ability to designate documents as secret and keep them out of the public sphere.
The vote was 367 to 57 against the president.

To make matters worse, Bolsonaro's first major international appearance was a flop. His debut at the World Economic Forum in Davos was widely anticipated, but the consensus is that it was uninspired and devoid of much content.

It is, of course, very early in the Bolsonaro presidency, and the administration has, to be fair, introduced some significant and necessary proposals. Bolsonaro took office amid a convergence of grave crises, including corruption, crime and economic stagnation.
Justice Minister Sergio Moro, highly respected for his role in uncovering the vast Car Wash corruption scheme, has introduced a major anti-crime bill. And Economy Minister Paulo Guedes, surrounded by a largely technocratic staff, has presented to Congress a proposal for major pension reform.
Economists agree that Brazil urgently needs to overhaul its pension system and bolster its fiscal position.

But the two pivotal bills were introduced at the same time, a move that observers say is counterproductive and the result of the inexperience of Bolsonaro's Cabinet.
Guedes is reportedly worried that the administration is ineptly handling the effort to push the proposal through Congress.

Minority groups in Brazil, including some of the people dancing in the streets of Rio during Carnival, fear what the far-right ideologues in the new government will do in the months and years to come.
But the evidence so far suggests Bolsonaro's supporters have reasons for concern too...