June 29, 2018
from TheSaker Website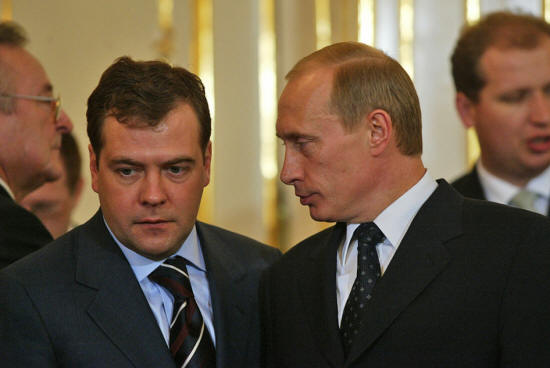 Following the re-appointment of Medvedev and his more or less reshuffled government, the public opinion in Russia and abroad was split on,
whether this was a good sign of continuity and unity amongst the Russian leadership

or whether this was a confirmation that there was a 5th column inside the Kremlin working against President Putin and trying to impose neo-liberal and pro-western policies on the Russian people...
Today I want to take a quick look at what is taking place inside Russia because I believe that the Russian foreign policy is still predominantly controlled by what I call the "Eurasian Sovereignists" and that to detect the activities of the "Atlantic Integrationist" types we need to look at what is taking place inside Russia.


The Russian 5th column and its typical operations

First, I want to begin by sharing with you a short video translated by the Saker Community of one of the most astute Russian analysts, Ruslan Ostashko, who wonders how it is that a rabidly pro-western and vociferously anti-Putin radio station named "Ekho Moskvy" manages not only to elude normal Russian legislation, but even gets money from the gaz giant Gazprom, which is majority owned by the Russian state.
Ekho Moskvy is also so pro-Israeli that it has earned the nickname "Ekho Matsy" (Ekho Moskvy means "Echo of Moscow" whereas "Ekho Matsy" means "Echo of the Matzo").
Needless to say, that radio has the unwavering and total support of the US Embassy.
It would not be an exaggeration to say Ekho Moskvy serves as an incubator for russophobic journalists and that most of the liberal pro-western reporters in the Russian media have been, at one time or another, associated with this propaganda outfit.
In spite of this or, more accurately, because of this, Ekho Moskvy has been bankrupt for quite a while already, and yet - it continues to exist.
Just listen to Ostashko's explanations (and make sure to press the 'cc' button to see the English language captions):


Interesting, no...?
The state giant Gazprom is doing all it can to keep Ekho Moskvy afloat and above the law. In fact, Gazprom has been financing Ekho Moskvy for years!
According to the hyper-politically-correct Wikipedia:
"As of 2005 Echo of Moscow was majority owned by Gazprom Media which holds 66% of its shares".
If Gazprom is majority owned by the Russian state, and Ekho Moskvy is majority owned by Gazprom, then does that not mean that Ekho Moskvy is basically financed by the Kremlin?
The reality is even worse, as Ostashko points out, Ekho Moskvy is the most visible case, but there are quite a few pro-western media outlets in Russia which are financed, directly and indirectly, by the Russian state.

So let me ask you a simple question:
do you really think that Ostashko is better informed than the Russian authorities, including Putin himself?
Of course not! So what is going on here?

Before attempting to answer this question, let's look at another interesting news item from Russia, the recent article "Pension reform as a fifth column tool to overthrow Putin" (original title "About a fair pension system") by Mikhail Khazin translated by Ollie Richardson and Angelina Siard from the Stalker Zone blog (and cross-posted here and here).
Please read the full article as it sheds a very interesting light on what the Medvedev government has been up to since it was reappointed.
What I want to quote here are Mikhail Khazin's conclusions:
In other words, all of this reform is frank poppycock, a political joke aimed at destroying relations between the People (society) and the Authorities.

The specific aim of this is to overthrow Putin, as our liberals are commanded to do by their senior partners from the "Western" global project.

And it is precisely like this that we should treat this reform.

It has no relation to economic reforms - neither good, nor bad. It not an economic reform, but a political plot! And it is from here that we have to proceed.
Having explained what is really going on, Khazin then goes on to openly state how such an operation is even possible:
Now concerning the media. It should be understood that at the end of the 90's-beginning of the 2000's practically all non-liberal media died. Completely.

And of course, practically all non-liberal journalists definitely died (only a few dozen mastodons from the times of socialism remain). And the youth that grew from the faculty of journalism are in general totally liberal.

They were a little bit suppressed in the middle of the 2000's, but after Medvedev's arrival to the president's post they again blossomed.

But then the attack of the State on everything that doesn't reflect "the policies of the party and the government" began.

And then it so happened that now there are many "patriotic" publications in Russia that employ mainly liberal journalists. An enchanting sight.

These journalists (in full accordance with the ideas of Lenin that they didn't read) see their main task as supporting "theirs" - i.e., liberal-financiers, Nemtsov, Navalny and, so on - and to sully the "bloody KayGeeBee"!

And it is this that they are involved in, meaning that, propagandizing as much as possible the policies of the government, they optimally irritate the population by using Putin personally.

There is just a need every time to act out some disgusting story (how an elderly man died on the way to the polyclinic or hospital, how children were taken away from a large family, how an official or a priest hit a pregnant woman and/or juvenile children with their chic car...), to explain that this isn't just the result of the policies of the liberal power, but the concrete fault of the President, who put on their posts the very ministers and law enforcement officers who encourage all of this.
Amazing, no...?
This is an attempt to overthrow Putin and it is covered-up by the (pseudo) patriotic press.
What about Putin himself?

Why does he not take action?
Khazin even explains that:
Of course, the President is guilty, first of all, because he understands that if he starts to cleanse this "Augean stable", then he will be obliged to shed blood, because they won't voluntarily give back their privileges.

But the most important thing, and this is the essence:

the liberal Russian elite today set for itself the political task of removing Putin.

Why it decided to do this is an interesting question:

if Putin himself and a liberal are flesh from flesh, then this task is stupid and senseless. Not to mention suicidal. But if he isn't a liberal (it is probably correct to say not a political liberal) then, of course, this activity makes sense.

But at the same time, for purely propaganda reasons - because people hate liberals - there is a need to hang the label of political liberal on him.
Now let's connect all the dots:
there is a pro-western (in realty, western-controlled) faction inside the government which is financing those who are attempting to overthrow Putin by making him unpopular with the Russian general public (which overwhelmingly opposes "liberal" economic policies and which despises the Russian liberal elites) by constantly forcing him into liberal economic policies which he clearly does not like (he declared himself categorically opposed to such policies in 2005) and the so-called "patriotic media" is covering it all up.
And Putin cannot change this without shedding blood...
But let us assume, for argument's sake, that Putin is really a liberal at heart and he believes in "Washington Consensus" type of economics.
Even if this was the case, surely he must be aware that 92% of Russians oppose this so-called "reform."
And while the President's spokesman, Dmitri Peskov, declared that Putin himself was not associated with this plan, the truth is that this process does also hurt his political image with the Russian people and political movements.
As a direct result from these plans, the Communist Party of Russia is launching a referendum against this project while the "Just Russia" Party is now collecting signatures to dismiss the entire government.
Clearly, a political struggle of monumental proportions is in the making and the traditionally rather lame internal opposition to Putin (I am talking about the major political movements and parties, not tiny CIA-supported and/or Soros-funded "NGOs") is now transforming itself into a much more determined kind of opposition.
I predicted that about a month ago when I wrote that:
"it is quite clear to me that a new type of Russian opposition is slowly forming.

Well, it always existed, really - I am talking about people who supported Putin and the Russian foreign policy and who disliked Medvedev and the Russian internal policies.

Now the voice of those who say that Putin is way too soft in his stance towards the Empire will only get stronger.

As will the voices of those who speak of a truly toxic degree of nepotism and patronage in the Kremlin (again, Mutko being the perfect example).

When such accusations came from rabid pro-western liberals, they had very little traction, but when they come from patriotic and even nationalist politicians (Nikolai Starikov for example) they start taking on a different dimension.

For example, while the court jester Zhirinovskii and his LDPR party loyally supported Medvedev, the Communist and the Just Russia parties did not.

Unless the political tension around figures like Kudrin and Medvedev is somehow resolved (maybe a timely scandal?), we might witness the growth of a real opposition movement in Russia, and not one run by the Empire.

It will be interesting to see if Putin's personal ratings will begin to go down and what he will have to do in order to react to the emergence of such a real opposition".
Those who vehemently denied that there as a real 5th column problem inside the Kremlin are going to have a painful wake-up call when they realize that thanks to the actions of these "liberals" a patriotic opposition is gradually emerging, not so much against Putin himself as against the policies of the Medvedev government.
Why not against Putin?

Because most Russian instinctively feel what is going on and understand not only the anti-Putin dynamics at work, but also how and why this situation was created.
Furthermore, unlike most westerners, most Russians remember what took place in the crucial and formative 1990s.


The historical roots of the problem (very rough summary)

It all began in the late 1980s when the Soviet elites realized that they were losing control of the situation and that something had to be done.
To really summarize what they did, I would say that these elites first broke up the country into 15 individual fiefdoms each run by gang/clan composed of these Soviet elites, then they mercilessly grabbed everything of any value, became overnight billionaires and concealed their money in the West.
Being fabulously rich in a completely ruined country gave them fantastic political power and influence to further exploit and rob the country of all its resources.
Russia herself (and the other 14 ex-Soviet republics) suffered an unspeakable nightmare comparable to a major war and by the 1990s Russia almost broke-up into many more even smaller pieces (Chechnia, Tatarstan, etc.)
By then, Russia was subserviently executing all the economic policies recommended by a myriad of US 'advisors' (hundreds of them with offices inside the offices of many key ministries and various state agencies, just like today in the Ukraine), she adopted a Constitution drafted by pro-US elements, and all the key positions in the state were occupied by what I can only call western agents.
At the very top, President Eltsin was mostly drunk while the country was run by 7 bankers, the so-called "oligarchs" (6 of which were Jews):
the "Semibankirshchina".
This is the time when the Russian security services successfully tricked these oligarchs into believing that Putin, who has a law degree and who had worked for the (very liberal) Mayor of Saint Petersburg (Anatolii Sobchack) was just a petty bureaucrat who would restore a semblance of order while not presenting any real threat to the oligarchs.
The ploy worked, but the business elites demanded that "their" guy, Medvedev, be put in charge of the government so as to preserve their interests.
What they overlooked was two things:
Putin was a truly brilliant officer of the very elite First Chief Directorate (Foreign Intelligence) of the KGB and a real patriot.
Furthermore, the Constitution, which was passed to support the Eltsin regime could now be used by Putin.
But more than anything else, they never predicted that a little guy in an ill-fitting suit would transform himself into one of the most popular leaders on the planet.
As I have written many times, while the initial power base of Putin was in the security services and the armed forces and while his legal authority stems from the Constitution, his "real" power comes from the immense support he has from the Russian people who, for the first time in very long time felt that the man at the top truly represented their interests.

Putin then did what Donald Trump could have done as soon as he entered the White House:
he cleaned house...
He began by immediately tackling the oligarchs, he put an end to the Semibankirshchina, and he stopped the massive export of money and resources out of Russia.
The then proceeded to rebuild the "vertical of power" (the Kremlin's control over the country) and began rebuilding all of Russia from the foundations (regions) up.
But while Putin was tremendously successful, he simply could not fight on all fronts at the same time and win.

Truth be told, he did eventually win most of the battles which he chose to fight, but some battles he simply could not wage, not because of a lack of courage or will on his part, but because the objective reality is that Putin inherited an extremely bad system fully controlled by some extremely dangerous foes.
Remember the words of Khazin above:
"if he starts to cleanse this 'Augean stable', then he will be obliged to shed blood, because they won't voluntarily give back their privileges".
So, in a typically Putin fashion, he made a number of deals.

For example,
those oligarchs who agreed to stop meddling in Russian politics and who would, from now on, pay taxes and generally abide by the law were not jailed or expropriated

those who got the message were allowed to continue to work as normal businessmen (Oleg Deripaska)

those who did not were either jailed or exiled (Khodorkovski, Berezovski)
But if we look just below the level of these well-known and notorious oligarchs, what we find as a much deeper "swamp" (to use the US expression):
an entire class of people who made their fortunes in the 1990s, who are now extremely influential and control most of the key positions in the economy, finance and business and who absolutely hate and fear Putin.
They even have their agents inside the armed forces and security services because their weapon of choice is, of course, corruption and influence.
And, of course, they have people representing their interests inside the Russian government: pretty much the entire "economic block" of the Medvedev government.

Is it really any surprise at all that these people also have their paid representatives inside the Russian media, including the so-called "pro-Russian" or "patriotic" media? (I have been warning about this since at least 2015)

Just like in the West, in Russia the media depends first and foremost on money.
Big financial interests are very good at using the media to promote their agenda, deny or obfuscate some topics while pushing others. This is why you often see the Russian media backing WTO/WB/IMF/etc. policies to the hilt while never criticizing Israel or, God forbid, rabidly pro-Israel propagandists on mainstream TV (guys like Vladimir Soloviev, Evgenii Satanovsky, Iakov Kedmi, Avigdor Eskin and many others).
This is the same media which will gladly criticize Iran and Hezbollah but never wonder why the Russian main TV stations are spewing pro-Israeli propaganda on a daily basis.

And, of course, they will all mantrically repeat the same chant:
"there is no 5th column in Russia!! None!! Never...!!"
This is no different than the paid for corporate media in the USA which denies the existence of a "deep state" or the US "Israel Lobby".

And yet, many (most?) people in the USA and Russia realize at an almost gut-level that they are being lied to and that, in reality, a hostile power is ruling over them.


Putin's options and possible outcomes

Sadly, in the USA, Trump proved to be a disaster who totally caved in to the Neocons and their demands.
In Russia, the situation is far more complex.
So far, Putin has very skillfully avoided associating himself with the Atlantic Integrationists. Furthermore, the biggest crises of the past decade or so were all associated with foreign policy issues and those are still controlled by the Eurasian Sovereignists.
Finally, while the Russian government clearly committed some mistakes or promoted some unpopular policies (such has healthcare reform for example), they also had their undeniable successes.
As for Putin, he continued to consolidate his power and he gradually removed some of the most notorious individuals from their positions.
In theory, Putin could probably have most top Atlantic Integrationists arrested on corruption charges, but short of engaging in a massive and bloody purge, he cannot get rid of an entire social class which is not only large but powerful.

Some of my contacts in Russia expected a purge of Atlantic Integrationists right after the election.
The logic here was "enough is enough" and that once Putin got a strong mandate from the people, he would finally kick Medvedev and his gang out of the Kremlin and replace them with popular patriots.
That obviously did not happen...
But if this pension reform program continues to further trigger protests or if a major war blows up in the Middle-East or in the Ukraine, then the pro-western forces inside the Kremlin will come under great pressure to further yield control of the country to Eurasian Sovereignists.

Putin is an exceedingly patient man and, at least so far, he has won most, if not all, of his battles.
I don't believe that anybody can predict for sure how things will play out, but what is certain is that trying to understand Russia without being aware of the internal conflicts and the interests groups fighting for power is futile.
In her 1000 year long history, internal enemies have always been far more dangerous for Russia than external ones.
This is unlikely to change in the future...