by Michael Kelley
October 9, 2012
from BusinessInsider Website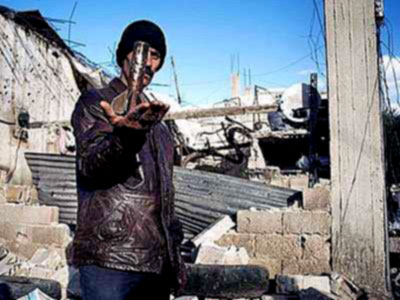 Turkey's Yurt Newspaper is reporting that the mortar used in a deadly bombing of a Turkish border town was specific to NATO and given to Syrian rebels by Turkey, according to RT.
Turkish Foreign Minister Ahmet Davutoglu told state-run television on Oct. 6 that the five civilian deaths in a Turkish border town on Oct. 3 were caused by a D30 type, 122mm artillery shell, which is used by the Syrian army.
But Yurt's Editor-in-Chief, Merdan Yanardag, cited "information from a reliable source" who claimed that the mortar was given to Turkey by NATO and subsequently passed along to rebels fighting to topple Bashar al-Assad's regime.
The incident has led to seven consecutive days of mortar exchanges between the former allies.
Abayomi Azikiwe, editor of the Pan-African news wire, told RT that given Turkey's longtime relationship with NATO, it would be,
"unsurprising that this has happened."

"Ankara isn't taking any military actions or contemplating any type of military strategy without being in full cooperation with NATO forces," Abayomi Azikiwe, editor of the Pan-African news wire, told RT.
On Tuesday NATO Secretary-General Anders Fogh Rasmussen said that NATO has,
"all necessary plans in place to protect and defend Turkey if necessary," according to AP.
Also on Tuesday Turkey's Dogan news agency reported that at least 25 additional F-16 fighter jets were deployed to its southeast border late Monday.
On Sunday RT speculated (below video) that since the borders are under rebel control, Wednesday's shelling could be a deliberate effort to legitimize military intervention.
NATO Plans to 'Defend' Turkey
by Suzan Fraser
Associated Press
ANKARA, Turkey
October 9, 2012
from ABCNews Website
Barbara Surk and Zeina Karam in Beirut and Frank Jordans in Istanbul contributed to this report.

Turkey Vows More Force
Against Syrian Shelling
Turkey's military chief vowed Wednesday to respond with more force to any further shelling from Syria, keeping up the pressure on its southern neighbor a day after NATO said it stood ready to defend Turkey.

Gen. Necdet Ozel was inspecting troops who have been put on alert along the 910-kilometer (566-mile) border with Syria after a week of cross-border artillery and mortar exchanges escalated tensions between the neighbors, sparking fears of a wider regional conflict.
Turkey has reinforced the border with artillery guns and also deployed more fighter jets to an air base close to the border region since shelling from Syria killed five Turkish civilians last week.
"We responded and if (the shelling) continues, we will respond with more force," the private Dogan news agency quoted Ozel as saying during a visit to the town of Akcakale.
He offered condolences to a man who lost his wife and three daughters to a Syrian shell.

Schools in Akcakale reopened Wednesday despite the tense situation. They had been closed due to security concerns.

On Tuesday, NATO chief Anders Fogh Rasmussen said the alliance was ready to defend Turkey, its strongest show of support to its ally since the firing began.

The solidarity is largely symbolic. NATO member Turkey has sought backing in case it is attacked, but despite publicly supporting Syria's rebels, Ankara isn't seeking direct intervention. And the alliance is thought to be reluctant to get involved militarily at a time when its main priority is the war in Afghanistan.

U.S. Defense Secretary Leon Panetta said Wednesday that Washington has sent military troops to the Jordan-Syria border to help build a headquarters in Jordan and bolster that country's military capabilities in the event that violence escalates along its border with Syria.

The revelation raises the possibility of an escalation in the U.S. military involvement in the conflict, even as Washington pushes back on any suggestion of a direct intervention in Syria.

Syrian activists, meanwhile, said the rebel units of the Free Syrian Army took control of Maaret al-Numan, a strategic city along the main highway in Idlib province that connects the central city of Homs with northern city of Aleppo and the capital Damascus.

Rami Abdul-Rahman of the Britain-based Syrian Observatory for Human Rights said the rebels took control of the city late Tuesday. He said the rebels control the western entry into the city while the military is massing troops along the eastern outskirts for a possible counter offensive.

Fadi Yassin, an activist in Maarat al-Numan, told The Associated Press on Skype that rebels are in control of the town, although fierce fighting continued around the military barracks in the eastern part on Wednesday, three days after the FSA launched a "liberation battle," he added.
"The city has been liberated," Yassin said of Maarat al-Numan in Idlib province. "All liberation battles start with small cities and then moves on to the major cities."
Holding on to Maaret al-Numan would be a significant achievement for the rebels, enabling them to cut the army's main supply route to two battered cities of Aleppo and Homs, both of which came under bombardment from the regime's helicopters and artillery on Wednesday, according to activists.

Turkey's state-run Anadolu Agency reported fighting between Syrian rebels and forces loyal to Syrian President Bashar Assad's regime around the Syrian town of Azmarin, in Idlib province, across from the Turkish border. It said Syrians were fleeing homes in the Azmarin region, some crossing into Turkey on rowing boats over the river Orontes, that runs along the border.

Footage from Anadolu showed three young children scrambling down a river bank on the Syrian side before being taken across to Turkey on a makeshift raft strapped to an inner tube. The children said they were fleeing fighting in Azmarin.

Private NTV television reported that explosions and automatic weapon fire could be heard in Turkey's Hatay province, coming from Azmarin. It said rebels were clashing with some 500 Syrian government soldiers, and that at least 100 rebels had been injured, some of whom had been brought to Turkey for treatment.

Some 99,000 Syrians, mostly women and children, have sought refuge in Turkey since the start of the conflict.

Also on Wednesday, state-run news agency SANA said President Bashar Assad appointed Sattam Jadaan al-Dandah as Syria's new ambassador to Iraq.
The report did not say when al-Dandah will travel to Baghdad.
His predecessor, Nawaf Fares, defected in July to become the most senior diplomat to abandon Assad's regime during a bloody 18-month uprising that has gradually become a bloody civil war.

Turkish Prime Minister Recep Tayyip Erdogan, who has been fiercely critical of Assad, said Wednesday that Syria was,
"the bleeding heart of humanity and the whole Islamic world."
Erdogan told a meeting of the Islamic Conference in Istanbul that Turkey had refrained from responding to half a dozen shells from Syria, but when five people were killed last week,
"we had to retaliate in the strongest way that we could."