March 02, 2012
from DailyMail Website
- Free Collusion add-on shows which companies watch as you browse
- 'Real time' illustration of marketing companies snooping
- Unveiled as Google shifts privacy policy to enable more advertising
- Mozilla aims to share data with privacy campaigners

Mozilla, the maker of Firefox, has unveiled a new add-on for the popular web browser that gives web users an instant view of which companies are 'watching' them as they browse.

The move comes the same week that Google pushed ahead with its controversial new privacy policy, built to provide even more data for Google's $28 billion advertising business - despite concerns that the massive harvesting of private data might be illegal in many countries.

The Collusion add-on will allow users to 'pull back the curtain' on web advertising firms and other third parties that track people's online movements, says Mozilla CEO Gary Kovacs.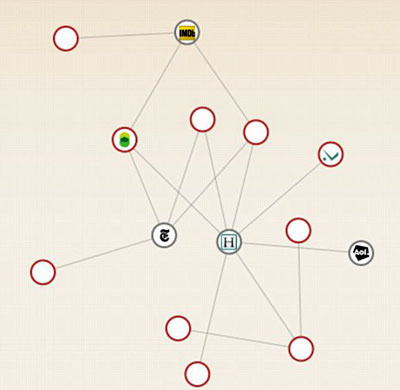 Watching the watchers
A demonstration of Collusion's 'real time' view of advertisers watching
as web users browse popular sites such as IMDB (one of the grey dots)
their movements are tracked by unwanted third party advertisers (the red dots)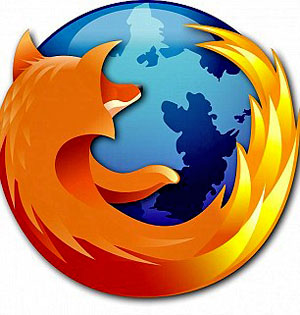 Firefox is the world's second most popular web browser
after Internet Explorer - a position under threat from Google's Chrome
Google's business is built on advertising - the company earned $28 billion from its AdWords service in 2010.

Google's new privacy policy allows it to 'streamline' data from Android phones, YouTube, Gmail and web browsing to target its adverts even more precisely towards individual web users.

Mozilla's Firefox is the world's second most popular web browser, a position under threat from Google's own Chrome browser.

The Collusion add-on is an official Mozilla product, and was unveiled at the Technology, Entertainment and Design conference this week by Mozilla CEO Gary Kovacs.

It creates a 'web' showing web users exactly which advertising firms are watching as they browse.
'Collusion is an experimental add-on for Firefox and allows you to see all the third parties that are tracking your movements across the Web,' Mozilla said. 'It will show, in real time, how that data creates a spider-web of interaction between companies and other trackers.'

'Collusion will allow us to pull back the curtain and provide users with more information about the growing role of third parties, how data drives most Web experiences, and ultimately how little control we have over that experience and our loss of data,' said Kovacs.
Mozilla aims to build up a database of the worst offenders - and make the data available to privacy campaigners.
'When we launch the full version of Collusion, it will allow you to opt-in to sharing your anonymous data in a global database of web tracker data,' says the company. 'We'll combine all that information and make it available to help researchers, journalists, and others analyze and explain how data is tracked on the web.
Google ignored an international outcry to launch its new privacy policy this week - despite concerns the policy may actually be illegal in many territories.

Vivian Reding, the European Commissioner for Justice, Fundamental Rights and Citizenship said,
'Any company which wants to utilize the European market of 500 million citizens - which we've made borderless, a golden opportunity - then the European rules apply.'

'Citizens should have the possibility of buying into more extensive use of their data - but that should be their freedom to choose, not done by a sneaking way of taking the freedom away from the citizens,' said Reding in an interview with The Guardian.
European Union authorities said that the new privacy policy appears to violate European law, in an email to Google CEO Larry Page.

CNIL, the French privacy agency in charge of the investigation, said Google's explanation of how it will use the data was too vague and difficult to understand 'even for trained privacy professionals.'

A coalition of 50 consumer groups in Europe and the U.S. also sent a letter to Mr Page in a last ditch attempt to make the search giant rethink saying the controversial new policy is 'unfair and unwise'.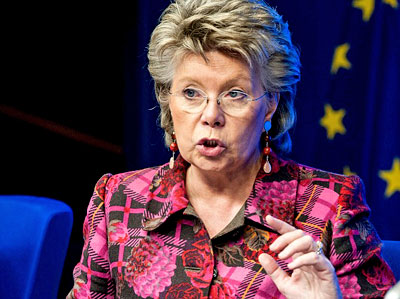 European Commissioner in charge of Justice, fundamental rights and citizenship, Viviane Reding said,
'Citizens should have the possibility of buying into more extensive use of their data
but that should be their freedom to choose, not done by a sneaking way
of taking the freedom away from the citizens'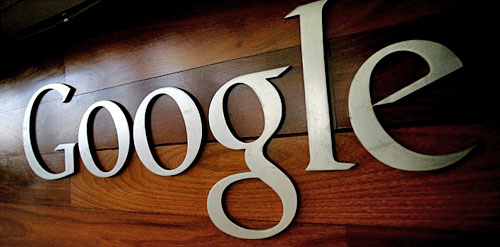 Google's HQ
Google ignored an international outcry to launch its new privacy policy this week
despite concerns the policy may actually be illegal in many territories

Their condemnation came after concerns from the European Union, Japan and Korea among others that the policy may actually be illegal.

But it came into force at midnight local time yesterday across the world regardless, with Google claiming that 'to pause, would cause confusion'.

Data from 60 of Google's services will be shared between them - meaning Google account users, owners of Android phones and YouTube viewers will be subjected to even more intrusive 'personalized' adverts from now on.

Worried users are trading guides about how to protect sensitive private data such as search histories and the content of emails from Google's new all-encompassing advertising profiles. Mail Online's guide can be found here.

The search giant said in a blog post,
'Our privacy policies have always allowed us to combine information from different products with your account - effectively using your data to provide you with a better service.

However, we've been restricted in our ability to combine your YouTube and Search histories with other information in your account.'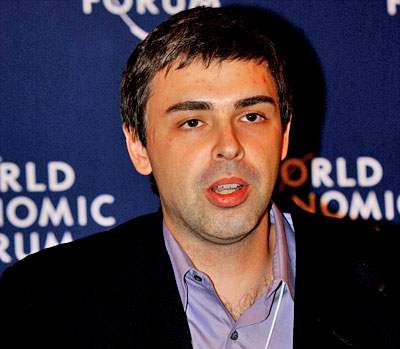 Google CEO Larry Page
A coalition of 50 consumer groups in the EU and the US
has written to the CEO to protest against the company's new 'one size fits all' privacy policy
'Our new Privacy Policy gets rid of those inconsistencies so we can make more of your information available to you when using Google.'
OUTCRY AROUND THE WORLD
GOVERNMENTS, PRIVACY GROUPS AND CONSUMERS PROTEST

America's Electronic Privacy Information Center, a privacy rights group, sued the Federal Trade Commission in a federal court in an effort to force the FTC to exercise its powers and block Google's privacy changes.

Earlier this week, the French regulatory agency CNIL warned Google CEO Larry Page that the new policy appears to violate the European Union's strict data-protection rules.

The EU's Article 29 Working Party said this week,
'Our preliminary analysis shows that Google's new policy does not meet the requirements of the European Directive on Data Protection, especially regarding the information provided to data subjects.'
Last week, 36 attorneys general in the U.S. and its territories derided the new policy as an 'invasion of privacy' in a letter to Page.

The Japanese government is also to investigate whether the new policy breaches Japan's privacy laws, according to a report in the Tokyo Times.

South Korea is already investigating whether the new policy, which allows Google to 'share' data between 60 of its services to build profiles on its users, violates local laws.
A British privacy campaigner, Alex Hanff is suing the search giant for a refund on his Android phone, claiming that the changes to how Android data could be used amount to a change in the terms of his contract.

Some Android users claim that they are hardest hit by the policy changes, as they have no way to 'opt out' of mobile phone contracts.
'The changes are a significant infringement of my right to privacy and I do not consent to Google being able to use my data in such a way,' says Hanff.
A Google spokesperson said,
'Our updated Privacy Policy will make our privacy practices easier to understand. Since announcing the changes in January, we've undertaken the most extensive notification in our history to let our users know that the updated Privacy Policy takes effect on 1 March.'
The Japanese government said yesterday it will investigate whether the new policy breaches Japanese privacy laws, according to a report in the Tokyo Times.

Google announced its new privacy policy with much fanfare last month - a 'one-size-fits-all' policy which will allow the search giant to share private data between its services so that, for instance, information harvested from Google searches can be used to target adverts within its Gmail service.

The EU's data protection authorities asked French regulator CNIL to investigate the new policy in January.
'Our preliminary analysis shows that Google's new policy does not meet the requirements of the European Directive on Data Protection,' CNIL said in a letter to Google Chief Executive Larry Page, which was posted on CNIL's website this week.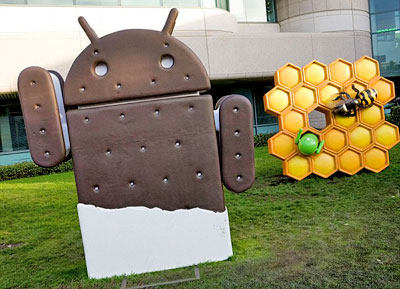 Google's Californian headquarters
The company says it intends to push ahead with the new privacy policy,
despite the fact it may be in violation of data laws in many countries

GOOGLE'S PRIVACY CHANGES
WHAT THEY WILL MEAN FOR YOU

Why is Google changing its policy?
Google is combining more than 60 different privacy policies so it will be able to throw all the data it gathers about logged-in users into personal dossiers.

The information Google learns about you while you enter requests into its search engine can be culled, for instance, to suggest videos to watch when you visit the company's YouTube site.

Being able to draw more revealing profiles about its users will help sell advertising - the main source of its $38 billion in annual revenue.
Can I stop Google using my data?
Not if you're a registered user of Gmail, Google Plus, YouTube, or other Google products. But you can minimize the data Google gathers. For starters, make sure you aren't logged into one of Google's services when you're using Google's search engine, watching a YouTube video or perusing pictures on Picasa.


Google can still track you even when you're not logged in to one of its services. But the information isn't quite as revealing because Google doesn't track you by name, only through a numeric Internet address attached to your computer.
I don't want to keep using Google. Can I opt out?
One of the major gripes is that registered Google users aren't being given an option to consent to, or reject, the changes. In particular, people who bought smartphones running on Google's Android software, and signed two-year contracts to use the devices, can't easily avoid the new privacy rules unless they buy a different handset and pay an early-termination penalty.



The new policy makes it easier for Google to combine the data of one person using different services such as the search engine, YouTube or Gmail if he is logged into his Google account.

That allows Google to create a broader profile of that user and target advertising based on that person's interests and search history more accurately. Advertising is the main way Google makes its money.

CNIL said data protection authorities in the EU,
'are deeply concerned about the combination of personal data across services,' adding they had 'strong doubts about the lawfulness and fairness of such processing.'
Vivian Reding, the EU's Justice Commissioner who oversees the bloc's data protection rules, said she welcomed CNIL's letter and called on Google to delay its new policy.

Google argues that combining the data into one profile makes search results more relevant and allows a user to cross-navigate between different services more easily. It says the main purpose of the new policy is to combine the more than 70 different rules for Google's wide-ranging services into one that is simpler and more readable.

The policy change has horrified privacy advocates and bloggers - tech site ZDNet said that Google would 'know more about you than your wife does' and said the policy was 'Big Brother-ish'.

The European Union working party earlier asked for Google to stop the new policy while the working group investigated whether personal data is protected.
'We call for a pause to ensure that there can be no misunderstanding about Google's commitments to information rights of EU citizens.'

'Given the wide range of services you offer, and the popularity of these services, changes in your privacy policy may affect many citizens in most EU member states,' the group wrote to Google Chief Executive Larry Page.

'We wish to check the possible consequences for the protection of the personal data of citizens,' it said.
Google described the privacy policy as being 'simplified' in an email it sent to all Gmail users.
'If you're signed into Google, we can do things like suggest search queries - or tailor your search results - based on the interests you've expressed in Google Plus, Gmail and YouTube,' Google said a new overview page for its privacy policies.

'We'll better understand (what) you're searching for and get you those results faster.'