by Philip Kendall
September 28, 2012
from RocketNews24 Website
Netizen = http://en.wikipedia.org/wiki/Netizen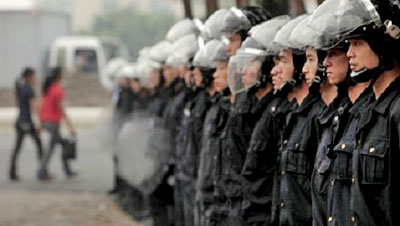 Even putting current tensions between the country and Japan aside for the moment, China has seen a great deal of civil unrest in recent months.
With citizens losing faith in their government, and the gap between the poor and the wealthy seemingly growing ever larger, it is little wonder that protests and riots are occurring more and more frequently.
At the end of June, pictures emerged of clashes between residents and armed police in the Canton region.
It later become clear that the riot occurred following little more than a scuffle between two boys from neighboring towns that got out of hand. Angry that men from the first boy's town had entered into the argument, adults from the second boy's town also became involved, and the spat quickly grew out of hand with thousands of locals eventually becoming involved in the fray.
During last week's incredibly heated anti-Japanese demonstrations in China, images came forth of Chinese attacking and looting stores that bore no relation to Japan whatsoever.
Of course, there's a lot that can be said about the effects of mob mentality, and it's easy for people, especially those who feel that they have been dealt an injustice by those in power and the wealthy, to become swept up in the mayhem.
As some of you may recall, in perhaps one of the country's lowest moments, England saw three days of riots and mob violence in several major cities during the summer of 2011.
What initially began as a protest in response to the shooting by police of a young man in London soon became violent, and within a matter of hours the streets were lost to thugs and petty criminals who mugged, robbed and smashed whatever and whomever they met.
When asked what their motivation was for such acts of senseless violence, many, particularly from poorer areas of the country, attempted to justify their behavior by arguing that they received little-to-no support from the authorities, and that the areas in which they lived were run-down and often entirely forgotten by the government.
Few would agree that reasons such as these justify their behavior, but civil unrest, it would seem, is not an issue that China alone is facing.
China, however, is notoriously protective of its information, making it difficult for those of us outside the country to grasp the state or scale of the situation behind the great firewall beyond drip-fed images of protests and clashes.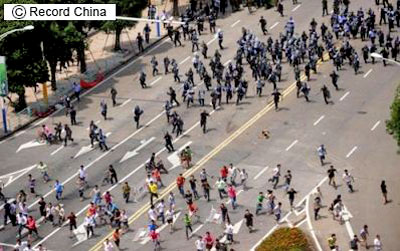 So on September 19, when a Chinese internet user posted a message revealing the severity of the situation and posting some shocking figures relating to the Chinese government's recent expenditure, it understandably made headlines.
"At this moment in time, the Chinese government is thought to be spending approximately eighty billion US dollars per year on issues of civil unrest and calming outbursts of this kind."
The figure, although obviously huge, is difficult to visualize until the unnamed internet user presents us with an utterly mind-boggling comparison:
"If this level of spending continues, in five years China will have spent as much on dealing with its own civil unrest and local security as the US on its recent war budget."
Shocking isn't the word…
Source