October 13, 2013
from EndTheLie Website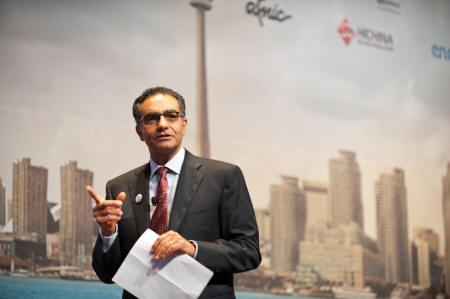 ICANN CEO Fadi Chehadé in January 2013
(Image credit: ICANN)
The Internet Corporation for Assigned Names and Numbers (ICANN), responsible for controlling much of how the internet works, has stated that they are moving away from the U.S. Department of Commerce, citing concerns over "pervasive monitoring and surveillance."
The fallout from the revelations of the surveillance programs run by the National Security Agency (NSA) continues to be seen with a new investigation in Luxembourg into Skype's involvement with NSA surveillance programs.
Furthermore, the NSA chief himself recently admitted that they put out misleading figures about the number of terrorist plots foiled by bulk collection of U.S. phone records.
ICANN and other major internet groups are apparently not too happy about this surveillance, and are now making that quite clear.
During a meeting in Montevideo, Uruguay, leaders of ICANN, the World Wide Web Consortium (W3C), the Internet Architecture Board and others accused the U.S. of undermining the trust of internet users.
Indeed, the NSA's reported ability to influence the encryption standards established by NIST for easier cracking does not lend itself to a trusting relationship. Nor does going after the master encryption keys from major internet companies.
The groups,
"expressed strong concern over the undermining of the trust and confidence of Internet users globally due to recent revelations of pervasive monitoring and surveillance," in a joint statement.
The leaders,
"warned against Internet fragmentation at a national level" and called for less control by the U.S. Department of Commerce.
In the statement, the leaders,
"called for accelerating the globalization of ICANN and IANA functions, towards an environment in which all stakeholders, including all governments, participate on an equal footing."
As of now, the Department of Commerce has unilateral oversight of ICANN and a great deal of control.
Given that ICANN sets standards for how all internet traffic flows through international networks, that control is no minor thing.
The body also regulates how "top-level domains" like .com, .net and .org work and how servers,
"translate numerical designations for IP addresses into recognizable URLs," according to Raw Story.
The ultimate responsibility of ICANN is to keep the global internet from fracturing and segmenting into small, insular networks that cannot be reached from outside the network.
The next Internet Governance Summit will be held in Brazil, a country that has been quite critical of the United States' internet surveillance, as VentureBeat points out.
"The United States and its allies must urgently end their spying activities once and for all," Brazilian President Dilma Rousseff said to reporters when the location of the next summit was announced.