June 25, 2013
from WaysToAvoidScamsOnline Website


There is a lot of misinformation floating around the Internet in regards to how Alexa tracks traffic, how Alexa rankings work and how they impact your SEO rankings (or don't).
I want to add some clarity to this situation so within this upcoming thread I am going to be walking you through Alexa, how it works, and help you decide whether or not it serves any importance towards your online campaigns and success.

So if you are ready, I am going to get right into the inner workings of Alexa.

How do Alexa Rankings Work?

Alexa rankings display several metrics.
These include,
Alexa traffic rank

Traffic Rank in US

Sites Linking in,
...and, within their charts, you can see the different fields that you can graph out your website history (see example chart below)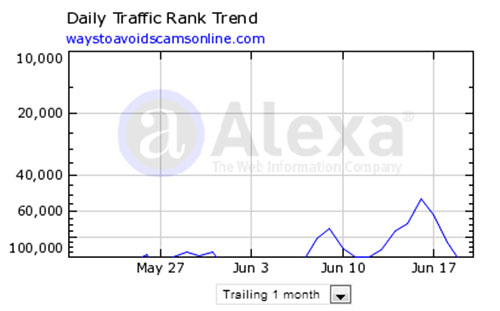 Alexa Website Ranking


BIG QUESTION: But where does Alexa get their data from and is it reliable?

Alexa gets their rankings from the Alexa Toolbar, which people install into their browsers and it basically tracks their activity around the Internet, the websites they visit, and how often they visit.

This is where they get most of their data from, so they really do have a minute set of data to work with as only a small fraction of people actually have the Alexa toolbar installed (guestimates say around 15-20 million downloads… many of these no longer active), with a good deal of these being people that are Internet marketers who want to track their Alexa rankings.

Along with that, they claim to get data from "other" unknown sources as well (yeah…)

Another concern is the fact that the toolbar is considered to be "adware" by MacAfee while Symantec another major anti-virus program considers the toolbar "trackware" because of the nature of how it works (it tracks and stores all of your web activities).
If you have it installed, you can best bet that all of your activities are being tracked and the data you are using it for really is deemed quite useless, because it is not real traffic data...

How to Increase Your Alexa Ranking?

If you wanted to "game" Alexa, it is actually quite easy.

But first, the most obvious way would be to get more website traffic to increase your Alexa rankings right? Wrong. More traffic does not equate to higher traffic rankings in Alexa.
In fact, in late 2012 I personally ran some tests and comparisons between two completely independent websites just for peace of mind and to validate all of my assumptions about Alexa over the years (that it was more of a gag site than anything).

In my test, Website A was getting 20,000+ unique visitors per day, and Website B was getting just over 1,000+ uniques per day.
In other words Website A was getting 20 times the traffic of Website B, yet the Alexa rank had Website B getting double the traffic within their reporting!??

Completely bogus. Alexa ranking data is completely bogus. The obvious, but ineffective way to get higher Alexa rankings would be to get more traffic to your website but this is simply not the case. The correct way to get higher Alexa rankings is to get more people to visit your website that have the Alexa toolbar installed.

I am not going to go into details, but based on my first point there are very few data triggers that Alexa has to work off of that are not publicly available. They have no access to ACTUAL website data (only the owner of a website has access to actual traffic stats).

The traffic data they use is based on their toolbar, so naturally the more people that visit your site that have the toolbar installed will improve your Alexa rank (hint, hint).

How to Check Alexa Rank?

Many of you are probably wondering where to go to find out your Alexa rank.
You can actually do this directly through their website, or you can install their "adware" toolbar (not recommended).



Alexa Domain Search


Again, take your ranking with a grain of salt. It won't benefit you in any way knowing your Alexa, nor will it be a sound indicator of how your website ranks compared to others out there.
The reason: They DO NOT have this data!

If you are interested in finding out where your website ranks in Google, an important metric when determining your SEO effectiveness there are tools that can scan Google's search results and tell you where you are ranked (what page you are on) under specific keywords.

If you want to find out what page you are ranked on in Google, I recommend that you use Jaaxy.com for this.

Alexa Ranking Package, Is it Worth It?

On the Alexa website you will notice there are many different services they are attempting to sell you.
You will see something similar to this within the Alexa sidebar when you are on their site…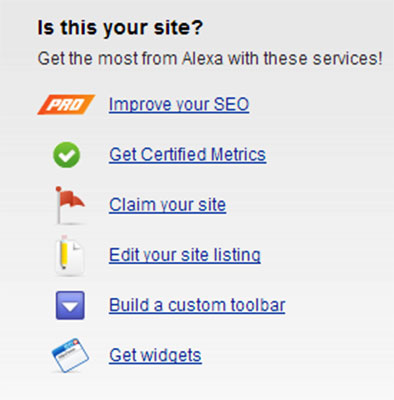 I also have personally tried these services (Get Certified Metrics) for testing purposes and can honestly tell you that you are buying into an empty offer.

The "Get Certified Metrics" is a service where you have to pay to give Alexa your accurate data.
Shouldn't they be paying you for this? You will see absolutely no value from doing this and if you are even remotely interested in taking advantage of this, please do save your money.

Does Alexa Rank Have Anything to Do With SEO?

Recently it appears that many folks have been vastly misinformed as to how Alexa works and what the purpose of Alexa is.
There are folks going around the Internet touting an Alexa score as some sort of indicator as to how well a website ranks in Google or how it reflects website success.

However, Alexa rank has no correlation to SEO (Search Engine Optimization) or how well a site gets indexed. So if someone tells you that Alexa means something and tout it as a reason to join their service, you may want to head the other way.

Secondly, Alexa offers Web Analytics toolkits for $149 per month.
This service is a complete redundancy if you have Google Analytics (which is free) and in fact, the Alexa Advanced Plan will offer you inferior data to that you can get with Analytics and Webmaster Tools, both free services offer by Google.



So Alexa will not efficiently or accurately track your traffic and they will not be able to serve as any sort of indicator in respect to SEO.
If you want to get SEO help, the best thing you can do is to learn about it yourself and there are services out there that can help you out with this. If you want to get help with your rankings in Google, you can get up and running know with some REAL education.

I hope this has added some clarity to the whole Alexasphere and if you do have anything in addition to add, any Alexa experiences or any questions about any of this content, drop me a note below and I will be more than happy to discuss.




Is that a Reliable Traffic Measurement Tool?
by Abrar Mohi Shafee
December 11, 2014
from BloggingSpell Website

As I've seen so far, Alexa ranking is the nucleus of many thriving websites.
Especially those which concentrate on making profits. Because the advertisers are more likely to use Alexa as a traffic measurement tool. So boosting up traffic rank might make a jump up in the number of clients.

That's the concept where both marketers and advertisers are oriented to. The webmasters keep them busy to lead a solid Alexa position where the buyers set their goals. They feel it will be a win-win opportunity for them. But very soon they will come to realize that was totally wrong.

How? Let me keep you curious till the end of the post. Because there are some surprising notes waiting for you.
So let me introduce you their traffic ranking system sequentially.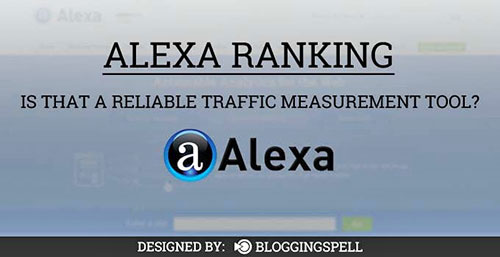 From the user's point of view: What is Alexa?

As everyone think, Alexa is a global ranking system which records traffic data and sort them by the value.
The website that hits higher traffic ranks higher and lower traffic ranks lower as usual. The algorithm works depending upon the last 3 months historical data collected from the public frequency of visits.

They use to combine the number of page views and the number of unique visitors to come up with a public rank number. They also put in some backup info to support their algorithm, for example: bounce rate, average page visit time, audience demography, geography and linked websites.

The ranking system audits websites in their global data panel and provide a public figure, that could also be called trust figure. They recommend, sites ranked under 100,000 are trustworthy and serve something valuable on the web.
So the webmasters place their their targets to get among the 1 lac.

But the collision: What actually Alexa rank is?

The user's point of view is reasonable.
Because that knowledge has been spread through many websites. Even I agree with it except one. The whole process is loyal but for toolbar. They only use toolbar collected data into their algorithm.

It's not me saying. Alexa has written it by himself.
Take a closer look here on the explanation:
Alexa could not exist without the participation of the Alexa Toolbar community. Each member of the community, in addition to getting a useful tool, gives back.

By using the Firefox, Chrome and IE toolbars, every member contributes valuable information about the web, how it's used, what's important and what isn't. Alexa returns this information to the community as Traffic Ranks, Related Links, and more.
Source: Alexa Toolbar
They have clear explanation how actually it works. It's all true, they put as many factors as possible in their algorithm to determine how a site should rank.
But that is all depended upon the toolbar enabled visitors, not on them without.
Study #1: Alexa is bullshit

This study was originally made by Syed Balkhi who is very much popular for his blog WPBeginner. A few months ago, he chose to show how Alexa is a total bullshit.

He has 3 popular sites:

WPBeginner.com (AR 1,684)
List25.com (AR 14,384)
OptinMonster.com (AR 16,371)

Though all 3 sites are under 20k websites, the order is completely wrong.

Among these three websites, List25 is the most popular and gets way better traffic than WPBeginner, according to his Google Analytics report. But still WPBeginner has been ranked to the top.

Contrary, List25 gets 6000% more traffic than OptinMonster but still ranked around List25.

Do you know why? Because WPBeginner and OptinMonster users are more likely to use Alexa toolbar because the niche is relative to the toolbar. But List25 is a kind of different, because the niche people do not use toolbar that much.

That's why their ranking system is estimated with the use of toolbar, not with the genuine number of global traffic. You can check the original study here.


Study #2: Alexa is a waste of time

This study was originally made by Marcus Sheridan, who is the author of The Sales Lion, a very talented marketer.

He has 2 websites:

TheSalesLion.com (AR 46,862)
RiverPoolsandSpas.com (AR 214,222)

According to his post, TheSalesLion gets 350-500 visitors a day where RiverPoolsandSpas gets around 1500-2000 a day.

But you can see TheSalesLion has ranked 46K where RiverPoolsandSpas has 214K. All because of the toolbar as most of TheSalesLion readers are using that. So this is another great example why it is a waste in some case.

You can check the original study here.