by Heather Callaghan
January 23, 2012
from ActivistPost Website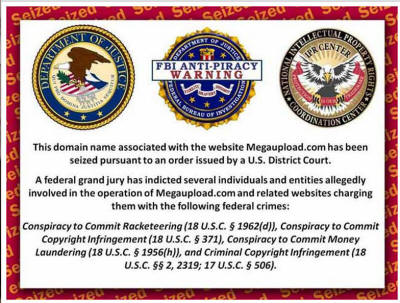 This is what remains of Megaupload.com

Many of us breathed a sigh of relief when an overwhelming amount of Americans banned together and voiced their opposition to Congress over both the Stop Online Piracy Act (SOPA), and Protect Intellectual Property Act (PIPA).

Sites that dimmed the screen for a day or two have gone back to normal - Facebook users have swapped their anti-SOPA images for their previous profile pictures.

We may have even believed that the postponement of the vote originally scheduled for January 24th was some sort of white flag of capitulation. But that is certainly not the MO of most lawmakers.

While the outcry did get the attention of Congress, they are simply returning unflinchingly back to the drawing board to wait out our attention spans. Articles whirled that SOPA was dead and the bill was pulled when the bill's sponsor Lamar Smith said in a statement that there would be no further action "until there is wider agreement on a solution."

Lamar isn't really listening.
"It is clear that we need to revisit the approach on how best to address the problem of foreign thieves that steal and sell American inventions and products."
Actually, SOPA is set to be reformulated in February.
PIPA will be revisited with possible amendments in the coming weeks. Case in point, all is still open and possible - nothing is dead, pulled, or cancelled. If that wasn't enough to keep us on our toes, a new, similar bill has surfaced.


Déjà Vu in the form of OPEN - The New Anti-Piracy Bill

As an alternative to SOPA-PIPA, Representative Darrell Issa (CA-R), and 24 co-sponsors introduced the Online Protection and Enforcement of Digital Trade (OPEN) H.R. 3782 on Wednesday, during the Internet blackout.

From PCWorld:
OPEN would give oversight to the International Trade Commission (ITC) instead of the Justice Department, focuses on foreign-based websites, includes an appeals process, and would apply only to websites that "willfully" promote copyright violation.
The bill pretends to only target foreign websites, while keeping Americans free to surf and post, but the bill's wording is wide open to pursue American sites.
Just one example: when describing an infringing site, it starts with those,
"that are accessed through a non-domestic domain name," but continues in section (8)(A)(ii) for any site that "conducts business directed to residents of the United States."
It sounds like, "in general," copyright holders will be the ones filing complaints to the Commission, but the writing leaves it open for any complainant to file.
The ITC would still have the ability to coerce payment processors and ad networks to cease funding and linking the accused in question. Who could determine "willful" infringement?

Also, none of these bills had been decided before the U.S. Government took down New Zealand owned Megaupload.com during the commotion.
To which, Anonymous responded by shutting down the websites of,
the U.S. Department of Justice

Universal Music

Recording Industry Association of America

the U.S. Copyright Office

Broadcast Music Inc.

the Motion Picture Association of America

"The [DOJ's] action 'demonstrates why we don't need SOPA in the first place,' points out PCWorld's Tony Bradley."
The government was enforcing a previous anti-piracy law called PRO-IP signed by Bush in 2008.

OPEN is gaining support from groups like,
...and more.

While it seems admirable that the bill is transparent and open for public comment, most laws of this nature are broad and allow for bigger, no-common sense crackdowns later. Plus, there might only be a couple concessions and the pacifying effects of "being heard."

One commenter of the bill aptly noted:
'Reasonable belief' and 'credible evidence' are too vague and have the appearance of inviting highly subjective interpretation with the option for the commission and/or the provider to exercise sweeping powers with impunity.
Whenever any group is appeased after a battle, it cannot be emphasized enough - the lawmakers' modus operandi will be: aim high, brace for the outcry, make a couple alterations and sneak the bill back in when no one's looking.
Keep it going and going. Call it by a different name. Haggle. It appears there is compromise and reasoning now, but once the bill passes into law, reason goes out the window, and we are the only ones compromised.

Theft is a reality - although not one that has seriously damaged the growing entertainment industry, or caused massive death and devastation. If Hollywood, pitching the biggest fit, were actually going down, why should we go down with it?

It is more unfortunate that Americans must be so tirelessly vigilant to protect their online activities from the same lawmakers who are tanking the country in so many other truly devastating ways.

The dismantling of Internet freedom will not stop here.
Let's borrow an MO and not let up.
To SOPA - Say NOPA!

To PIPA - Pipe down!

To OPEN - Shut it!

Additional Sources