A new slide leaked by Edward Snowden shows where the NSA infected more than 50,000 computer networks worldwide with malware, according to Dutch media outlet NRC.
The NSA management presentation slide from 2012 shows a world map spiderwebbed with "Computer Network Exploitation" access points in more than 50,000 locations around the globe.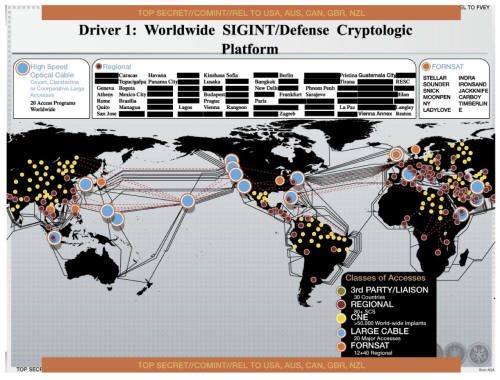 Like all the slides we've seen so far, this one is unlikely to win a Powerpoint beauty pageant anytime soon.
Not that this should deter anyone from the profoundly disturbing implications of a US government malware map being reported by a Dutch news agency - to which the US government gave a "no comment."
Translated from Dutch:
The American intelligence service - NSA - infected more than 50,000 computer networks worldwide with malicious software designed to steal sensitive information.

Documents provided by former NSA employee Edward Snowden and seen by this newspaper, prove this.

(...) The NSA declined to comment and referred to the US Government. A government spokesperson states that any disclosure of classified material is harmful to our national security.
On the NSA's Computer Network Operations program description page it describes CNE as,
"Includes enabling actions and intelligence collection via computer networks that exploit data gathered from target or enemy information systems or networks."
In an article dated August 29, 2013, The Washington Post reported on the NSA's "hacking unit" called Tailored Access Operations (TAO).
The Post wrote:
According to a profile by Matthew M. Aid for Foreign Policy, it's a highly secret but incredibly important NSA program that collects intelligence about foreign targets by hacking into their computers, stealing data, and monitoring communications.

(...) Dean Schyvincht, who claims to currently be a TAO Senior Computer Network Operator in Texas, might reveal the most about the scope of TAO activities.

He says the 14 personnel under his management have completed,

"over 54,000 Global Network Exploitation (GNE) operations in support of national intelligence agency requirements."
This is one letter away from being exact.
On the NSA's network ops page, there is no program with the acronym GNE - only CNE and,
Computer Network Attack (CNA): Includes actions taken via computer networks to disrupt, deny, degrade, or destroy the information within computers and computer networks and/or the computers/networks themselves.

Computer Network Defense (CND): Includes actions taken via computer networks to protect, monitor, analyze, detect, and respond to network attacks, intrusions, disruptions, or other unauthorized actions that would compromise or cripple defense information.
Across the slide top and bottom a stripe reads,
"REL TO USA, AUS, CAN, GBR, NZL."
These are the so-called "Five Eyes" nations - which include,
the U.S.

U.K.

Canada

Australia

New Zealand
Last week, the very same "Five Eyes" nations moved to oppose the United Nation's anti-surveillance, right-to-privacy draft resolution called "The right to privacy in the digital age".
Security researchers online are speculating that telecoms were the most likely targets for the malware.
They may not be too far off the mark.
NRC cites an example of Britain's intelligence service GCHQ, being found to use spoofed LinkedIn pages to install surveillance malware on target computers in Belgium telecom, Belgacom (translated):
One example of this type of hacking was discovered in September 2013 at the Belgium telecom provider Belgacom.

For a number of years the British intelligence service - GCHQ - has been installing this malicious software in the Belgacom network in order to tap their customer's telephone and data traffic.

The Belgacom network was infiltrated by GCHQ through a process of luring employees to a false Linkedin page.
NRC concludes its explosive article by telling us that the Dutch government's intelligence services has its own hacking unit, but is prohibited by law from performing the type of operations the NSA appears to have done in the CNE slide.
Unlike the feeling here in the US, where it's starting to feel like an ordered state against which a transgression can be measured has nearly vanished, and is almost forgotten.


Despite U.S. Opposition, U.N. Pushes Forward...
by Jon Queally
staff writer
November 22, 2013
from CommonDreams Website

The so-called "Five Eyes" countries
overwhelmed by international unity
on the right to protection from spying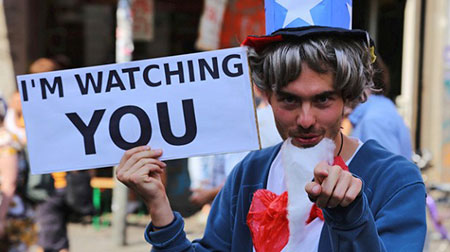 'Stop spying on us...'
That is the message being sent by the majority of nations to the world's most powerful and aggressive surveillance states.

An effort to move forward on the United Nation's draft agreement on the right to privacy in the digital age met opposition this week from the so-called "Five Eyes" nations, which includes,
the U.S.

U.K.

Canada

Australia

New Zealand,
...but the efforts to dilute the pact were largely overcome by overwhelming support from the more than one hundred nations demanding stronger protections in the wake of revelations about the behavior of the NSA and other intelligence agencies.

As the Guardian reports:
The resolution, titled 'The right to privacy in the digital age', was hammered out at a committee open to all 193 UN members. It represents the biggest show of international opinion yet in response to the revelations about mass surveillance exposed by whistleblower Edward Snowden.

Brazil and Germany co-sponsored the resolution following disclosure that the the NSA eavesdropped on,

Brazil's president Dilma Rousseff

German chancellor Angela Merkel

Other sponsors include:

Austria

Bolivia

North Korea

Ecuador

France

Indonesia

Lichtenstein

Peru

Switzerland

Spain

Luxembourg

Uruguay

A vote at the UN general assembly on the resolution is scheduled for Tuesday but only if a member state calls for one.

Otherwise it will pass automatically as a consensus measure. The US may decide against calling for a vote rather than find itself, as diplomats and officials based at the UN predict, in a tiny, embarrassing minority.

"There is a head of steam building up behind this draft resolution. It is a basic rights issue and these attract a lot of support," a UN official said.
This week, human rights groups online privacy advocates set a joint letter to the UN urging the stronger language and protections.

Signed by the groups,
...the letter read in part:
The right to privacy is central to who we are as humans and is enshrined in the Universal Declaration of Human Rights and the International Covenant on Civil and Political Rights.

It protects us from unwarranted intrusions into our daily lives, allows us to speak freely without fear of retribution, and helps keep our personal information, including health records, political affiliations, sexual orientation, and familial histories, safe.

Indiscriminate mass surveillance, which tramples individuals' right to privacy and undermines the social contract we all have with the State, must come to end immediately. [...]

As negotiations continue on this draft resolution, we are deeply concerned that the countries representing the "Five Eyes" surveillance alliance - the United States, Canada, New Zealand, Australia and the United Kingdom - have sought to weaken the resolution at the risk of undercutting their own longstanding public commitment to privacy and free expression.
And the groups offered these specific point to the world body:
Privacy is intrinsically linked to freedom of expression and many other rights

The mere existence of domestic legislation is not all that is required to make surveillance lawful under international law

Indiscriminate, mass surveillance is never legitimate as intrusions on privacy must always be genuinely necessary and proportionate

When States conduct extraterritorial surveillance, thereby exerting control over the privacy and rights of persons, they have obligations to respect privacy and related rights beyond the limits of their own borders

Privacy is also interfered with even when metadata and other third party communications are intercepted and collected
Whether or not the draft agreement is adopted, the ability of the UN to curb the worst practices of powerful intelligence agencies from one country illegally spying on the citizens of another will remain a contentious issue.

As the Guardian reports, citing a leaked draft of a U.S. briefing paper on the UN resolution, because the U.S.,
"does not consider its surveillance activities illegal, it does not have a problem with condemning illegal surveillance."