from ObamaMessiah Website
"... a light will shine through that window, a beam of light will come down upon you, you will experience an epiphany ... and you will suddenly realize that you must go to the polls and vote for Obama"

- Barack Obama

Lebanon, New Hampshire
January 7, 2008
Sunday, November 04, 2012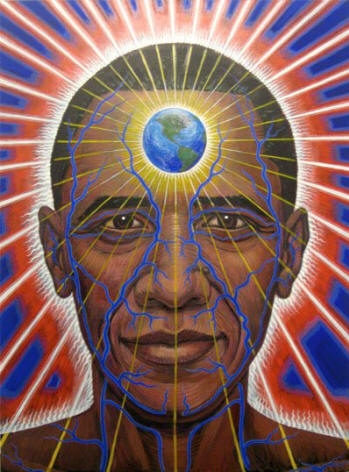 Painting: Alex Grey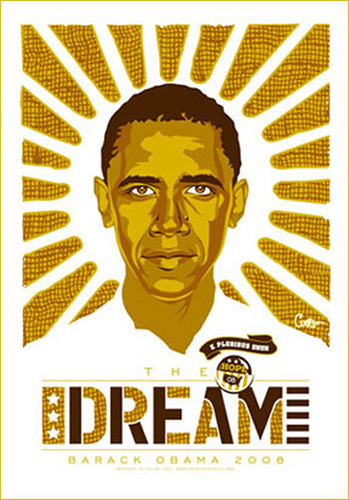 Poster Credit: Ray Noland ("CRO")
Obama - The Transfiguration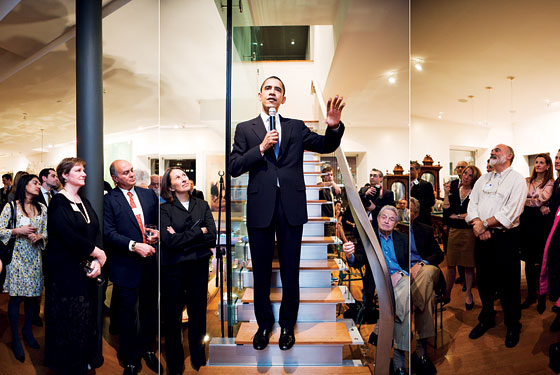 Obama at fund-raiser at Steven and Judy Gluckstern's home, April 9, 2007.
George Soros is seated to the right of the stairs.
Published in "How Barack Obama Struck Fund-Raising Gold," New York Magazine April 16, 2007; Photo-credit: Michael Edwards (note that this is the actual photo as published by New York Magazine, and contrary to the claim of William Lowther @ Telegraph, has not been doctored by this blog - via "Daily Speculations" - What is the "Transfiguration"?)


"I'm asking you to BELIEVE ..."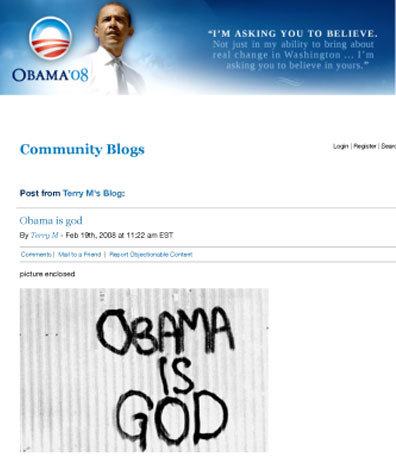 "No one saw him coming ... like Jesus being born in a manger"
Some see God's will in Obama win, by Dahleen Glanton
Chicago Tribune
Saturday, November 29, 2008

EAST POINT, Ga.—The day after Barack Obama was elected president, Larry Younginer knelt in front of the congregants at his suburban Atlanta church and offered a prayer of thanks.
"Lord, we have again come to you in prayer, and you have heard our cries from heaven, and you have sent us again from the state called Illinois, a man called Barack to heal our land," said Younginer, a 62-year-old retired information systems worker at Coca Cola in Atlanta. "We pray that you will build a hedge around him that will protect him from those who would do him harm."
Younginer, like many others, is convinced that Obama was destined to be president. The mere fact that he won the presidency against the odds has caused some Christians, particularly African-Americans, to see the hand of God in his victory after so many years of struggle.

Lawrence Carter, dean of the Martin Luther King Jr. International Chapel said many people look for a sign from God when times are turbulent. And, he said, there are many elements to Obama's win in which Christians can find spiritual significance.
"It is powerful and significant on a spiritual level that there is the emergence of Barack Obama 40 years after the passing of Dr. King," said Carter. "No one saw him coming, and Christians believe God comes at us from strange angles and places we don't expect, like Jesus being born in a manger."


"Thy Kingdom Come, Thy Will Be Done..."
Thursday, November 06, 2008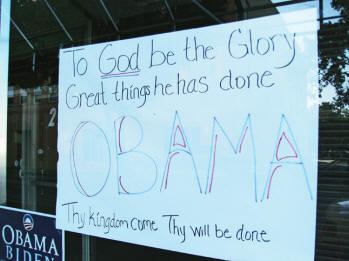 Prominently displayed poster at Obama's campaign headquarters in Lake City, Fla.
(Photo: Bruce Hoster; source: World Net Daily)


Monday, September 15, 2008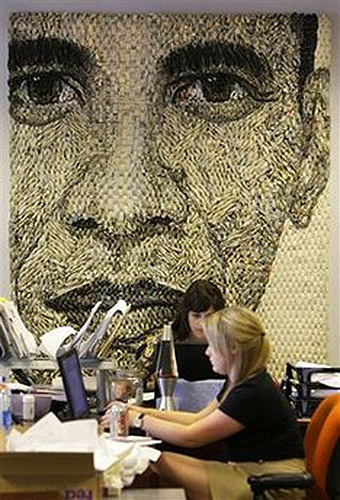 Scene of an Obama Campaign Headquarters
posted via DrudgeReport September 15 2008


Wednesday, August 27, 2008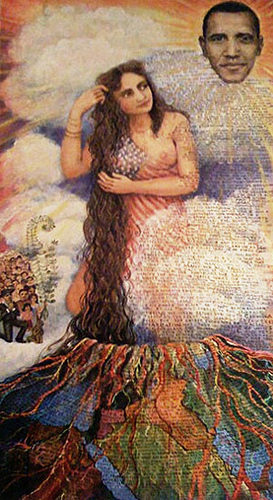 One particular work invoked the sacred, picturing Obama's great head - illuminated by sunbursts - emerging from the clouds over a bare-breasted maiden who is robed in an American flag and emerging from a volcano.
Note that in the lower-left-hand middle, an assemblage of people are literally kneeling before Obama.

As observed by Jonathan V. Last in a visit to the "Manifest Hope" gallery, which brings together many of the classic works of Obama along with new additions.



Obama: "Son of Promise, Child of Hope"
Thursday, August 14, 2008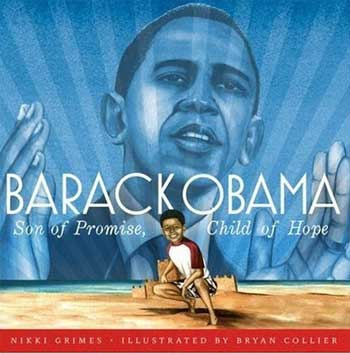 Barack Obama: "Son of Promise, Child of Hope"
(Simon & Schuster, 2008)

Ever since Barack Obama was young, Hope has lived inside him. From the beaches of Hawaii to the streets of Chicago, from the jungles of Indonesia to the plains of Kenya, he has held on to Hope.
Even as a boy, Barack knew he wasn't quite like anybody else, but through his journeys he found the ability to listen to Hope and become what he was meant to be: a bridge to bring people together. This is the moving story of an exceptional man, as told by Nikki Grimes and illustrated by Bryan Collier, both winners of the Coretta Scott King Award.
Barack Obama has motivated Americans to believe with him, to believe that every one of us has the power to change ourselves and change our world.



OMBama Yoga - "Invoke the Spirit of Obama's Own Phrase"
from "Ohm-bama time in Denver. Quest for seats to hear Obama's acceptance speech"
Chicago Sun-Times August 9, 2008

Denver hasn't hosted a Democratic National Convention for 100 years, and it's a safe bet that the last time the Dems stampeded into town there were no yoga studios selling tee-shirts with the Boy Orator and presumptive presidential nominee William Jennings Bryan on them.

Did somebody say Boy Orator?
The silver-tongued Barack Obama's words are on tee shirts selling at Om Time, an oasis of tranquility sandwiched between the Colorado Democratic headquarters on one corner, and the center for the Obama campaign on the other, along with a slice of tattoo shop and art gallery garnish.
"The Union may never be perfect but generation after generation has shown that it can always be perfected," proclaims the tee-shirt in the Om Time window.
It hangs just south of the shri shrine, and the peace and love tee shirts you'd expect. Walk by quickly and you'd think the silk-screened image of Obama's close-shaved head was Ghandi's.

It was to hear more of those sentiments from the man himself - Obama, not Ghandi - that people started lining up at the Obama campaign office at least an hour before it was scheduled to open.


OmBama - Yes We Can!
öm time yoga class, Boulder, CO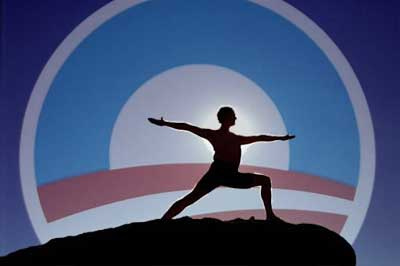 OMbama Yoga classes!
Enjoy these radically inspiring all level yoga classes of incredible, heartfelt practices for change! Join us for an eclectic and joyful practice as we celebrate the upcoming election and the opportunity of participating in the political process with one another and invoking the spirit of Obama's own phrase, YES WE CAN!



"One Nation, Under a New Obama Salute"
from One Nation, Under a New Obama Salute
U.S. News and World Report's "Washington Whispers"
Thursday, August 07, 2008

George Bush had his three-fingered W salute that supporters flashed when greeting him at presidential campaign events in 2000.
And now, if a Los Angeles creative agency gets its way, Sen. Barack Obama will see fans meet him with his own salute like the one above.
"Our goal is to see a crowd of 75,000 people at Obama's nomination speech holding their hands above their heads, fingers laced together in support of a new direction for this country, a renewed hope, and acceptance of responsibility for our future," says Rick Husong, owner of The Loyalty Inc...

"We thought, 'Let's try and start a movement where even while walking down the street, people would hold up the O and you would know that they were for Obama,'" says Husong.
Much thought went into the relatively simple idea.
"You interlace your hands in a circle, the interlacing being a symbol of different types of people coming together and the circle a symbol of unity," he says. ...

"We want to see it everywhere, but more importantly we want this sign to take the world by storm."