by Michael Snyder
November 24, 2014
from EndOfTheAmericanDream Website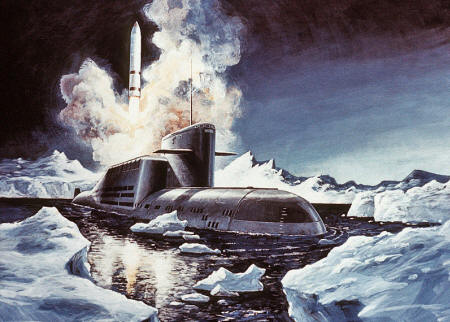 If the United States and Russia fought a nuclear war, who would win?
You might be surprised by the answer. Under the Obama administration, the rapidly aging U.S. strategic nuclear arsenal has been shrinking. Meanwhile, the Russians have been developing an entirely new generation of bombers, submarines and missiles that have the capability of delivering an absolutely crippling first strike.
At this point, most Americans consider a full-scale nuclear war to be inconceivable.
But in Russia attitudes are completely different. To the Russians, the United States is enemy number one these days and the Russians are feverishly preparing for a potential military showdown.
Of course the Russians don't actually want to have to resort to nuclear war. Such an event would be an unspeakable horror for the entire globe. But if one does happen, the Russians want to make sure that they are the ones that come out on top.
A lot of Americans are still operating under the faulty assumption that the doctrine of "mutually assured destruction" still applies. The thinking was that both sides had so many nuclear missiles that a launch by one side would guarantee the destruction of both parties.
But since that time, so much has changed.
For one, the U.S. nuclear arsenal is far, far smaller than it was back then. Back in 1967, the U.S. military possessed more than 31,000 strategic nuclear warheads. Now, we only have 1,642 deployed, and that number is scheduled to be further reduced to about 1,500.
Sadly, reducing the size of our nuclear arsenal by close to 95 percent is not enough for anti-nuke crusader Barack Obama. He has spoken of unilaterally reducing the size of our strategic nuclear arsenal down to just 300 warheads.
During this same time period, the Russians have been developing some very impressive stealth delivery systems which have the capability of hitting targets inside the United States within just minutes of an order being issued. This is particularly true of their submarine-launched missiles.
The newest Russian subs have the ability to approach our coastlines without us even knowing that they are there.
If the Russians came to the conclusion that war with the United States was unavoidable, an overwhelming first strike using submarine-based missiles could potentially take out nearly our entire arsenal before we even knew what hit us.
And if the Russians have an anti-ballistic missile system that can intercept the limited number of rockets that we can launch in return, they may be able to escape relatively unscathed.
In order for "mutually assured destruction" to work, we have to see the Russian missiles coming and have enough time to order a launch of our own. Thank to emerging technologies, the balance of power has fundamentally shifted. The old way of thinking simply does not apply anymore and the Russians understand this.
The following are 10 signs that Russia is preparing to fight (and win) a nuclear war with the United States…
Meanwhile, the Chinese have been investing heavily in this kind of technology as well.
In fact, just the other day the Chinese successfully tested a new submarine-launched intercontinental ballistic missile…
China's JL-2 second-generation intercontinental-range submarine-launched ballistic missile, which has the ability to reach the continental USA, is already believed to be deployable by the People's Liberation Army, reports Huanqiu, the Chinese-language website of the nationalistic Global Times tabloid.

The Julang-2 - literally "Giant Wave 2″ - has reached a preliminary level of proficiency, according to the US-China Economic and Security Review Commission in its report to US Congress on Nov. 20.
Most Americans do not believe that any of this is a concern whatsoever.
Most Americans just assume that a full-scale nuclear war is virtually impossible. But the truth is that a successful first strike against the United States is more possible today than it ever has been before.
Hopefully the American people will wake up to this reality before it is too late.