by Tyler Durden
September 20, 2017
from ZeroHedge Website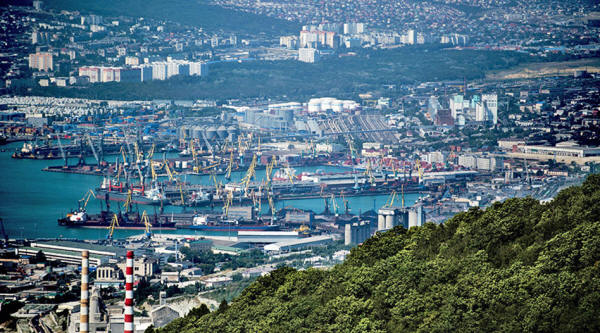 The commercial sea port
of Novorossiysk


Whether in response to rising scorching tensions with the US, or simply to provide support for the ruble, on Tuesday Russian President Vladimir Putin instructed the government to approve legislation making the ruble the main currency of exchange at all Russian seaports by next year, RT reported citing the Kremlin website.

The head of Russian antitrust watchdog FAS (Federal Antimonopoly Service) Igor Artemyev, many services in Russian seaports are still priced in US dollars, even though such ports are state-owned.
So, in order to "protect the interests" of dockworkers and their complies with foreign currency obligations, the government was instructed to set a transition period before switching to ruble settlements.

The proposal to switch port tariffs to rubles was first proposed by Putin a year and a half ago, but it was mothballed only to pick up speed again in recent days.

Originally, the idea was rejected by large transport companies, which said they prefer to keep revenues in dollars and other foreign currencies due to sharp fluctuations on the volatile ruble.
However, the Russian anti-trust watchdog said the decision would force foreigners to buy Russian currency, which would stabilize rates and be good for the ruble.

In 2016, Artemyev's agency filed several lawsuits against the largest Russian port group NMTP.

According to FAS, the group of companies set tariffs for transshipment in dollars and raised tariffs from January 2015,
"without objective grounds."
The watchdog ruled that NMTP abused its dominant position in the market and imposed a 9.74 billion rubles fine, or about $165 million at the current exchange rate.
The decision was overturned by a court in Moscow in July this year.

While Russia's stated motive for the unexpected redenomination of trade at some of its largest trading hubs has to do with domestic economic policies, there is speculation that the timing of this decision has been influenced by the recent diplomatic fallout between the US and Russia, the result of which would be an heightened demand for the ruble, especially since it is rather complicated to find alternative sources for Russia's largest export by a wide margin:
crude...
And while it is still early to discuss whether Moscow has launched the "Petrorouble", Putin's rejection of the Petrodollar in yet another aspect of economic life will raise quite a few eyebrows around the globe.