In a rhetorical play on the slogans of 1789 and 1917 he exhorted "all citizens" to descend on parliament.
Mr Grillo repeated his call for an "online referendum" on the Euro and vowed to buy back €600bn of Italian bonds held by foreigners if his movement gains power, a de facto default and withdrawal from the EMU system.
He has in the past called for Argentine-style "haircuts" for bondholders.
"Within a year we won't have enough money left to pay the pensions and public sector wages," he told told Bild am Sonntag.
His newly-elected army of senators and deputies - fresh-faced idealists in their 20s or early-30s with no experience in public life - met for a "conclave" to thrash out the party line.
Most of the 163 "grillini" have never met their leader, or each other. They crowded into a room at the Hotel Saint John, many sitting on the floor with their napsacks as if it was opening day at university.
Their first action was to create a "Google group" to handle logistics.
"Nothing like this has ever happened before in the history of the Italian Republic. We are seeing a true crisis of the regime," said Professor Luca Ricolfi from Turin University.
Investors have discounted Mr Grillo's wild rhetoric as comic chatter, but his relish for shattering taboos in putting unthinkable ideas into play.
"People in Brussels can handle old-style politicians like Silvio Berlusconi but Grillo really worries them because this is a protest against the entire system, and they are afraid it is spreading to other countries," said Giles Merritt from Friends of Europe.
The EU policy elites are increasingly alert to the danger of losing popular consent for the EU Project.
European Central Bank governor Benoit Coeure said Europe must pay more attention to the "social contract" if it is to avoid feeding "nationalist temptations".
Mr Coeure warned that record unemployment across much of Europe - reaching 59% for Greek youth - was eroding the job skills of a generation and doing lasting damage to future growth.
While the tone is changing, there is no sign yet of a retreat from fiscal belt-tightening.
"Given that average debt exceeds 90% of GDP in the EU, I don't think there's any room for maneuver to leave the path of budgetary consolidation," said EU economics chief Olli Rehn.

"We won't solve our growth problems by piling new debt on top of our old debt," he said.
Defying his critics, Mr Olli Rehn said John Maynard Keynes himself would not be a Keynesian today's circumstances.
Yet Mr Rehn also warned Germany politicians that it would be courting fate to push Cyprus into default and exit from the Eurozone in the belief that the island is too small to pose a contagion risk.
"Even if you come from a big EU country, you should be aware that every member of the euro zone is systemically relevant," he told Der Spiegel.
Separately, it emerged that the Eurozone bail-out fund (ESM) may not be used after all to recapitalize banks, even once the banking super-regulator is in place.
Klaus Regling, the fund's chief, said opposition from the creditor states may kill the idea altogether.
If so, this will breaches a summit accord in June by EU leaders to deploy the ESM directly to break the "vicious circle" between banks and sovereign states.
Failure to implement the deal would be a blow for Ireland and Italy, leaving them shouldering the full burden left from a bank crisis that was partly caused by northern creditors.
The International Monetary Fund said it is imperative that the EU upholds the specific pledge made to Ireland in the summit text. Germany, Austria, Finland, and Holland have all all said they would not let the ESM cover "legacy assets" left from the bubble.
They now seem to be resiling from the accord altogether.



Italy Paralyzed as Grillo Plots...
by Nick Squires, Rome, and Andrea Vogt in Bologna
02 March 2013
from TheTelegraph Website
This Election Shows Why Italy Remains Europe's Most Dangerous Basket Case.
Italy plunged deeper into political chaos this weekend after Beppe Grillo, the quixotic former comedian who holds the balance of power in parliament, suggested that the country may have to abandon the euro

and return to the lire.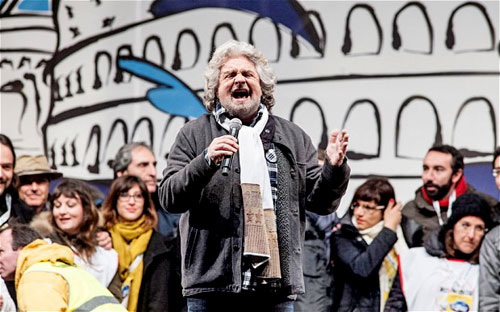 Mr Grillo warned that 'if conditions do not change'
Italy 'will want' to leave the euro and return to the lire
Photo: Getty Images
Nick Squires
The rebel comic's warning came amid a growing rebellion among grass-roots supporters of his Five Star Movement, with 150,000 signing a petition calling for him to open up dialogue with the centre-Left Democratic Party, the biggest force in parliament.
With the country in political paralysis, there were also questions over his eccentric behavior, after the surreal public appearance of a man, either Beppe Grillo or one of his supporters, with his face obscured by a zipped up puffer jacket and a pair of ski goggles.
The bizarre figure, resembling a human fly, waved at photographers from the deck of Mr Grillo's beach house at Marina di Bibbona on the coast of Tuscany.
In an interview with a German magazine, Mr Grillo warned that,
"if conditions do not change" Italy "will want" to leave the euro and return to the lire.
The 64-year-old comic-turned-political activist also said Italy needs to renegotiate its €2 trillion debt.
At 127% of gross domestic product (GDP), it is the highest in the Eurozone after Greece.
"Right now we are being crushed, not by the euro, but by our debt," he told Focus, a weekly news magazine. "When the interest payments reach €100 billion a year, we're dead. There's no alternative."
He said Italy was in such dire economic straits that,
"in six months, we will no longer be able to pay pensions and the wages of public employees".
The comments will further hamper efforts to resolve the crisis caused by Italy's general election last week, in which Mr Grillo's web-based, anti-establishment movement won more than a quarter of the vote .
He is refusing to contemplate any sort of power-sharing deal with the centre-Left Democratic Party, which has shaky control of the upper and lower houses of parliament but lacks a big enough majority to form a government.
In the Focus interview, he said that an accord with the big parties would in theory be possible if they acceded to key parts of his movement's agenda, including,
limiting MPs' parliamentary service to two terms

an overhaul of the election system

the slashing of the lavish perks enjoyed by politicians

"But they will never do that," he said. "They are trying to make us believe that they will, just to gain time."
Mr Grillo, renowned for his blistering attacks on Italy's established political caste, last week called Pier Luigi Bersani, the leader of the Democratic Party,
"a dead man talking".
In the interview published yesterday he predicted the annihilation of both the centre-Left and the centre-Right coalition led by Silvio Berlusconi, the 76-year-old playboy who has been prime minister three times.
They would be around for another "six months" but then they would be "finished", he said.
He also insisted that his party would not take part in any "horse-trading", describing the overtures from the Left as,
"the usual whorish way of doing politics."
But he faces a growing clamor among his grass-roots supporters, however, to open up dialogue with the Democratic Party in order to break the log jam and form some sort of credible government.
An online petition begun on Wednesday by Viola Tesi, a 24-year-old member of the Five Star Movement from Florence, had by yesterday gathered nearly 150,000 signatures.
Miss Tesi wrote an open letter to Mr Grillo on the website, www.change.org, appealing to him not to "waste" her vote but to give a confidence vote to the Democratic Party so that a reforming government can be formed.
Grillo supporters should harness their unexpected triumph at the polls to compel the centre-Left to adopt the policies that would make Italy a better country, she said.
"We should embrace the challenge and start changing Italy straight away, for the benefit of all," she wrote in the letter.
But with Mr Grillo apparently ignoring those appeals, the three-way deadlock has raised fears about Italy's ability to maintain desperately needed economic reforms initiated by Mario Monti, the former technocrat prime minister.
The comedian has said that his movement will remain outside any government, voting on individual bills in parliament on a case-by-case basis. Adding to the uncertainty is the fact that Mr Grillo refuses to talk to Italian journalists or to appear on current affairs television talk shows.
Italian reporters who have telephoned him and asked to speak to the general secretary of the party claim he has told them:
"Hang on, I'll just pass you to my 12 year old son."
The new parliament has to meet by March 15 at the latest, after which formal talks with Giorgio Napolitano, the octogenarian Italian president, are scheduled to begin on the formation of a new government.
In the space of just three years, Mr Grillo's movement has come from nowhere to place him in the role of kingmaker.
During the election campaign he travelled Italy in a camper van in what he dubbed his "Tsunami Tour", filling piazzas with cheering supporters as he railed against entrenched political and business interests.
One prominent supporter is Dario Fo, the 86-year-old playwright and satirist, whose best known works include Accidental Death of an Anarchist and We Can't Pay, We Won't Pay - an apposite title given Mr Grillo's threats regarding Italy's debt.
Mr Fo said yesterday:
"Satire can uncover big ideas and bring about huge upheavals. Beppe Grillo is a man of satire, that's where he came from, and that is his strength."
Mr Grillo's success means his party is poised to send more than 160 members into parliament's two chambers. Many are in their twenties and thirties and very few have any political experience, raising fears of legislative chaos if a government is eventually formed.
The "Grillini", as they are known, include nurses, teachers, students, lawyers, engineers, molecular biologists, bank clerks, and architects.
Some are unemployed. All are under 50 - a novelty in a country in which many politicians are well into their seventies.
Critics say they will be clueless in parliament and that their reliance on internet-based democracy to determine policies will be a recipe for disaster. Mr Grillo says their lack of political experience means they are untainted by corruption and cynicism.
One new MP, Ivan Catalano, 26, who works at a metal machining factory north of Milan, told The Sunday Telegraph:
"I am a normal citizen like any, who thanks to this new way of doing politics, will enter into parliament. "The message is that change is possible. We don't have to put up with the same old methods, and the same old people."
He acknowledged there were differences of opinion within the movement but denied it was an open schism.
"It is a healthy dialogue," he said.
The movement's policies include tax cuts, a big increase in health spending and investment in the "green economy", but it has struggled to explain how this will be paid given Italy's mountain of debt.
Mr Grillo also wants deep cuts in defence spending and the scrapping of a high-speed rail link to France beneath the Alps.
The movement's newly-elected MPs and senators will meet one other for the first time in Rome on Monday to discuss whether to ignore their leader and support some sort of coalition.
Italians are divided as to whether the movement promises fresh blood for an anemic, corrupt system, or political and economic disaster for a country already mired in recession.
"Beppe Grillo is a pistol pointed against Italy's head," was the front cover headline in last week's edition of Panorama, a conservative news magazine.
Another news weekly, Oggi, ran a photograph of Mr Grillo with the words,
"Now what?"