Contributing Writer
March 13, 2012
from ActivistPost Website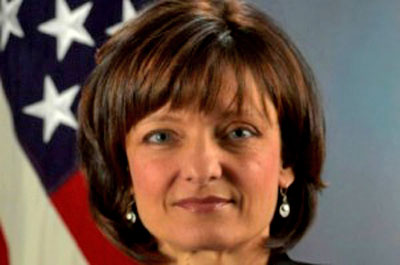 Regina Dugan
from DARPA to Google

Regina Dugan, the director of the Defense Advanced Research Projects Agency (DARPA), will be leaving the Pentagon's mad scientist research agency for the corporate Big Brother known as Google.

Dugan has only been at DARPA for less than three years and was,
"offered and accepted [a] senior executive position" with Google, according to Eric Mazzacone, a spokesperson with DARPA.
Mazzacone added that Dugan felt she could not refuse such an offer with an "innovative company" like Google, which also has a close relationship with the American intelligence community.

Dugan has been a relatively popular director because of her emphasis on cybersecurity matters and next-generation manufacturing, which has garnered significant support from the Obama administration, which allowed DARPA to dodge the bullet of budget cuts that has hit the Pentagon as of late, according to Danger Room.

Dugan also is lauded by Danger Room for her push into "crowdsourcing" and her increasing outreach to the hacker community, which has resulted in some quite astounding technology like the miniature, inexpensive, and easily concealed spy computer known as the F-BOMB.

During Dugan's tenure she also has diverted some of the quite substantial research funds devoted to long-term projects (some of which are a long way off from being used in the field) to more short-term operational projects.
"There is a time and a place for daydreaming. But it is not at Darpa," she told a congressional panel in March of 2011. "Darpa is not the place of dreamlike musings or fantasies, not a place for self-indulging in wishes and hopes. Darpa is a place of doing."
While this might seem like a common sense statement coming from any other agency, when it is coming out of the mouth of the director of DARPA, which is behind such technologies as the militarized hallucination technology known as "battlefield illusions" (among many other strange and unbelievable technologies) it is remarkable indeed.

Dugan's history at DARPA is not all quite as glowing as it may seem, especially given her history with RedXDefense, a bomb detection company which she co-founded and still holds partially owns.

Currently, the Pentagon's Office of Inspector General (OIG) is investigating contracts worth hundreds of thousands of taxpayer dollars that were awarded to RedXDefense by DARPA under Dugan's leadership.

This shouldn't be all that surprising to my readers, given that this is standard operating procedure for the war profiteers with blatant conflicts of interest like Dugan and Michael Chertoff.

A military memorandum revealed that a separate audit is looking into some of the 2,000 other contracts DARPA signed under Dugan in an attempt to,
"determine the adequacy of Darpa's selection, award, and administration of contracts and grants."
No results of the investigations have been released to the public as of yet and according to Mazzacone, the inquiries had "no impact" on Dugan's decision to leave DARPA.

According to Mazzacone,
"the only reason" that she decided to depart the Pentagon was the attractive prospect of working at Google.

"Dr. Dugan's departure is not related to an OIG investigation," Lt. Col. Melinda Morgan, a spokesperson for the Office of the Secretary of Defense, claimed in a statement. "The OIG conducts regular audits of Defense agency contracts and ethics programs; as a Defense agency, this includes Darpa."

"In the spring, questions were raised over whether it was appropriate for Darpa to have funded a proposal submitted by RedXDefense, particularly in light of the Director's continuing interest in this closely held small business," Morgan added.

"In response, the Department reviewed the processes in place at Darpa to ensure that those processes would ensure integrity and public confidence."
Mazzacone said that Dugan is expected to leave DARPA for the internet behemoth "sometime in the next few weeks" at which time deputy director Kaigham Gabriel will take over as acting chief.
"Regina Dugan's leadership at Darpa has been extraordinary and she will be missed throughout the Department," Frank Kendall, Acting Under Secretary of Defense for Acquisition, Technology and Logistics, says in a statement.

"We are all very grateful for the many contributions she has made in advancing the technologies that our war fighters depend on. She leaves for an exciting new opportunity and we wish her every success," Kendall added.
The biggest question is: what will Dugan be bringing to the table at Google?
It is certain that she will bring her experience at the highly secretive research agency to Google, but the major unknown is how exactly his will take shape.

While Google already has established connections with,
...and other government agencies, Dugan's move will just serve to reinforce these links.


Department of Justice Wants Court to...
Keep Google/NSA Partnership Secret
by Steve Watson
March 13, 2012
from PrisonPlanet Website

Court hearing scheduled for next week in ongoing effort by privacy group to expose details of working relationship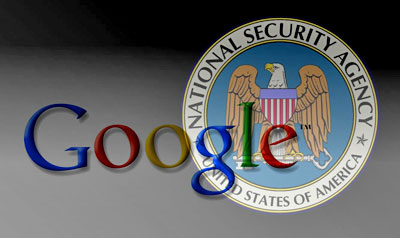 The Department of Justice will ask a federal court to uphold the secrecy that surrounds the working relationship between Google and the National Security Agency in a hearing that is scheduled for next week.

Privacy watchdog group The Electronic Privacy Information Center (EPIC) is returning to court once again in an effort to disclose more information regarding the widely publicized partnership between the spy agency and the search engine giant.

EPIC is suing to obtain documents that detail the relationship, and will appeal against the NSA's so-called "Glomar" response, claiming it,
"could neither confirm nor deny" the existence of any information about its relations with Google, because "such a response would reveal information about NSA's functions and activities."
The NSA's response stated that the agency,
"works with a broad range of commercial partners and research associations" in order to oversee the security of important information systems, but did not provide any further detail.
The issue rose to prominence in January 2010 following a highly sophisticated and targeted cyber attack on the corporate infrastructure of Google and some twenty other large US companies.

The attack was blamed on the Chinese government, prompting Google to embrace a collaboration with the federal agency in charge of global electronic surveillance.

Anonymous sources informed The Washington Post at the time that,
"the alliance is being designed to allow the two organizations to share critical information", adding that the agreement will not allow the NSA access to users' search details or e-mails.
The DOJ is backing NSA's Glomar response, as The Legal Times reports:
DOJ's legal team said that acknowledging whether NSA and Google formed a partnership from a cyber attack would illuminate whether the government,

"considered the alleged attack to be of consequence for critical U.S. government information systems."

DOJ said media reports about the alleged Google partnership with NSA do not constitute official acknowledgement.

"If NSA determines that certain security vulnerabilities or malicious attacks pose a threat to U.S. government information systems, NSA may take action," DOJ Civil Division lawyers wrote in a brief.
In its own opening brief, EPIC argues that records the NSA holds on the subject are not exempt from public disclosure under FOIA request.
"Communications from Google to the NSA do not implicate the agency's functions and activities, and are therefore not exempt from disclosure." the brief states.

"Further, some records responsive to EPIC's FOIA Request concern NSA activities that may fall outside the scope of the agency's authority. These records are not exempt from disclosure." it continues.
EPIC believes that any burgeoning partnership between Google and the government spy force responsible for warrantless monitoring of Americans' phone calls and e-mails in the wake of 9/11 raises significant privacy concerns.
"Google provides cloud-based services to consumers, not critical infrastructure services to the government," EPIC attorney Marc Rotenberg said, noting that the group's records request does not seek documents about NSA's role to secure government computer networks.
A three-judge panel of the U.S. Court of Appeals for the D.C. Circuit will preside over the hearing, scheduled for March 20.

Google's partnership with the intelligence network is not new. As we reported in late 2006, an ex-CIA agent Robert David Steele has claimed sources told him that CIA seed money helped get the company off the ground

Speaking to the Alex Jones Show, Steele elaborated on previous revelations by making it known that the CIA helped bankroll Google at its very inception.
Steele named Google's CIA point man as Dr. Rick Steinheiser, of the Office of Research and Development.
"I think Google took money from the CIA when it was poor and it was starting up and unfortunately our system right now floods money into spying and other illegal and largely unethical activities, and it doesn't fund what I call the open source world," said Steele, citing "trusted individuals" as his sources for the claim.

"They've been together for quite a while," added Steele.
The NSA's involvement with Google should be treated as highly suspect, given the agency's track record and its blatant disregard for the Fourth Amendment.

A set of documents obtained by the Electronic Frontier Foundation (EFF) in June 2007 revealed that US telco AT&T allowed the NSA to set up a 'secret room' in its offices to monitor internet traffic.

The discovering prompted a lawyer for an AT&T engineer to allege that,
"within two weeks of taking office, the Bush administration was planning a comprehensive effort of spying on Americans".
That is BEFORE 9/11, before the nation was embroiled in the freedom stripping exercise commonly known as the "war on terror" had even begun.

In late 2007, reports circulated that the NSA had increasing control over SSL, now called Transport Layer Security, the cryptographic protocol that provides secure communications on the internet for web browsing, e-mail, instant messaging, and other data transfers.

In 2008, Google denied that it had any role in the NSA's "terrorist" surveillance program, after first refusing to say if they have provided users private data to the federal government under the warrantless wiretapping initiative.

However, it is clear where Google's interests lie given that the company is supplying the software, hardware and tech support to US intelligence agencies in the process of creating a vast closed source database for global spy networks to share information.

The government supply arm of Google has also reportedly entered into a number of other contracts, details of which it says it cannot share.

Google's approach to privacy also came under scrutiny more recently when it was discovered that the company was essentially vacuuming up WiFi network data as it gathered images for its Streetview program.

Google insisted that the practice was a mistake, even though information published in January 2010 revealed that the data collection program was a very deliberate effort to assemble as much information as possible about U.S. residential and business WiFi networks.