by Michael Snyder
June 10, 2013
from TheEconomicCollapseBlog Website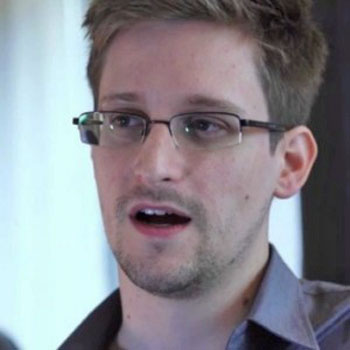 Edward Snowden
Would you be willing to give up what Edward Snowden has given up?
He has given up his high paying job, his home, his girlfriend, his family, his future and his freedom just to expose the monolithic spy machinery that the U.S. government has been secretly building to the world.
He says that he does not want to live in a world where there isn't any privacy. He says that he does not want to live in a world where everything that he says and does is recorded.
Thanks to Snowden, we now know that the U.S. government has been spying on us to a degree that most people would have never even dared to imagine. Up until now, the general public has known very little about the U.S. government spy grid that knows almost everything about us.
But making this information public is going to cost Edward Snowden everything. Essentially, his previous life is now totally over.
And if the U.S. government gets their hands on him, he will be very fortunate if he only has to spend the next several decades rotting in some horrible prison somewhere. There is a reason why government whistleblowers are so rare.
And most Americans are so apathetic that they wouldn't even give up watching their favorite television show for a single evening to do something good for society. Most Americans never even try to make a difference because they do not believe that it will benefit them personally.
Meanwhile, our society continues to fall apart all around us. Hopefully the great sacrifice that Edward Snowden has made will not be in vain. Hopefully people will carefully consider what he has tried to share with the world.
The following are 27 quotes from Edward Snowden about U.S. government spying that should send a chill up your spine...
Would you make the same choice that Edward Snowden made? Most Americans would not.
One CNN reporter says that he really admires Snowden because he has tried to get insiders to come forward with details about government spying for years, but none of them were ever willing to...
As a digital technology writer, I have had more than one former student and colleague tell me about digital switchers they have serviced through which calls and data are diverted to government servers or the big data algorithms they've written to be used on our e-mails by intelligence agencies.

I always begged them to write about it or to let me do so while protecting their identities.

They refused to come forward and believed my efforts to shield them would be futile. "I don't want to lose my security clearance. Or my freedom," one told me.
And if the U.S. government has anything to say about it, Snowden is most definitely going to pay for what he has done.
In fact, according to the Daily Beast, a directorate known as "the Q Group" is already hunting Snowden down...
The people who began chasing Snowden work for the Associate Directorate for Security and Counterintelligence, according to former U.S. intelligence officers who spoke on condition of anonymity.

The directorate, sometimes known as "the Q Group," is continuing to track Snowden now that he's ousted himself as The Guardian's source, according to the intelligence officers.
If Snowden is not already under the protection of some foreign government (such as China), it will just be a matter of time before U.S. government agents get him.
And how will they treat him once they find him? Well, one reporter overheard a group of U.S. intelligence officials talking about how Edward Snowden should be "disappeared".
The following is from a Daily Mail article that was posted on Monday...
A group of intelligence officials were overheard yesterday discussing how the National Security Agency worker who leaked sensitive documents to a reporter last week should be 'disappeared.'

Foreign policy analyst and editor at large of The Atlantic, Steve Clemons, tweeted about the 'disturbing' conversation after listening in to four men who were sitting near him as he waited for a flight at Washington's Dulles airport.

'In Dulles UAL lounge listening to 4 US intel officials saying loudly leaker & reporter on #NSA stuff should be disappeared recorded a bit,' he tweeted at 8:42 a.m. on Saturday.

According to Clemons, the men had been attending an event hosted by the Intelligence and National Security Alliance.
As an American, I am deeply disturbed that the U.S. government is embarrassing itself in front of the rest of the world like this.
The fact that we are collecting trillions of pieces of information on people all over the planet is a massive embarrassment and the fact that our politicians are defending this practice now that it has been exposed is a massive embarrassment.
If the U.S. government continues to act like a Big Brother police state, then the rest of the world will eventually conclude that is exactly what we are.
At that point we become the "bad guy" and we lose all credibility with the rest of the planet.