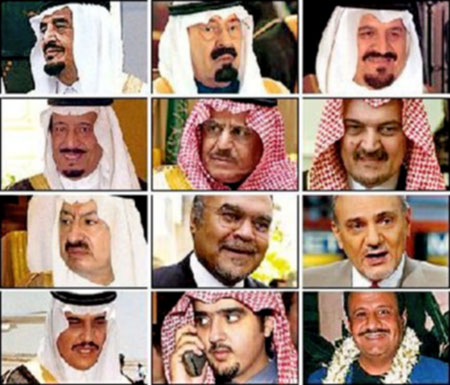 18 March 2011
from DavidIcke Website
Arriving in Saudi Arabia was like landing on another planet and nowhere in the world is more overdue a change of 'leadership' than Saudi Arabia and its truly grotesque 'House of Saud'.

The hypocrisy is shocking with their support this week for the Arab League's call for a no-fly zone over Libya to 'protect the protestors' from government military attacks while, at the same time, the Saudi army was being sent into Bahrain, ruled by the al-Khalifa dynasty for more than 200 years, to violently suppress (see below video) the peaceful protests there along with 'police' sent by another home of usurper tyranny, the United Arab Emirates (UAE).

For both it was a desperate response motivated by the fear that if the fake 'royals' of Bahrain were to fall it could be them next.
The UAE Foreign Affairs Minister, Anwar Mohammed Gargash, said the decision to support the Bahrain dictatorship reflects the determination of the Gulf states to 'close ranks in the face of any danger' (to their continuing tyranny).

It also reflects the fact that the American Fifth Fleet is located in Bahrain and the fact that US Defense Secretary Robert Gates met with the country's Crown Prince Salman bin Hamad al-Khalifa on March 12th only days before the Saudi and UAE troops moved in with tanks and weapons supplied by the United States and Britain.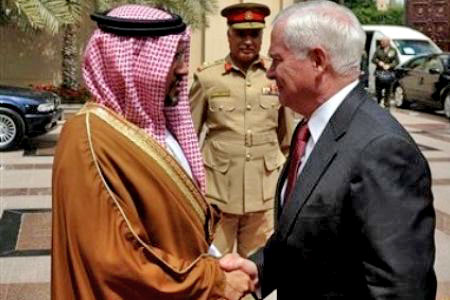 'Don't worry Prince, we'll send the Saudis in to help y'all.
They'll do whatever we and the Israelis tell 'em.'

'When y'all start killing people we'll get the President to say he's "concerned".
Don't take it personally, it's just the game.'
Bahrain Police Killing People by Drive by Shootings
by 91177info
Mar 16, 2011
from YouTube Website

Police killer brutality.
They are massacring the peaceful protesters.
This happened today Sitra 16th March.